Iggy Pop
GLEN 'N' IGGY - Following the demise of the Rich Kids, Glen joined Iggy for his 1979 tour. During the UK leg, Iggy was banned from certain hotels and venues because he had a former Sex Pistol in his group. Iggy also appeared on the TV show, "Old Grey Whistle Test". Glen had split his trousers and spent the performance trying to avoid the cameras.
Glen was top of Iggy's personnel list for his fourth solo album, "Soldier" (Arista spart 1117). Glen co-wrote two tracks, "Mr Dynamite" and "Take Care Of Me", and solely wrote "Ambition".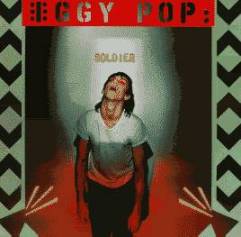 The album was recorded at Rockfield Studios in Wales, and originally included ex-Rich Kid Steve New who was then part of the touring band. Steve decided to pull out of the US tour having "punched David Bowie down a flight of stairs", for trying to pick up his girlfriend. Following the US leg of the tour the band went to New York to mix the album. Iggy ordered all of Steve's guitar work to be redone.
Glen later stated this was a major reason he did not continue to work with Iggy. Glen believed Steve's guitar work was one of the best things about the sessions, and felt Iggy "was cutting his nose off to spite his face" and just being childish.
It's likely that tracks on the Iggy CD bootleg, "Old Mule Skinner" (Imperium 012) are these original takes i.e. "Ambition" and "Take Care Of Me". A further recording from this period believed to include Glen , "Fortune Teller", surfaced on the bootleg LP "Garden Of Evil" (Zaunbertank 8701B).
1998 saw an official release given to an Iggy live CD, "Heroin Hates You" (Other Peoples Music OPM-2116). The concert was recorded at the Stardust Ballroom, LA on 30th November '79 during the New Values Tour and features Glen on bass and Brian James, ex of The Damned, on guitar. Other bootleg concert recordings of this line up can be found on "Vietnam", (San Francisco '79 - German LP), "Night Clubbing", (San Diego '78 - German LP), and "We're Not Talking About Commerical Bullshit" (French And Japanese CD).
Glen has stated he enjoyed working with Iggy and, despite the Steve New incident, later described the experience as "a real eye opener on how to do things professionally".
Glen and Iggy still keep in touch, although they have never worked together since.
Text/information; Scott Murphy w/ Abe Fumiaki