ENGLAND'S DREAMING:
SEX PISTOLS AND PUNK ROCK Jon Savage (Faber & Faber)

REVIEWED BY
GLEN MATLOCK
"Fucking Ada, mate! Can you imagine Steve Jones sitting on an outside drawing stool?"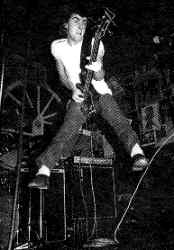 That was what Malcolm McLaren was pushed to reply to some earnest journo's accusation that the fledgling Sex Pistols were no more than an art school anti-aesthetical exercise, no more than an extra-curricular project in pose. I'll never forget that. The ludicrous image of rock's very own Stan Ogden grappling with a 2B pencil, pontificating on the painterly qualities of Sutherland yet still managing to cop a load of that new Deb in foundations knockers was ridiculous.
But Jon Savage's long-awaited book England's Dreaming doesn't fall into that trap. No, he knows his onions far too well. But when it comes to a toss up…heads, it's highbrow; tails, it just about reaches the bridge of your nose.
The book is most immediately commendable for the account of what happened at A&M Records, where the Pistols were granted such a brief tenancy, and also for the story of Nancy Spungeon's supposed murder by Sid Vicious in room 100 of the Chelsea Hotel. Neither subjects have, to my mind, been dealt with sufficiently in print by any works on the subject to date.
But this book is not only about the Sex Pistols. Jon Savage has cast himself as the A.J.P. Taylor of Punk Rock, and very nearly succeeds in his mission.
Encouragingly, we kick-off with a mid-'70s equivalent of Today There Are No Gentlemen and the history of Chelsea's World's End, together with McLaren's upbringing. This is all pretty interesting until we begin to get bogged down in '60s art-school radicalism totally at odds with McLaren's riposte reported earlier. Nonetheless, it is necessary: if you want the whole picture on what played a major role in casting Punk's typeface, then you gotta know these things.
(The coolest thing I ever discovered about anarchist Durutti was that every time his mob blew up some fascist stronghold in the Spanish Civil War, they left a brick as a calling card with a black hand stamped on it, beating the man from Milk Tray hands down!)
The Politick does get a bit tedious and confusing, but once Savage has convinced us he's got the heavy stuff down pat we start to roll with something approaching a reasonable momentum.
We get the Ramones, Richard Hell, Television and "Red Patent Leather"; we get the whole New York Scene culminating with the arrival of The Heartbreakers on these shores in late '76, hotly pursued by her nibs, Nancy Spungeon.
We get the London SS, Bernard Rhodes and the 101ers. We get William Broad, Siouxsie, Debbie, Tracey - and wait for it - even Berlin.
It's all there. Painstakingly researched and with an acute eye for detail, Savage barely misses an issue. But with the number of supporting cast members involved, the book's veracity sometimes comes into question. Things reported that I personally know to be untrue, make me doubt the actuality of events outside my direct experience. But no matter – the gist of it all is pretty damn spot on.
Moving on towards the later chapters concerning The Pistols' acrimonious spilt in the States, England's Dreaming displays a refreshing sensitivity to the effects of instant notoriety. The breakdown in communication between Rotten and McLaren is an eye-opener. This explains the underlying tensions which resulted in the court case, that saw control of Glitterbest wrenched from the hands of McLaren.
I can't see your average "Sid lives: RIP" brigade getting too much out of this - apart from some pretty sloppy roaches - but I can see the book starting to crop up on GCSE syllabuses in a couple of years' time, and I get a sneaking suspicion Jon Savage wouldn't complain too much if it did.
It's like this. You know that if you ever get embroiled in breaking up a fight and then try to establish its cause, you'll always get as many versions of what started it as there are combatants. Likewise, in this little slice of life you'd get five or six different accounts from the Pistols, Clash and Buzzcocks' camps, one from Vivienne Westwood and at least 78 from Bernard Rhodes.
And it's in this that England's Dreaming has its strength, because to be honest I can't think of anybody more qualified to give such a balanced overall account than the author. We could have done with a couple of jokes, though.
(Review from Vox, November 1991)
photo by Ian Dickson