Glen Matlock
in conversation with Phil Singleton
23rd February 2014
Phil : If we can begin with a chat about your new book, The Filthy Lucre Photo File. I know youíve been toying with the idea for a while.
Glen: Yeah. Basically, when we did that tour I took loads of pictures, kept them, and just stuck them in a box. Theyíd been in my front room for ages & ages, and my mate came round and said ďWhat have you got there?Ē When I told him, he had a look and introduced me to someone who could put a book out. I thought thatís kind of good because now I can just put a nice little book on the shelf and put all the boxes away in the cupboard!
That was the main reason I did it! There are loads of pictures that havenít been seen before. Such as us waiting for the bullet train, travelling around Japan. Pictures that have never been seen which I think will be of interest to people. No other reason really.
Any particular favourite photos in the book that fans can look forward to?
There is the one where we almost got into trouble.... Iím not going to go into that! There are some of me, Steve & Paul in a bar in Japan Ė they are interesting!
The book is coming out now because it has taken a while to do it. Iím always busy doing stuff. Overseeing putting the book together has taken quite a while. Maybe the wisest thing would have been to wait another two years until the 20th anniversary of the Filthy Lucre Tour.
Is there a special limited edition coming out as well?
I think there will be. Itís coming out as a soft back now, but there may be a limited edition hard back Ė Iím not quite sure whatís going on with that, Iíll be talking to the publishers.
Is there anything else we can say about the book?!
Yes, itís a book and if you like it, buy it!
Or buy it first, and then decide if you like it. As long as you buy it.
Thatís right, just buy it! Donít forget, Iím A Teenage Sex Pistol is still out and still selling well.
Onto other things, youíve been keeping yourself busy in 2014.
In January I did a few International Swingers shows with Clem (Burke) and James (Stevenson) and Gary (Twinn). We recorded a couple of songs using the Foo Fighters studio with that desk which is in the movie Sound City.
Iíve been doing some small sporadic acoustic shows, working towards my spoken word semi-acoustic set Ė thereís talk of doing the Edinburgh Festival this summer. I went to Japan Ė a friend of mine who makes guitars Ė he comes over here quite a lot, asked me to go over.
I thought ďJapan Ė January, why not?Ē We got a band together and it was really good Ė fantastic. Good crowds, full houses. Three shows, a couple of in-stores. They want me back, so weíre setting it up.
Then I went to Italy, full houses again Ė went down really well. Facing all the local media - that was fun. Iím going to Norway for a day, then to the States for a month for another tour with Sylvain Sylvain which takes in Canada and the mid-west.
Youíve contributed to some other projects recently, such as the Wendy James album.
Yes, Iíve not heard the final version, itís still being mixed. Sheís got some good stuff actually. I was in New York, bumped into her and asked what she was doing. I said ďI play bass!Ē We did the rhythm section; me, Wendy, and James Sclavunos from the Bad Seeds Ė heís a good drummer, heís got an interesting take on things. So that was cool.
I like doing things that are interesting and playing with different people.
What sound has the Wendy James album got?
Quite varied. A bit Bad Seedsy. Nothing like Transvision Vamp Ė they are not like pop songs. Wendy has her finger on the pulse of what is going on.
Chris Spedding has asked me to play on something on his new album, which I would like to do if I can find the time.
Iíve said it before, my main art is my song writing. Iíve got a lot of songs Ė Iím heading towards doing a new album soon. Iíve got songs Iím really pleased with. Iím going to play some of them during the tour with Sylvain Sylvain so they are road tested a bit. Then hopefully take some time out to record them.
Iím not going to make another out & out rock record. I quite like the last Johnny Cash album. A bit darker; a lot more bass in it. I want to do something a bit different. Iím quite enthused because I have the songs to do something a bit different.
Any titles you can throw out at us?
One called Speak Too Soon. One called Chill, another, Sexy Beasts Ė I wrote that one in Japan actually. Iíve got loads, loads.
So your song writing has not dried up?
No. I went quiet for a while with my Mum dying and my Dad not being well. Things have settled down a bit and Iíve picked up the guitar and Iíve been writing stuff. Iíve done some demos but my songs benefit from having a real drummer on them. I did actually put some songs down last summer, leading towards what Iím doing now, but Iíve not finished those off yet.
Any Philistines activity?
Weíve been asked to do the Rebellion Festival (Sunday 10th August).
When I get back from the States I'll look at my diary and see what's coming up – I do it that way. I get around. That's how I like it. Globetrotting on someone else's shilling. Enjoying better weather and the shows are going down well.
You are globetrotting. I don't know how you do it.
You don't sit at the back of the plane....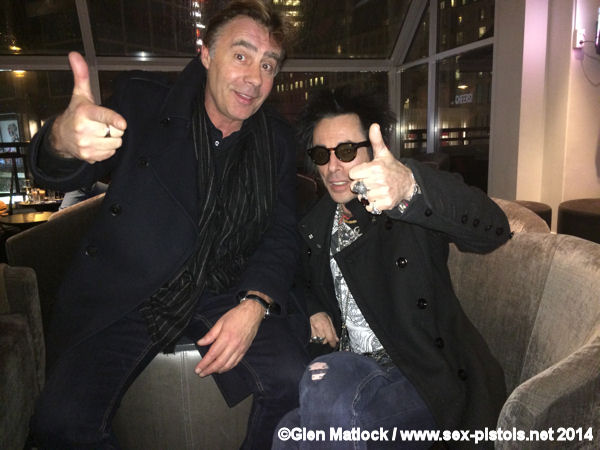 Glen with Earle Slick "Hello from Oslo"
---
Glen Matlock's Sex Pistols Filthy Lucre Photo File
Publisher: Foruli Codex
Ah yes, the Filthy Lucre Tour. So long ago.... so far in fact, that if the Sex Pistols had originally formed & split in 1996, it would be nearly time for...
The Filthy Lucre Tour.
History is a fascinating thing. Always written by the winning side, informed by opinions and prejudices that are repeated so many times they become fact. The most reliable way to give a history lesson is invariably via the discovery of artefacts of the time. Dinosaurs, Roman coins, personal memorabilia of a Sex Pistol. If you can couple the artefacts with the owner's own recollections and the feelings they evoke, then even better. Dinosaurs and Roman soldiers can't do this. Glen Matlock can.
Glen gives the background to the reformation before moving onto the press that greeted it. Some of the newspaper articles reproduced you may be familiar with, but Glen's own view on them you won't be. Playing the media game was something the band accepted... interesting to note it was Andy Coulson who wrote "Never Mind The Wrinkles" in the Sun ... in 2011 he was arrested for part of the NOTW 'phone hacking scandal. What goes around...
There's loads of random bits and pieces giving a flavour of the media reaction, not forgetting the humorous "tart cards" issued as part of the press kit.
Did I say random? That's what I love about this book. The book is arranged by the various legs of the tour; Europe, North America, Australasia, Japan, and South America. Each stage is represented by the memorabilia and photos Glen has in his boxes at home. It's not a show by show account; it's driven by the pictorial content. This is its strength – it is all personal to Glen. He lived it, and here is how he did it. Official itineraries, backstage passes, hotel bills, even a cheque for appearing on the Letterman show, sit alongside informal photos, postcards, even cigarettes. Random. And chaotic. Must be the Sex Pistols.
The best served leg of the tour for band off- duty shots is the Japanese jaunt. Amongst this treasure trove are Glen, Steve and Paul knocking about together – Glen and Steve had got on particularly well during the tour, reflected by the stand-out photo at the Samurai monument in Sapporo. Look out for a superb atmospheric shot of John doing his hair backstage. Oh, and as for the Filthy Lucre equipment truck provided by the Smash Corporation in Japan - fabulous.
There are also many moments to amuse. A schedule for New Zealand, Australia, Japan, and South America states at the bottom "Gigs are not confirmed – probably won't happen". I can't ignore the pictures of Glen, Steve and Paul staying - and clearly having fun - at a traditional Japanese guesthouse decked in Japanese attire! And keep an eye out for Samurai hairpieces and Sumo suits.
Don't know about you, but I'm fed up with the same old, same old, Sex Pistols retrospectives - does anyone still read them? I don't.
Glen Matlock's Sex Pistols Filthy Lucre Photo File is a breath of fresh air. What could be more enticing than a Sex Pistol blowing the cobwebs off his own dusty archive and sharing it with the rest of us? If you want an insight into the life of a Sex Pistol during this historic, legendary tour, here it is; from the thrills to the day-to-day existence. Glen bravely supplements the content with honest feelings and opinions, including the internal dynamics of the band itself. Here's the reality. Of the most real band ever, the Sex Pistols.
You are a fan of the Sex Pistols, aren't you? You will buy this.
Review by Phil Singleton (March 2014)
---
Text ©Phil Singleton 2014 / www.sex-pistols.net

All rights reserved.
This feature is copyright to God Save The Sex Pistols and the author and may not be reproduced without written permission.