| | |
| --- | --- |
| Beyond the Valley | of the Pistols |

Continuing from where 'I WAS A TEENAGE SEX PISTOL' left off, 'Beyond The Valley Of The Pistols' will build into the complete dossier on Glen's post-Pistols career.
Part One '77 - '79 | Part Two '79 - '81
---
BEYOND THE VALLEY OF THE PISTOLS - PART TWO
In the second of a series of frank and exclusive interviews, Glen talks to Phil Singleton ('Philjens') about BETTY BRIGHT, JIMMY NORTON EXPLOSION, IGGY POP, THE SPECTRES, THE SUBTERRANEANS, and alcohol
---
Phil: I'd like to ask about some of your 1979 projects, and how they came about. Bette Bright and the Illuminations for example.
Glen: That was with people I was friends with. Rob Dickins at Warner Brothers had signed Deaf School, and they had a little studio there. I'd met Clive Langer (the producer) who was in Deaf School. Rob Dickins was setting up this label and Clive was going to work with Bette Bright (who was also in Deaf School) and they asked me would I play on it. They were mates, I liked Bette's voice, and it was just a laugh more than anything else. We did a little tour.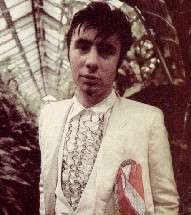 Phil: Was that after the Rich Kids had folded?
Glen: No. I think it was during the Rich Kids actually. It was just a little project basically. We cut three tracks, 'My Boyfriend's Back', 'The Captain Of Your Ship' and 'Hold On I'm Coming'.
Phil: The B-side of 'The Captain Of Your Ship' was 'Greedy Eyes'. Does that ring a bell?
Glen: Oh yeah, that rings a bell as well. I think that was a song that was just cobbled together, I don't know who wrote that one. I liked it (Bette Bright) because I liked those songs; the stax kind of Sixties pop sound.
Phil: As well as Clive Langer (guitar), Rusty Egan was on the tour wasn't he?
Glen: There was Rusty (drums) and there was Henry Priestman who had been in the Yachts, and who went on to being a keyboard player in the Christians. There was a guy called Paul Pilnick, an old Liverpool bloke who played with The Big Three in 1964. We did about eight dates around the country. I remember going up to Edinburgh and doing some gigs supporting Joe Jackson. We did Liverpool and Manchester, but I don't remember too much about it, I was off my fucking face to be honest!
Phil: Can you tell me about the Jimmy Norton Explosion?
Glen: Again, that was another hare-brained project! We had our moments. We did a couple of gigs, a John Peel session - Steve New didn't play on the session cos he was under the weather! The Jimmy Norton Explosion was Steve New, Danny Kustow, myself, and Budgie on drums. It was just for a laugh.
The thing is, if you are in a drinking frame of mind, you can either go to a pub and buy your drinks, or you can do some gigs and they give you free beer! You can have a laugh and you are the centre of attention. So we thought we'd go and do that!
Phil: So it wasn't ever intended to be a serious project?
Glen: It was just about doing a few gigs. If someone had offered us a million pounds it might have been a different matter. But they didn't and we weren't fussed.
There used to be a studio at Warner Chappell, and everyone used to play on everybody else's stuff. I met Budgie through Clive Langer. Budgie was a Liverpudlian bloke who'd been in a band, the Spitfire Boys, and turned up in London trying to find something more happening, and there was a guy called Steve Lindsey who ran the studio and was the bass player in Deaf School. The Burning Sounds record that Creation put out, some of the stuff on there comes from the Warner Chappell studio. People were in and out doing different things on other people's stuff. I remember Mick Ronson came down one day and said 'I'm not playing guitar, I'll play drums', and played drums on 'Just like Lazarus'.
You could do that then, there was more of a live scene and you could go and do something for a laugh. Whether it does you any good in the long run is another matter.
Phil: It was rumoured that Paul Cook had played on some of your demos.
Glen: I went in and cut some things with EMI. EMI were having a change around and Chris Briggs was there, and he said 'What do you want to do?' I said I'd got some songs and I'd go and put them down. I went into Wessex studios, and I think Paul played drums. Paul can't remember it, but I think he did. Mick Jones and Danny Kustow came down.
Phil: I assume you'd kept in touch with Paul over that period?
Glen: A little bit. To be honest I wouldn't put money on it. I thought he did but he can't remember. It sounds like him playing on it.
Phil: Not long after the Rich Kids had folded the 'phone went and it was Iggy Pop's management asking for your services.
Glen: After the Rich Kids I was thinking 'I don't know what to do.' The 'phone rang and it was Iggy Pop's manager, Peter Davis. He said 'I manage Iggy Pop and Jim (Iggy) would like to have a word with you.' They'd made the album 'New Values' and they were going to do a tour and the guy who had played bass on it was going to play second guitar (Jackie Clarke), so they were looking for a bass player. So I went and had a meeting with them at the Athenian Hotel, Piccadilly. We got slaughtered, had a laugh, and that was that.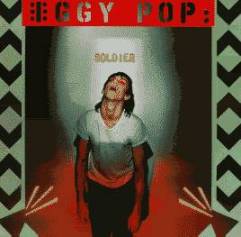 Phil: So you toured with Iggy first and that's what led to working on the album 'Soldier'?
Glen: I did the European tour to promote the album 'New Values' and then we made the album 'Soldier'. Then we did an American tour to support 'New Values', and then we mixed the 'Soldier' album after the American tour.
Phil: Then did you tour to promote 'Soldier'?
Glen: No! I fell out with Iggy a bit. I'd got Steve New the gig as guitarist on the 'Soldier' album, and there was a big ruckus which culminated in Steve punching David Bowie down the stairs. Steve was going out with Patti Palladin and Steve thought Bowie was hitting on Patti. Whether he was or not is another matter. Because of that, Steve thought Iggy was on Bowie's side and pulled out of the tour at the last minute. As it happened, Iggy thought the incident was really funny. But because Steve pulled out of the tour at the last minute, Iggy held a grudge against him, and two months later when we finally went to mix the album, Iggy mixed out all of Steve's guitar parts. Steve played the hooks to the songs I'd written, so they sounded odd. That's why I didn't work with Iggy after that, I thought it was stupid. Cutting your nose off to spite your face.
Iggy wanted me to still play bass with him. I saw him in New York about a year later. We went off somewhere and came back a day later! In the course of the evening he was a bit 'off' and I said 'What's up with you?' And he said 'Hey man, I only lost the best bass player that I ever had.' I said 'Who's that then?' He said 'You, you idiot!'
Phil: Didn't Brian James (The Damned) play on the New Values Tour?
Glen: Brian did the American tour; he came in at a day's notice to take over from Steve New. Brian was good actually cos his style of guitar playing is MC5 and The Stooges.
We did some good gigs, it was a good band. Ivan Kral from the Patti Smith Group played with us as well in the States.
Phil: Any tales from your tours with Iggy that you are permitted to tell?
Glen: One of the best gigs that I ever did was at the beginning of the New Values tour at the Palladium in New York, and it was on Halloween. The whole audience was in Halloween outfits and backstage there was Debbie Harry dressed as a witch. The Cramps supported us, also a band called the Student Teachers. The New York Dolls and Frank Zappa always used to do the Halloween gigs, so it was quite a prestigious thing. Then we did another little New York gig at a place called Hurrah's at the end of the tour. It was ram-packed. You couldn't swing a cat in the dressing room. The band was waiting to go on - David Bowie was there - and there was no toilet in the dressing room. Iggy decided he needed a shit. So a minute before he was due to go on stage, he dropped his trousers and shat in this towel. So Henry the Tour Manager had to wade through the audience with this foul smelling turd going 'Gangway, Iggy Pop's shit'. The crowd parted like the Red Sea!
When we played in England we used to play the music from 'A Fistful Of Dollars' before we came on stage. We did it this matinee at Eric's in Liverpool and it was all these Boy Scouts and Cubs. Just after the music Iggy would come on. All these kids started singing 'Happy birthday to you.... happy birthday Iggy Pop, happy birthday to you!' Iggy was really taken aback (it was his birthday obviously!). He looked at me, looked around, looked at the crowd, and went 'Well fuck you' and went straight in to 'Kill City'! There was all these 13 year-old kids! That was quite funny.
I remember being in Berlin. I'd had enough of the tour by then and I said I was leaving. The girl who was the tour manager, she kind of chilled me out. I went back to my hotel room and slung something at the wall and all the plaster fell off and went all over my bed. I thought 'right I'm going now!' So I'm trying to get a cab at 5 o'clock in the morning in the middle of Berlin with a guitar and my suitcase and I couldn't get a cab to stop for me. I was going to go to the airport. I don't know how it happened, but I woke up in this hotel - the place was like something out of 'Cabaret'. I had a shocking head and I went down to get some breakfast and to get something to straighten me up - it was about 4 o'clock in the afternoon! There was all these little old ladies having tea and cake, and I ordered a Stein of lager and a boiled egg! The room just fell silent and they looked at me and their mouths dropped open. This guy came in and he just cracked his hands and said 'Now ladies, have you never seen a man eating his breakfast before?!'
And one night we ended up in this transvestite club in Berlin. Iggy was mates with them. We went out clubbing, and this gorgeous red-head was telling me about having her dick cut in half, turned inside out and all that. Which kind of turns your stomach, I didn't really need to know that! But as the evening wore on I thought the gentlemanly thing to do was to make a pass at her anyway, you know?! We ended up in a heavy metal bar, I thought now's my moment and I said 'are you a natural red-head?' She just got up and stormed out and said 'I have never been so insulted in my life!'... after telling me about her dick being cut off!!! It was great! She was obviously looking for a get out and so was I!
Phil: Didn't you get thrown out of a hotel with Iggy?
Glen: When we played in England, we were booked in the same hotel in Plymouth as on the Pistols Anarchy tour. When they found out that I was in the band they slung us out of the hotel. Iggy thought that was funny, and we stayed in some other dump down the road.
Phil: To what extent was the drinking affecting your well-being during that period?
Glen: I was in a complete fucking state. But... I still played alright.
Phil: Was it difficult, if you were plastered, being able to get out there and play?
Glen: No, you pace yourself. You just get plastered enough to be able to play, and you party afterwards. No matter how wrecked you are when you go on, the adrenalin straightens you up somehow. Then you start all over again the minute you come off. I don't recommend it. Do not try this at home!
Phil: You mentioned previously, (see Beyond the Valley... Part 1), that slatings in the press from Johnny Rotten etc had contributed to it.
Glen: Yeah, but the other thing with Iggy was that it was the first time that I had really flown anywhere. It kind of worried me. When you're doing the six o'clock in the morning businessman shuttle from Chicago to Detroit, and you're jammed in like sardines and a DC 10 has gone down two weeks before at O'Hare airport, you need something that's going to take your mind off it a bit. It's silly really, I fly now and I'm straight when I fly..... when you've been drinking, you're not any less nervous, you are just drunk and nervous, maybe even more so.
We flew up to Albany near New York, a really bumpy flight, when the Winter Olympics were on. It was only about an hour's flight, and I had about 10 large Bloody Mary's on the plane. We landed and I went straight to the bar and they had to come back and drag me out.
Phil: When you look back on that period are you surprised how well you survived it?
Glen: I dunno. John Perry from The Only Ones who moans about being out of it, when I was playing with him one time, said to me 'I can't believe it, you get so out of it but you don't drop a note when you play.' Whether that's true or not... I think Midge Ure would say something different. It's all relative.
Phil: Did the drinking hamper you through that entire period with Iggy Pop?
Glen: Well he didn't mind.
Phil: I suppose he was out of it as well?
Glen: Maybe not as much.
Phil: What were you thinking when your association with Iggy Pop came to an end?
Glen: What happened was, Iggy Pop was being mentored by this guy called Charles Levison who was running Arista Records at the time, and who had actually fronted the money for 'New Values' out of his own pocket in lieu of him becoming head of Arista Records in England. He had to make the record out of his own pocket until the deal was sorted out. Charles kept saying to me 'Glen what are you doing, do you want to do something else?' So again I was thinking I'd got all this silly shit going on with Iggy mixing out all the hooks to the songs I'd written, and Charles asking me if I wanted to make a record. That was the beginning of The Spectres.
Phil: How soon after Iggy were The Spectres put together; they started in 1980 didn't they?
Glen: I suppose so, yeah. At one stage everyone was fucking chasing us.
Phil: You released two singles ('This Strange Effect' & 'Stories').
Glen: The first one we put out as an independent record anyway just to test the water while we were sorting out the deal with Arista. They started dicking us around so I told them to 'Fuck off' in the end, thinking I could go back to Polydor because they said - this guy called Jim Cook - that they would match any deal. So I went back to Polydor but I didn't know that Arista had told Polydor that they'd already signed us, and the money Polydor were going to spend on signing us they'd spent on re-signing Siouxsie and the Banshees. So I didn't have a deal. And I'd earned a reputation of being hard to work with.
Phil: Was that reputation justified?
Glen: No, I don't think so. Only if you're going to play the game and be a good little boy and let the record company piss all over you.
Phil: Weren't Geffen Records chasing The Spectres at one point?
Glen: We had a little bit of a talk to them. What happened was, we'd toured the States a couple of times. They were supposed to be interested. I flew back from New York waiting for a call from Geffen, and John Lennon got shot, and there's David Geffen on the front cover of the papers comforting Yoko Ono. I thought I'm not going to hassle him now! That was that really.
Phil: What was the origin of The Spectres?
Glen: I knew Danny Kustow, he'd finished with the Tom Robinson Band by then and we'd done the Jimmy Norton Explosion together, so I asked should we get a band together and what sort of band should we go for? I thought Dave Clark Five seemed like a good idea with two sax players and a heavy drummer. There was this guy called Graham Potter who'd been the drummer in the Little Roosters (who then became Cock Sparrer), so he came in. Then we had Art Collins on sax, and a guy called C. C. (who had been in Gloria Mundi). It was pretty good in the beginning.
Phil: The Spectres got some quite good press. How long did The Spectres go on for?
Glen: It went on for about a year and a half. But it became quite clear that we had blown it with the record companies. That's when we did that other record for Demon ('Stories'), but I didn't really like that record, it wasn't indicative of what the sound was originally. I'd got hip to the fact that there was this guy called Mike Leander who'd produced the Dave Clark Five and Gary Glitter and it was the same sound that I was looking for.

(pic below: The Subterraneans, from left to right Kent, Musto, Matlock, Padovanis)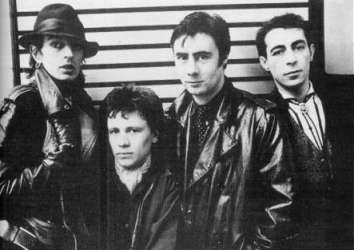 Phil: When The Spectres folded, you became involved with the Subterraneans.
Glen: All we did were some rehearsals. It sounded really good actually. Henry Padovanis on guitar, Chris Musto on drums and Nick Kent who sang good and played guitar good. He had some good songs. We were supposed to be doing this really big gig and Nick Kent who was the star writer at the NME at the time had written all these big articles, and so the NME thought they'd do one on him. But he bottled it, he disappeared and I didn't see him for two years so we never did the gig! It was a drag because it was really good.
Phil: So the Subterraneans were not your group?
Glen: They had already made a record 'My Flamingo', and Paul Reilly had played bass on it. But now they needed another bass player and I wasn't doing anything.
The thing I remember most though is that Henry had this band the Flying Padovanis who had a rehearsal place over in Vauxhall, and the nearest pub was the Vauxhall Cavern. It was full of blokes dressed as Shirley Bassey, getting ready to sing 'Hey Big Spender'. There was no one else in there, apart from us, who wasn't waiting to get up and sing 'Hey Big Spender'! It was the oddest thing!
Phil: Is there anything else significant from this period that happened to you?
Glen: Around about that time, Clive Langer dragged me along to see this band the North London Invaders, and he asked me what I thought. I said they were kind of good but I didn't think they had any material. He said that was a shame because he'd arranged to put some stuff down with them over the next few days and was wondering if I would come and co-produce them with him. I said I'd have a go but he said 'Well since you are not really into it, maybe you shouldn't.'
D'you know who it was? Madness!
Written by Phil Singleton 2001
many thanks to Glen Matlock www.glenmatlock.com
copyright God Save The Sex Pistols 2001
---
BEYOND THE VALLEY OF THE PISTOLS - PART ONE
In the first of a series of exclusive interviews, Glen talks to Phil Singleton about the legendary RICH KIDS.
---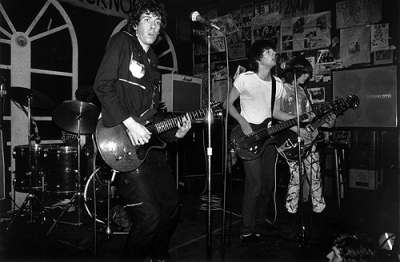 Rich Kids with Mick Jones, The Brecknock - September '77
Photo: Ian Dickson
@late20thcenturyboy.com
---
Phil: The origin of the Rich Kids predated your departure from the Pistols, so how did it all come about?
Glen: It sort of predated it. What happened was, I obviously wasn't getting on with John, and Mike Thorne who was our A&R guy at EMI, got wind of what was going on and said 'Glen, we at EMI understand you have a problem. If it doesn't work out, we would be more than interested in anything you come up with.' I thought that's interesting! It was when I was getting all this shit from the band & it coloured my thinking.


Phil: Do you think the interest from EMI was fundamental in making your mind up to leave the group?
Glen: Well, it was in the back of my mind. I had a meeting with Steve, Paul and Malcolm and I'm thinking, 'do I need all this fucking shit?' No! I didn't really have a name then. When I did finally leave the band or get pushed or whatever you want to call it - I still feel I left - Malcolm announced to the press that I'd been sacked for liking the Beatles. That very day, Steve New who had auditioned for the Pistols, came down to this pub called the Roebuck. I hadn't been in there for almost two years, and I just happened to be there and he came looking for me so I said 'alright you're in', 'cos I always got on with Steve. Then I went to see Rockpile at the Nashville and Rusty Egan came up and gave me all this talk about what a great drummer he was, and that he'd auditioned for The Clash etc etc, and said he understood what I needed to do next etc etc. So I said 'alright you're in the band then.' He was in the band for two weeks before I heard him play! So that was that, and then the hunt was on for a singer.
We were rehearsing in a squat in Stoke Newington where I was living at the time and I knew everybody thought I was loaded 'cos I'd been in the Pistols but I wasn't, I didn't have a penny. I'd been reading a Jean Cocteau book 'Les Enfants Terribles', and that's where I got the name Rich Kids. It's in a passage in the book. The birth of the Rich Kids!


Phil: How long had you known Steve New?
Glen: Steve had come down for an audition for the second guitarist for the Sex Pistols. He was sort of in the band for a week. We didn't really need another guitarist, but it was Paul that wanted another guitarist. Paul kept saying he didn't think Steve was good enough, but basically Paul was trying to stretch things out a bit because he'd nearly finished doing an apprenticeship as an electrician at Watney's Brewery. That was his real motive behind getting another guitarist!
I think I'd seen Rusty around a little bit, but the funny thing was Steve New was a messenger at Warner Bros Records at the time, and he'd taken over the job from Rusty!
We went through every singer in London. I spoke to Kevin Rowland a couple of years ago and he said he'd been down to audition for the Rich Kids. He said he got all the way to Stoke Newington and there was a note on the door saying 'We found someone. Gone to the pub.'
We had this deal sitting on the table, not just from EMI, everybody was chasing us. We had lunch with Richard Branson; the guys from Chrysalis were chasing us; and Chris Parry at Polydor. I just liked them at EMI, 'cos I got on with Mike Thorne. With everybody giving me a hard time, I thought I might as well sign with EMI and just say 'Fuck you all.'
Then we got Midge Ure down. He came and rehearsed in the squat at Stoke Newington with us. We learnt about four or five numbers and then we just went out to some parties and gigs. We went to see The Police when they were a four piece, at the Hope and Anchor, and just as we were going through the door, this guy John said the support band hadn't turned up, and we said we would do it. He said 'You're not a band' and we said 'We are!' We got up and did four or five numbers. He liked it so much - even though we had to pay to get in - that he gave us our money back plus a pound each!
We played at some party down near the Thames. It was one of those big warehouses down on the river. Sid was there, and Siouxsie and the Banshees, with everybody getting up and doing a few numbers. Sid was with Nancy on one of these wooden loading platforms down below, and someone pissed out of the window all over them!
Then Midge decided he wasn't going to do it. That's when we did some gigs with Mick Jones. But then it was in the paper that we were going to sign to EMI for about a £150,000, and Midge was on the phone the next day!


Phil: Does that sum up Midge Ure?
Glen: Yeah, I should have known! But I was frightened of losing the deal. I thought Midge had a great voice, but he was namby-pamby, he didn't have it. I thought I was giving him a chance to be tougher than he'd been allowed to be before. I just felt he let me down.


Phil: How do you think the Rich Kids would have fared without Midge?
Glen: I think my career would have done better. When it didn't matter how well you sang back then, I could have got away with it, and I would have been known as a singer.


Phil: The single 'Rich Kids' was a top 30 hit, and you picked up quite a lot of good press and appeared on TV shows such as 'Revolver', 'Top Of The Pops' and 'Rock Goes To College'. How do you gauge the Rich Kids' success when you look back on it?
Glen: I think it was too much too soon. EMI wanted to give it a real big push, but I didn't think it was a good idea 'cos it looked too much of a hype. I don't think we were quite ready to do an album when we did. There was a whole political thing going on where Midge had to have so many songs; I mean I fucking hate 'Young Girls', a stupid song.


Phil: What about 'Marching Men', that was one of Midge's?
Glen: Lyrically that was a bit naive, but musically I thought it was good. But I think 'Ghosts', 'Hung On You', 'Marching Men' and 'Strange One' were where the Rich Kids should have been at. If we'd been allowed a bit more time to suss it out that's what we would have ended up with more of. An album of that kind of stuff would have been great. I never personally liked the song 'Rich Kids' that much, and I couldn't understand how 'Rich Kids' was a hit but 'Ghosts' wasn't. I do know really, there was all this stuff going on in the charts with payola, and we were accused of that, which wasn't what happened. The red vinyl 'Rich Kids' single was - not the biggest selling - but the fastest selling record EMI had ever had.


Phil: How do you compare the finished album with the 'Burning Sounds' demos compilation?
Glen: They're just really rough demos. There's demos on there for what would have been the second album. It never came about because the band split into two camps. Rusty and Midge got involved in this New Romantic thing, and I wasn't interested in that at all. It was just all these stupid fucking hats!
I remember we did a gig up in Norfolk and me and Steve went to a jumble sale and bought a big box of old lady's hats. We played at Ashton University the next night and we got this big box of hats out and put it on stage. We got the crew to put a spotlight on it and for each number me and Steve put a different woman's hat on to take the piss out of Midge and Rusty! But that was the end of the band by then.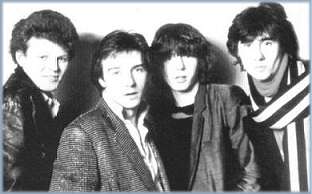 Phil: A lot of bands, especially when everybody is so young, seem to only have a limited lifespan. Do you think it's mainly due to egos, or totally different ideas that the individuals have got?
Glen: A bit of both really. The best band is a gang. You need people who learnt to play together. And you just can't manufacture that.


Phil: Was Midge Ure always looking for the main chance, to better himself, as opposed to what was in the best interests of the band itself?
Glen: He was looking for the main chance. I think he was into it, but I only ever 98% thought that Midge was the right bloke. But on the other hand he was probably getting very annoyed with me because I was starting to become a terrible piss artist. I think for a period of time the Rich Kids were a very happening band. We did the business live, we had the house record at the Hampden Palace, and we would get a big crowd everywhere. I remember we did Satellite City up in Glasgow and it was ram-packed.


Phil: Do you wish you'd stuck at it longer?
Glen: I wish we'd done a second album.


Phil: Would it have been different to the first album or would it have been more of the same style?
Glen: It would have been more of the same but different! Songs like 'Ambition' and 'Precious' could have gone on there. Steve had some good songs which have never really seen the light of day, '12 Miles High', 'Forever And Ever' and 'Point It To Your Head'. Great songs.


Phil: The album is quite powerful. What do you think about the term 'power-pop'?
Glen: I hated the term 'power-pop' 'cos there was all these bands like The Pleasers around, and I thought we were better than that. We weren't a punk band but I never tried to be a punk band. It was the birth of the new wave and I think we paved the way for bands like The Skids to come through. Music doesn't change overnight, there's little things adding up to it all the time. It's like computers; they keep getting upgraded all the time.


Phil: With the benefit of hindsight, what would you have done differently with the Rich Kids?
Glen: I would have been the singer. I think it would have all been different. We would have got another guitarist or keyboard player in. I think the best gigs we did were when I sang and Mick Jones played guitar.


Phil: There's footage in the film 'DOA' of the Rich Kids performing 'Pretty Vacant'.
Glen: Yeah, I sing the song and Midge gives this really cheesy wink at the camera.


Phil: Do you ever see Midge now?
Glen: I pulled up at the traffic lights on Kew Bridge and thought who's that bloke in this little Mini Cooper? and it was Midge. He had a baseball cap on. Urgh!


Phil: He's lost all his hair now though hasn't he?
Glen: That would be why then!


Phil: Going back to the demise of the group, you were saying that the group had divided into two different camps.
Glen: Well it wasn't working. When a band's happening everybody is happy, and when it's not happening people don't want to know. Rusty and Midge wanted to become New Romantics. In fact they invented it really. There was no money coming in because it was between albums. Me and Steve put our publishing money in to keep the wages going until we started the second album. I walked into rehearsals one day and there was a brand new synthesizer sitting there. Nobody had asked me - and it was my band - whether I wanted a synthesizer in the first place, and more importantly, where had the money come from? It had come out of my publishing money, without me being asked. So I said 'That's the end of it.'


Phil: You were packing in what was quite a reliable and safe job.
Glen: When you're young you don't see that. When your first band is the Sex Pistols and your next band signs to EMI for a lot of money, you think you'll just get another one together, but it doesn't quite work like that. You don't understand about all those bands that have been struggling away trying to get on the bottom of the bill somewhere. You think maybe that's just as well because you're better than that. Until it starts happening to you, you don't see it. On the other hand, it was only a short period before the phone rang and Iggy Pop called me up.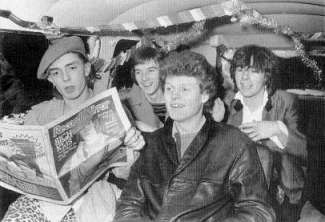 Phil: How did EMI react to the split?
Glen: Well I actually went into the studio and recorded some demos. Another thing that happened at EMI as well was we had signed to Mike Thorne and Nick Mobbs and then they got the elbow. Chris Briggs and Brian Shepherd took over EMI. So you get a new lot of people coming in who want their own artists. They haven't signed you so they're not into you. If it's a band that they don't quite know what to do with....they understand Cliff Richard, Queen and Marshall Hain.... but if it's a punk band that's not really a punk band getting all this flak from the NME because they're up Johnny Rotten's arse but not yours, it's too much trouble for them. We were a victim of that, but even so I went and put some demos down. Mick Jones and Danny Kustow played on them and we cut a couple of tracks, 'Getting Away With Murder', and 'Precious'. I don't know if it's the same version of 'Precious' as on the 'Burning Sounds' CD. But they didn't like my voice so that was it. Nobody said 'If you work with a really good producer this will be good, there's some good songs there'. Also at the time I was getting fed up with opening up the papers and getting slated by Rotten. That's why I started drinking heavily.


Phil: So did that wear you down, reading that kind of thing?
Glen: Yeah, it's got to. There's only a certain amount of shit you can deal with.
Also, I don't think our management were that good. I remember it was the summer and I said let's do a tour of all the holiday resorts, but we ended up playing Wolverhampton and Birmingham.


Phil: How did your association with EMI come to an end?
Glen: It just petered out, and I didn't pick up the rest of the money basically. I was headstrong, the management said I should do the second album but I'm a man of principle and I thought if it ain't right then don't do it. You don't see the whole picture when you're young. If I knew then what I know now... I'm not bitter about it though, that's just the way it went.
With the Rich Kids I thought I was quite brave to stick my neck out 'cos it would have been so easy to get another punk band together and cash in on the Pistols. I didn't want to do that. I wanted to be a bit more adventurous. Malcolm McLaren said to me a couple of years later when I was working with Iggy Pop 'Where you went wrong is, it's all right in London, but when you're playing somewhere like Bolton - where they're only just getting into punk - with something that ain't punk, they think you're taking it away from them', which is quite an astute thing to say.


Phil: You formed lasting friendships with people from that era like Mick Jones and Steve New.
Glen: They're people you learn to play with, y'know. It's your peer group.


Phil: What are your main abiding memories of your time with the Rich Kids? Any gig or event?
Glen: I remember we were playing at Barbarellas in Birmingham, and it was ram-packed. There was this bloke down the front, and every time I went to sing at the mike, he got hold of the mike stand and wiggled it so it kept hitting me in the face. So I turned round and said 'Kiss my arse' and stuck my backside in his face, and he bit it! Real hard, and it hurt! This was at the beginning of the tour. We did the best part of two weeks around the country. I came home, I'm getting ready to go to bed with my girlfriend, I took my trousers off and she said 'What's that?!' I said 'You'll never believe this.' I told her the story and she said 'I don't!'
I also remember going to Paris, we did a week at a place called Le Gibus. We did 7 shows in 6 days including a matinee. Ritchie Blackmore came down with his band Rainbow, and they came in the dressing room and this French kid goes 'Ritchie, Ritchie, I have a Fender Stratocaster just like you but she's from 1956, she's immaculate, she's beautiful' Ritchie Blackmore turned round and said 'So what, I've got a new one' and walked out!
The first night we arrived in Paris the record company took us out for a big meal and I had a dozen oysters. This French guy said 'Glen maybe you shouldn't eat too much because isn't it not long before you go on stage?' The tour manager said 'No, it's all right we've got an hour and-a-half yet. We don't go on until 9 o'clock and is only 7.30.' The French guy said 'No, you are wrong monsieur, it is 8.30' He hadn't put his watch forward! We had to dash across town to get there, played half of one number jumping up and down like punks are supposed to do, and I just threw these dozen oysters up everywhere!
We used to do lots of gigs, and for a bit of sport on a Friday night Mick Jones used to come up on the train just so he could get up with us.


Phil: Did Mick ever try and get you to join The Clash?
Glen: No. When I left the Pistols, and the rumour was out, me, like an idiot said to Malcolm I'd keep it quiet. Mick and Joe Strummer knew, and we went to the Marquee to have a drink as my going away party. They were going 'Well what are you going to do then?' They were looking at me, and I said: 'C'mon, you've got Paul' and they said 'Yeah, all right'. So they didn't actually ask.
I was asked to join The Jam. They were looking for a second guitarist. They came up to me at the Roxy. Bruce Foxton and Rick Buckler said to me 'Are you going to join us?' and I said 'Let's see how it goes.' They added 'Will you wear our suit?' I said 'Yeah I'll wear a suit.' They said 'Like ours'? I said 'You must be fucking joking!' And that was the end of it!


Phil: If it wasn't for the suits would you have been tempted?
Glen: Yeah, I've always got on with Weller. I tried to poach Weller for the Rich Kids! I chatted to him about it. He thought about it. Not for too long, but he thought about it!


Phil: It's funny how things can go in different directions, based on split-second decisions such as 'I won't wear a suit like yours!' The Jam were not that big at that time though.
Glen: The Jam had been running since before punk happened. The Pistols all went to see them in 1975. They had that look already. They had all these flyers ripping off the mod thing. We got talking to them then, 'cos obviously we weren't the same as all the other long- haired kids that were down there.


Phil: Would you like to play with Weller now?
Glen: He did ask me about 10 years ago. They were having problems with the bass player over money, but they sorted it out. I would have done it. I like his stuff. I'm not a big fan, but I do like it.

---
Written by Phil Singleton 2001
many thanks to Glen Matlock www.glenmatlock.com and Ian Dickson @late20thcenturyboy.com
copyright God Save The Sex Pistols 2001