God Save the Sex Pistols Exclusive
Sex Pistols in Sweden July 1977
Photographs by ULF PETERSSON
23rd July, Växjö, Esso Motor Hotel
23rd & 24th July, Växjö, Disco Barbarella, Live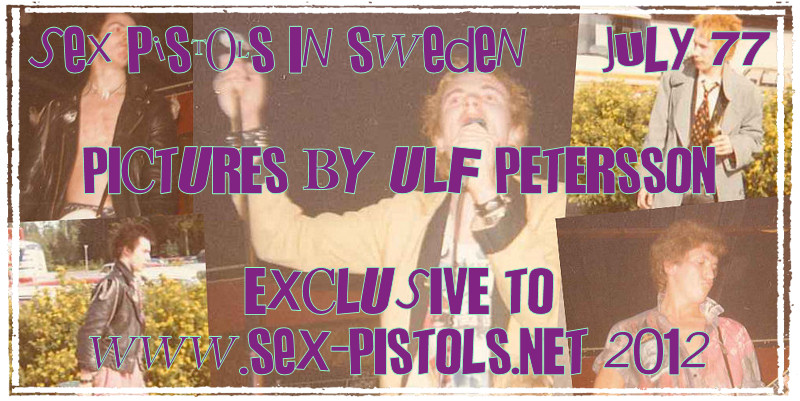 Ulf Petersson: "The pictures before the gig is when they arrived to Växjö on 23rd July to Esso Motor Hotel. A friend of a friend´s mother worked there and she had complained that the awful Sex Pistols would be coming Saturday at 3 o´clock. "They should be banned"…..That´s why we knew where they were staying.

I was there with a couple of friends when they came to the hotel and we stayed with them for an hour or so. We were the only ones there to meet them. Steve & Paul were friendly but didn´t talk that much. Sid "wasn´t quite there" and disappeared to his room pretty quick. With his reputation we didn´t dare to try and speak to him….Johnny was very friendly and talkative. I remember him asking me "Will there be any "raggare" here tonight"? "Raggare" was of course the Swedish equivalent to Teddy Boys but they had big American cars from the 50´s instead of bikes. They were always cruising the streets in their cars and they hated two things: The police and most of all punks! There was quite a lot of them at that time and they disrupted afew punkconcerts in Sweden in the beginning. When Pistols played in Växjö they had a caravan of cars parked out on the street leading up the club but they never interfered with the gig. Apparently Johnny had been warned about them at the other gigs

I saw the Pistols for times; 15th July Halmstad, Beach Club Östra Stranden, 23rd & 24th July, Växjö, Disco Barbarella (my hometown) and 29th July, Linköping, Orfi.

A funny thing happened the week after. I had gone 350 kilometers north to see them again in Linköping. I was standing out in the street about two hours before the gig and suddenly someone said "there´s Sid Vicious". Sid walked right through the crowd and straight up to me and shook my hand and started talking. He was in a very good mood and must´ve recognised me from the week before. He seemed very relaxed and was looking forward to the gig."
By Ulf Petersson - exclusive feature.
All images ©Ulf Petersson - DO NOT COPY. Thanks also to Rob Bones Jones.
©Ulf Petersson / www.sex-pistols.net 2012/2013
All rights reserved. Not to be reproduced without permission.
God Save The Sex Pistols ©Phil Singleton / www.sex-pistols.net 2012/2013
---
Errors that may have occurred will make it obvious if an attempt is made to copy the above piece of work. Do not publish elsewhere and claim authorship. You have been warned.