STEVE JONES: MERCY / FIRE AND GASOLINE
2019 REISSUES
(Rock Candy: Candy363/364)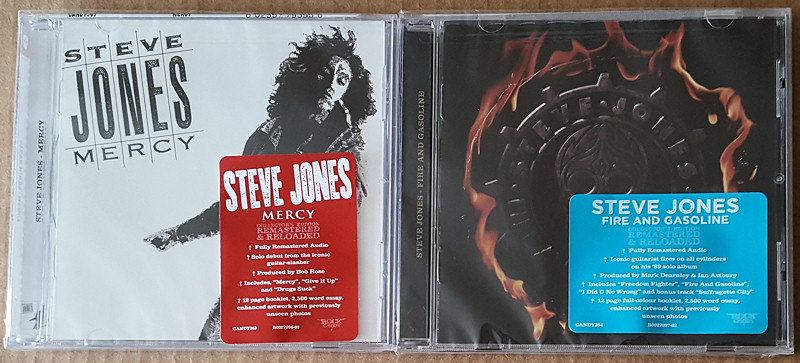 Following the success of Steve's autobiography a couple of years ago, it seems fitting that his two solo albums have been re-released.
Dating from '87 (Mercy) and '89 (Fire and Gasoline), the albums saw Steve emerge from a drug induced wilderness with a major record company behind him and a ton of good will from a raft of musicians he had inspired. Although Steve wouldn't achieve complete sobriety until after both albums had seen the light of day, the later 1980s found him focused and creative. Having found his musical feet again playing and co-writing with the likes of Andy Taylor and Iggy Pop, he was at last able to make his own mark, free of Sex Pistols baggage.
The most striking indication of this 'new' Steve was his look, all long hair and motorbikes. Steve was wiping the slate clean and asking to be judged on the here and now. Forget the Pistols. The two albums were themselves vastly different beasts. Mercy was largely restrained; a mix of both the mellow and the tough with some spine tingling solos. Boasting some introspective and personal song writing, it was the product of a tight knit group, with Steve providing guitars and bass throughout. Steve's difficult years informed both the music and lyrics. Mercy cannot in any way be labelled an upbeat album, far from it, but it is ultimately optimistic.
Steve himself was never comfortable with his singing style, yet his laid back understated delivery captures the mood of the album. Despite his own misgivings, over 30 years later Mercy remains a terrific piece of work brimming with a feast of Jonesy licks. Steve had announced his return.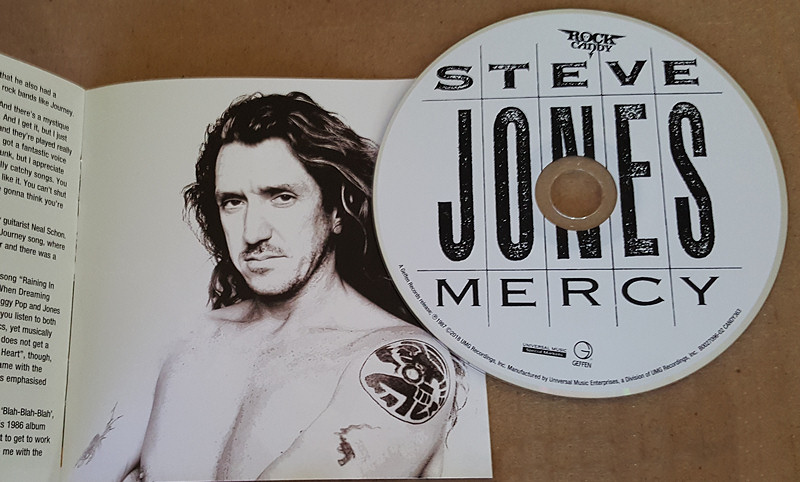 Steve answered those bemoaning the lack of power chords on his debut with his follow-up two years later. Fire and Gasoline is a rock and roll juggernaut produced by Mark Dearnley whose credits include AC/DC, Ozzy Osbourne and Motorhead. The radical change of direction was reflected by the input from contemporary rock and rollers such as Ian Astbury, Billy Duffy and Axl Rose. In reaction to the mellow vibe of Mercy, Steve gave us an album of full-on rock guitar with the poses to match. From the album's title to the gruff vocals, it seemed so far removed from its predecessor, it was difficult to reconcile the two. There was just one aspect remaining to link the pair, the unmistakeable guitar - those magical solos run through both pieces of work.
Lyrically Fire and Gasoline was all bikes, birds and causing trouble. Although somewhat a reflection of his Los Angeles lifestyle, the macho content does rather date the album unfortunately, but hey, that's where Steve was at in '89. For pure energy and rock splendour it still delivers.
Steve gave us two vastly different albums in what would prove to be a short lived solo career. Whether you love one or both, he was back. It was some showcase.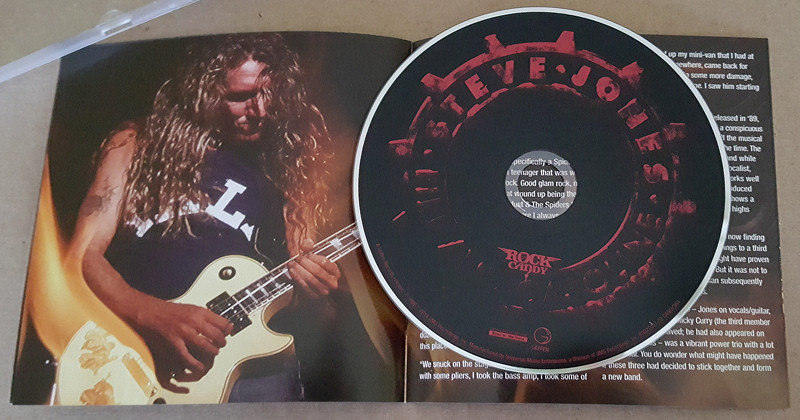 Rock Candy have reissued the albums as they originally appeared on CD back in the day, with Suffragette City included on Fire and Gasoline. Great care has been given to the presentation; from the disc and cover designs through to the booklets which include excellent lengthy essays covering the origins, makings of, and later reflections. Full marks to the research which draws from various sources, including interviews, resulting in an informative and balanced overview. There's some nice pictures included as well.
Soundwise, the mastering has ensured the discs sound as good as ever, clear and crisp without unwanted tinkering, just like it should be.
In a perfect world it would have been nice if some extras had been included, i.e. the versions of Mercy tracks which featured on various soundtrack LPs, along with the Steve Jones Live promotional only record from the Fire and Gasoline period. However, that aside, Rock Candy should be applauded for bringing Steve's solo albums back to life to such a high standard.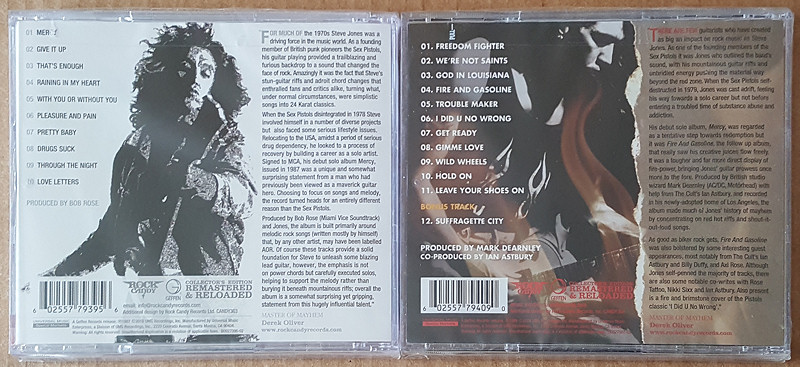 If you don't own the originals these are definitely for you, and even if you do, there is much to admire in this new offering. The music and the CD presentation are top notch. Steve Jones, guitar hero? Mercy and Fire and Gasoline deliver the conclusive answer.
Review & pictures by Phil Singleton (February 2019)
Rock Candy >
---