Steve Jones
in conversation with Phil Singleton
15th February 2001
The chat began discussing Steve's work with The Nothings..........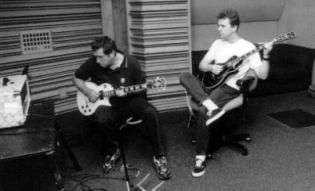 Phil: Were you surprised to hear from Phil Holmes (Nothings singer/guitarist) after all this time?
Steve: I'd run into him a couple of times in Santa Monica, but I didn't really keep in touch with him. He tracked me down!
Have you taught Phil anything new about his guitar-playing since you've been working on his album?
Yeah. I think that's the reason he had me playing on his record so he could steal all my new licks!
Has it been good fun playing on his album?
Yeah, I had a great time playing on his record. It was good because it was no pressure, y'know?
Will you be working on any future Nothings projects?
Yeah. Phil brought me in when he had already cut the tracks. I wouldn't have minded doing it from the beginning and producing it. That would have been more fun to me, and it would have been a lot better y'know! It's still good but it could have been even better!
You've been producing records for a long time, since the Pistols days. Is it something you've always enjoyed doing?
Yeah I do, I really enjoy it. He wants me to produce his next record. So I'll probably do that. If he gets another chance to do a record (laughing).
Do you think he will?
I hope so!
Do you think you might even get up and play with him........ if he does any gigs?
Would I get up and play with him?! (laughing).
Not literally!
Yeah (laughing). He'd like that I think! Yeah, I'd probably get up if he had a band together... I'd get up and play with him.
I should have worded that differently! You've not been playing much recently, do you miss it?
I do a little bit. I do, I like playing, but I don't like the whole concept of going on the road, doing a band thing, y'know? I like producing records. I like getting up and playing with people now and again.
You recently played with the Stone Temple Pilots?
I got up and played with them, that was fun. We did a version of 'Bodies' which apparently is going to be on a B-side of one of their singles.
What about American Pearl? You played live with them as well.
Yeah. They're actually releasing another single, 'Kings'. They've mixed it again and put in a new bridge. It sounds pretty good.
Are there any other bands you're going to be working with in the near future?
I've been checking out some bands. There's this one band, the Toilet Boys, that I was interested in, from New York. But they got slung off their label. I was going to do their record. They're trying to get another label. I've turned them onto a couple of labels but I don't know if they're interested. They're not kinda hip right now.
They are an ex-punk band, aren't they?
Yeah. They're kind of punky / rock. They're good . It's right up my alley.
Will your fans in England get to see you soon?
I've been called up about (reforming The Professionals for) the Punk Aid benefit at the 100 Club. I don't know. I don't know how feasible it is. Cos I have to get a fucking visa to come back. I'm kind of stuck here right now. If I happened to be out there around that time, if it all fell into place and it wasn't a big hassle, I wouldn't mind doing it. Paul (Cook)'s mentioned it to me and asked me what I think. We'd obviously have to rehearse and all that bollocks. I'd like to get the original guys back, Paul Myers and Ray McVeigh. I spoke to Ray about it and he's up for it. I don't know where Paul Myers is. I don't know what he's doing.
Whatever happened to Andy Allen (original Professionals bassist)?
Fuck him, he's a wanker!
What do you think about the Professionals album 'I Didn't See It Coming'? You'd produced your own Professionals recordings up until then, but Nigel Gray produced the album.
I didn't really like it that much. A lot of people like it, but I thought it lacked a bit of balls.
The demos album, which came out a few years ago, had a more brutal production.
Yeah, if we could have come somewhere in the middle of the two, that would have been better. But I wasn't the most sane at that time anyway.
Why did you decide to get yourself together, because you were a bit wayward for a while in the Eighties?
Yeah I was. I was a mess, mate.
What made you decide to straighten out?
Just out of the desperation. I'd been sleeping on people's couches out here, stealing their shit, and moving on. I couldn't really do it much more.
Your big return to form I thought was the Andy Taylor album 'Thunder' which had some great guitar on it. You weren't too thrilled with Andy Taylor?
That was about a year after I got sober when I started doing that. It could have been good, I just thought I was a bit done out of the publishing. I got fucking screwed out of the publishing! We were buddies at the time but I guess it was a hidden agenda, y'know.
You've not kept in touch with Andy Taylor I take it?
No! I see John Taylor all the time. John's a pal of mine.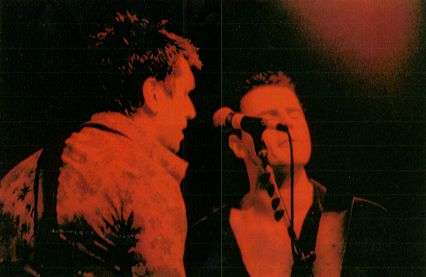 (Above - Steve & John Taylor - Neurotic Outsiders in Seattle '96)
Do you think the Neurotic Outsiders will ever do anything again?
Possible. It was a lot of fun. It was a good band. It didn't feel like I was the front man. We took it in turns with the singing. It was fun. It wasn't a lot of pressure.
Jerry Harrison's production on the album was great.
He did a pretty good job, considering he had to deal with four big egos!
Most of your stuff ended up the lead songs. Does that mean you've got the biggest ego?!
Nah, I just knew what I wanted.
What happened to your group from the early Nineties, Fantasy 7?
I think that was ahead of its time, mate. If we'd have stuck at it we would have done good. Remember the singer Mark McCoy? He died last year. Cancer.
I didn't know that.
It's a drag.
I've heard some demos you'd recorded and they sounded pretty good.
It was a great band. We all shaved our heads, way before all these idiots did. It was a good force. It had an image and everything, it was great.
Are you still riding your Harley Davidson from your biker years?
No, I don't like wearing the helmets! A real fucking drag. I could ride for about 10 years here without having to wear a helmet, until they passed that helmet law which just fucking ruined it.
So you've not even got the bike any more?
No. A friend of mine's got a bike in my garage, if I ever want to use it. I might take it out for a spin in the summer.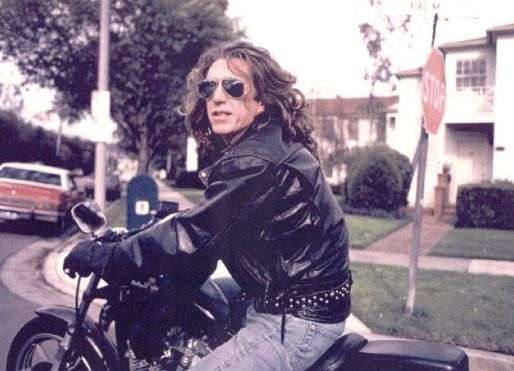 Do you still keep in touch with the rest of the Pistols?
I speak to Cookie. I don't really talk to Glen and I don't really talk to John much.
So you don't think you'll ever get back together again?
Well we actually got offered to do a show at New Year at Alexandra Palace. I guess old Rotten didn't want to do it in the end. He was thinking about it but it all went pear-shaped.
There's rumours that you're playing a show in Ireland.
No!
You'll never stop the rumours.
I know. It's all right, as long as they're still talking about us.
There's talk about you writing your book/story, is that ever likely to happen?
I'll probably do one. Everyone else has done one except for me. The later you leave it the more you've got to tell!
Is that the theory?! You'll have to make sure you do some more interesting stuff to put in it!
Well I can talk about that last tour (Filthy Lucre) that we did. All the fun I didn't have doing that!
Who's the best looking bird in Hollywood at the moment then?
I've kind of got my eye on this one little Playboy girl. She's married.
Oh dear. Is that going to make any difference?
Nah.... I dunno. I kind of got morals... the older I get. But if she whips my cock out I don't think I'll be able to say no!
The morals will soon go out of the window.
Well, she'll go to my head!
It's good to see you haven't changed anyway!
Not in that department. Are you a football supporter?
Yeah.
Who do you support?
Manchester City.
Oh fuck me, they're going down mate!
Don't give me that shit!
I'm sorry!
Are you a Chelsea fan?
Yeah.
Cookie is a Chelsea fan, isn't he?
Yeah. I used to be Fulham when I was a kid. I used to go to Fulham, Queens Park Rangers and Chelsea. I never watched the game, I used to go for the aggro. Now I find myself a Chelsea supporter, for the past 10 years.
Do you manage to see any English football matches in the States?
All the time. There's one channel where they have a lot of games, and then Saturday morning at 7 o'clock and Sunday morning at 8 o'clock you get pay-per-view, whatever the game is being shown in the UK we get it here, live. We get a lot of it.
Well think of Manchester City next time you're watching them and wish them all the best. Joe Royle (Manchester City), is a good manager.
I like him, he's a good bloke. Do you know about the Hooligan video?
Yes.
That's starting to pick up a lot of distributors in Europe.
Did you enjoy doing that (the video narration)?
It was a lot of fun. It's pretty funny.
Was that made with your old hooligan mates from when you were younger?
I just met them out here. Cos I play football too, and the idea came about when I was hanging out with them.
Who are you playing football with these days? Vinnie Jones?
Yeah, but he's back in England right now. Mike Myers plays with us, Robbie Williams when he's out here, Billy Duffy, Ian Astbury. We've got a team, we call them Hollywood United and we play in a league as well.
What position do you play Steve?
Forward.
No. 9?
I've got to, cos I'm an old cunt and I can't play midfield.
Have you got a shirt with your name on the back?
Yeah.
That's taking it seriously.
It's the real stuff. We're just getting endorsed by Puma.
Are the other teams mainly celebrities or musicians?
A lot of them are average guys.
Are you similar to Manchester City in the league at the moment, or are you a bit higher up?
Yeah, we are at the bottom! But we have a lot of fun.
Anything you'd like to say to visitors to Kick Down The Doors?
Tell them to get The Nothings album when it comes out!
I like it, I think it's good!
It is. His voice reminds me of the geezer from The Undertones (Feargal Sharkey).
Let's hope the album does well.
Well it could do well if they get it out there.
Your guitar sounds like the good stuff of old, some of the licks on it, the old Professionals style.
I didn't hold back, I gave him (Phil Holmes) my best stuff! Even though he is a wanker!
Steve, thanks very much for the interview.
See ya later!
---
Special thanks to Phil Holmes
Picture Credits
The Nothings - Bill McCarter
Neurotic Outsiders - Rebecca Perry
Biker - Danny Payne
All material ©Phil Singleton 2001 / www.sex-pistols.net / www.cookandjones.co.uk
All rights reserved. Not to be reproduced without permission.