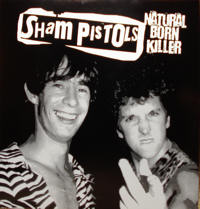 Studio Side:
Natural Born Killer (Sham Pistols. June 79)
You & Me (Sham 69)
Trainspotter (Sham 69)
Individual (Sham 69)

Live Side:
Pretty Vacant
White Riot
If The Kids Are United
What Have We Got
(Glasgow Apollo June 79)
Way back in 1979, the "merger" of the Sex Pistols with Sham 69 caused, for a brief moment, a great deal of excitement. With Johnny now in PiL and Sid dead, both fans and the press waited eagerly for news on Steve and Paul's next move. By May '79 it seemed the answer was known. The boys would be joined by Sham 69's Jimmy Pursey and Dave "Kermit" Treganna. Known for the time being as the Sham Pistols – until a name could be settled on - they went into Manor Studios, Oxford, to lay down some tracks. By August the group was in tatters.
Little was known about any of these tracks, until now. Four songs here claim to be Sham Pistols: Natural Born Killer, You & Me, Trainspotter, and Individual. However, only Natural Born Killer is a genuine, Cook, Jones, Pursey recording. The other 3 do not feature Steve and Paul!
So how does it stand up? What did we miss?
I really didn't know how to approach thise. Perhaps I was fearing the worst, or perhaps expecting too much? When the needle dropped onto the vinyl, I admit, my heart rate increased somewhat. This is what I found.
Natural Born Killer: Although it doesn't start off sounding like The Professionals' Kick Down The Doors, it soon develops into the very same tune. It's the strangest feeling. Those spine tingling licks are all present, including the wonderful climax. However, this time Pursey's on lead vocals singing a completely different set of lyrics. He does a good job as well.
We can assume Pursey's responsible for the lyrics. He had an obsession with place names at the time with Cambridge getting a mention. As for the chorus, it goes as follows: "I'm a natural born killer, swimming in the deep blue sea. I'm a new beginner, so what you've got to do with me?" Not his best chorus, but strangely catchy due to the strength of the tune. Lyrically the verses are much stronger. Basically it's The Professionals; Pursey's Professionals!
This would have been a big hit, of that I've no doubt. How annoying it didn't see the light of day. If they'd released only one single, this would have done. Damn.

There's no preaching, no cries for revolution... thank God. Sure, the band may have struggled with the weight of expectation, and there will be many who will condemn the failed project. Put all that to one side, and just listen, it was a sterling effort.
As for the vinyl pressing itself, the quality of the recordings is very good, if slightly muddy.
Who knows what may have become of this group? Could they have brought about a resurgence of punk rock as many hoped they would? The document here doesn't prove it one way or another. But do you know what? I would like to have seen them try.
Many theories have been given as to why the group fell apart. During an interview I conducted myself with Paul Cook, Paul told me; "Well, we were looking for singers at the time, me and Steve as a band, but not as the Sex Pistols. I think it was all in Pursey's imagination, thinking he was going to be the next singer of the Pistols. There's no way we would have carried on using the Pistols name, which is why I think that all folded soon enough. That didn't work out at all, it wasn't going to work."
Side two adds weight to this. Recorded live at Glasgow Apollo, when Steve and Paul appeared for Sham 69's encore in June '79, Pursey can be heard bigging himself up, ranting that he told Steve and Paul to get rid of McLaren then he would sing for them, alongside his tales of how he's in the newspapers every day. Unfortunately, Jimmy, you weren't in the papers for long. (Note: the tracks on side two have been released previously on Link and Sanctuary Records. The quality on this release is excellent).
The whole Sham Pistols episode had a detrimental effect on both camps. After the band fell apart, Pursey went on to reform Sham 69 but with limited success. Steve & Paul went into limbo before emerging a year later as The Professionals.
To return to the Natural Born Killer, I'm delighted that the wait of over 3 decades is finally over. I wasn't disappointed.