Rich Jones Interview

Drafted at short notice into The Professionals for the recent SNAFU tour, Rich Jones, much travelled guitarist, songwriter and graphic designer, chats to Phil Singleton from his Toronto home
Phil: One thing people may not realise is that you designed the current Professionals logo, so it seemed somehow fitting to see you in action with The Professionals. I assume the gig came about because you know Tom Spencer from your Yo-Yos days?

Rich: Yes, exactly. Tom and I have been friends since the 1990s when he was in the Yo-Yos. My band The Black Halos were signed to Sub Pop and our A&R guy was asking me about bands I could recommend, and I said Danny McCormack from The Wildhearts has this new band, the Yo-Yos. We ended up going to the UK from Canada cos The Black Halos played the Kerrang awards. The Yo-Yos were playing that week as well, and they ended up signing with Sub Pop.

We ended up playing shows together, getting into all kinds of trouble. We've been friends ever since and when I moved to England in the mid-2000s, that's when they called me to join the Yo-Yos. Tom and I have played on and off in different bands together for two decades now. I was really happy for him when the Professionals thing came together, he really deserves it, he's one of those guys that deserves more success than he has had in the past.

I guess it was sometime during September that I had a text from him out of the blue, "Profs on tour in October - do you fancy it?" I wrote back, yep! It wasn't like an audition or anything. I booked the flight 20 minutes later. Then they kept sending me songs to learn! There was so much to learn in just two weeks. But we got together and it was a ton of fun. I'd love to do it again. What a great experience. Not only was it great to be back playing music after being away for so long through Covid, but also to be playing music with those guys. I Didn't See It Coming was a big record for me, it's such a great record. Out of all those Pistols related things, for me that was the one. So getting to play those songs with Cookie, I was like, come on, who am I? What is this?! I felt I was pulling a fast one!

You did well

to make it over from Canada in the ever changing Covid climate.

The band sounded fabulous by the way.

Not bad for 2 days rehearsal!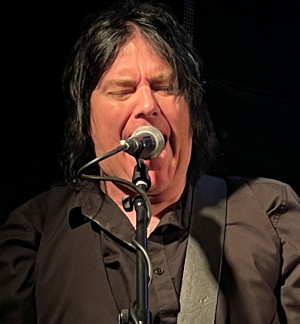 You must be good at your craft...

A part of it is that the Pistols were a big band for me when I was younger, and Steve's playing had a big influence on my playing so it was kind of natural. So of course I know what's going to happen and what guitar solo to play. What was a real revelation to me was Paul's drumming. I don't think I've ever played with anyone like him. He's a really efficient drummer, that's the best way of putting it. He's so tight and compact, he's always hard and steady on the high hat, so when he does open up to a big cymbal crash or something, it's so effective. When he opens up, it's like whoa! It's a big part of that Sex Pistols sound.

I first met Paul properly when I was playing in Ginger Wildheart's band. We put together this concept for Ginger's birthday show; we'd have a core band then we would have different guests on different instruments for a 30 song set. People would be coming on and off the stage for different songs all night, it was really entertaining. I got Ray McVeigh down to the rehearsals and he said he could probably get Cookie down for a couple of songs. We started working on Pretty Vacant and we thought it sounded pretty good, and then Cookie rolls up and starts playing it. That's what it's supposed to sound like! It transformed it, it was amazing.

Do you think you may hook-up with The Professionals again?

I think so, I hope so. We've talked about it for the Stiff Little Fingers tour in March, but that's basically just bad timing, I'd booked a holiday, first holiday I've had in years and years. The band didn't want me to change it. I think we probably will do some more stuff and we've talked about maybe recording a couple of songs. It's such a weird and uncertain time right now as well, even just playing gigs - who knows? There's a lot of talk in the band but there's the real world. I still stay in touch with them and it's all very friendly. I'd really like that if we can make it happen.

Talking about new material, Tom and Cookie have proved themselves an exceptional partnership…

I can tell Tom has taken on board the original Professionals and Sex Pistols approach with his song writing. He's not just trying to do his own thing, it's a case of this is what it should be. He's done a fantastic job. A lot of people are saying they are one of the few bands that have got back together where the new stuff holds up compared to the old stuff.

No one can argue with that. Covid permitting, Rich will be back in action later in the year both live and on record with Michael Monroe's band and Canadian punks The Black Halos. And perhaps, fingers crossed, with The Professionals.


---
---
Interview conducted January 2022
Professionals on Tour with SLF 10 March - 26 March 2022
Interview and photographs ©Phil Singleton / cookandjones.co.uk / www.sex-pistols.net 2022
All rights reserved. Not to be reproduced without permission.
God Save The Sex Pistols / Kick Down The Doors ©Phil Singleton / cookandjones.co.uk / www.sex-pistols.net 2022