REVIEWS - Events
Film: Anarchist - The Malcolm McLaren Generation. 28th August 2013
Portobello Film Festival - at Louise Blouin Foundation, 3 Olaf Street, London, W11.
This film is based on the life and times of the legendary Sex Pistols manager Malcolm McLaren.
A mix of interviews and footage starting with Malcolm's brother talking about their childhood days and then all the fashion, music and chaos Malcolm got involved with.
It features Vivienne Westwood, Adam Ant, Tracey Emin, Boy George and a host of other McLaren associates. Stuart Christie of 'The Anarchist Movement' is featured a lot. A Scottish anarchist writer and publisher, Christie is best known for being arrested as an 18-year-old while carrying explosives to assassinate the Spanish dictator General Franco.
Glen Matlock and Paul Cook give interviews in the film but none of the Sex Pistols are here tonight. However, Sex Pistols 1970s tour manager and sound guy John 'Boogie' Tiberi is present along with film co-producers Phil Strongman and Frank Malone.

The film is around 3 hours 5 minutes long but to me it still whizzed by as Malcolm led such an interesting and varied life and he was a master of chat. A really good, enjoyable film.
This was not a full scale premiere as such as the film still needs to sign a distribution deal to get it into the cinemas. Hopefully that will all come together soon. Tonight was a one off screening of the film.
Review by Ray Morrissey
---
Ronnie Biggs. Odd Man Out The Last Straw Book Launch 17th November 2011
Press conference and party for the updated version of Ronnie Biggs' autobiography "Odd Man Out, The Last Straw" at Shoreditch House, London E16.
Ronnie Biggs and his son Michael attended. The original book came out in 1994 but this updated version has around 200 extra pages.There are loads of TV crews and photographers here. Later on friends and family arrived. Ronnie is wheeled in looking very frail. He cannot talk but understands you and answered back via a spellboard or hand gestures. His son Michael and Ronnie's good friend Chris Pickard, who helped him with the book, are the ones that answered the press questions.
I asked Ronnie "Did you enjoy recording with two members of the Sex Pistols back in 1978?" He gave me a smile and a thumbs up which was quite touching. After most of the press had left, more friends and family turned up including Nick Reynolds (son of Great Train Robber Bruce Reynolds) and Gaz Mayall. A nice lunch was laid on and the freebie wines and beers were flowing. The press chairs were taken away and it became more relaxed. Ronnie was cuddling any women he could get his arms around. ITV host Fiona Phillips was very chatty with him as her own dad had similiar ill health. We had some proper Hell's Angels here from the UK, Sweden and Brazil. Everyone got a free copy of the book and Ronnie signed loads of them. I got mine signed and got a couple of photos with him. I also got my "The Biggest Blow - A Punk Prayer" signed; Ronnie with Cook 'n' Jones on that one.
Despite Ronnie being in a wheelchair and not being able to talk, he clearly enjoyed himself. He was here for well over three hours which was pretty amazing. Needless to say the book is a must buy.
Review by Ray Morrissey
---
Malcolm McLaren's Funeral 22nd April 2010.
Being a huge Sex Pistols fan I had met him a few times but I doubt he would have remembered me. A funeral is for family and close friends after all so I was not at the service at St Mary Magdalene Church, Marylebone, London NW1. I did however have a friend who has a motorbike so he drove me about for the afternoon. Near the church I did not really want to be seen, so I kept my crash helmet on. There was a great turn out including Glen Matlock, Paul Cook, Dame Vivienne Westwood, Adam Ant, Annie Lennox, Bobby Gillespie, Eddie Tudor Pole, Jon Savage, Steve Diggle, Pete Shelley, Alan Yentob, Pam Hogg, Philip Salon, Tony James, Don Letts, John Cooper Clarke, Marco Pirroni, David Johansen, and no doubt a few more.
After the service, most went their own ways and did not join the funeral cortege to Highgate Cemetary. A horse drawn carriage with "Too Fast To Live Too Young To Die" on the coffin led the way and, a few cars behind, an old green double decker bus followed with "Nowhere" as the destination on the front and a loud sound system. The bus had some guests in it including Eddie Tudor Pole. One car had Adam Ant and Vivienne Westwood. The route was via some music venues in the area; Koko, Electric Ballroom, Roundhouse, Barfly and Forum. We followed closely on the bike then overtook it and parked up outside the Electric Ballroom. There were quite a few here with us in this punk heartland.
We waited for the procession to go past then got back on the bike, travelling with a few other bikes for another 30 minutes as Malcolm related tunes blasted out of the bus. A few punks jumped on the back of the bus. It was great fun in the sunshine with people cheering all along the route. We got to Highgate Cemetary but only those from the service earlier were allowed in as the Police were present. It was all over by 3pm. Quite a send off.
Review by Ray Morrissey
---
Launch party for "Mick Jones - The Rock n Roll Public Library" 15th July 2009
at 2 Acklam Road,London W10.
An amazing collection of Mick's personal items from music related to film, to toys from the 70s/80s. An Aladdin's cave. This is the second time it has been out on display. First was at Chelsea Space, but this time it's in real Mick Jones/Clash territory... under the Westway and near Portobello Road. In the outside area there is free booze flowing and a bbq, as well as a stage where bands play. A lovely atmosphere.
Lots of people here from the Clash/Pistols community: Mick Jones and all his family, Ian Brown, Glen Matlock, Terry Chimes, Patti Palladin, Joe Strummer's wife, Robin Banks (Mick's school friend and subject of his song Stay Free), Pat Gilbert (author of The Real Story Of The Clash), Chris Salewicz, Ray Jordan (Clash and Roundhouse security from the 1970s), John "Boogie" Tiberi, Rodent, Dan Donovan, Miquita Oliver (Channel 4 music presenter), Chris Musto and Koozie Johns from Sinnerstar. It's free to get in and runs from July 18 to August 23. Nearest tube is Ladbroke Grove.
Review by Ray Morrissey
---
Central St Martin's (London) Freshers' Pathfinders Week, 29th September '06
Host Paul Gorman reports on the event for God Save The Sex Pistols: "I had a great time presenting designs from 430 King's Road (some courtesy of my own collection, some McLaren Dead In England and Westwood Gold Label and the rest provided by Steven Phillip of Rellik), at the culmination of Central St Martin's Freshers' Pathfinders Week.
The designs (bondage trousers, tops, t-shirts, muslins) were modelled by friends and fashion students, and I talked briefly about each design. When Glen Matlock came out wearing a copy of the first Sex t-shirt - the boy smoking with his bass and Sex Pistols overlaid - he received a standing ovation and we talked about him screen-printing with Bernie Rhodes at CSM back in the day.
Mark Helfond wore a You're Gonna Wake Up in tribute to Bernie who, at one point was gonna come along. I really wanted to get him to wear a YGWU but that would possibly have been shooting at the moon."
Above: Glen and Paul onstage.
Right: Paul Gorman in Cambridge Rapist t-shirt and Westwood's Anglomania bondage trousers.
Below: Pippa Brooks, Soho boutique owner (see shopatmaisonb.com) and frontwoman of excellent band All About Eve Babitz.
Below right: Rik and Jane Gadsby, web designers/filmmakers, in matching Cowboys.
Text / Pictures © Paul Gorman
---
Sex Pistols in Manchester. 30th Anniversary Celebrations
I Swear I Was There - book launch and talk, Urbis, 8th June '06
Punk at Central Library, Manchester Central Library, 9th June '06
The impact of the Sex Pistols gig at the Lesser Free Trade Hall on 4th June 1976 was celebrated by two events, looking at the impact of the show and of punk itself.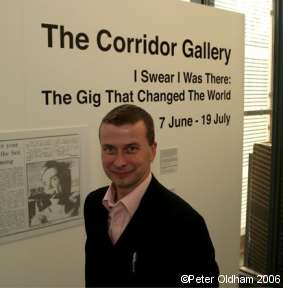 Local broadcaster/historian/author C P Lee opened the evening at Urbis, discussing the history of the Free Trade Hall as the people's venue and his belief that the venue itself had a 'psychic geography' all of its own which contributed to the impact of the Sex Pistols gig. C P Lee, who wasn't himself at the gig in question, (he was at the Paradiso Club in Amsterdam that night), recounted that he was at the infamous Bob Dylan gig at the Free Trade Hall where someone shouted "Judas". As with the Pistols June 4th gig, many have claimed to have been at that Dylan show, but perhaps more increduously, while researching for his own book on Dylan, he found four different people who claimed they were the one responsible for the "Judas" remark.
David Nolan (pictured left), whose book I Swear I Was There digs deep for the truth on the Sex Pistols gig, then took to the stage to explain why he had made the TV documentary and written the book: it's a topic that became an obsession when he was sixteen years old, and now in his forties, he is still on a mission to nail the truth and disseminate the information. Fact: forget the film 24 Hour Party People, Mick Hucknell was not at the gig. C P Lee then joined David on stage and the rest of the event was conducted as an inspired double act, with the impact of both the Pistols and punk in Manchester coming under the spotlight, including debate about local stars Joy Division/New Order.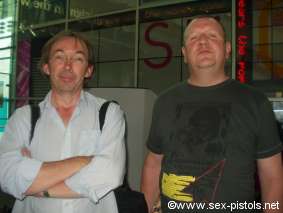 A highlight was when David told us that if you go into any crowd in Manchester you will always find a number claiming they were at the Pistols show. He then took to the floor and went to three people in turn, who it turned out really were there! Alan Hempsall, Peter Oldham, and Ian Moss. I enjoyed a chat with Peter and Ian, who clearly viewed the experience of seeing the Pistols as a very significant point in their lives. For them it really was a case of out with the old and in with the new.
(Right: Peter Oldham and Ian Moss at Urbis)
This was a class evening, and a unique way of launching a book and educating the audience which included academics from around the world.
An exhibition wall, "The Corridor Gallery" displaying pictures from the book, as well as an original gig ticket, is running at Urbis until 19th July and is free to view.
The following evening, it was over to the Manchester Central Library to a committee room on the second floor of this iconic circular building. Three items were on display: The Free Trade Hall booking diary (open at 4th June '76), another ledger listing all the artists booked to play at the hall (the Wurzels played the same week), and an index card including the gig's costings, takings and profits.
Authors John Robb, Clinton Heylin, and Mick Middles held court. Mick, a former scribe with Sounds, recounted his memories of seeing the Pistols at Manchester's Electric Circus venue during the Anarchy Tour, attended by Ian Curtis amongst others, which he felt was more important than the Lesser Free Hall gig. Mind you, Mick went to the 4th June gig but left after the support band Solstice, missing the Pistols. Mick brought to life the heady nature of the times, particularly the tribalism, in the days when just travelling to a punk gig at the Electric Circus was taking a major risk with your own life.
John Robb, like David Nolan the previous evening, is a natural on stage. He has lived and breathed punk rock since being touched by it almost 30 years ago. He attributes punk to giving him an existence he would never have otherwise dreamed of - enabling him to break out from a life which was heading towards the Civil Service. John displays a nice touch of self-depreciating humour, recalling those discussions of yesteryear about what was punk, and what was selling out. Back in the day, even performing on stage was viewed by some as selling out. He also looked back at the often overlooked fact that punks were far from the tough guys they were perceived to be - they were the ones getting beaten up. Clinton (author of Classic Rock Albums:Never Mind The Bollocks and From The Velvets To The Voidoids) read from his forthcoming book Babylon's Burning: From Punk To Grunge, which picks up the punk story from '76 onwards. He dealt with the myths surrounding the Ramones' appearance at the Roundhouse in London on July 4th, along with the Sex Pistols coming to Manchester. Clinton believes without doubt that the hard men of the punk scene were The Stranglers who were not afraid of a fight, and it was this aspect of the band, not their age, that turned people against them. The rest of the panel concurred with this view.
A question and answer session with the audience followed, which led to lively discussion. Like the previous evening, people had attended from far and near, including a guy from Canada who was passionate about punk in his own native country.
So why is punk being discussed in such cultured places as Urbis and Manchester Central Library? Both are places whose origin and purpose lies in allowing culture to be enjoyed and experienced by the masses. Quite punk rock in many ways. And, let's face it, punk is now part of the culture. Everywhere you look, punk's influence is there, from fashion to Sex Pistols skate boards. It's permeated all aspects of life. It is therefore very appropriate that it is up for debate in such hallowed surroundings. It's also very Manchester that an event such as a Sex Pistols show should be commemorated in a style all its own.
Review by Phil Singleton (10th June '06)
Photographs by Peter Oldham & Phil Singleton
---
©2000 - 2010 Phil Singleton / www.sex-pistols.net
All rights reserved. Not to be reproduced without permission.