The Professionals
Rebellion Festival: Opera House, Blackpool, 4th August 2017
Review & Pictures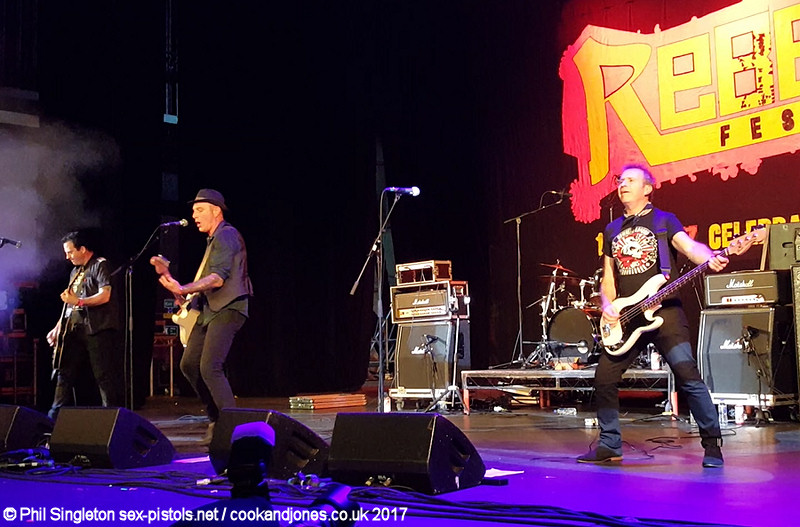 The relaunched Professionals took to the vast Opera House stage at midnight. It's a grand setting, rich in history, and as befits an opera house, it has terrific acoustics.

The unmistakable Just Another Dream kicked the show off - it will forever send a tingle down my spine. Perhaps the biggest triumph of the return of the band has been the opportunity to revel in the splendour of the often overlooked album tracks. Northern Slide, Crescendo, Too Far To Fall, and Payola are mighty songs, and have been worked up into majestic live anthems by the band. The Magnificent likewise is an incredible song and was done justice tonight - all four Professionals strut their stuff with Paul Myers' bass, Cookie's drums, and the dual guitars all forming distinct component parts. Tom Spencer and the newest recruit Chris McCormack share guitar duties including the old trademark Jonesy leads. It's great to see them combining with some serious swagger and rapport. The welcome inclusion of b-side Has Anybody Got An Alibi - slightly slower and more rocky than the norm - allowed the Pros to show individually what they are capable of. It was a powerful unstoppable beast.

The emphasis was mainly on nostalgia due to the festival vibe, but we did get to enjoy two songs from the forthcoming LP: Good Man Down and Take Me Now. Punchy, powerful with sharp hooks and memorable choruses, the band have maintained the unique Professionals sound. The crisp start and sharp endings that top and tail both tracks bolster the sense of urgency. Tom gave Steve Jones a name check for his contribution to the studio recording of Take Me Now - a nice touch. It was preceded by Join The Professionals - the two songs sat well together, bridging the old and the new.

Packed out with enthusiastic punters, the evening accelerated towards its climax as 1-2-3 , Kick Down The Doors (which saw one exuberant fan fly over the barrier), and Silly Thing shook the plaster of this ancient building. It could have ended there, but both the crowd and the band had earned themselves an extra little treat, Little Boys.

A new Professionals - new line-up, new album, new glories. The audience reaction tonight proved beyond any doubt they are an exceptional live rock 'n' roll band. There were many new conscripts at Rebellion. The Professionals are the real deal, so get yourself enlisted, see them live, and if you've not already done so, pledge for the forthcoming LP What In The World.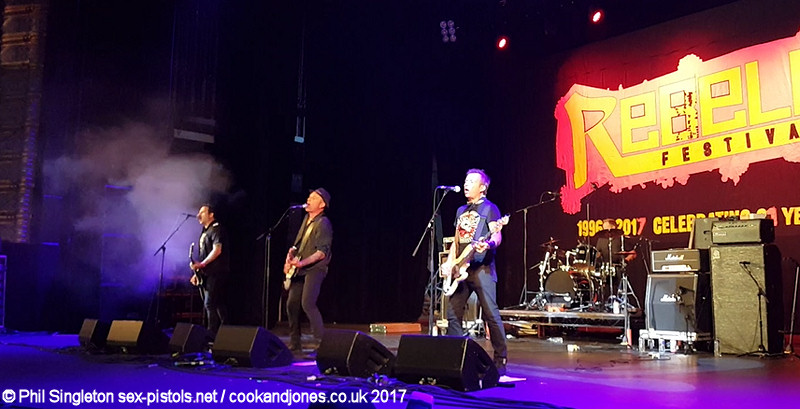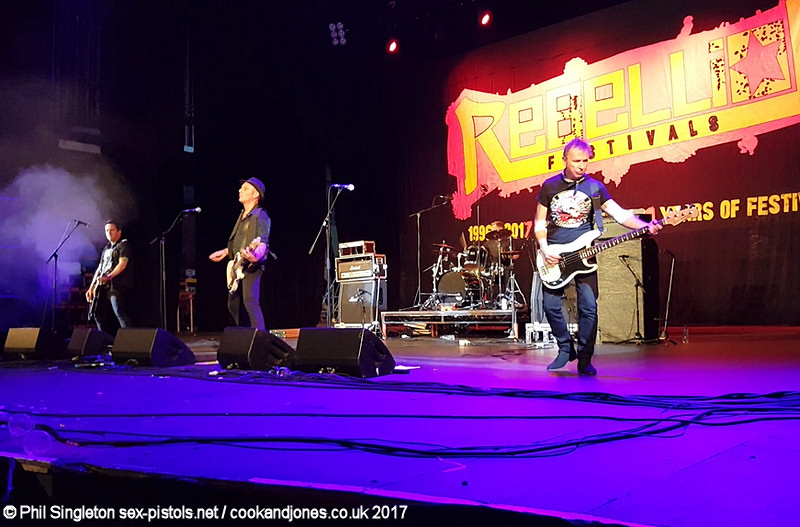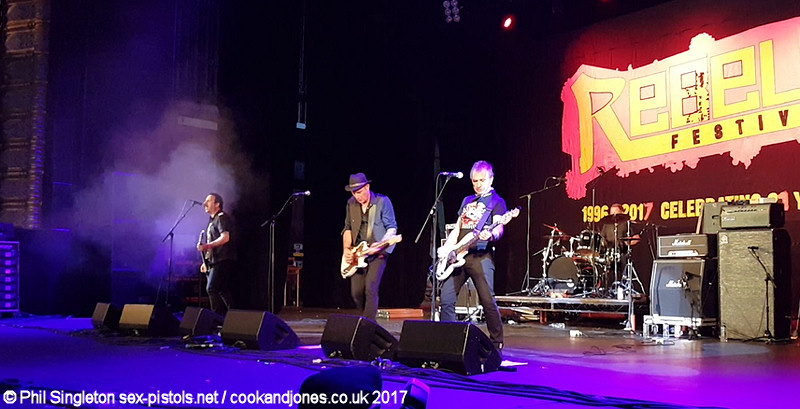 Review & pictures by Phil Singleton

©Phil Singleton / cookandjones.co.uk / www.sex-pistols.net 2017
All rights reserved. Not to be reproduced without permission
God Save The Sex Pistols / Kick Down The Doors ©Phil Singleton / cookandjones.co.uk / www.sex-pistols.net 2017