The Professionals
The Fleece, Bristol, 13th October 2015
The first show since 1982
100 Club, London, 16th October 2015
The first ever London show: Album launch
Paul Cook Ray McVeigh Paul Myers Tom Spencer
Double gig review

The Professionals live in 2015. What did it mean to you?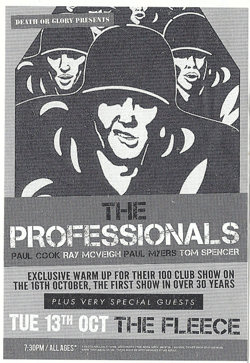 Way back at the dawn of time, 1997, I was surfing this relatively new thing called the internet, idly looking up subjects I was interested in. After all, everything was supposed to be on there I'd been told when I bought the PC. Sex Pistols? Yes, there were bits & pieces, not too much mind. The Professionals? Er... nothing. I'll have to do something about that.
So, I enrolled on a course, "Introduction to the Internet" (10 weeks, 2 hours every Sunday morning) to learn about website construction. Only 2 weeks covered this particular topic, but it was enough to get me started. All born out of a desire to put The Professionals on the web. I'd no idea where it would lead, and could not have imagined the experiences that would follow. And here I was, watching the Professionals in 2015, in Bristol and London.
What did it mean to me? Beyond words. On hearing the opening thud of guitar, drum and bass as the band sound checked Just Another Dream, the hairs on my neck stood up. That song meant so much to me. The emotions were as strong as ever.
Ok, Steve Jones did not make the trip, a fact that Paul Cook acknowledged at both gigs by dedicating The Magnificent to him. But no Steve did not lessen the impact. Tom Spencer filled his shoes with aplomb. He knows what makes The Pros tick, and delivered not only vocally, but also musically with Jonesy-esque power. And boy, The Professionals are fast! With a set lasting just over an hour, it took some stamina. These boys are in top condition. Paul Cook's drumming pounded like a pneumatic drill. Not only was it quick, it was hard. No wonder he's kept his figure.
Complementing Paul in the rhythm section was Paul number 2, Mr Myers. Paul Myers modestly maintains he is no musician, but he is. The Professionals songs are shaped by the two Pauls, and the bass thunders along underpinning the material. And the songs in question are all great. They always have been. Not standard punk rock; Pros tunes are distinctive, memorable, and meaningful. A lot of work went into the writing back in the day, and here they are, being performed live! I could hardly believe it.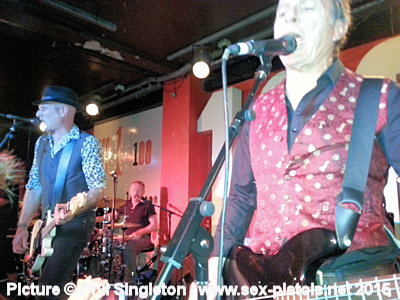 The theme to The Professionals TV series preceded the band's entrance on both nights, a neat and amusing touch. From the opening Just Another Dream through to the closing Little Boys, it was electrifying. Kick Down The Doors & 1-2-3 will always remain special to me, but so was the rest of the set. Ripping through 9 out of the 10 tracks from I Didn't See It Coming, we also got swept away by B-sides White Light White Heat (guest Ed Tudor Pole at 100 Club) and the all time great Has Anybody Got An Alibi.
And Silly Thing.
Ray McVeigh loves being a Professional. He could play the set with his eyes closed. Ray's contribution to The Professionals legacy cannot be overstated either. In difficult times during the band's tours of the US in 81 & 82, Ray shouldered a huge chuck of responsibility in delivering the sound, and now here he is, effortlessly blazing his way through classic after classic, including solos once the work of Steve Jones. Ray can handle it.
In fact, Paul, Paul, Ray & Tom can all handle it. Will Steve ever join in? Maybe.
Is this the last we'll see or hear of The Professionals? Nah.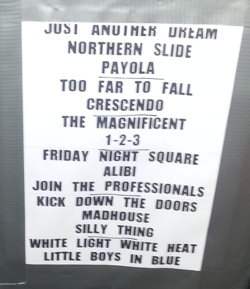 The Professionals live. What did it mean to me? A hell of a lot. 30+ years just melted away. Bristol, The Fleece or London, 100 Club? Which had the edge? That's like being asked to choose your favourite child. I loved them both. Equally. And will do forever.
Soundcheck Photos The Fleece Bristol >
Gig Photos The Fleece Bristol >
Soundcheck Photos 100 Club >
Gig Photos 100 Club >
Review & pictures by Phil Singleton
Special thanks to The Professionals
©Phil Singleton / cookandjones.co.uk / www.sex-pistols.net 2015
All rights reserved. Not to be reproduced without permission.
God Save The Sex Pistols / Kick Down The Doors ©Phil Singleton / cookandjones.co.uk / www.sex-pistols.net 2015