The Professionals
Clwb Ifor Bach, Cardiff, 17th March 2016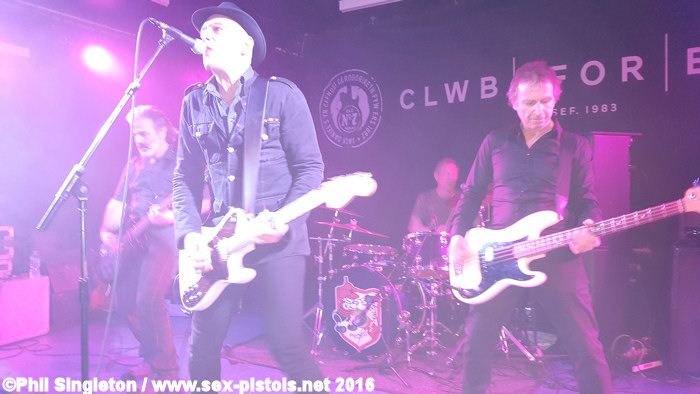 I was looking forward to this one. Last year's two reunion shows were a celebration of The Professionals music. The fact they are back, hints at something more.
I don't have to tell you how great this band are; not just back in the day, but right now. Tom Spencer took on absent Steve Jones' duties last year under intense scrutiny. He hid any trepidation and repaid the band's faith in him. Tom is still modest about his role, ready to welcome Steve back should he be tempted. If Steve returned, surely Tom would remain? He now seems integral, both on & off stage. Tom can also open a bottle of beer effortlessly with just a lighter & his bare hand; impressive & essential.
He's also involved in the group's new compositions. That's right, there is new Professionals material! One such fruit, New Generation, a Cook / Spencer composition made its live debut tonight.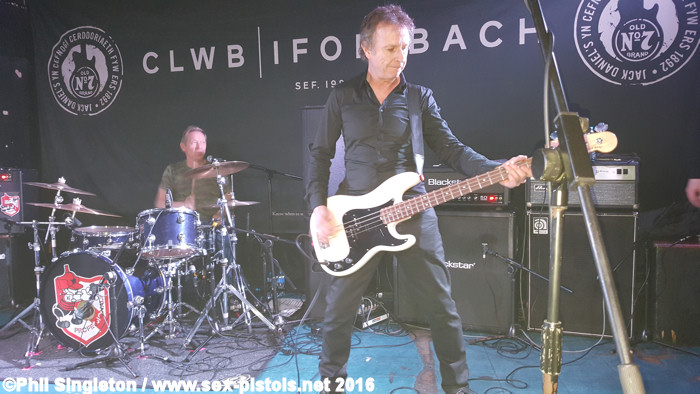 Exploding into life with Just Another Dream, the 15 song set was noticeably fast throughout. 'Slower' songs Northern Slide & Crescendo were breathlessly delivered, as was another surprise, Friday Night Square with Ray McVeigh stretching the life out of his guitar, putting it up there with Kick Down The Doors for power. Pogo classics Too Far To Fall, 1-2-3, Join The Professionals, & of course, Silly Thing, flew past in a blur. Paul Myers' new bass came in for a pounding. He may be laid back, but he works those rhythms. Paul Cook leads proceedings from behind the kit. Just watch him closely, he's lightening fast, dictating the pace. There is no doubt; The Professionals are faster than the Sex Pistols.
Has Anybody Got An Alibi always leant towards the 'rock' element of punk & was fittingly as tough as hell tonight. The Magnificent – a truly incredible tune regardless of genre - almost closed the set; we were still to witness another resurrection from The Professionals' live set of yesteryear, Suspicious Minds. It somehow fits the band's sound, with strong rock'n'roll chords. Steve Jones used to do his best Elvis impersonation on this, whereas Tom lets his own style round off a distinctly Professionals interpretation. It's also a fun way to end the evening, and was a clear indicator of the rapport these guys have.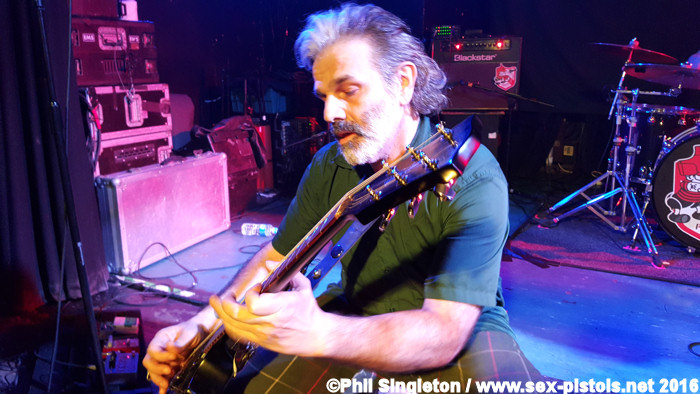 So what of New Generation? Just wait until you hear it for yourself. It's pure Professionals.
The Professionals are a 2016 band. You won't find them in the Imperial War Museum; they are back as a living, breathing fighting unit. Volunteer or get drafted, the outcome is inevitable.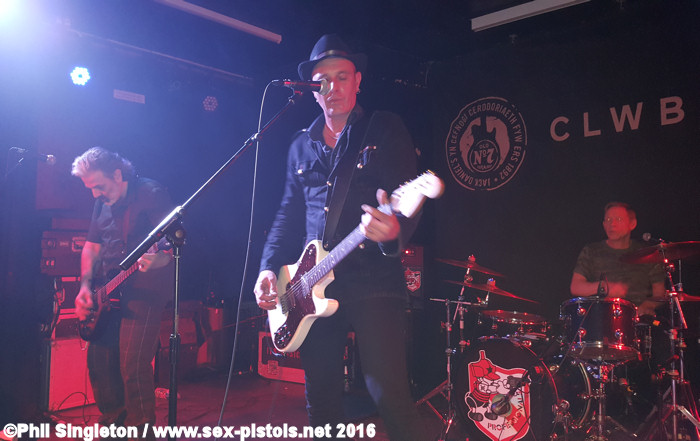 Review & pictures by Phil Singleton
Special thanks to The Professionals
The Professionals: Clwb Ifor Bach Soundcheck Photos >
©Phil Singleton / cookandjones.co.uk / www.sex-pistols.net 2016
All rights reserved. Not to be reproduced without permission.
God Save The Sex Pistols / Kick Down The Doors ©Phil Singleton / cookandjones.co.uk / www.sex-pistols.net 2016