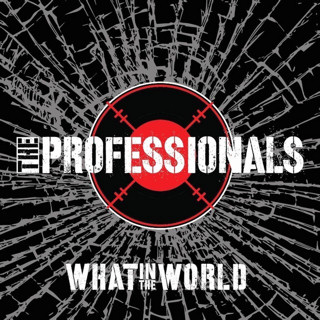 The Professionals relaunched two years ago. Buoyed and reinvigorated by a number of highly successful live sorties, Paul Cook, Paul Myers and Tom Spencer have returned from maneuvers and regrouped in the studio ready to unleash a brand new musical salvo on the world, fittingly titled
What In The World
. Have The Professionals emerged victorious from this fresh assault? Let's take a look.
I knew the LP would be good, but I'm astonished by just how great it is. It's 100% Professionals for a start - a tough sounding follow up to I Didn't See It Coming. No complaints about the production this time around, it's both loud and clear. Furthermore, What In The World is an authentic rock and roll record, structured as per traditional vinyl with attention paid to the running order on each 'side'.
Good Man Down
erupts from the speakers. It's an exciting start to the LP. No wonder the song is already part of the band's live set. Referred to, tongue-in-cheek, as a Viagra song, it actually deals with the process of ageing and standing by what makes you tick. The album's guitar template is firmly set in place with a display of power chords to delight fans clamouring for the Professionals sound of old. Fittingly, Steve Jones is back in the ranks for this one, and he's unmistakable. Billy Duffy likewise turns Professional with some style. The guitar is outstanding, but check out Cookie's drumming - shades of God Save The Queen.
Let Go
is about caring unconditionally for your kin through thick and thin. The music motors at speed, aided by a rousing chorus and backing vocals. Phil Collen delivers a crisp rock sound, switching from electrifyingly quick to suspenseful, while the two Pauls, Cook and Myers, remain unyieldingly vigorous throughout. Impressive.
Going Going Gone
continues in the realm of classic Pros, with rumbling, menacing guitar from Tom Spencer, augmented by Steve Jones' spine tingling intervention two minutes in. Billy Duffy again partners Steve in the overdubs - an explosive dual performance which, once it kicks in, just doesn't let up. It's direct and uplifting music, with top vocals, both Tom's lead and backing. A tribute to Bowie and Lemmy, the song neatly bonds two separate instances of Professionals misbehaviour. Whereas Steve Jones famously stole Bowie's gear from Hammersmith Odeon, years later when Tom worked as a teenager at the Odeon, Lemmy's Motorhead 'Bomber' lighting rig was stolen. "That bomber won't fly far, it's in the back of my car." One to leave you exhausted.
Extremadura
is one of two tracks on the album with a different feel to the norm. It's more restrained in the pace department and lyrically left field. Both factors enhance the rich visual landscape. Mick Jones does the guest guitar honours, and he's the perfect fit, sprinkling atmospheric tones over Tom's riffing and Cookie's rock solid rhythm. Great attention has been given to the BVs throughout the album, and they are used to full affect here, bathing the track with a warm ambience. The traditional Professionals lineage is never far away either, with hints of Crescendo linking the old and new, topped off with some neat bass from Paul Myers.
Rewind
closes 'side one' with a frenzied burst of rock energy. Yet again, Phil Collen doesn't hold back. His style may be different to Steve's but it is no less spectacular, conjuring up thrilling motifs of varied pace, perfectly suited to the sound of the band. The tune is as catchy and rip-roaring as they come, and lyrically it's another one punters of a certain vintage can relate to as we struggle with our memories, "won't you come back to me?". Epic Professionals to round off the first half of the set.
Hats Off
kicks off 'side two' hitting the spot on many levels, from the rich imagery to the soaring verses and chorus. Loaded with a social conscience, it champions the downtrodden from the battlefields of WW1 through to modern slavery. Tom's firm vocal is a clear plus, delivered with an emotional strength which complements the song's vibe. Guest Duff MaKagan steps up to the plate. As does new Professional Chris McCormack who joined the ranks just in time to make this track. It's clear they're both familiar with the band's legacy, nailing their guitar parts with a Jonesy infused confidence.
New Generation
is another powerhouse rapid rocker. It acknowledges both the passing of time and the conflicts that greet every generation in turn. Another song that has already been given a successful outing live. On record Marco Pirroni adds balls to the mix. Not a million miles away from Join The Professionals in its sense of purpose, it grasps the distinctive sound of the old-school Professionals and plants it firmly in the 21st Century. A classic.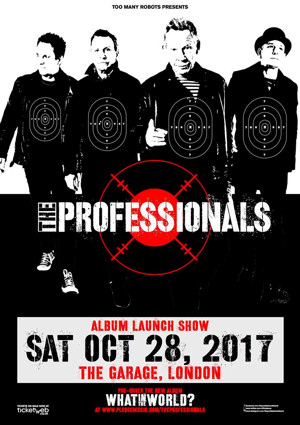 Take Me Now
brings together everything The Professionals are about. Clever songwriting, vocal delivery, solid riffs, ascending and descending guitar with rampaging bass and bombastic drumming. It features a trio of guitar greats with Steve Jones, Billy Duffy and Marco Pirroni all adding their magic. Three and a half breathless minutes fly past in a flash and, in keeping with the LP's urgency as a whole, it breaks off with the sudden force of a guillotine. "What a wonderful world it could be." No kidding. It's a killer.
Bad Baby
is the second cut to ease off the gas, albeit ever so slightly. The energy is still present, just controlled, as the band stretch their formula with a hypnotic, haunting soundscape that gets under the skin. Repeated listening reveals an incredible depth to the music. Cookie's drumming prowess drives this musical tour de force. An intriguing beast, it's fitting that the subject matter is ambiguous in nature. It's fast becoming an unexpected highlight.
Monkeys
offers up a break neck finale. Phil Collen - the surprise package for me - is back, and Duff McKagan is with him. It goes out to all the delusional people who think they run the show. The chorus is superb "see no, hear no, speak no evil, where did your monkeys go?" It's a blistering pogo-fest. I swear if you concentrate hard enough on the last second there's an echo of Too Far To Fall, the closing track of I Didn't See It Coming. Sure, it may be a figment of my imagination, but the history and essence of the band runs deep throughout. Don't be surprised if you experience something similar.
What In The World is an optimistic punk rock album with a conscience, shaped by life experience. Lyrically reflective, yet full of youthful energy. Tom, as lead singer, had perhaps the most daunting task. Sensibly steering away from doing a copycat Jonesy, he furnishes the tracks with a gutsy rock vocal that suits the music and helps give the 'new Pros' their own sound. Never fear, they still maintain one foot firmly in their early 80s existence. For starters, the drums are undeniably Cookie in his prime. Paul's distinct Pistols/Pros style is there in spades and remains central throughout. A nod goes to Paul Myers for his part, listen for his bass lines in Good Man Down, Rewind and Bad Baby - fast or slow he can mix it up.
The attention to detail, whether the inclusion of backing vocals to enhance the tracks or the role of the individual guest guitarists, illustrates the care put into the production. The guests add an enormous amount of pedigree to the project, each bringing their own style and colour. However, underneath it all Tom remains the driving force in the guitar stakes. His powerful riffs showing beyond doubt why he's a bona fide Professional. Perhaps the most satisfying aspect of the whole project has been the emergence of the Cook 'n' Spencer songwriting team. It's been a revelation.
What In The World is much more than an exercise in nostalgia and familiarity. They've applied an electric shock to their own past and jolted both band and fans alike through to 2017. The Professionals embrace their history, but don't live in it. They're a contemporary outfit with an exciting new album that demands your attention. As simple as.
AWOL for 35 years, The Professionals have reported back for duty battle ready. Be on the right side of history, enlist today. What In The World awaits at your HQ.