PRESS CUTTINGS
GOD SAVE THE QUEEN RELEASED 27th MAY 1977
from the archive of Dave Smitham

Introduction
'God Save the Queen (No Future)' was finally released for public purchase on Friday 27th May 1977 through Virgin Records - just in time for the impending Jubilee celebrations. The release was announced by an extensive Jamie Reid campaign - which included this NME back page that boasted the song 'would not be on the album and may not be out for very long'. The same publication also gave the single a glowing review, encouraging its readers to buy it. The record was quickly banned by the BBC and IBA, as well as by most of the major retail chains - subsequently reported in Record Mirror, this led to an absurd situation where it was even removed from Shop Chart lists. Despite the ban the record was subsequently acknowledged to have reached the number one slot - although this information was suppressed at the time. NME back page (25 June 1977) celebrates the 'fascist regime' with a 'Sex Pistols Banned' listing. Coinciding with the release of 'God Save the Queen', Islington Gazette published an interview with Johnny's mum ('my son's a nice boy really') - that was subsequently re-published through Sounds.
Below: NME 28th May 1977 (top) & NME back page 25th June 1977 (bottom)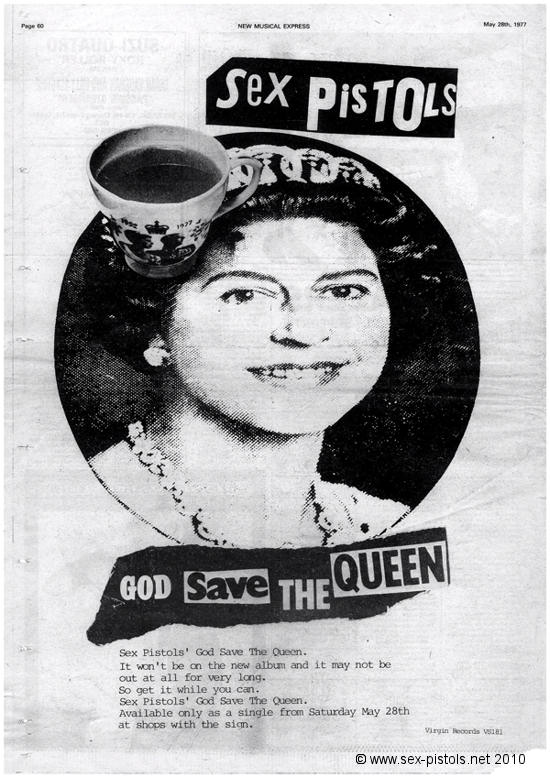 Press cuttings submitted by Dave Smitham
God Save The Sex Pistols ©Phil Singleton / www.sex-pistols.net 2010
---
Although every attempt has been made to ensure the following listings are as accurate as possible, errors may have occurred. Please e-mail any additions and/or corrections.
Errors that may have occurred will make it obvious if an attempt is made to copy the above piece of work. Do not publish elsewhere and claim authorship. You have been warned.