$WiND£E - Press Features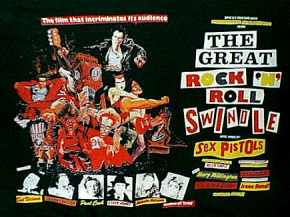 X PISTOLS FILM
AFTER MONTHS of legal argument and furious editing "The Great Rock'N'RolI Swindle" is finally being readied for release in this country. A final print of the movie was shown recently at a Film Festival in Los Angeles and, subject to various small objections from the British censor, a substantially similar version could be on show in London in May.

After tangling with numerous distribution companies, Virgin have formed their own firm to publish the film and expect to have it on the circuit by June. The film, which runs for 100 minutes was highly praised when reviewed by the press in Los Angeles. In Britain it will be released with an "X" certificate.

('Smash Hits', April 1980)



FILM REVIEW
THE STORY of how the Pistols came to complete their starring roles in a movie is almost as fascinating as the final result. It started in 1977 when McLaren decided to make a major pic starring the Pistols.
Russ Meyer, the man who brought you such classics as 'Beyond The Valley Of The Dolls' and 'Supervixens' was asked to England by McLaren to direct 'Bambi'. The first script by Johnny Speight of 'Till Death Us Do Part' fame was rejected.
Meyer then asked Roger Ebert author of 'Beyond The Valley Of The Dolls' and the only American film critic to have won the Pulitzer Prize for journalism to England to write another script which he did in four days straight.
The new draft presented amongst other things Johnny Rotten's love of the IRA and hatred of the Americans and the English. Steve Jones' life was to consist solely of prostitutes and hamburgers (not necessarily in that order) and Sid Vicious was to be seen screwing his mother.
Everything was all set to go in late 77. However Meyer got only three days of shooting done on location in Wales before the film was cancelled with no explanation.
Two other directors were called in to salvage the project— Pate Walker, the English equivalent of Russ Meyer and Jonathon Kaplan, one of Corman's proteges — he did 'Caged Heat' — but no further progress was made on the film until the start of the Pistols American tour in '78 when Julian Temple, a student of the National Film School took over. He dumped most of the Meyer script and with McLaren came up with the 'Rock'n'Roll Swindle' idea. He started shooting during the summer of '78 using money earned by McLaren from the Pistols records.

THE GREAT Rock'n' Roll Swindle' finally reached the screen last week at the Los Angeles Film Festival. For me, it is the definitive music film of the seventies.The depiction of how the group are exploited by the media and their manager is the most impressive use of a group within a film since the Monkees in 'Head' and the Beatles in 'Help'.

At the core of the film are McLaren's ten guidelines for a group's instant success. Among the gems explained on film, by animated sequences (trashing A&M's offices) and by McLaren himself are firstly 'Show various record companies the potential of a band that can't play', secondly 'Make it as hard as possible for the media to get to the group', 'Insult your audience as much as possible and stimulate hatred for the band itself'.

At each step in the Pistols break up Tenpole Tudor sings 'Who Killed Bambi' and Steve Jones and Paul Cook are seen in Rio with Biggsy and a character called Martin Bormann (a perennial favourite of Russ Meyer films). This is all that appears to be left of Meyer's work on the film.

'THERE ARE several complete numbers from the band, all of them intercut into the film including 'My Way' from Sid in Paris. Beside Biggs, the unlikely cast also includes Mary Millington (dead soft-core porn actress). Liz Fraser (alive soft-core porn actress), Jess Conrad (once a 'singer' himself), and Irene Handl of all people.

The whole thing meshes together sweetly, the story and the documentary footage of the band fitting together perfectly.The photography is credited to A.. Barker-Mills whose last film was 'Monty Python's Life Of Brian'. There is a more than casual connection between the two films. The style of both anarchic and cynical.

TONY WATTS. 'Sounds', March 29th 1980
--------------------------------------------------------------------------------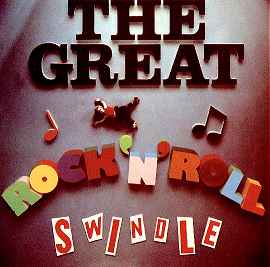 CARRY ON— MORE PRODUCT

"THE GREAT Rock'n'RolI Swindle" opens in London on May 15th at The Classic, Oxford Street, and The London Pavilion. Later in May it will also be shown at The Screen On The Green, Islington (London) and it's likely that some sort of national release will be arranged for June.
Virgin are also releasing a single album of music from the soundtrack called (surprise!) "The Great Rock'n'Roll Swindle" in early June. It's not yet known exactly what this will contain. There is also to be a book of the film, written by respected fantasy novelist Michael Moorcock, and presented in the format of a newspaper.
('Smash Hits', May 1980)
--------------------------------------------------------------------------------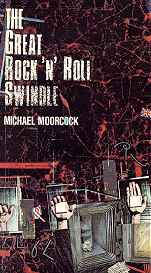 BOOK REVIEW
'The Great Rock 'n' Roll Swindle' by Michael Moorcock (Virgin Books 75p)
Not a great deal to do with the film, apart from the pictures, but then at least the Swindle is being consistent! Michael Moorcock has written his own novel inspired by the film (he even manages to write Lemmy into his account!) and it's presented in tatty newspaper for­mat but at 75p it's the cheapest rip-off connected with the Swindle so maybe we shouldn't complain. But it's out of print already so you'll have to search around a bit.
('Sounds')
The Moorcock book was subsequently re-issued in paperback by Virgin books (ISBN 0907080138) in 1981 priced at £1.50) (pictured)
--------------------------------------------------------------------------------

Helen in Waiting
Swindle Star's Career Plans

HELEN Of Troy (the first) lived in mythology and launched a thousand ships. The second one lives in NW6 and would like to launch her own career. All she wants now, she says, is a good agent, an Equity card and artistic credibility. And if the first two are hard enough to come by. then the third —when you're a dwarf and only known for playing Malcolm McLaren's sidekick in The Great Rock'n'Roll Swindle— can be damn near impossible.
Helen got into movies, as she explains, "just to exploit myself and make some money out of all this. 'Cos everyone looks at me and I think 'God, if I could get sixpence for each look let alone for opening my mouth,' you know?"
Her opportunity came with the arrival of punk in '76, which she loved. For a start, she already looked like one:
'Yeah, because I had to. not because of any fashion. I used to cut up my ex-husband's pants: because they were so wide I used to wrap them around me to make them tight. And I just think, well. I've got nothing to lose.., and most of the time I can get away with it, because people are so sort of Christian- d'you know what I mean, really, they find it hard to be honest with me. They probably think I'm a half-wit.
"But I do want to sing, and do films, and feel that I have worked, been notorious, famous, infamous, whatever. I have to express myself because I find life absolutely pointless if I can't have an outlet... I know I can make money. It's being Tiny Tim, I suppose; to have a career like his. He was horrific really, but he left a mark, he did something."
Knowing director Derek Jarman, her first break came with a role in his punk fantasia Jubilee, the second through a close association with The Sex Pistols. As a good friend of the group ("great boys, and considerate") and having worked as all-round dogsbody in the McLaren organisation (she claims to have been the designer of punk's blackmail graphic style, though credit went to Jamie Reid) Helen was prepared to "go to war' it she was left out of any plans to film the Pistols story.
Fortunately for Helen, Swindle director Julien Temple ensured her participation, and so she appears in the opening sequence assembling the title, and also as Malcolm's wide-eyed sidekick, listening with amazement as he lists his infamous 'ten lessons'.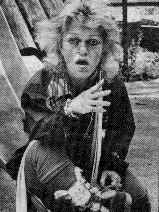 "He used to feed off my face, my expressions; I drew it out of him." Helen's rather actressy manner extends to the obligatory bitching too: "Vivienne (Westwood, of Seditionaries) would come on to the set chanting directions— I mean, ,Julien was the director — and criticised Malcolm's looking at me, why shouldn't he look straight at the camera. . – like reading the news, so lacking in imagination. And because we didn't do that, it's 'not political'," she mimics with a sneer. "This is her way of saying it's too Chipperfields Circus or whatever. "But I enjoy the film. Under the circumstances—what it went through, the hassles, the squabbles, people wiping their names off the credits and not talking to each other, all the bad vibes — it's done exceedingly well. Basically I think it's great, like a lucky dip, full of everything."
And as for Helen Of Troy (real name Helen Wellington-Lloyd)? Already she's done a few promo films, and made one attempt at forming a band with two Mo-Dettes: "But I felt I wasn't ready then. What I want badly now is a record deal and a backing band," She says she'd love to do a cosmetic ad too, if only they'd let her. "I can look quite dollybird-ish at times… that would really be punching people's whole way of thinking, to sell a product that so-called pretty proportioned ladles would sell."
Unquestionably, though her finest hour came recently, at of all places, a UK Subs gig in the Music Machine. "I was mobbedl" she remembers blissfully. "Loads of them —they must have seen the record cover — they wanted my autographs. Dirty, pockmark faced urchins. I couldn't see a thing!" Her eyes close in delight.
"I find that so exciting. I really do…"
Sweetdreams..
PAUL DU NOYER, NME, 1980
---
God Save The Sex Pistols ©2002 - 2007 Phil Singleton / www.sex-pistols.net. All rights reserved.