I Swear I Was There
Sex Pistols, Manchester & the Gig That Changed The World
updated 2016
2016 40th Anniversary Edition




So, what's new for 2016?


New pictures from the second Lesser Free Trade Hall gig, paperwork diary entries for both gigs, invite for 'So It Goes' - the Sex Pistols TV debut, & a review of first gig from Penetration.
Plus interviews with John Maher from Buzzcocks, Howard Bates of Slaughter and the Dogs and many audience members who haven't spoken before




I SWEAR I WAS THERE
SEX PISTOLS. MANCHESTER,
& THE GIG THAT CHANGED THE WORLD
David Nolan

On June 4, 1976, four young men called the Sex Pistols took to the stage of a tiny upstairs hall in Manchester for a gig that, quite literally, changed the world. In front of a handful of people they played one of the most important live sets of all time. Alongside Woodstock and Live Aid, the Sex Pistols' performance at the Lesser Free Trade Hall has been named by critics as one of the most pivotal performances in music history … not necessarily because of the quality of the music - but because of the effect the show had on the audience.

"A f**king great book. Really good!" Peter Hook, Joy Division / New Order
"It's a really good book." Howard Devoto, Buzzcocks/Magazine
"An impressive array of participants that really were there...highly amusing." www.sex-pistols.net

Published by John Blake Publishing £7.99


GSTSPs conducted interviews with author David Nolan in 2001 & 2006
2006 Interview
David Nolan discusses his book I SWEAR I WAS THERE with Phil Singleton. David also produced the TV documentary of the same name which examined the impact of the two Sex Pistols shows at the Lesser Free Trade Hall on 4th June and 20th July 1976, and the group's appearance on Granada TV's So It Goes.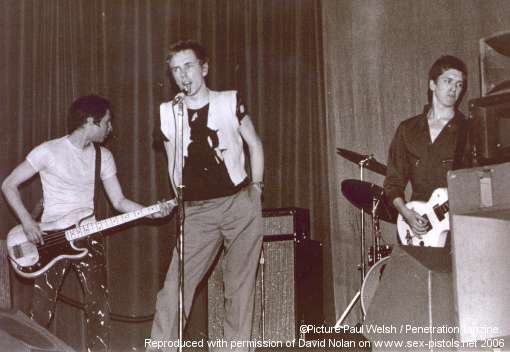 Glen Matlock, Johnny Rotten and Steve Jones - Sex Pistols at the Lesser Free Trade Hall, Manchester - June 4th 1976

Phil: It's five years on since the first edition of your book which came about as a result of your acclaimed Granada TV documentary. What made you feel you now wanted to re-launch and look afresh at the book?
David: The original book was a side bet at the time. I wasn't an author, I'd written a book back in 1990 and that had all gone horribly wrong, so I said I was never ever going to write another book ever again, and then I got coerced into doing the book (I Swear I was There) at night, while I was making the programme during the day. And for lots of reasons it wasn't very enjoyable, but I was delighted that it happened and it came out, but basically it was a one-shot to go with the programme. When you notice it's not in the shops anymore and people ask me why they can't get it anymore, it was because it was to do with the TV show and nothing more than that. It's only as it's taken on a life of its own that it progressed.
I was quite happy with it as it was and then I went to Urbis in Manchester. They had a punk exhibition on and they were showing the programme as you came in, and you could watch it in a theatre upstairs, there were pictures from the book and a bit of spiel from me as part of the exhibition, which was great, fantastic, then I walked through the shop, and every plonker on the entire planet who'd ever written a book had all of them in the shop. The one book that wasn't there was mine and I thought this can't be right. So I went back to the original publishers and said, "do you want to do it again to mark the 30th Anniversary?" and they said, "thanks, but no thanks, it's not our kind of thing." Then the second publisher I tried, IMP, who I'd had some dealings with some years ago said "yes, we remember you, you're alright." They thought about it and "yeah, let's do it." It's been an absolute pleasure this time. It's been nice to do it and to finish off the loose ends and fill some of the glaring gaps from last time. It was 75% of the way there last time around, and this time it's about 95%, because I had the time to do it properly. I took a month off my other work to do it. It looks better, it looks great, and the layout is how I first imagined it. It looks different, it smells different, it reads different, and it is different.
When we had a chat five years ago about your first edition, you said that's it for now, until perhaps the 30th Anniversary.
It happened quickly. The weird thing is after I produced I Swear I Was There for Granada TV, I did some other music documentaries. I did one about The Smiths, which went all over the world and I ended up in Rolling Stone magazine; I did an Echo and the Bunnymen one, and one about the free festival movement in the 70s. I've made over 150 programmes in my time in television, and of those 150 programmes, 149 have been pretty much forgotten about, apart from this one. This is the one that for some reason has got legs, and still has a life of its own. The other day I typed it into ebay and people are still selling copies of the show on DVD. It's fantastic. Bootleg me all you can, no one has bootlegged any of my other programmes; it has a life of its own.
The original book wasn't done in the easiest of conditions, it nearly all collapsed at one stage, this time I've managed to give my full attention to it. Also, for some reason a lot of the loose ends from last time have by coincidence come together.
Like you say, when you did it originally, it had a far tighter timescale. What areas have you covered this time, which, when you were doing the first book, you thought, if only I had more time to look into that?
When you're in a situation where you have one character talking about somebody else, because of the style of the book, it's natural then for that person to pop up and carry on the story. Howard Devoto last time said John The Postman did things; this time we've got John The Postman telling you exactly what he did. When you've got Pete Shelley talking about meeting Steve Diggle outside by accident; now you've got Steve Diggle telling you the story firsthand. That's why it is done in that style, to go with the title, I Swear I was There, so you don't necessarily want me describing events for you, you want the people who were actually there. It's a TV style, you don't have loads and loads of narration; you have the people who saw it, who were actually there telling you what it was like.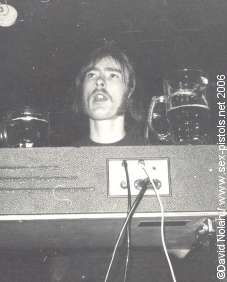 The nicest one for me, because the least interesting aspect for me in a funny way is the Sex Pistols, it's all the other stuff that I find fascinating, was to track down Solstice, the support band. That was an absolute delight. It was a glaring absence last time; I just couldn't find them at all. Then through your website (see news item Jan 2006), someone saw one of my final pleas, mentioned it to someone else, who mentioned it to someone in Germany, who mentioned it to someone in South Africa, and I ended up finding Solstice, the support band. Fantastic. I don't think they quite knew what to make of it all after all these years. That was delightful, I was able to get photographs from them and things like that. I think my favourite bit from them was from their keyboard player, Dave 'Zok' Howard. He said, "We came on, we went down alright, off we came, and the Pistols came on and they were rubbish!" That sums up where the dividing line was, when they went off and the Pistols came on, that's where the change happened.
(Left: Dave 'Zok' Howard)
They (Solstice) were a bit funny about it to start with, perhaps some of them thought I'd come to take the mickey of them or slag them off, but far from it. They played at one of the most important gigs of all time, and no one had ever managed to find them, so they've got their little place back in rock history, where they belong.
Were they aware of the fuss that has surrounded the concert?
They were aware of it, and one of them saw the documentary when it went out and nudged his missus, and said "that's us, that is" and never thought anymore than that, because that's the sort of blokes they are. That says a lot, there are people who are part of musical history mainly because they've made a big song and dance about it, whereas Solstice who really were there and were part of it, are quite happy to leave it at that.
The memories of Solstice will be honest and sincere ones. If you've been repeatedly asked about something you tend to say what's expected and reflect what the persona of the event has become.
You go onto autopilot. Solstice have no axe to grind, they have nothing to benefit from it, they're not going to reform, at least I don't think they're going to reform! They haven't got a film, an album, or a tour riding on it, or anything riding on it. Also, they haven't been asked about it for 30 years. Up until 5 years ago, no one even knew they played at the gig. We put that right, and now we've put it right with their recollections.
You asked before why do the book again? I'll tell you why. I went into a bookshop last week and picked up a book about the making of Joy Division's first album. I flicked to the back, looked under 'L' for Lesser Free Trade Hall, and I'm not kidding it said, "On June 12th the Sex Pistols played and Johnny Marr was there, and Mick Hucknell was there, a key moment in music history." Maybe I'm still required to put it right if they are still getting it wrong! Also, putting Solstice in their proper place was a vital part of it, and that to me was delightful.
Solstice were in some ways bit part players but their opinions are as truthful and valid as anyone else's who was at the gig.
Absolutely. That Channel 4 survey which said it was the third most important gig of all time; can you imagine any other band on the planet who'd played at the third most important gig of all time - they would have been dining out on it for 30 years, and they've never even mentioned it. That says a great deal about them.
In what way?
Well, contrast that with other people in the book who do nothing but go on and on about it, who played a very small part in the story, if indeed they had a part in the story at all.
I think that is why your book stands out, because it is focused on a small yet important set of events, whereas most books are far more general and they simply repeat the mistakes.
As you yourself say in the book, not everybody has a desire to take it out of the box and look at it piece by piece. But it should be. Things about this still drive me mad. For some reason writing about music, and rock music in particular, you seem to be allowed to get away with stuff that you wouldn't be able to in any other form of writing. It's almost as if you stood outside Strangeways jail during the riots and all the writers who were sent out to cover it all going into a huddle afterwards and saying "I don't really like this bit here, let's leave it out. Let's do this instead, it's much better than the true version." You don't get that anywhere else, only in music writing. It's outrageous. It's genuinely wrong.
Why do you think this is almost unique to rock writers?
It's a mixture of a couple of things. One is down to astonishing laziness and because you can get away with it. And two, as was said in 24 Hour Party People, if you've got a choice between the legend and the truth, print the legend. It doesn't happen anywhere else. Anywhere else, you'd be sued or you'd be run out of town for being a bad journalist or a bad writer.
There certainly is a lot of rubbish written which goes unchallenged and a lot of playing up to what people are expecting you to say. Again, the strength of your book, even more so with the new edition, is that you've not set out to prove or disprove, you've set out to tell the story from as many different view points as you can get hold of. It's there on the paper.
That's exactly what you do if it was a news story about an event deemed worthy of being written about. You interview all the people involved, get at least two confirmations of any event or story, then compare and contrast. If there are discrepancies you either sort it out or let the reader decide whether they are telling the truth. For some reason, with music writers this goes out of the window.
I don't fire off letters to newspapers a lot, but The Scotland On Sunday newspaper the other week had a piece on The Fall who were playing in Edinburgh and they said Mark E Smith was used to dealing with unruly crowds because he was a docker in Salford. A lovely story, but he worked as a clerk for the Manchester Docks Company. It's like "That's a nice turn of phrase, I won't bother checking it." It doesn't happen anywhere else, you wouldn't describe a politician and get his job or age wrong, or a sports star or an actor, you'd get it right. But for some reason in music it's ok to splish, splash, splosh it. I think that's really wrong.
You'll find rock writers out there who write a book to appeal to the musicians that they are writing it about.
Very much so. Also some people maybe get carried away with, "Oh look at me, I'm writing a book." Well get over it. There is a reason why the band's name is in large letters and yours is in small letters, step into the background a little. Let the people tell the story who were actually there. There should be proper journalistic principals applied to music writing. I've read lots of sloppy books.
I was wondering whether you thought you'd ever work alongside Tony Wilson again because you have a good-natured pop at him in the book.
I find him a fascinating guy. I find him slightly odd. I don't think I have a pop at him, some of the people in the book certainly do. Then again, as I tend to do throughout the book, if I have an experience with a person who is in the book then I'll bring that to the table as well. I'll describe meeting Matlock, or I'll describe the lads in Solstice, or I'll describe Slaughter and the Dogs. By the same token I sat in the same room as Tony Wilson on hundreds of occasions and for some reason he never talks to me. He's a funny fella, but pound for pound he's worth his weight in gold in entertainment terms. I would no more take Wilson's version of events as the final and ultimate version, than I would take anybody else's. He's a strange bloke, but thank god for him being around.
Now you've done the book you're obviously hoping it'll set the record straight, but I felt it was a little bit more than that. You are looking at the whole idea of those people who are desperate to claim that they were at something that was important, even though they might not have been there themselves or they may have even convinced themselves that "perhaps I was there."
Absolutely. The title itself has taken a life of its own. Someone was telling me there is one of these tribute bands who now use it as a bit of a catch phrase, I think it is one of the Pistols' ones, "book us and you can say I Swear I Was There." I see it popping up from time to time. It's interesting because it's not just about "here's this gig, here's the story behind it", but also looks at why do some events take on a life of their own to such an extent that some people claim to have been there if they weren't, or claim to have almost been there, or convince themselves they were there. It's fascinating. We do it all the time, I could own up to some of mine.
You're quite honest about that; without trying to get too deep about it, in some ways it's a humorous nod towards the human condition and the desire to be a part of something.
Absolutely. And sometimes you do it so much you forget you are doing it. I did toy with the idea of putting a list at the back of the book and put next to their names, "thinks they were there but were actually at the second gig", "weren't there at all, quite clearly a liar!"; "they were definitely there, I can prove it beyond doubt." But I think it's fun to leave it open and let people make their own minds up.
That's the trouble with something that takes on a mythical status like this, it becomes sacred and like you said, you dare not take it out of the box and examine it properly because you're not allowed to. It's done. The legend. Walk away from it. It's quite fine as it is, we don't want people like you noseying around it.
It's a funny notion that something becomes so alluring. There were 40 something people in the audience, but if you did a straw poll in Manchester you'd get 7,000 people who said they were there. Why would you do that? Perhaps because people desperately want to be part of something which is so clearly and so obviously identified as a point of change. It's so easy to identify, June 4th 1976, that's the point where it took a left hand turn. That's why I suppose it becomes quite enticing to want to have been there.
Are you hoping that people will now finally take your book on board? Or do you think that despite presenting this evidence you'll still get lazy journalists repeating the same old mistakes?
Oh yes, you get some people who genuinely don't want to know - if I chased them down the street reading out passages from the book they'd stick their fingers in their ears going "la la la la la la." Plenty of books do now use it as a reference, which is fine, but there is no excuse now to get it wrong.
On the presentation side of the book, it looks smarter, I certainly like the picture on the front. You've got some very rare photographs that had previously appeared in a fanzine, Penetration. I don't think many people will have seen those.
The bloke from Penetration fanzine, he was someone who was there. I've tried to track him down and I cannot find him, which I mention in the book, "Where are you?" It's indicative of people who shout out their part in the story and others who just go about their business. There are other things like the pictures of Solstice, which are nice. The overall look is what I had in mind first time around with the typesetting and the flow of the pictures throughout the book. As you've said in the past, it's not often you open up a book and think "blimey I've not seen that photograph." But in this case you can guarantee it. I think the picture of Mick Rossi on a bed with Joanne Whalley Kilmer is worth the price of admission alone! There are twice as many photographs in this one as there was in the first book, and a much broader range.
The pictures add a lot this time because you can now visualise the gig a lot better and are not relying as much on the mind to visualise it. In particular the one on the front cover, which is a shot from the audience, conveys a lot about the gig; you've got the size of the stage, you've got some of the crowd, and you've got the band.
Whenever I see it, to me it's a photograph of the audience. That's why it's on the cover. You've got the Sex Pistols way in the background, and what's in the foreground is the audience.
Those are the people who swear they were there.
That's what the book is about. At no stage was it even contemplated that the book would be called "The Sex Pistols at the Free Trade Hall."
It's a good shot because it does let you know that in some ways it was just an ordinary gig, it wasn't full of a mass of people down the front pogoing or throwing things.
No leather jackets, no studs, no spiky hair.
The audience look laid back and the band look a bit alone and lost on stage, because it was before punk kicked in. The picture shows an almost innocent crowd looking at this spectacle, wondering what they should be doing. A year later everyone knew what they were expected to do at a gig like this.
That's right. A nice contrast to Pete Oldham's pictures from the second gig, which are also unique to the book, where you get a sense of more menace in the audience, there was more of a crowd there and maybe people had learnt their roles a bit. At the first gig it was a crowd of mainly blokes, with long hair and flared trousers on, watching a bunch of young lads just out of their teens, that they didn't quite know what to make of. The book has always been about the audience.
I did a piece for Q magazine the other month and this guy said to them he had shots of the audience and they asked, "Can you see Morrissey?!" OK, well tell me exactly what Morrissey would have looked like in 1976 and then maybe you might be able to spot him. What I can see is a bunch of baffled looking longhairs. That's what it was like. It might be better to do it like 24 Hour Party People with Mick Hucknell dancing down the front, but it wasn't like that.
You're obviously satisfied with the book; this is the version you would have liked five years ago. You've got the missing pieces there now.
Yes. Never say never, but it's the final version as far as I'm concerned. The 30th anniversary is quite an important one anyway, but after that you are looking at 40 or 50, and quite what the appetite will be then I don't know. Also, from being an unpleasant experience last time, it's been a nice experience this time, particularly with the publishers who are music publishers.
I wouldn't have said this five years ago, but I now see this as part of my living, it's a part of what I do as a job of work along with other things I do. I've a few other projects in the pipeline, only one of which would be of interest to your constituency. So having said five years ago "never again", I'm on a roll now!
Written by Phil Singleton (May 2006)
---
I SWEAR I WAS THERE: THE GIG THAT CHANGED THE WORLD
David Nolan
Published by Independent Music Press on June 4th, 2006
The first version of this book followed in the wake of the Granada Television documentary of the same name. This time around, version two digs deeper, provides more revelations and delves into the psyche of those who swear they were there.
So what is it all about? In a nutshell, two students would invite the Sex Pistols to Manchester, a move that would transform the local music scene in the city forever. The students in question would become better known as Pete Shelley and Howard Devoto, founder members of the Buzzcocks.
The television researchers pulled together an impressive array of participants who really were there. The book itself brings together original interview transcripts recorded for the show along with brand new interviews, all linked by informative and insightful explanations and information. In this respect, the book works well and is structured to allow the story to unfold in a documentary fashion.
Beginning with a forward by Howard Devoto, we get to hear of his trip to London with Pete Shelley in search of Malcolm McLaren's shop and the subsequent invitation they made to the Pistols to play in Manchester. This they would do twice, on 4th June and the 20th July 1976, both at the Lesser Free Trade Hall. If, however, Howard didn't have the use of a friend's car one particular weekend it's likely they would never have made it to London and the whole musical revolution in Manchester, if not throughout Britain, might never have happened.
The impact of the Pistols on Tony Wilson (then the presenter of 'So It Goes' on Granada) led in turn to the Pistols appearing on the show. One interesting snippet (which wasn't mentioned in the documentary) is the confirmation that the end of the Pistols' performance of Anarchy In The UK had been doctored prior to transmission, by the director, Peter Walker. Why? The reasons are all here.
A second edition of the book seemed inevitable. The documentary coupled with the first book led to more interest and more revelations. Important parts of the jigsaw have now been filled, with important additional input from Steve Diggle, John The Postman, and (thanks to www.sex-pistols.net), the elusive Solstice, the support band at the June 4th concert, who had hitherto been impossible to find.
Contributions from the likes of Glen Matlock, Jordan, Mick Rossi and Wayne Barrett (Slaughter And The Dogs), Tony Wilson, and many more involved at either the live shows or 'So It Goes', provide a sense of balance as the sea change caused by the Pistols' first appearance at the Lesser Free Trade Hall swept all before it, including the truth in some cases. Often highly amusing (Clive James gets a good trashing!) the book contains some stunning rare photographs that originally appeared in the long forgotten fanzine, Penetration. These pictures help bring the accounts of the night to life. Just check the cover shot - a crowd of confused and bemused punters look on bewildered as the Sex Pistols turn the world upside down.
With the subject being scrutinized like never before; no myth is taken for granted. An inspired piece of work that will be enjoyed by anyone with an interest in the Sex Pistols, punk rock, or the birth of the Manchester music scene.
Review by Phil Singleton (May 2006)
---
David Nolan, producer of the acclaimed Granada TV documentary 'I SWEAR I WAS THERE', talks to Phil Singleton about the production of the programme. Interview conducted in 2001.
'I SWEAR I WAS THERE' tells the truth behind the legendary Sex Pistols' gigs at the Lesser Free Trade Hall in Manchester on 4th June and 20th July 1976, plus their first ever TV appearance, performing 'Anarchy in the UK' on Granada TV's 'So It Goes'. Events which became a catalyst for change far beyond the wildest dreams of two lads at the Bolton Institute of Technology….
Phil: How did the idea for the programme originate?
David: I started work at the age of 16 on a magazine, and I was taken under the wing of a photographer, and we used to travel around all over the country doing stories. We used to talk about music and punk rock, and he said to me that he'd seen the Sex Pistols twice in 1976. I called him a 'fucking liar' and so he produced the photographs to prove it! That was 21 years ago now, but at the time I did say it would be really good if we could do a programme or magazine article about how those gigs changed the shape of music, and changed the way everything went.
19 years after that… I produce programmes for Granada, and sometimes I make programmes that I want to make, and sometimes I make programmes people tell me to make, and there was an opportunity for me to put new ideas in. One of my ideas was, because it's a quarter of a century after the Sex Pistols' gigs at the Lesser Free Trade Hall, let's track everybody down, and more importantly, let's tell it how it actually was, instead of repeating the stuff you get in a variety of books. For example, Jon Savage's book 'England's Dreaming', is a great book, but when it deals with this section, it's wrong. The 'Complete History of the Buzzcocks' (Tony McGartland), is wrong as well. The same wrong facts have been repeated so many times, and the same myths perpetuated. It used to literally drive me mad, for example in 'Sid and Nancy' by Alex Cox, where they're representing early Pistols' gigs with everybody having mohicans and leather jackets with studs on the back. Terrible! Even when we came to make the programme, the first thing that the graphics artist said to me was 'I presume you want the Jamie Reid pink and yellow ripped-off lettering.' I said 'no! This is June 1976! It didn't exist then! Let's get it right. Let's make it clear that the audience had long hair, clogs, flared trousers, and tank-tops.' It absolutely drives me mad when people perpetuate this idea that it was instant punk. There was no such thing. Punk didn't even reach the suburbs till 1979 where I grew up.
So the first thing was to get it looking right, so the programme looked the part. In terms of pictures and images that we had, they came bit by bit. We started with photographs, then we got the Super 8 footage from Howard Devoto.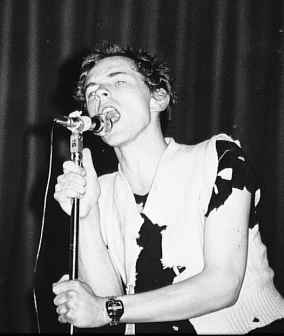 I was going to ask where the Super 8 footage came from.
We were researching left, right and centre, and we'd been speaking to Pete Shelley and Howard Devoto a lot. A tape arrived at the office that had 'Buzzcocks - Breakdown' written on it, and we thought this will be the Buzzcocks at a festival in Germany or something, playing 'Breakdown'. We never even looked at it! After about three weeks, I asked the Assistant Producer to go and have a look at the tape so we could say to Howard Devoto that we'd looked at it. It was 3 1/2 minutes of them playing at the Lesser Free Trade Hall, and we thought 'oh that's quite good!' We said 'what else is there?' The more we asked and the more we looked we found little tiny things such as the six seconds of Slaughter And The Dogs... in their blouses! It was literally at the end of the frame. The Slaughter And The Dogs footage on the programme ends with the spool running through the final frame; that's actually what it was, it was literally the end of the spool. We used every single frame.
We then found on the end of another reel, the footage of Solstice, who were the actual support band, and not the support band that everyone else has claimed for years and years. It was literally at the end of the reel.
Did it all come from Howard Devoto, or was it from different sources?
It's very complicated. He owns some of the Copyright. Another guy who actually shot it, Mark, owns some of the other Copyright. As is often the case, for example with the 'So It Goes' footage, people tend to just look at the same footage over and over again and never take the trouble to go to the end of the reel. So that's where the real gems came from. No one's ever put those images in the right context or the right order.
How much footage from those reels didn't make it to the programme?
Not a lot. We did a deal, so therefore we were limited with the number of minutes. But believe you me, that's the best stuff. The editor did a cracking job, particularly when you see the Lesser Free Trade Hall stuff, with the Pistols playing Stepping Stone. It really looks like the Pistols are playing 'Stepping Stone', but they're not in fact. It is the actual soundtrack from the gig, but they weren't actually playing 'Stepping Stone' in the footage itself.
How easy was it to get Granada interested in the project?
It was a long-held ambition to do this. I put it forward that it wasn't really about the Sex Pistols, but about the audience and what happened. It's about the story of these two lads from Bolton, who came up with this idea to bring the Sex Pistols to Manchester, and as a result created the independent record scene, what would become 'Madchester' and create a night club scene. A whole area of music that would never have happened otherwise, if these two Herberts hadn't driven down to London and seen the Pistols in High Wycombe.
So I pitched it as not being about the Sex Pistols. It's about the night the distance between the audience and the band became non-existent.
It was good to see Howard Devoto in front of camera. He's tended to prove reclusive in recent times.
We couldn't shut the guy up! It was as though he was saying 'everybody thinks I'm enigmatic and mysterious, but no-one's bothered to ask me before!' We got reams and reams of stuff from Howard and other people, which ended up feeding into the book. The average viewer wants to see 'sound bite - sound bite - sound bite', when they're watching a television programme. There's an awful lot of other stuff; anecdotes that grow, that are longer and have more life in them, that you can't use on television, but you can in a book.
You brought together a real mix of on-stage participants, behind the scenes characters, and perhaps most importantly, audience members. How did you go about tracking them down?
I went on Granada Tonight (local TV magazine programme) last year, because once the idea had been commissioned, we wanted everyone to be aware that we were doing it, therefore, 'don't even bother you trying to do it because we've got it absolutely stitched up!' So very early on, I went on the TV and said 'this is the programme we are making, if you were at either of the concerts, then get in touch with us.' I did a few things in the papers as well.
Then we developed a system whereby we would root people out when they rang up. We basically asked them who was the support band? If they said Slaughter And The Dogs, we said 'OK we'll put you in the gig No. 2 pile.' If they said, it was the Mandala Band, we would say 'You've obviously read a few books but you don't actually know what you're talking about!' If they said Solstice, we'd say 'OK we'll put you in gig No. 1 pile.'
The killer question was 'name one song that Solstice played?' If they said it was 'Nantucket Sleighride' by Mountain, then you were in.
We would literally grill everybody, then put them into a different pile depending on their answers.
There were no members of Solstice interviewed!
We tried to find them.
I imagine they wouldn't be too keen to show their faces!
I dunno, I mean they were of their time. They were exactly right for the time. Also the group Gentlemen on the 'So It Goes' programme were of their time as well.
It would be interesting if Granada TV would repeat that edition of the 'So It Goes' programme. There is such a contrast between what was acceptable and what people generally sat in front of the telly and watched in terms of music, compared with what came on at the end of the show, i.e. the Sex Pistols.
It's like I was saying before, if you go to the Granada library and you pull the tape of 'So It Goes', it's lined up at the start of Johnny shouting 'Get off your arse.' No one had taken the trouble to go back and see what the rest of the programme was like. Literally. Ever. It was the first time you saw the other bands that had been on, and Clive James, and Peter Cook. The first time it had been shown since 1976 was on 'I Swear I Was There.'
The altercations between the Pistols and Clive James were all off-camera weren't they?
Yes. Glen Matlock recounted his story word for word from his book, about breaking his string on his bass, and calling Tony Wilson a 'cunt.' It was all off-camera. In fact, because of the separation of the acts, Matlock didn't even know that other bands were there. It was filmed over the course of a day. The Pistols were the last ones on, and therefore they didn't even see any other bands. So to this day, the Sex Pistols believe they were the only band on the programme.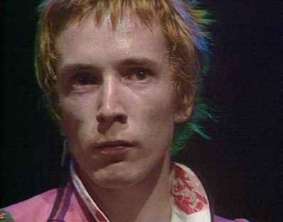 It's also interesting to read in the book how the end of 'Anarchy in the UK' was edited for transmission on 'So It Goes'. The ending never seemed right, but I'd never read the reasons for it.
Everyone knows it looks odd, but no one had taken the trouble to find the guy who called the shots and find out why. It was because they had done this almost Yes version of the song, six or seven minutes long, which had to be cut down. So they had a bit of argy-bargy, laid a bit of feedback on it, managed to grab Johnny's 'stare', which saved the Director's life - if he didn't have that he would have been knackered, because there would have been nothing to carry the shot over long enough. And there you have it. In a funny way it vastly improved on the actual performance.
(right: Johnny's stare)
Does the original full version still exist?
It doesn't, no. It would have been edited in the gallery, therefore you would wipe over the original version. So basically what you've got is the anecdotal version of what it is, and the actual version would have been wiped over there and then. At the time the Director, Pete Walker, wouldn't have thought anything about it other than he'd got to get his bloody show done now!
Was it easy to get Pete Walker and Producer Chris Pye involved? They recall their trepidation and reluctance to put the Sex Pistols on 'So It Goes'.
A bit of that is with hindsight. It's interesting because it was the first time that they'd talked about it, (Pete Walker is now semi-retired, Chris Pye is now very senior within Granada). Nobody had taken the trouble to think, where are these guys now? Let's go and find them, and let's go and talk to them and find out the truth about it. It was like the Lesser Free Trade Hall gigs, for some reason everyone had been content to repeat the same stuff over and over again.
You interviewed Glen Matlock for the show. Was that done the same day as his appearance at the Life Café in Manchester?
Yeah, we did him on the same day at Granada. We had a good old chat and then we went along and filmed the gig, which was an opportunity we couldn't really miss.
Did you approach any of the other Pistols?
Johnny Rotten doesn't want to talk about it any more. He is fairly adamant about that. Steve Jones wanted a huge amount of money at Los Angeles airport, in cash. So he talked himself out of it. However, the programme wasn't called 'The Sex Pistols at the Lesser Free Trade Hall', it had its own title and it had its own agenda. It wasn't about the Sex Pistols, it was about the bands that came from it etc, and putting those events in with the absolute facts of what happened, and what came from that.
It's a good yarn.
It was a good idea to start the documentary by referring to Pete Shelley and Howard Devoto by their real names.
Thank you! I wanted to do it absolutely chronologically. At the time, when they were at college and when they were looking in the New Musical Express and reading the article 'Don't look over your shoulder, the Sex Pistols are coming', that's what they were, they were Pete McNeish and Howard Trafford. Once they'd been to London and then they'd decided to come back and try and convince the college to put the gig on, that's when they became the people that we know, Pete Shelley and Howard Devoto.
You managed to get hold of a copy of the June 4th ticket.
We actually got two of them, and I think there's only three left. It was nice to be able to reprint one of them in the book. The typographical mistake (1076 instead of 1976) isn't wrong on all of them, but they were hand typed. A little thing like the tickets not being right...
It adds to the DIY feel to it.
That's exactly what it was. Each and every ticket was done by hand.
You filmed some drama students performing as the Sex Pistols. How do you think that worked in the context of the programme?
The point was, at the time we only had stills we could use. That was an actor playing Johnny Rotten, and musicians playing the parts of the other Pistols, in the right clothes and with exactly the right instruments. The white Les Paul guitar for 'Steve Jones' cost me a fucking fortune!
You didn't buy it from Steve did you? He keeps selling the same one!
I hired it in! We put the decals of the 1950s pin-up girls on it. The '24 Hour Party People' film that's been made... they've done a similar exercise to us, but they've put 1970s naked women on the guitar which drove me mad! It wasn't 1970s women at all. It was 1950s pin-up girls.
The 'new' footage was there as a standby because we were so short of visual material. In the end, we didn't use as much of it as we originally planned, so it was just there as a stylistic thing. It worked nicely at the start, and it worked nicely in other places. The majority of people watching the programme weren't aware that we'd done it at all, they just assumed it was the Sex Pistols.
You've got some newly discovered stills for inclusion in a second cut of the programme that's being prepared.
That's right. City Life magazine in Manchester did a front page feature and a four-page spread to accompany the programme. A guy wrote to City Life to say that he had taken some photos at the Lesser Free Trade Hall. We got in touch, and I asked if he minded if I cut them into the programme because it's going to be shown again in October. He was happy with that. So Part One of the programme will be including as many of these photographs as possible. They're great. I've never seen them before.
It's going to be re-shown in Granada. Yorkshire and Tyne Tees are taking it. It's often the way that you make a programme for regional transmission, you turn your back, and then it's shown all over the country. That's showbiz!
The book is selling very well. It was done on an 11-week turnaround, not something I plan to do again! Also, apart from being very accurate for once, it's also fun. Music is supposed to be fun, and I tried to bring out some of the humour as well. Yes, we do take it seriously, and make sure the facts are correct, but it is supposed to be fun. I liked it when you said in your review that you found the book amusing, because that's what it's supposed to be. It's fun! It's rock'n'roll!
It's good to have something that makes you laugh. Not just what I've written, but what people say and how it relates to other things they say. The famous people, the Peter Hooks and Tony Wilsons, have had many opportunities to hone their anecdotes to a fine point, whereas other people in the programme and the book, i.e. Iain Grey, Ian Moss, the married couple that went to see Slaughter And The Dogs - the regular people that were there - it's probably the first time they'd spoken about it for donkey's years. It's just a fresh perspective as opposed to the finely honed anecdotes. That's why I tried to debunk it. Even with the practiced ones we did try and do that. We got stuff out of the likes of Morley, Wilson, and Peter Hook that nobody had got out of them before, and probably won't do again. Until the 30th anniversary comes around!
Written by Phil Singleton 2001
Copyright God Save the Sex Pistols 2001/2006/2016. Pictures copyright Granada (used with permission)
---
©Phil Singleton / www.sex-pistols.net 2001/2006//2016

All rights reserved. Not to be reproduced without permission.