For the finale, Glen Matlock joined The Paddingtons for a frenzied Pretty Vacant, as the crowd jumped around at the front of stage, just like "the old days".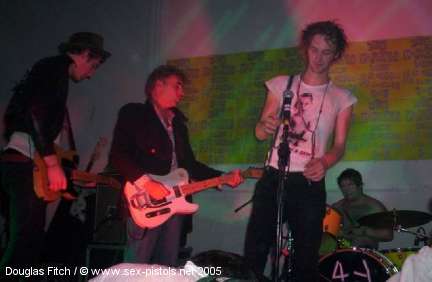 Pictured: Glen & The Paddingtons
The Press attended and took photos of Glen with guests like The Towers Of London who love the Pistols. Other guests included Chris and Koozie from The Philistines, Marco (Adam And The Ants), Rodent (Pistols roadie), Patti Palladin, Tony Barber (Buzzcocks), and Julien Temple, the director of The Great Rock 'n' Roll Swindle and and The Filth And The Fury. Sadly, Don Letts was not in attendance with his punk films.
All in all, a superb evening and top marks go to St Martin's and everyone else involved in putting on such a great event to mark this special anniversary .