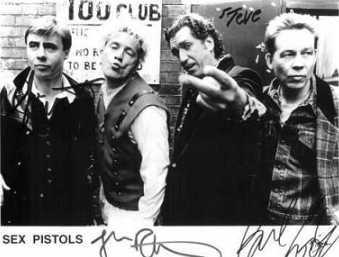 100 Club Press Conference 18th March 1996
PISTOLS DRAWN
(Transcript from Melody Maker. 23rd March 1996)
SEX PISTOLS ended months of speculation this week by announcing they are to reform for a series of gigs, including an outdoor show at London's Finsbury Park on June 23 - as exclusively reported in the February 10 issue of Melody Maker. The four original members of the Pistols hosted a press conference in front of 350 journalists from around the world at the 100 Club in Oxford St, London, on Monday (March 18). Before the band's arrival, five transvestites in skimpy DayGlo outfits handed out cheese rolls and jellied eels, while tapes of Second World War songs were played over the Union Jack­ festooned PA. A huge Union Jack was also draped over the podium. In the middle was a photo of Princess Diana with "Queen Of Tarts" emblazoned across her eyes, in the style of the "God Save The Queen" single sleeve. The Pistols' wives and girlfriends, Steve Severin, Eddie Tudorpole and Vivienne Westwood's son were preset.
Lydon immediately demanded a beer.
Lydon: "All right, we're here, who's first?"
What do you think about Malcolm McLaren's comments in Melody Maker that you're just dray horses out for your last ride before being put out to pasture?
Lydon: "I'm, glad he's still doing our press for us."
Johnny, are you on any prescribed medication that we should know about?
Lydon: "The only thing I'm on is ego, and I've got more than enough to go round."
This is sad isn't it?
Lydon : "Pardon can I have that in English? It's sad that an arsehole like you doesn't appreciate the effort we've gone to."
How much money are you getting?
Lydon: "More than The Beatles and f**king right 'n' all. Cos this is the only thing that's ever come out of Britain that's actually worth the money."
Isn't it a complete about-face from everything you've ever stood for?
Lydon: "Listen, we invented punk, we write the rules. You follow. Not the other way round."
Where's your first gig?
Lydon: "Finland!"
Why Finland?
Lydon; "You've got to rehearse some place."
Do you still hate each other?
Lydon: "Yes, with a vengeance, but we share a common cause, and it's your money."
How much are you getting?
Cook: "Don't be nosey."
Lydon: "I'll tell you at the end of the year."
What do you think of Green Day?
Lydon: "Childish prattle. It's the same old shit really, nothing's changed. Through the years we've all gone off and done different things and left it up to others to make waves but nobody out there has done bollocks all to change this world, so here it is, part two. And quite frankly, the Sex Pistols never finished properly so this is what this is about, to put a full stop on it."
Why has it taken you so long?
Lydon: "Well I ran away from it for a long time. I couldn't cope with it because it went tragically wrong due to management and various other arsehole members. Money isn't the be all and end all. I'm also incredibly spiteful and when someone thinks something is so sacrosanct that it should never be touched, I wanna touch it."
Asked about a Pistols reunion in the past you've said, "What are we gonna do, dig up Sid?" Do you think that might make a better spectacle?
Lydon: "I thought about that, but Sid's ashes were blown all over Heathrow airport! We'd need a f***ing Hoover!"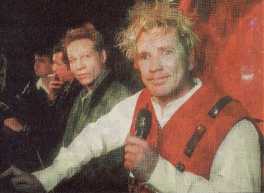 Are you writing new material?
Matlock: "No, we haven't even rehearsed yet. This is only the third time we've even seen each other. We've spent five minutes together and it's going great."
Are you gonna get rid of the monarchy for us this time?
Lydon: "No, Our very good fifth member, Lady Di, is doing an excellent job. In fact we've offered to do a benefit for Madame Di cos she really does need the cash, just like us."
What would Sid think off all this?
Lydon: "He'd love it, if he could think at all. Sid was nothing more than a coat hanger to fill in an empty space on stage. These are the people that wrote the songs and now we'd like to be paid for it. Every f**er has lived off us and we've not seen penny one or respect. If you wanna complain about people grabbing money, then look at all those trashy little pop stars you've got out there left right and centre. I don't see you bitching about any of those bumholes. Is it cos we're working class that that means we have no access to cash, period?"
You live in Malibu!
Lydon: "Should we just stay in our council estates?"
Are you old farts like the Stones?
Lydon: "There ain't nothing wrong with getting old. Like a fine wine, I've matured with age."
Glen, what have you been doing for the last 20 years apart from your writing your book?
Lydon: "Not a lot."
Matlock: "I've done a lot thanks John. I've got an album coming out this month on Creation. It's called "Who's He When He's Not At Home."'
How far can you spit these days?
Lydon: "Do you wanna test it?"
Do you like Oasis?
Lydon: "They're just a pop band, you know."
Matlock: "Don't wanna say anything about them, they're really hard and they might hit us."
Who's gonna support you on tour?
Lydon: "Some bunch of F***ing geriatrics. Who cares? Let's face it nobody is gonna go for any of the support bands. Apparently the Buzzcocks are gonna be at Finsbury Park but if you really want a good laugh, come late."
The first time you went to Finland they wouldn't let you in, now they will. What does that say about you as a band?
Lydon: "It says nothing at all. Nobody cares about Finland."
Do you expect anyone to start gobbing at you again?
Lydon: "No, and quite Frankly I never appreciated that in the first place. I am not no f***er's spittoon."
How old are you all now?
Lydon: "I'm 21 and I've been that way for 19 years. I'm 40. I'm not the slightest bit ashamed about it. We're not pretending to be kids. We also don't give a shit what we look like. We love our beer bellies and you're gonna too."
What do we call you, Johnny - Rotten or- -
Lydon: "You'll call me sir"
What do you think of artists like Tricky doing something new?
Lydon: "What Tricky's doing isn't new. That's all samples of other people's stuff. That's not new. There's not one original thought in there. By the way, I like Tricky."
Do you think it's inevitable that the Clash will follow suit and reform?
Lydon: "We don't know anything about The Clap."
Matlock "I think they'll do it next year. Cos they always did stuff after us anyway."
You said you hated stadium rock bands but you are one now.
Lydon: "No we're not. What stadium would that be? You name the stadium and I'll call you a liar. Finsbury Park is not a stadium, it is a field."
Would you like to appear in Hello magazine with Nora?
Lydon: "We could make a threesome with Lady Di."
Matlock: "And Fergie."
Lydon: "Not Fergie. That tart in a tent can stay where she is. That's the bum suck end of it. That's The Clash of the royal family."
How many times have you been approached to do this?
Lydon: "About 10 solid years of it. But all those have never really been solid offers. This is happening because we actually sat down and bothered to think about it and started to call in some of these arseholes offering all this money and have no qualms whatsoever about taking them up on their big fat mouths."
If the concerts go well are you going to make this a permanent - - -
Lydon: "No. No, the concerts won't go well and no, it will not be permanent. I mean, you know what this lot's like. We always disappoint on the night. And surely that's the fun of it all. I hope [at] Finsbury Park it rains and you get your wheelchairs stuck in the mud,"
Does Sid's mother have any rights to the Sex Pistols stuff?
Lydon: ''We look after her and her pussy. She has a cat."
Will you play "Top Of The Pops"?
Lydon: "No. No. It could never work. That show's so bad. You've really depressed me, just the f***ing thought of it."
Matlock: "The c***s wouldn't have us on there 20 years ago, why should we go on now?"
Lydon: "Unless. They pay. Now you must admit that's a novel idea."
What are you gonna spend the money on?
Jones: "Prostitutes. Well I am anyway."
Lydon: "He's not joking either."
Are you gonna play 'EMI' now that your record company (Virgin) is owned by EMI?
Lydon: "Can you please not mumble that again."
Do you think you've grown up?
Lydon: "No. I've grown wide."
And on that note, it ended.
---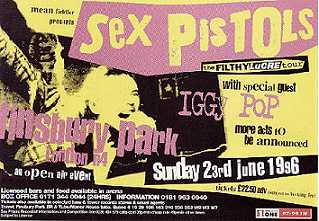 FI£THY LUCRE - LIVE!
UK Reviews
FINSBURY PARK, LONDON, N4
23rd June 1996
'Happiness is a worn gun'
Review by David Sinclair, The Times. 25th June 1996
Well, we're not that f****** bad after all, are we?" announced a typically defiant John Lydon (née Rotten), halfway through the Sex Pistols' first British show in 20 years. And, if you cut a swath through all the hype this reunion has generated and the scepticism with which it has understandably been greeted, then he had probably got it about right.
For, although dubbed the Filthy Lucre tour (after a tabloid headline from 1977 ("Punk? Call It Filthy Lucre"), there is no doubt that the Pistols were out to prove more than their ability to make money. Part of the "unfinished business" to which Lydon referred at their recent press conference involved the dismantling of their long-standing reputation as the band that could not play.
But no matter what they did they were never going to recapture the sense of outrage that they generated so effortlessly in their prime. Indeed, it is a measure of the group's baleful influence that nobody now gets worked up about pop stars using bad language in their lyrics, and there was an air of relaxed camaraderie among the 30,000-strong crowd as they sang along with genial gusto to the f-words in the opening number, Bodies.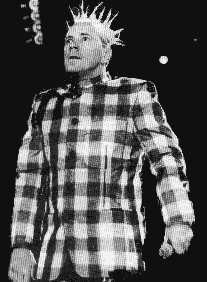 The Pistols had obviously done their homework and despite a somewhat arthritic feel to the rhythm section, they thundered through Seventeen and No Feelings with surprising conviction. But it was hard to ignore the element of panto­mime in the performance. With his hair arranged in vertical spikes, Lydon looked more like a postcard-punk caricature than he ever did in his original incarnation. "Oh, how you longed to see this day," he goaded the crowd, which responded with a chant of: "You fat bastard." "Don't be naughty," Lydon admonished them.
With its pedalling rhythm, descending chord steps and Chuck Berry-style guitar solo God Save the Queen was always a magnificent song, and the lyrics have held up remarkably well. But the punk ethos — which always railed against the mindless adulation of rock stars and preferred its heroes to come equipped with a self-destruct mechanism — was not de­signed with big, open-air events in mind. With no new material on offer, the set lacked depth and variety, and having built to a quick climax with Holidays in the Sun, Pretty Vacant and EMI, the Pistols left the stage after less than an hour to a muted response.
The "encores" produced reliable versions of Anarchy in the UK and Problems, but they lost their way as soon as they departed from the script during a more ambitious rendition of the Stooges' proto­punk anthem, No Fun.
"Thank you for coming to my garden party," Lydon said as he departed, his duty done. No future indeed, but still a band with a past worth making a bit of noise about.
---
SHEPHERDS BUSH EMPIRE, LONDON, 17th July 1996
A CREATION RECORDS STATEMENT
I never saw the Sex Pistols in 1977. They never came to Scotland. I saw everybody else. Everybody. The Clash three times in '77. Buzzcocks. Ramones. Everybody. I got a ticket on Wednesday night in a way out of embarrassment that I never stayed around to watch them at Finsbury Park which I had heard they were like "cabaret". I went half expecting it to be part comedy part irrelevancy. What I saw destroyed my preconceptions. Granted they are no longer a social phenomenon, that they had to wait almost 20 years to play their music and to be judged on that shows you how much of a social phenomenon they actually were.
The Sex Pistols at Shepherd's Bush Empire were simply stunning. Literally the best rock 'n' roll band around. If you accept Oasis and to my mind 3 Colours Red are the most exciting rock 'n' roll bands in the country, then accept this that both Noel Gallagher and Chris McCormack told me separately that "they are better than us". I stood with Noel as he sang every song. Steve Jones is the man The Throb has always wanted to be. It is lazy to say they are cabaret. They blew everybody way. I came along cynical and it was one of the best gigs I've ever seen. John Lydon utterly majestic after being for so long unfocused. Steve Jones the rock 'n' roll guitar player. Glen Matlock the songwriter. They were only ever shit live in '77 because he had left. The band was amazing looking and sounding. Paul Cook shaved head and soul.
The Sex Pistols changed my life in 1977 and in 1996. They are Gods to a man. Rock 'n' roll should always be this great. This was "Never Mind The Bollocks" note for note. It's still beautiful. If you don't get it now, you would have never got it then. Britpop? More like Shitpop. You're welcome to your mediocrity. This band are our alternative royal family. God Save The Sex Pistols.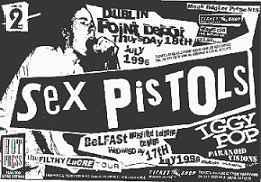 Alan McGee, 20th July 1996
Note. The Shepherds Bush Concert was arranged following the cancellation of the Belfast gig arranged for the same date. Also cancelled was the concert in Dublin, scheduled for 18th July (see press advert - right).
---
PHEONIX FESTIVAL, 21st July 1996
When I was young, barely out of my shorts and all that, my brother took me to see the Pistols. They played four songs and then Johnny Rotten fell through the stage. Now, 20 years later, it seems fitting that time only allows me to see the first four songs of their set, "Bodies", "Seventeen", "New York" and "I'm Lazy Sod". It's cabaret. Rotten (let's drop Lydon for the sake of the game, shall we?) playing out the role of a pink and green whippy-haired Liza Minelli. It's both happy and sad, powerful and pathetic, a celebration of the naive energy of punk rock and an acknowlodgment of how it all turned sour.
At the start of the fifth track EMI, the stage shows no sign of collapse, presumably strengthened to support Rotten's extra weight, so I leave. Vowing not to return if they get it together again in another 2O years.
Time for a long, cool bath, l think.
Review by MJ, Melody Maker. July 27th 1996
---
God Save The Sex Pistols ©2007 Phil Singleton / www.sex-pistols.net. All rights reserved.