30th November
This Is PiL. John Lydon names new PiL album on BBC 6 Music. "It is due out early spring and the record will be followed by a UK and European tour, John Lydon even revealed the title of the new album."It is probably going to be called 'This is PiL' basically because it is, it is all the work, effort and energy we put into this record." "
BBC TV report on John Lydon's graffiti bbc.co.uk/news/
The graffiti story has also made it to the Wall Street Journal.
Two rare vinyl items are for sale on ebay: God Save The Queen A&M Buy It Now £9,500
Anarchy in the UK EMI Acetate Buy It Now £12,000
More bootleg vinyl has surfaced on the internet: This time it's an Anarchy In The UK 7" picture disc. It is reported to feature the Dutch and German picture sleeves as the images.
27th November

Exclusive! International Swingers

rehearsed and ready to rock for their debut show at Skinny's North Hollywood tonight prior to flying out to Australia on Monday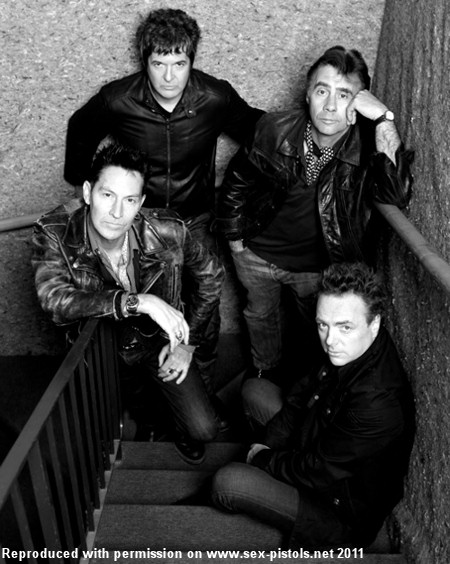 Clem Burke,

Glen Matlock

, Gary Twinn, and James Stevenson
Manraze album PunkFunkRootsRock is reviewed in issue 532 of the French magazine Rock & Folk.
25th November
Rolling Stone: 100 Greatest Guitarists Of All Time - Steve Jones at 97. [thanks Julian Hill]
Bonhams auction on December 15th includes Sex Pistols posters and rare gig ticket for Mr George's Coventry 1977.
Never Mind The Bollocks US press package recently sold during on eBay for $1,442.
Pete Townshend: 'Johnny Rotten was my first choice for Quadrophenia'
23rd November

The story of John Lydon's graffiti in Denmark Street has been picked up by many newspapers including The Telegraph and The Independent yesterday, and The Sun today (half page feature). It has also reached the Dutch newspapers. http://www.ad.nl/ad/

A new book by French photographer Richard Bellia, Sex and rock and roll, 1984 - 2010 includes the graffiti pictures from Demnark Street.
(pictured right)
Planet Rock Auctions: Glen Matlock signed Pure Marshall DAB radio for charity Movember campaign.
To bid for Glen Matlock's signed radio go to www.planetrock.com/mo The auction finishes 4pm on the 28th November.
A new documentary about the famous concert hall 'Paradiso' in Amsterdam, has been produced. John Lydon was interviewed for the project when PiL played the Paradiso in July 2010 (see trailer 0.30 sec.). www.youtube.com/ [thanks Sub]
The Public Image Limited back catalogue is being reissued by EMI in January, along with John Lydon's Psycho's Path. One exception is Metal Box (aka Second Edition), which was reissued in January. All the albums have been remastered, and will not contain any bonus material. The albums will be re-released on CD and digital, on 16 January 2012. PiL also have a new studio album in the works, also due for release in 2012. Source: http://thewire.co.uk/
Louder Than War reports: "Jah Wobble and Keith Levene work together again. With an EP of new material already recorded that picks up from where they left off all those years ago the pair of them are planning gigs and festivals next year with their first show being at Manchester's Ruby Lounge on March 24th." [thanks Stu]
American photographer and writer John Nikolai has been in touch to alert site visitors to his project:
"I have been working on a book called "NEVERMIND NOSTALGIA: The Last Book On Punk Rock (Part One)" for 15 years. It chronicles the lives and work of punk's original instigators starting with the reformation of the Sex Pistols and the Ramones split in 1996 through the final night of CBGB in 2006. The book has 7 days left in which copies can be pre-ordered at http://www.kickstarter.com/projects/The video at the link has all the details about it."
21st November

John Lydon's Denmark Street doodlings catch the attention of scholars


"Sex Pistols' graffiti being studied by archaeologists is 'as important as the caves of Lascaux in southern France.'

One is a dazzling set of caveman drawings, found in France, from the Upper Paleolithic period thousands of years ago. The other is an array of doodles, found in London, from the early Punk period around 40 years ago. And both, it would seem, are equally worthy of scholastic debate."

(left: John by John)
[thanks Wayne Skipworth]

Read more: http://www.dailymail.co.uk/news/article-2064199/Sex-Pistols-graffiti
20th November
Press Cuttings Archive Update: Morrissey, who later shot to fame in The Smiths, famously penned a letter to the NME following the Sex Pistols show at the Lesser Free Trade Hall, Manchester, 4th June '76.
thequietus.com: "The Greater Swindle: Jamie Reid, Punk Art & #Occupy" [thanks Stu]
18th November
King Mob. Last night's showcase gig. God Save the Sex Pistols review.
Ronnie Biggs book launch. God Save.... review of yesterday's event.
17th November
Hotrod Hector's Variety Show November '11 Glen Matlock Podcast
Book News

Ronnie Biggs was present today in Shoreditch, London for the launch of his book Ronnie Biggs: Odd Man Out - The Last Straw. Ronnie is wheelchair bound and unable to talk; his son therefore conducted a Q&A session on his behalf.

Also out is a football book Theatre of Silence by Matthew Bazell which features a chapter written by John Lydon. Author Matthew has been in touch with GSTSPs to say: "Lydon never asked me for anything in return. He has done this because he his passionate about the subject."
Available at Amazon and Waterstones.
French designer Maurice Renoma has a punk fashion show "Punk Attitude". Runs until 20th January 2012 in Renoma's shop, 129 bis rue de la Pompe 75016 Paris. The less expensive stuff is up to 1000 Euros...
14th November
Flemisch newspaper De Standaard review of the exhibition "Europunk" which is currently showing in Chareloi with work of Malcolm Mclaren, Vivienne Westwood & Jamie Reid amongst others.
Flemish website De Wereld Morgen published an article by GSTSP contributor Bernard Lindekens on Malcolm Mclaren.
10th November
Steve Jones to appear in Portlandia Season 2.
9th November
'25 12 77' Sex Pistols by Kevin Cummins. "Amuti Editions presents the definitive record of the Sex Pistol's last gig in the UK... limited edition book of Kevin Cummins' images from that legendary Christmas Day at Ivanhoe's, Huddersfield... " Released 7 June 2012. [Thanks Stuart Craig]
4th November
Christies are holding another Music Memorabilia auction on November 15th. A number of Sex Pistols lots are for sale including Sid Vicious' suit from a 1978 court appearance.
Vinyl Singles Guide update. Japanese Better Live Than Dead 7".
3rd November
Exclusive! Paul Cook and fellow Professional Paul Myers pictured live with Subway Sect last weekend. Pictures submitted by Paul Ozzies.
31st October
Caerphilly Councillor apologises 35 years on. 14th December 1976, Councillor Ray Davies led a protest against the Sex Pistols playing in Caerphilly. Ray planned to apologise for his actions at a show held in the town by tribute Sex Pistols Experience on 21st October 2011. However, due to a mix-up he was unable to attend and sent a letter to Dave from the Sex Pistols Experience to make public.
30th October
Another interesting ebay item.... Rat Scabies is selling a Vicious White Kids t-shirt: ebay.co.uk/itm/Vicious-White-Kids-Authentic-original-gig-T-shirt [thanks Stu Craig]
New Arts Award Named for Malcolm McLaren in NYC. Performa, the visual art performance biennial, present its first-ever Malcolm Award at its grand finale on 21st November. nytimes.com
27th October
Absolute Radio has a series of documentaries lined up for the launch of its new 60s and 70s stations. Launch documentaries on Absolute 70s include: The Sex Pistols: Anarchy In the UK (December 1), including contributions from John Lydon, Siouxsie Sioux, Mick Jones, Pete Shelley and Malcolm McClaren. Absolute Radio 70s will be available in London on DAB and online.
The founder of US Situationist group Point-Blank! is incensed over claims that Jamie Reid created the Pretty Vacant Nowhere Buses: http:// www.paulgormanis.com/?p=4038
22nd October
Jamie Reid Peace is Tough 27/10/2011 - 20/11/2011. Bear Gardens, LONDON SE1 9EB, free admission. Jamie Reid, the artist behind the Sex Pistols' iconic record covers and visual identity, opens his archive to exhibit his largest single presentation to date of works associated with the punk legends, some of which have never been seen before. Coinciding with the 35th anniversary of the release of the Pistols' debut single, Anarchy in the UK, the show will feature original artwork from the 1970s, and well as collage and poster work from other periods in Reid's career. mergefestival.co.uk/programme/jamie-reid-peace-tough
20th October
Press Cuttings Archive. 34 years ago today. Classic edition of Rolling Stone, 20th October 1977.
"Rock is sick and living in London."
Little Barry tweets this afternoon: "In the studio with @EdwynCollins, @colorama_sound, Sean Reed , The Maxwells & legendary Paul Cook."
19th October
God Save The Sex Pistols: Over 12 Million Visits! Still going strong after all these years.....
BBC Radio 2 midnight tonight. Janice Long show "Glen Matlock has hooked up with Chris Spedding of Roxy Music fame; Martin Chambers drummer with The Pretenders; and Stephen Parsons to form King Mob. Stephen and Glen chat to Janice about the new project and how Stephen's 70s band The Sharks influenced the Sex Pistols. Glen performs a Spoken Word Session, reading lyrics the band's album, Force 9. " [thanksStu]
King Mob are special guests at the Carlisle Blues Festival on Sunday 13th November.
17th October
On 16th November, Glen Matlock will be appearing on http://rabidinthekennel.com/. Featuring Glen's live performance at Brooklyn's Kennel Studio.
God Save The Queen A&M 7" "with promo box" sold for £11,100 earlier this month.
And, if you have $20,000 left.... here's Johnny Rotten's Destroy T-shirt. [thanks Stu Craig]
Cllr Ray Davis was lined up to introduce next weekend's Caerphilly show featuring tributes the Sex Pistols Experience, Rebel Truce (The Clash) and original Heartbreaker Billy Rath & The Broken Hearts. Unfortunately Ray, aged 81, is now unable to attend. Ray was of course the Cllr who stood outside the Castle Cinema, Caerphilly in 1976 protesting against the Pistols. On this occassion, his intention was to publically apologise for his actions all those years ago.
The show is Friday 21st October, Caerphilly Working Men's Hall, 20 Castle Street, Caerphilly. Tickets from the Caerphilly Tourist Infomation Office 029 2088 0011 or on-line at skiddle.com.
The following day, Saturday 22nd October, the 3 bands will be at 100 Club, London for 'Punk Special-2' Tickets: http://www.wegottickets.com/event/115996
The Queen: Art & Image Exhibition takes place at Ulster Museum, Belfast. The exhibition which runs through to 15th January 2012. One of the images exhibited is an original Jamie Reid "God Save The Queen" artwork. nmni.com/um/What-s-on/Current-Exhibitions/The-Queen--Art-and-Image
12th October
Unearthed! Anarchy In The UK football programme advert - Bristol City v Leeds Utd December 4 1976. God Save the Sex Pistols contributor Tony Macey has turned up a rarity! This programme is particularly unusual, because according to the record books the game never happened; it was abandoned due to snow.
9th October
King Mob - Force 9. God Save the Sex Pistols advance review of the debut album. Plus video. Featuring Glen Matlock, Chris Spedding, Martin Chambers, Stephen Parsons and Sixteen.
Sounds Of The 20th Century. 1977. (BBC Radio 2). Sex Pistols coverage between 15.22 - 20.31 mins; Johnny Rotten, EMI's Sir John Reid, Malcolm McLaren in Holland, and John Peel.
6th October

KING MOB
Glen Matlock
- bass,
Chris Spedding -
guitar legend (& Pistols demo producer)
, Martin Chambers
- drums (Pretenders),
Stephen W Parsons
aka Snips – vocals (film composer and vocalist of cult 70's band Sharks) and new guitar talent
Sixteen
.
Their debut album
FORCE 9
will be released on 31 October on 11 track CD and 7 track 180g Vinyl LP with gatefold sleeve, plus bonus 3 track CD.
Review coming soon.....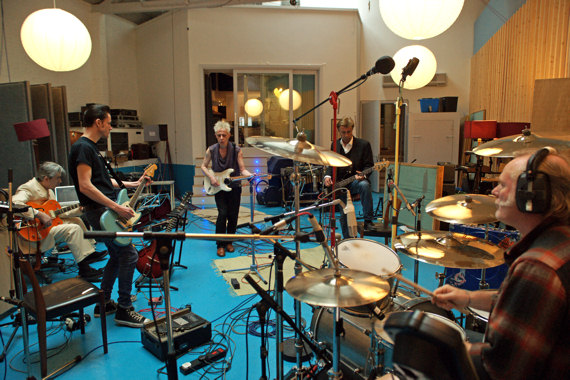 Live dates are currently being set up to promote the album in Europe late 2011 and early 2012 with shows in Japan, Australia and South America following. Confirmed so far is the following UK date:
Thurs 17 November @ 229 The Venue, 229 Great Portland Street, London W1W 5PN
Opp Great Portland Street Tube station. Doors 8pm Tickets £8 OTD/£5.50 in advance. 0207 323 7229

5th October


November MOJO has six pages on John Lydon / PIL. "What happened when John Lydon teamed up with Cream's ex drummer, Steve Vai, and jazz legend Miles Davis?" cover.mojo4music.com

3rd October


2nd October
Glen Matlock appeared on the Mark Kostabi TV show in New York City last week: Entanglement episode (titled by Glen himself).

Sons Of Norway. John Lydon has proved a one man PR show for the film in Toronto, which has now been sold to Australia, the Nordic countries, USA, and most European countries. Sønner av Norge has become one of the most written about films at the festival. The following article found John in "discussion" with Bono. "Did you see how I took him? Bono is a nice guy, you know. But they stole everything from us, and they know it" : http://www.dagbladet.no/ [thanks Harry Nordskog]

Love Machine is "a new clothing movement which draws inspiration from one of the most beloved American pastimes, motorcycles.... Love Machine is a project from the founder of House of Pain, Danny Boy O'Connor... The first offering from Love Machine comes in the form of "The Hell Fire Canyon Club" which is a bike club that Danny founded with Steve Jones of the Sex Pistols." [thanks Shonie]

30th September
Glen Matlock - additional solo show added. Thurs 6th Oct Garage, 47 Uplands Crescent, Swansea SA2 ONP.

29th September
Glen Matlock's appearance on Jools Holland's radio show will be broadcast on Monday 3rd October, 11PM. www.bbc.co.uk/programmes/ [thanks Jon Good]

28th September
Glen Matlock - additional solo show added. Fri 7th Oct South Cerney, nr Cirencester, Old George Inn.

The Faces (as well as the Small Faces, the band that preceded the Faces) have been nominated to be inducted in the Rock and Roll Hall of Fame in 2012. Could Glen Matlock finally get to play at the Hall of Fame in Cleveland, Ohio?

25th September
With Public Image Ltd busying themselves this summer recording their new album at Steve Winwood's studio in the Cotswolds, take a trip down memory lane, back to PiL 's first European Tour in 1983 with ten photographs of the band in action at Newcastle City Hall. Photos taken - and submitted to the site - by Mani Carlisle.

Reel History of Britain.. a social history of 20th Century Britain (BBC 2) included a mention of the Pistols and video of God Save The Queen /www.bbc.co.uk/ [thanks Steve Powell]

22nd September
Glen Matlock will be in action down under with The International Swingers during December. The line-up for The International Swingers is Blondie's Clem Burke, James Stevenson, and Gary Twinn from Australia's Supernaut.
Australian Tour Dates
December 2 The Barwon Club - Geelong VIC
December 3 Corner Hotel – Richmond VIC
December 8 The Metro – Sydney NSW
December 9 The Zoo – Fortitude Valley QLD
December 10 Coolangatta Hotel – Gold Coast QLD
December 11 Kings Beach Tavern – Sunshine Coast QLD
December 14 The Governor Hotel – Hindmarsh SA
December 15 The Blvd Tavern – Joondalup WA
December 16 Fly By Night Musicians Club – Fremantle WA
December 17 Charles Hotel – North Perth WA
If you want to see the set list, click here.

Paul Cook is drumming for Vic Godard & Subway Sect at two UK gigs in October:
London Friday October 28 Nambucca, 596 Holloway Road, London
Brighton Saturday October 29 (John Peel night), The Hydrant wegottickets.com

20th September
In this week's NME: "John Lydon's back in the studio with Public Image Limited for the first time in 20 years, so we joined him to get the inside story of the post-punk pioneers' career, and to get on the receiving end of a few verbal Lydon lashings, of course...." /www.nme.com/blog/

19th September
More pictures of Glen Matlock & The Philistines live in Brooklyn. Photos submitted by Dylan Marks.

18th September
Glen Matlock, James Stevenson and the Philistines girls performing an acoustic version of Hey Mister at the City Winery in New York: youtube.com/watch

16th September
Watch John Lydon at the Toronto Film Festival discussing Sons Of Norway:
1. Johnny Rotten 'doesn't want to be an adult'
2. Red Carpet Diary


15th September
Glen Matlock & The Philistines live in Brooklyn. Photos submitted by Brian Morgan.

John Lydon at the Toronto Film Festival promoting Sons of Norway. Press coverage:
www.toronto.com "Johnny Rotten's royal about-face" On the Pistols: "We're not the greatest friends, but we're far from enemies," Rotten says. He doesn't rule out future collaborations or reunions, but "I'm definitely not going touring with them. I love my Public Image much more." [thanks Richard Hutton]
www.metronews.ca "Tiff gets a dose of punk"
Film Review: tcdailyplanet.net


13th September
Andy Biddle, a frequent contributor to God Save The Sex Pistols, had three valuable Sex Pistols LPs go missing from his stall at Birmingham NIA Record Fair last Saturday (10th September).
The three items were: NMTB Italian original with insert of Rotten; Sid Sings Japanese promo; Great Rock 'N' Roll Swindle with newspaper. Estimated value £300. If you are able to aid the return of the records, please contact Andy on londonoutrage@gmail.com .

11th September
Eric's, the famous Liverpool venue which was open between 1976 and 1980, has re-opened on Matthew Street this weekend. The Sex Pistols played at Eric's on 15th October 1976.
liverpoolecho.co.uk
bbc.co.uk/6music/


9th September


John Lydon is reported to be attending the Toronto Film Festival this week to promote the film, along with the director Jens Lien and other members of the production.

8th September
Time Out have been in touch: "We've just launched a new feature on the 100 Songs that have changed the world - and 'God Save The Queen' by the Sex Pistols has been included in the list! Number 6." timeout.com/london/feature/ [thanks Duncan Nichols, Time Out Magazine]
This news also made The Sun newspaper today [thanks Toss Pixels]

7th September

Emma Linstead from Fever Media has been in touch and asked if God Save.....
would relay the following:

Calling all Sex Pistols fans! What can you bring to the dealing room?




" TV Production Company Fever Media are seeking Sex Pistols fans to sell their valuables to our team of Dealers in a brand new TV format for an international TV network. Some of the biggest players in the worlds of antiques, collectables and pawnbroking will be spending their own cash on ANYTHING of value. They've got thousands to spend and they want to spend BIG.
In this brand new international TV format, members of the public will try and sell their valuables to our panel of high-flying international dealers for big money.
One by one our sellers will enter the dealers' space and try to get the best deal for their prized possession. Whether it's a diamond ring, an antique vase, or a DeLorean car, nothing is too big or too small.
Fever Media are after any Sex Pistols memorabilia or fascinating items that members of the public think our Dealers may be interested in buying, or any family heirlooms that you think may be worth something.
Have you got a Sex Pistols concert poster? Do you own Johnny Rotten's 'Anarchy' shirt? Do you have a Sid Vicious padlock and chain? If so we want to know.
Filming is taking place in October but Fever are looking to speak to people now!
If you want to start a bidding war between the Dealers and make a tidy profit, don't hesitate to get in touch!
CALL 020 7428 5756 or email dealers@fevermedia.co.uk for further details! "
Fever Media, Clearwater Yard, 5 Inverness Street, London NW1 7HB
3rd September
Happy birthday Steve Jones.
2nd September
Vinyl Guide Update: Ultra rare God Save The Queen A&M lead based acetate.