MARK HELFOND
Exclusive Memories
Not many people can say that they really were there from the beginning. Mark Helfond can. A close friend of Glen Matlock since the mid-70s until the present day, Mark witnessed the genesis of the band from pre-Rotten days, and attended all their shows in' 75-'76. In this God Save The Sex Pistols exclusive, Mark shares his memories of the period.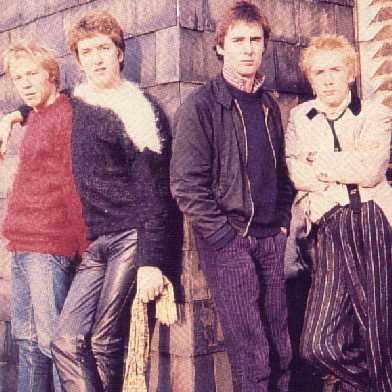 "I went to St.Martins Art School, located then in Charing Cross Road in 1974. I soon discovered that it tended to be the male pupils who wished to choose their professions as Artists. Females were usually placed in Art School by their rich dads to keep them out of mischief until they decided what they wanted to do in life.(Check out Pulp's Common People – Nothing changed in 10 years.). Because of the vast difference in social strata, the males tended to socialise together. I met a guy called Glen during the year and we became friends. Other persons in our year were Frank Tovey (who went on to become Fad Gadget) and Nick Cash, a drummer who has worked with many groups since. Sometimes Glen would bring some of his friends into the School canteen. Glen introduced his friends as Steve and Paul. Nearly all teenagers then had long hair and we were all no different. One day, Glen, Steve and Paul came into the canteen and they all had their locks chopped off. They stated that they had started a band that was named QT and the Sex Pistols. They asked if Nick and I would like to see their band rehearse that night at what is called the Hammersmith Studios. Steve played guitar but seemed more interested in playing drums. Paul played drums and Glen bass. Their friend Wally was the other guitarist. They did not have a singer as yet. In common with most Working Class kids at that time, they adored the Faces and their playlist consisted of Kinks, Small Faces and Who numbers. Apart from their appreciation of the Stooges and The Dolls, their influences were all home based. Indeed there appeared a hankering to become new model Mods.
During the coming months while at Art School, Glen introduced me to the manager of his group and his friend Bernard Rhodes. While talking to them, I became aware of many original ideas and philosophies. I read Jean Cocteau`s Les Enfants Terribles in which children only steal items that are useless and watched films made by Jean Genet. Indeed the early Pistols London gigs were often accompanied by films made by Genet, Bunuel, and others. Bernard used to bring artwork he designed to College for Glen to produce screen prints. These designs ended up on the T-Shirts that the band eventually wore on stage and were sold in Malcolm's shop.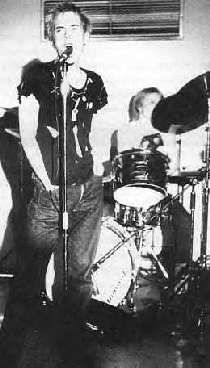 Some time later, the band obtained a singer and Wally had left. They obtained a support spot at Glen's and my old college, St.Martins (pictured right - 6th November '75). They opened for Bazooka Joe who included at that time in their line-up Adam Ant. Like most of their early gigs, it was a cacophony of sound, but although the band had not yet mastered their instruments there was an attitude and presence absent in other young bands at that time. I went to all the London Gigs in 75/76. One in particular I remember was when they supported Eddie and The Hot Rods at the Marquee. My memory is very clear about this gig. There were around 15 people in the audience. From reports I've read, half of London has claimed to attend this gig. As is usual, the band had paid for use of the headlining bands' P.A. Of course this payment means nothing as the levels coming out of the monitors produce feedback and the sound is atrocious. John gets pissed off and leaves the stage to walk into the audience. He went round singing to each person carrying a chair that was at regular intervals bashed onto the floor. Finally the chair gave up hope of survival and fell apart. John continued to carry parts of the chair around the auditorium and continued his personal interaction. The audience in the early gigs consisted of friends of the band and friends of friends. Of course everybody laughed at John's performance and it was like something akin to British old style music hall. The dress code usually consisted of Mohair jumpers with T-Shirts and either baggy trousers (with gold lame thread) or skintight jeans. This stuff was obtained from Malcolm's shop. I had discovered a shop in Burnt Oak where you could buy Drainpipe Levis (Burnt Oak was the Skinhead centre in N. London) and made frequent trips as many people placed orders.
In December 1976, Glen and I were living in a flat above Chiswick High Road. One night I had gone out with my friend Jane (she was the one who bottled Shane McGowan on the ear at the ICA) to celebrate her birthday at Louise's (a lesbian nightclub just off Chinatown). When I came home I saw Glen sitting in the hallway looking well drunk. He said the band was on the Today show. He said that he tried to call me as many of the band's friends were also in the studio. He stated that the band had been a bit naughty and that the interview had been a good crack. The next day, we decided to go into the West End and jumped on a bus. Everybody started looking at us as if we were escaped jailbirds. We were a bit perplexed by this until we saw the papers people were reading. There it was on the front pages! Of course we looked at each other and started giggling like schoolboys.
I didn't see the 1996 gig. The recent gig at Crystal Palace was perfect Pistols. Only they can release balloons into the crowd during the encore and the wind blows them totally in the wrong direction. The Pistols were and have always been a great laugh and tremendous fun."
---
Text ©Mark Helfond / www.sex-pistols.net
©2002 Phil Singleton / www.sex-pistols.net
God Save The Sex Pistols ©2007 Phil Singleton / www.sex-pistols.net. All rights reserved.