MARCO PIRRONI
Exclusive Interview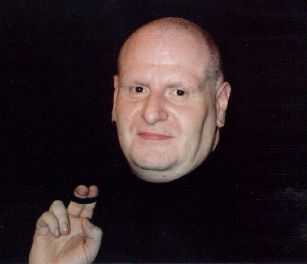 Marco Pirroni was a regular in Malcolm Mclaren's King's Road shop in the Sex Pistols' formative period, as well as a close friend of Sid Vicious. Marco would himself go on to enjoy success as Adam Ant's co-writer and guitarist. Marco talks to Phil Singleton in this God Save The Sex Pistols exclusive interview.
Phil: What led you to discover Malcolm McLaren's 'Sex' shop, & what was the initial attraction?
Marco: It was THE only thing that was exciting in the early 70s. If you were brave enough to cross the threshold, you realised this is where you wanted to be and the people you wanted to be with. Misfits all! I only went in for some brothel creepers and it changed my life forever. I wasn't a Ted, I didn't like rock 'n' roll, but liked the idea of clothes that were dangerous (you really did have to very pissed off at the world around to dress like that at that time).

What was the extent of your involvement with the shop? How close did you become with McLaren & Vivienne Westwood?
I was just a kid that hung round a lot instead of going to school, that world in there was dark, sexy and mysterious. I would bunk off and go and buy a mohair or some powder blue winkle pickers, and stay till they shut. Malcolm would come in, in the late afternoon, and he would tell me about Little Richard's shoes, and the guy who recorded "Rocket 88", and the darkest side of rock 'n' roll. He was a rock 'n' roll expert, his favs were Jean Vincent and Billy Fury. One of my fav things from the time was the black sleeveless T-shirt with a silver heart shaped locket with a picture of Billy Fury inside.

Which characters from 'Sex' did you hang out with the most? Are there any unheard of 'Sex' stories you are able to disclose, 25 years on?!
I guess I hung with Jordan / little Helen / Sid and of course Soo Catwoman. As far as stories ...well too many to mention...

Before the media got hold of 'punk', was there a feeling that something of cultural significance was taking place, or was it a surprise when all the attention came?
I suppose we really took it day by day, there was no future, remember. Never thought about it to be honest.

To what extent did you witness the development of the Sex Pistols?
I had heard mutterings about a band that Malcolm was helping out, but not too much, until I met Vivienne in Denmark St carrying teas in a black Lurex floor length coat (her not me ). We asked each other what we were both doing there, I was looking at guitars. "I didn't know you could play" she said, "come and meet the band we are working with", so I did. Only Paul and Steve were there, as the others hadn't turned up. I hung out for a little while and even had a jam with them playing Substitute and Steve played bass. After a while Malcolm turned up in a black raincoat, leather trousers and those big grey furry boots with the chains around them he used to wear at the time. They hadn't yet played their first gig. I left not wanting to be uncool, coz Malcolm wanted to talk to them about something.

You did of course play guitar as a part of Suzie (later 'Siouxsie') & the Banshees at the 100 Club Punk Festival in Sept. '76. What is your own musical background?
Self taught Glam rocker! Mick Ronson, Lou Reed and Link Wray were my guitar heroes at the time (still are).
Were the Pistols an influence on you musically?
Well I had been wanting to form a band before. My idea was going to be a cross between Spiders From Mars and Sister Ray, but seeing the Sex Pistols put paid to all that, their power was such that you could never go back to how you thought before. Nobody could ever have imagined Johnny Rotten. They were the evil bits of rock 'n' roll crystallised, and it was real, not Theatre rock.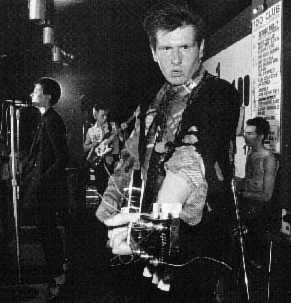 Sid Vicious played drums for the Banshees at this gig. What were your impressions of Sid pre-fame?
Sid was the funniest person I had ever met, Soo was in love with him but she was in love with everybody. He moved into her place in Ealing for a while and had to go out and call me, to try and get me to go over, coz he was so bored! I guess I knew him fairly well at that period. Everybody liked Sid, he was very likeable in a violent, childish sort of way. He claimed to hate everyone. In truth I don't think he really hated anything.
(Pictured: Banshees - 100 Club, 20th Sept '76 featuring Marco on guitar, & Sid on drums)
What were the relationships like within the Pistols during their formative period, prior to the Bill Grundy episode?
Well Paul and Steve were always close, John was kinda always with Sid, or John Grey, or Wobble. And Glen? Fuck knows where he was.

Did the Grundy incident and resulting infamy, affect this relationship, such as between John & Glen, or Malcolm and the band?
They became isolated, but then the original crew started to go their own way and began to fragment as they felt, as I did, that it was time to move on.

Did the shop's clientele change? Was there a feeling of loss, once the Pistols became public property, with everyone wanting a piece of them?
It was time to move on, we had all started something, but none of us were followers and we wanted no part of the outside world, so I personally felt no bitterness. It had just changed and wasn't as exciting, and I sure wasn't going to let the people I had fought against, tell me who or what I was. It's easy just to be a fan of a band. Most of us were this way before the Pistols were even formed, so one door closes and another opens.

What were your impressions of Glen leaving the band and Sid joining?
One night at Club Louise, Sid told me he was rehearsing with the Pistols, but it was "all hush hush man." Much as I loved Sid, I knew this was the end of the Sex Pistols.
In many eyes, with Sid, the Pistols became a totally different group with the emphasis solely on image & shock value, rather than the musical content. Would you agree with this assessment, or is it an over simplification?
Well the band themselves had no wish to be a tabloid, they wanted to be a band, but Malcolm wasn't interested in being just a manager, he had his own agenda. What the band wanted simply did not figure in these plans. They had become reluctant puppets, seemingly unable to take control for themselves. This came down to their 4 personalities which Malcolm did his best to keep divided.
What was the atmosphere like on the King's Road during 1977? Were the stories about constant Police harassment accurate?
Dunno, never went to the King's Road on a Saturday any more, too many tossers with dog collars and safety pins on.

Were the well documented tensions within the Pistols obvious to those close to the group?
Well they simply stopped being seen together or at all. From the outside it seemed to have become a nightmare being a Sex Pistol. They had just had enough. In most bands, meetings are called and differences are aired, but not in the Pistols. They carried on till it fell apart.

What was your feeling about the Sid Vicious saga as it unfolded?
Poor old Sid didn't know who the fuck he was. He latched onto his cartoon punk public persona, coz he was lost after the Pistols split and the drugs did not help. Nancy was just awful. I always felt she was mentally retarded in some way (not just stupid), and the two of them just became an embarrassing joke. I always thought the question wasn't why did he kill her, but why didn't he kill her earlier, she really was more than mortal flesh could stand.

Did you see him after the Pistols split?
No, I never saw him again.
Which Pistols did you remain closest to, following the split?
Well Steve and Paul were always mates. I see them or talk to them often. John may call up out of blue sometimes. I like him a lot.

You enjoyed huge success in the '80s, as Adam Ant's co-writer. What brought the partnership to a close & are you still in touch?
Well Adam decided he wanted to move into other areas and so did I, we speak all the time, but with his recent troubles of late, he has been keeping a low profile. but we certainly haven't fallen out or anything like that.

Finally, I once read that you were a fan of Thunderbird 2. Why not Thunderbird 1? It's faster, and always arrives at the danger zone first?

Scott Tracy (pilot of Thunderbird 1 - pictured left), seems a big headed twat. I mean, what does he actually do? Except get there first and state the bleedin' obvious! Virgil (pilot of Thunderbird 2 - pictured right), does all the work and has the biggest ship. As for the rest of them! Alice (sorry Alan - Thunderbird 3) does fuck all. Gordon (Thunderbird 4) is a bit like Matlock, and John must be out of his mind sitting up there in Thunderbird 5 (space station), on his own, listening to the radio all day long, and oh yeah... where's their Mum? No, it seems to me that Virgil carries the lot of them and should demand more money. Scott definitely won't like that!

Marco, many thanks!
Text & main picture by Phil Singleton. (Interview conducted 2002).
God Save The Sex Pistols © 2007 Phil Singleton / www.sex-pistols.net. All rights reserved.