PISTOLS JUBILEE - REVIEWS
Sex Pistols - Pistols at the Palace 27th July 2002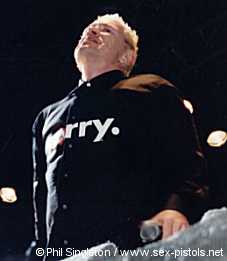 It was about 50 minutes into the gig when I took a second to step back and take in what was happening. It was at that moment that I was reminded of why I was grabbed by this band many years ago, an infliction I've never been able to shake off. The sound, the presence, the lyrics, whatever it is, the Sex Pistols have got it.
I admit I was nervous before Finsbury Park, but not this time. When John, Glen, Steve, and Paul unite, we're in safe hands. Location and support bands raised many eyebrows, and probably cost the group a few thousand punters. A shame, because when those who attended reflect on 27th July, the spectacle of the Sex Pistols will be the abiding memory, not the support or venue. Yet despite this, 20,000 fans were there. That's a hell of a lot of people, (Mr naff entertainment Rod Stewart played before 15,000 in the same week).
The opening Silver Machine took everybody by surprise. It seemed to fit effortlessly into the Pistols sound. It also brought smiles to the faces of the crowd who realised from the off that this concert was going to offer more than the standard expected set. The bubbles that surrounded the band during the song added to this. It was like being at a kids' party again! Fun, fun, fun.
With Johnny sporting his skateboarding 'Sorry' shirt, Steve (who received flak in '96 for his gold lame trousers), went for a Californian cool look, T-shirt and jeans. Paul too, stuck to a T-shirt (a drummer's usual attire), so it was left to Glen to be the flash one tonight, with leather jacket and PJ Proby style lace-up shirt.
During the second song, Holidays in the Sun, (incidentally, a popular choice of opener in the GSTSP poll!), Concorde flew overhead. The band were too busy making their own noise to notice. During Holidays, Steve injured a finger causing him to dig even deeper to pull-out those famous licks for the remainder of the set. No mean feat, the band still had an hour and-a-half to play.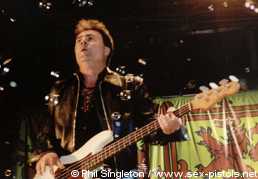 Glen's bass was prominent in the mix, its rumbling sound adding a steam roller feel to the music. It's also great to see Glen reaffirm his position as the cornerstone of the Pistols music. Why does Steve's guitar always sound so distinctive and so exciting? No one plays the guitar like Steve Jones, no one. Paul's drumming also deserves a special mention as he dictated the speed with a solid and unwavering beat. Johnny is, and will always be, at his peak in his role as Johnny Rotten the Sex Pistol. It's what he does best. He is unique, like no other. He was on form tonight delivering plenty of his forthright opinions to a crowd who, if they didn't always agree with it, certainly enjoyed it. Who could fail to be amused at Johnny's comments on the glorious weather, "There is a God. He's right up my backside".
Retreading the Filthy Lucre set would have been a risky strategy. The band are too smart to fall for that, and so decided to push things to the extreme by including songs that no one could have anticipated. Through My Eyes (featuring fantastic drumming), Belsen, and of course, perhaps the second biggest surprise of the night, (behind Silver Machine or Belsen, you choose!), the encore My Way. It was a nice touch to remember the part Sid had played in their legacy, but could have been so much better had Johnny not handed over singing duties to the crowd after the first verse. A full on Rotten rendition would have been something special. Glen helping out by singing a couple of lines seemed somehow meaningful, as if giving an inclusive feel to the Pistols history. The lack of vocals did allow a couple of minutes to admire the musicianship of Glen, Steve, and Paul. They made My Way sound terrific!
The crowd vibe had been increasing all night. You could almost touch it at this point. The band picked up on it and treated us to a spontaneous Anarchy singalong. Perhaps not one for some purists, but nobody singing along on the night seemed to complain. It's back to that kids' party again. They had to close with God Save the Queen, and did. As the celebratory balloons drifted off into the night so did the fans, most of them even higher!
It's easy to look back and take pot shots at aspects of the gig, people leaving early (to catch the train that's why), to complain about the sound system, or whatever. But how exactly were you feeling when you were standing there taking it all in on the night? I know what I was thinking, the Sex Pistols have got it, they've fucking got it.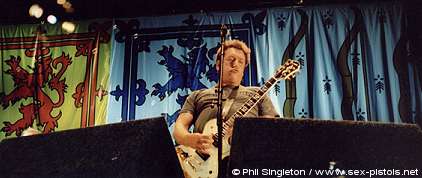 Review & pictures by Phil Singleton
---
God Save The Sex Pistols ©2006Phil Singleton / www.sex-pistols.net 2000 - 2007. All rights reserved.
All rights reserved. Not to be reproduced without permission.