DAVE GOODMAN 1951-2005
Invite to Wake hosted by Phil Strongman,
23rd March 2005 at 100 Club, London.

Picture & text ©Phil Strongman

A Life In Music. Producer, musician, composer, eco-activist

The list above is incomplete. Add 'studio innovator' to that list, add 'indie label pioneer' , add 'hash chef', add 'cocktail mixer', add 'comedian', add 'new age visionary', add 'world music pioneer', add 'good friend'. Add all those, and a dozen more, and you still haven't got anywhere near the complete Dave Goodman.

Since that shocking day - one month and several lifetimes ago - when his wife Kathy Mannell first told me the news, I've been trying to sum it all up in a few words, what Dave meant to me - and to many hundreds of others, everyone from the people next door to Malcolm McLaren, Rainbow George and Hopi Indian elder Roy Littlesun.

What does it come down to. As a human being? Well, although he had a few faults - and Dave wasn't always a saint, especially after that second bottle -he scores in that most important category; someone who could love and be loved. And who did. The heart that killed him was a big generous heart.

And as a musician? Despite his far sighted - and brave - attempts to push all things Green, and solar-powered, up the agenda, it is music for which he'll mainly be remembered. For there's no one like Dave now - whose career could stretch from beat to psychedelia to jazz-funk to reggae to punk to Glastonbury, from teenybop idols like Michael Jackson and Len Zavaroni to the 'heaviest ever version' of the Sex Pistols' 'Anarchy In The UK', from being a soap opera actor and themes man on West Indian TV to building a 'Rainbow bridge' with a new generation of Japanese musicians...

Dave also genuinely believed in the best of the Sixties' Dream - namely that music could, and should, help change the world - and for the better. Somewhere, somehow, he believes it still. And that, like the rest of the list, is well worth celebrating. As Malcolm so succinctly put it last month, 'Long Live Dave Goodman!'

Phil Strongman
---
Interviewed by Provoked Fanzne, February 2005
The following interview was conducted the week before Dave's sad passing, and has been kindly submitted to God Save The Sex Pistols.
Provoked Fanzine: In 1976 did you think the music scene was dire until the Sex Pistols came along?
Dave Goodman: In 1973, a lot of bands had to come off the pro circuit (i.e. cabaret and colleges) due to the (social) depression. By 1976, a lot of them were playing in pubs. In London, you could go out any night of the week for free and see all kinds of excellent musicians play experimental rock, including myself. Boring and tame. A lot of the leading musicians seemed to have trouble hearing themselves on stage. I eventually realised that it was because they had their heads up their arses. Here and there you would see someone exciting like The Count Bishops, Kilburn & The High Roads & The 101ers but mainly it was nostalgic. The Sex Pistols changed all that. Mostly because they were young and didn't give a shit.
You managed to catch the Sex Pistols' first gig supporting the 101ers. Did you think then you'd go on to produce them?
It was at this gig that I offered to help them with other gigs, and I also recorded them live, so maybe subconsciously I did.
You later went to almost every gig they played. What made you go back to see them again and again?
They were hiring my PA and I was mixing their live sound.
When Rotten was shouting to crowds that there should be "more bands like us"...and you witnessed the crowds getting bigger, and the likes of Siouxsie and Billy Idol were attending and then forming bands...did you get the feeling it was going to take off in a big way?
I did feel it and saw it!
(The bootleg) Spunk...was that what the first album was originally to be called?
It just appeared called that. No one has ever owned up to putting it out. I wish I did, but it was probably McLaren.
How was it to work with the band, including Malcolm and Sid. What was the feeling like working within the regime?
In the early days, it was less of a regime, more a bunch of mates. Malcolm rarely showed up at the studio or gigs. He was busy in the office promoting. I never really worked with Sid although I mixed a version of My Way. I knew him more before he joined the band.
Wasn't the Notre Dame gig to be filmed for overseas television?
They did two Notre Dame gigs. One was filmed for a Janet Street Porter documentary and the sound didn't come out too well but you see bits of it here and there. The second one I don't know if it was filmed or not. I seem to remember that some Italian TV people were there.
You did the sound on the Chelmsford Prison gig. What was that like and what other sessions did you produce that later came out, either bootleg or official?
The reason Chelmsford got recorded was because they were using my PA and I would have a four track set up to use for echo. I would just record the gig through the desk and often erase it later when I needed more tape. The reason the bass is so low was because it wasn't miked-up as it was loud enough in the hall.
It was quite dangerous to be at the back of the hall amongst all those lifers, psychos and rapists etc. and many of them tried to get me to smuggle things out. I recorded nearly all the gigs but ones that survived are Nashville, 100 Club, Screen on the Green, 76 Club Burton on Trent and that's about it. A lot of tapes were stolen on the Anarchy Tour.
Were you ever involved when they did any TV work?
Malcolm had the good sense to realise that we needed to take our big PA along to the TV studios to make sure we were loud enough. No one used to do this in those days. So there we were, blasting the walls down, upsetting all the union crews. This happened on the Young Nation show and So It Goes. Malcolm also used to invite the likes of Siouxsie and Sid etc. for support.
I think Chris Spedding once said to Chris Thomas that he should check out the gig at Screen on the Green, and Chris more or less told him he couldn't be bothered because they were appearing on So It Goes shown early on the same night. What did you think of both of them as producers?
Spedding spent an afternoon in the studios with them and the results were OK, but to me fairly conventional. Malcolm was disappointed and thought they sounded better live. So I stepped in and spent a lot of time getting the grooves right then adding overdubs. To me it was more psychedelic and futuristic. Remember, I'm working on a shoe string budget with only four tracks to start with. They were quick to learn, especially Steve and we worked long and hard into the night to perfect those first seven tracks. It obviously impressed EMI enough to sign me up as producer, but before I could finish the Bible Quotations Anarchy, busy bodies up at EMI sabotaged my career and Thomas stepped in.
Chris' version of Anarchy I felt was weak and when he heard my demos, he was quoted in NME as saying "They're great, release them, who needs me?" He even called me from the studio a few times to ask me how I got this sound or that. You could have asked what happened to all the money but that's another story. I was very glad to have been involved with what I believed for a while to be the greatest band in the universe.

Interview by Provoked Fanzine
©2005 Provoked Fanzine / Phil Singleton / www.sex-pistols.net
All rights reserved. Not to be reproduced without permission.
---
XSPUNK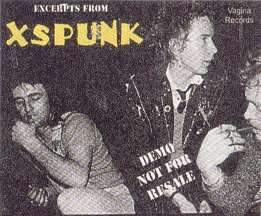 Sleeve notes written by Dave Goodman
Alternative early mixes prior to Spunk, raw, unpolished monitor mixes, out-takes and final backing tracks to sing along with, plus multi-track wave files to mix your very own versions of Anarchy in the UK and Pretty Vacant.
There have been many different versions of most of these recordings released throughout the history of the Sex Pistols, some licensed but many pirate. Some good quality, but most astoundingly poor. Some of these releases have been a financial lifeline to members of the band, plus myself as producer, during a time when our royalties were frozen, due to the Lydon & Others versus Glitterbest/Matrixbest Ltd. court case.
The history of these master tapes is a fascinating one. Let me take you on that journey.
The Denmark Street Sessions:
Recording dates: mid July 1976
Address: A two roomed abode behind a shop in London's Denmark St W1 (Tin Pan Alley) .
Format: 4 track. Producer: Dave Goodman.
I'd been the Sex Pistols' live sound engineer for a couple of months, when Malcolm played me a tape of a session they did with Chris Spedding producing. They recorded three songs, 'Problems', ' Pretty Vacant' and 'No Feelings'. Malcolm felt that Chris hadn't completely captured the band's raw energy. He said they seemed lost in such a big studio and needed a more intimate setting. I invited them to my studio in Feltham, Middlesex close to the end of the Piccadilly Line going West. With the help of my dad, I had built a fairly professional 4 track studio in a 16ft by 8ft garage with a 10ft by 6ft shed connected to it for a control room. It was in my parents' garden and I called it the 'Four Track Shack'. I gained a lot of experience there and was confident I could come up with some
splendiferous recordings.
Eventually it was decided I would bring my recording equipment to Sex Pistol Central, where I set up for a full week's recording. Their Denmark Street rehearsal room was about 12ft square with cork tiles on the walls to deaden the sound. You climbed up a ladder to Steve's bedsit where you encountered a bed, electric fire and all-important kettle. I put the mixer on the end of Steve's bed and ran a talk-back mike down to a set of monitors below. For my own monitoring, I'd brought along my much loved pair of Acoustic Research AR2AX speakers and hooked them up to my trusty Quad 303 amp. A big clear British sound to be sure. You must have sorted monitors! For effects all I had was tape echo, reverb and Steve's flanger/phaser pedals. This set up was pretty similar to what we used live.
After ten years as a professional musician, playing bass with the likes of Ben E King and touring with the Jackson 5 etc, one thing I had learnt was the importance of getting the groove right on the backing track. If the backing track ain't happening man, no amount of overdubs will make up for it. We all had to be patient and persevere, I was looking for Magic! During 7 long hot stoned enjoyable days we recorded 7 songs. In the evenings when the others had gone home to their mums' cooking, Steve would sit down and, encouraged by me, start adding guitar overdubs. A crash chord here, a fuzzed lick there. We worked well together and he was quick to catch on to some of my ideas. By the end of the week, we'd managed to fill up all the tracks on the tape recorder.
We needed more tracks so I booked a day in Riverside Studios, 78 Church Path W4, and transferred the four tracks onto eight, overdubbed lead vocals, a few more guitar bits, some handclaps, backing vocals and even a kettle. Finally, I booked a day in Decibel Studios, 19 Stamford Hill, N16 for a few last minute overdubs and the crucial MIX.
This version of 'The Denmark Street Sessions' is the first mix or "unrefined mix" as I prefer to call it, and not the later mix that appears on the SPUNK-NO FUTURE UK-THIS IS CRAP albums. These are the mixes that helped get them the EMI deal.
I used to blast this tape through my PA at those early gigs, including the 100 Club. It sounded sublime to me and I was proud to have been part of its creative process. For my ideas, time, trouble and equipment, I was rewarded with a producer's royalty. 'I Wanna Be Me' from these sessions was chosen as the b-side to their first release on EMI.
What you have now is a shiny new digitally remastered alternative to SPUNK-NO FUTURE UK.
THESE REALLY ARE REMASTERED FROM THE ORIGINAL MASTER TAPES.
To me these are the Sex Pistols at their best. A lovingly crafted, pulsating din. John may try to get you to believe that no one listens to the bass on a rock record, but having Glen in the band gives these tracks an extra depth and brilliance. These recordings are of great historical significance and should be played at least once a year for the rest of your life, very loudly. Invite your neighbours round and scream at the sheer absurdity of life. Let off some steam - they were!
Dave Goodman 22.4.2002
'Submission' Version 1
Being their slowest and most spacious song, my choice of long reverbs and dubby tape echo enhanced its sub-aqua atmosphere. We tried it out at
several tempos, but this up-tempo version is the one for me. The main riff is borrowed from the Kinks' 'All day and all of the Night' and the choppy skanking guitar shows a reggae influence. The whole mix is pretty 'dubbed' - I mixed in live echo and reverb effects as the mood took me. On a previous runthrough John made this incredible noise by sucking air in through the side of his mouth. It sorta sounded like an early analogue synth or a theramin maybe. "Lets feature it" I thought, so John got the honour of performing the first mouth music solo in Punk Rock history.
I also had the wacky idea of having this voice on the beginning that sounded like it was underwater. When I heard someone say "put the kettle on" that's exactly what we did. Steve had a go at speaking down the spout of a half full kettle. If he got the angle right, then his voice would come out sounding bubbly, if not, he would get a mouth full of water. I eventually did it myself and loved the effect. It's easy to tell this mix from the SPUNK-NO FUTURE UK-THIS IS CRAP mix. On the end, the morse code guitar goes up in pitch, whereas on SPUNK etc it stays even. There has been a lot written about this song, especially in John Savage's informative 'Englands Dreaming' & 'Classic Albums.'

'Seventeen' V1 (Lazy Sod)
This track is a direct statement of who they were. "We like noise, it's our choice, it's wot we wanna do - we don't care, 'bout long hair, we don't wear flares - I don't work I just speed, that's all I need." It's the manifesto for change. The mould had been broken by this song alone. The opening line "You're only 29, got a lot to learn", I took as a reference to Malcolm, who was 29 at the time. The lyric continues, "but when your business dies you will not return." Is this Johnny the prophet singing here? On later recordings he changed this line to "but when your mummy dies, she will not return." And then comes the classic chorus hook, "I'm A Lazy Sod" sung three times in succession, rounded off with a final "So Laaazey!" On the final chorus, the middle line gets changed to "Not a lazy pseud" and is pronounced by Glen's high backing vocal. It's in answer to a John Ingham live review, where he refers to "Seventeen" as "I'm a Lazy Pseud". The whole song ends with a final squeezed out "Laaazzzy!" from John, followed by a subdued crash from the band, emphasising their laziness. There's no obvious way of telling this mix apart from its SPUNK etc alternative, other than it's a bit faster and seems to have more bollocks!
'Satellite' V1 (Suburban Kid)
An anti -love song if ever there was one. A virulent rant, full of blind anger and utter nihilism. A dig at 'Suburbanites' - Johnny doesn't "like where we came from, it's just a Satellite of London, and when we look him in the eye, we must remember that he wants to die, hey babe, he loves us babe, he loves us babe, he loves us. He's in love, really in love, can't we feel it? must be love, chocolate box". These are stunningly original lyrics, and the freshness of the music behind them
makes for a totally new sound. With yet another hooky chorus, this recording could have easily been a hit single. I got John to double track his voice in a whisper. (An old Bowie/Cockney Rebel trick.) It sounds very menacing, especially on headphones. When he gets to the line "looking like you just came out of
hell", my partner (in the PA hire company) Kim Thraves got me to exagerate the whispered HELL. Spine chilling! The best way to differentiate between this version and the one found on Spunk etc is the final chord on the guitar, which on Spunk pans back and forth quickly from speaker to speaker.
'I Wanna Be Me' V1
The theory that some music journalists are frustrated musicians was well and truly vocalised in this song. "You wanna ruin me in your magazine, you wanna cover us in margerine." And Mr Rotten's clever word play with lines like "to realize, to have real eyes" and "typewriter god, black and white king, PVC, platform boots, you wanna be me". An extremely astute observation of the make and break power that some journalists wield. To obtain ever further levels of guitar distortion, I resorted to the old trick of overloading the input on the desk. A bit like those 60s fuzz boxes. I love the instrumental build up in the middle where there are five guitars all complementing one another. We developed a formula, Steve and I. Once the band, minus John, had been recorded in stereo, we
added another rhythm guitar, sometimes chugging, sometimes ringing. On the remaining spare track we worked in some crash chords and lead licks that fitted with the vocals. I would usually mike the guitar up with at least two mikes, one close and one further away pointing at a hard surface - in this case the flight case that Steve's Fender Twin lived in. This is the very version that was the B-side to their first single 'Anarchy in the UK' on EMI. The first 70,000 pressing of the disc miscredited Chris Thomas as producer.
From the feedback that I got about this B-side (which had been recorded for less than £50), I knew a lot of people loved it. It still sounds great today and here it is once more, lovingly re-mastered from the original master tape.
'Pretty Vacant' V1
Now this really is a rare one! For some reason, whoever was behind the original SPUNK bootleg, decided to leave this recording off altogether and used my later 'Gooseberry Studios' version instead. It never found its way onto the 'Mini Album' or 'This is Crap'. When Malcolm was after the EMI deal, I was invited there to play this tape to Terry Slater and Nick Mobbs. As well as being impressed with the band's sound and proficiency, they felt that this song 'I'm so Pretty' (as they kept calling it) would make a great first single. Of course it would but when you've got a song called 'Anarchy in the UK', there's really not a lot of choice. The idea to overdub a ringing riff on the intro was definitely mine. If you listen to the previous version they did with Chris Spedding, it's chalk and cheese. There's only one guitar for a start and that's heavily dampened, swimming in pingy reverb. On this version, however, there are four guitars playing the riff, with one of them in a higher octave. I reckon someone ought to release this as a single while such things still exist. There is a later mix of this recording floating around on various albums claiming that it's re-mastered from the original master tapes but that cannot be. For a start, the quality is poor and there are bits missing. Some sound like they've been copied from vinyl. Anyway, you can always tell this alternative mix by the ending. This first mix has no talking on the end, but the later mix has John saying "Do you wanna do that again?"
'Anarchy in the UK' V1
This song had just been added to their set and turned out to be a bit of a problem to get down. I still feel that it's too slow. I mean, a song about anarchy has to be manic doesn't it? You can hear John attempting to push the beat forward with his voice. It's like he's fighting to get out of a plodding stodge. I kept on at them to play it wilder, but Glen insisted it should be steady. Malcolm popped in to see how things were going and he too had a go at psyching them up. In the end we had to settle for this take. It has character and yes, the handclaps were my idea. Vivienne turned up and loved the lyrics, especially the line "I wanna destroy the passer-by" she took it metaphorically rather than literally. "Yes all those people sittting on the fence, they need edutaining." Again, there's no easy way
to tell the difference between this version and the one on SPUNK etc.apart from this one sounds faster and more powerful. This recording never found its way onto 'This is Crap' either.
'No Feelings' V1
There's no mistaking John's sentiment here. "No feeling for anybody else, except for his beautiful self." The lyrics have a certain 'Clockwork Orange' senseless violence to them. Two references to kicking someone in the head. "Look around your house you've got nothing to steal, kick you in the brains when you get down and kneel and pray to your god." There's a nod towards Steve Harley in the line "come up and see me and I'll beat you black and blue, yeh hey, (impersonating Steve Harley) I'll sell you your blues." A double reference to both 'Make me Smile' and 'Psychomodo'. This is the version that was the B-side to 'No Future' on A&M. The guitars are dominated by phased crash chords that swirl back and forth between the speakers when you stand in the middle. This frightening ditty ends with the line, "God has gone away, be back another day, see his picture hanging on your wall." And that's the end of this session, 23min 23 sec of pure energy and psychotic psychedelia.
The Gooseberry Sessions:
Between the EMI & A&M deals Malcolm suggested I should take the band into a studio for a few days to take their minds off things and maybe get a few new decent recordings to tout around. Within days of being dumped by EMI, they had written a new song about the scenario and called it simply 'EMI', They had yet to record their new punktastic pop song 'No Future' or 'God Save the Queen' as it later became known. I decided to use Goosebury Studios, a stone's throw from their rehearsal gaff. They could literally carry their equipment there and did. The studio had 16 tracks and had been host to all sorts of seminal bands over the years. Malcolm was in Paris pulling together the French record deal and an American news crew were in town making a documentary on Punk to be shown nationwide on NBC news. I'd bumped into them at the Roxy when they filmed Eater. I agreed to let them in on our session for an hour in return for a few bob that we could all spend down the cafe later.
On the first day, when I arrived Steve and Paul had already set up and were busy felt-tipping 'Guitar Hero' over Steve's Fender Twin amps, (he's now got two). Glen arrived and behaved like a Sex Pistol. He showed no signs of disenchantment and seemed to get well into it. These mixes are the rough monitor mixes that were done at the end of the day, before we took the tape to Eden Studios to add a few more overdubs and mix. Sometimes rough mixes come out with a character all of their own and these three mixes are no exception.
'New York' V1
Their transatlantic pop song. Rotten wasn't exactly impressed with the New York punk scene and let the world know it through this rant. "You're just a pile of shit, coming to this, poor little David, sealed with a kiss, still out on those pills, cheap thrills". A possible reference to David Johansen , singer of the New York Dolls, a band his own manager Malcolm McLaren once tried to manage. This mix lacks a few overdubs but its sheer power makes up for it. You can hear John on the end say "I get tired with the fucking end of that".
'EMI' V1
The speed at which this song materialised was phenomenal. They would get the last word on the EMI saga after all. My partner in the Label label, Caruzo, wandered by the studio and was immediately taken by this song. He really wanted to release this on 12 inch for Malcolm and the band, on a one-off interim licensing deal. It would have been brilliant and given the fans some product in between major labels. We badgered Malcolm who needed time to think about it but eventually rang back and turned our offer down. He said he wasn't confident in our distribution setup, although we'd managed to shift over 15,000 of Eater's first single 'Outside Views'. This mix is again lacking a few overdubs but its rawness is delightful.
'Liar' V1
"You're in suspension, you're a liar" li li li li li li li lie (sings Glen) we've been sussed, our bullshity ways have to stop! I want to live in the now!" Thank you very much for this song John. "You should have realised, I know what you are, you're in suspension, you're liar, liar, lie, lie lie". Again, this is a rough monitor mix of work in progress but boy does it rock, right from its false start. The Sex Pistols wrote some fucking brilliant songs!

Vocals, hand claps and mouth music: John Lydon (Rotten)
Guitars, backing vocals and hand claps: Steve Jones
Drums and hand claps: Paul Cook
Bass and backing vocals: Glen Matlock
Production, arranging, engineering and kettle: Dave Goodman
Assistant engineers, Kim Thraves, Neil Richmond (Riverside), Rod
Houison (Decibel)
Note. The above information is an abridged version of the sleeve notes for the proposed XSPUNK CD.
Text ©Dave Goodman
---
Tribute Band The Sex Pistols Experience
received the following letter from Dave, February 2005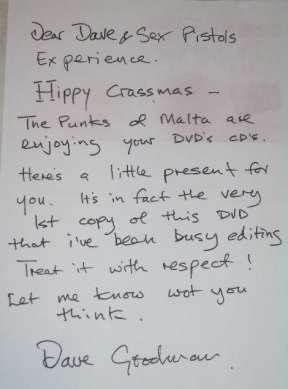 ---
©2003/2005 Phil Singleton / www.sex-pistols.net
All rights reserved. Not to be reproduced without permission.