THE FILTH AND THE FURY
FILMFOUR PRESENTS IN ASSOCIATION WITH THE SEX PISTOLS..
A JERSEY SHORE/NITRATE FILM PRODUCTION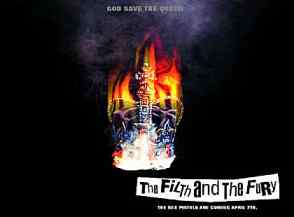 A JULIEN TEMPLE FILM

DIRECTOR'S STATEMENT
When The Sex Pistols were playing, I was probably the person most in between the Malcolm McLaren side of things and the band. So it was a great thing for me to be able to finally show the other side. The band are very, very honest in this film and I think their honesty is what will connect with people.
Musically, the Pistols were vastly influential. They encouraged people to believe that they didn't have to do 20-minute drum solos to say something worth listening to. But far more important, I believe, than the music was their fierce protection of the right to individuality and their questioning attitude.
I think a film of the Sex Pistols is relevant today because it's very important that people — young people especially — know their own history and should challenge what they are told and not simply accept things at face value, something I believe is happening more and more often. In terms of post-war British culture, nothing has been more defiant than the Sex Pistols' voice; no one has gone beyond them. No one has had the guts. The Pistols had a code of defiance and independence which they invented themselves. And we are in danger of losing that.
After The Pistols, the whole punk thing was horrible: depressing, conformist and ridiculous. There has probably been more theoretical intellectualising about punk than any other part of popular culture. It's great to hear the band's version of how they came to be part of that.
I've always known that they can't be touched by any other rock band in terms of intensity, but I think it's only now that the real emotions that were involved at the end — and what happened to Sid in particular — can be talked about by the people involved, particularly John. People have watched the film and been almost in tears at the end, which is the last thing that you would expect from a Sex Pistols movie. But it is great because there was never anything about the Pistols that you expected, that was part of their power.
JULIEN TEMPLE
DIRECTOR
LONDON, SEPTEMBER 1999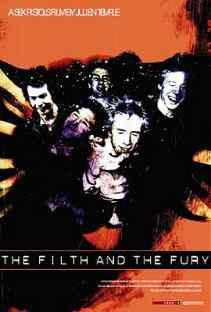 SHORT SYNOPSIS
The Sex Pistols were in existence for only 26 months and recorded only one album, yet they changed the face of music forever.
The Filth And The Fury, a film by Julien Temple, is an irreverent, intimate and shocking portrait of arguably the most influential and certainly the most notorious rock group of all time. It documents the story of the Sex Pistols, charting their rise from the litter-stacked back-streets of Seventies London through their crucifixion by the British tabloids, canonisation by hundreds of thousands of fans around the world and ultimate implosion on tour in America. Along the way myths are debunked, scores are settled and the words of the band are heard for the first time as they step once and for all away from the shadow of their egomaniacal one-time manager Malcolm McLaren.
Painted against the political, economic and cultural backdrop of London in the mid­ 70s, the film depicts what was to become a key transitional moment in English social history. Culled primarily from the band's own 20-hour-plus archive of never-before-seen footage (including live performances, rehearsals, recording sessions, promotional events and candid moments which Temple interweaves with newly filmed interviews with the four original band members), The Filth And The Fury captures the very essence of the punk movement. The Pistols are unlike any other period film characters. And The Filth And The Fury is a culturally immersive experience unlike any other period film.
AN INTERVIEW WITH JOHN LYDON
Q: What does The Filth And The Fury mean to you?
A: The only reason I agreed to do the documentary was because FilmFour gave us the freedom to tell The Sex Pistols' story as it really was. It's the band's chance to set the record straight. We don't praise ourselves or wax lyrical about our influence. We just tell the truth. For the last twenty years people have exaggerated and blown up the Sex Pistols into something they never were. I think the truth is far more shocking and far more interesting.
Over the years, Steve [Jones, the band's guitarist] and I've both been asked a lot by journalists about the Sex Pistols, but answers that are in any way contradictory to public opinion are not printed. It's bizarre to constantly be told that "it couldn't be like that because I've read the Jon Savage book". [LAUGHS]. Well who the fuck's he? He wasn't there. His book is an assumption based on the fact that he was a friend of the manager [Malcolm McLaren].
This film is laying down a gauntlet of sorts: that no matter how you try and cheat and lie and corrupt a thing, ultimately the truth will come through.
Q: What lies were told about the Pistols?
A: People claimed they wrote the songs; that they orchestrated the whole thing; that the band were really not much to do with it. And that's not the truth at all. We weren't a middle-class conspiracy. Everything we did was instinctively working class. And to this day still is. It was not an intellectual movement orchestrated by Malcolm McLaren. It's also not the truth that we deliberately planned to be some kind of social revolution. If we had an aim it was to force our own, working-class opinions into the mainstream, which was unheard of in pop music at the time. The fact is we were being ourselves. And any revolution which followed that should have played closer attention to what we were saying instead of running off and waving flags.
Q: One of the things that comes through from the film is the light-hearted side of the band...
A: One of the major things that was stolen from the Sex Pistols was our sense of humour. People didn't want to focus on the fact that we were young people basically out to have fun. They didn't understand that's what young people do; the world was —and is — a horrible place, but you'll never change it by being miserable.
Q: Why is it important to tell the real story now?
A: I don't know if it's important now, this day, this minute but for the last twenty years it has been gnawing at me that I have had to constantly read lies regurgitated in the media and they've ignored outright anything that the band had to say.
Q: In a lot of ways it's a sad story. Do you regret anything?
A: There are no 'Oh I wish I could have done differently's. You work with the tools you've got and we did very well by completely not giving a toss. In an odd way our ignorance of the musical establishment was our major bonus point. I think I've got smarter over the years, but if I was as smart then as I think I am now it wouldn't have worked. I'd have been too aware of all the negatives.
Q: The different personalities in the band come through in the film. Especially your love-hate relationship with Steve Jones...
A: We are all very different people, the band, and that made it an awkward road in a way. But you can't expect everyone to have the same opinions. And the diversity of what was the Sex Pistols is what makes the Sex Pistols. There are no easy answers. A person like me, if there's a problem, I'll go out and attack and yell and scream and try and do something about it. I never run away from it. But I do need someone holding me back sometimes, otherwise it's too unrestrained. [LAUGHS]. There is an energy between Steve and me. It's used well by us because were not fearful of it; and in a sly way it's good fun to have jabs at each other. We've always enjoyed that.
Q: It feels like a very anti-drugs film...
A: It is a very anti-drugs film. It's a shame that the Pistols became associated with drugs because of Sid's indulgence. Sid got it wrong and he got it wrong big time. And unfortunately that image became pervasive. The Pistols wasn't about destroying ourselves, it was about destroying a situation that was destroying us. It was done with a sense of hope. [LAUGHS].
Q: What is the Pistols' legacy?
A: There should not be hero-worship or anything like that. You can respect what we've done and that's fine but the trouble is has been the nonsense about iconography. We've been turned into gods. And it's rubbish. It's all made up, we're human beings. Look at the documentary: warts and all. We just come over as people. There is no posturing or posing. And back then we were confused. We had a manager who was "All print is good print". I disagree, I don't think that all print is good. I think reality is good. It was absurd some of the insults that were thrown at us that were so wrong. And what the fuck? This film puts it in its place. Very neatly and nicely.
The above extracts are taken from the FilmFour "The Filth And The Fury!" information pack.
---
The following interview was posted 17th February 2000 on Entertaindom.com
THE TRUE STORY BEHIND THE SEX PISTOLS

Suddenly, Johnny Rotten — the snarling godfather of British punk — finds himself back in the sickly glow of the pop limelight.
The former Sex Pistols frontman (a.k.a. John Lydon) is hosting a new show on VH1, "Rotten TV," and is promoting "The Filth and the Fury,' director Julien Temple's upcoming documentary (opening in March) about the rise and fall of the Sex Pistols.
EW senior writer Jeff Gordinier spoke with Rotten and Temple about their new film.
Q: You seem uncharacteristically happy about 'The Filth and the Fury
Rotten: I love it. Julien is damn fine at his job, and I'm pleased as punch. It's the truth.
Q: Oddly, though, Julien directed 1979's "The Great Rock & Roll Swindle."
Rotten: A film I loathe, hate, and despise.
Temple: I'll never live that down.
Q: Right. So isn't it weird that you went back to Julien to do "Filth"?
Rotten: No, no, no. We've known each other for years and years. It doesn't contradict anything at all. I mean, he also made "Absolute Beginners," so I thought I've got to give the guy a break.
Q: "Filth" has rare live footage of the Pistols in their heyday, along with a lost interview with the late Sid Vicious. Where did you find it?
Temple: You go to this vault in England where the film is stored, and it's like Kafka's corridors — all neatly stacked British films, from Hitchcock to James Bond. But the old "Rock & Roll Swindle" stuff was just dumped on the floor. They couldn't even be bothered to file the f-—ing thing. There was rotting film everywhere, coming out of these cans.
Rotten: Even the rats had moved out.
Q: What was your goal with "Filth"?
Rotten: For 20 years our life has been rewritten -- wrongly and very badly. It becomes intolerable. At some point you have to say: "Stop. Here is the real deal." I've told the truth constantly, but now it's on film. Somehow celluloid adds a touch of realism for most Americans. Cellulite adds realism, too.
Q: What were some misconceptions?
Rotten: People get the punk "ethic" completely wrong, quite frankly -- by trying to make it out to be something destructive, which it most certainly wasn't. It was very constructive. We took all the negatives of the world, bunched them together, and attacked them. You can't get more positive than that.
Q: Pistols drummer Paul Cook doesn't appear much in "Filth." Why not?
Rotten: I think a lot of resentments from the past came up on our reunion tour, so he's distanced himself from the whole thing. He just wants to go back to being a normal bloke. He's excruciatingly dull, and he works hard at underachieving.
Q: One of the amazing things about "Filth" is a poignant moment when you actually weep over the death of Sid Vicious.
Rotten: I know, people think I don't have a human side. Well, I do. I mean it. I'm quite despondent about it. Any stupid rock & roll death really hurts, and it hits home.
Q: I must say, you look really healthy.
Rotten: I should be. I don't indulge in the bad things in life. I just consume large amounts of alcohol, which does me a power of good. It's the Irish in me.
— Jeff Gordinier
Music in order of appearance
"God Save The Queen" (Symphony) (Cook/Jones/Matlock/Lydon)
"Chirpy Chirpy Cheap Cheap" (Cassia/Stott) Performed by Middle Of The Road"
"Shang-A-Lang" (Coulter/Martin) Performed by Bay City Rollers
"Pictures Of Lily" (Townshend) Performed by The Who
"Virginia Plain" (Ferry) Performed by Roxy Music
"School's Out" (Cooper/Bruce) Performed by Alice Cooper"
"Skinhead Moonstomp" (Smith/Ellis) Performed by Simaryp
"Glass Of Champagne" (Georg) Performed by Sailor
"Through My Eyes" (Garner/Phillips) Performed by The Creation
"Jean Genie" (Bowie) Performed by David Bowie
"Submission" (Cook/Jones/Matlock/Lydon) Performed by Sex Pistols
"I'm Eighteen" (Cooper/Bruce/Buxton/Dunaway/Smith) Performed by Alice Cooper
"Don't Gimme No Lip Child" (Richards/D Thomas/J Thomas) Performed by Sex Pistols
"What'cha Gonna Do About It" (Samwell/Potter) Performed by Sex Pistols
"Hot Legs" Performed by Rod Stewart
"Bohemian Rhapsody" Performed by Queen
"Road Runner" (Richman) Performed by Sex Pistols
"Let's Have A Ride On Your Bicycle" (Miller/Walsh) Performed by Max Miller
"Substitute" (Townshend) Performed by Sex Pistols
"Seventeen" (Cook/Jones/Matlock/Lydon) Performed by Sex Pistols
"Anarchy In The UK" (Cook/Jones/Matlock/Lydon) Performed by Sex Pistols
"Pretty Vacant" (Cook/Jones/Matlock/Lydon) Performed by Sex Pistols
"Did You No Wrong" (Cook/Jones/Matlock/Lydon) Performed by Sex Pistols
"Liar" (Cook/Jones/Matlock/Lydon) Performed by Sex Pistols
"EMI" (Cook/Jones/Matlock/Lydon) Performed by Sex Pistols
"No Feelings" (Cook/Jones/Matlock/Lydon) Performed by Sex Pistols
"I Wanna Be Me" (Cook/Jones/Matlock/Lydon) Performed by Sex Pistols
"God Save The Queen" (CooklJones/Matlock/Lydon) Performed by Sex Pistols
"Way Over (In Dub)" (Sinclair) Performed by Tappa Zukie
"Problems" (Cook/Jones/Matlock/Lydon) Performed by Sex Pistols
"Looking For A Kiss" (Johansen) Performed by New York Dolls
"Who Killed Bambi" (Tudor/ Westwood) Performed by Ten Pole Tudor
"Holidays In The Sun" Cook/Jones/Lydon / Vicious) Performed by Sex Pistols
"Bodies" (Cook/Jones/Lydon/Vicious) Performed by Sex Pistols
Rodney On The ROQ Interview
"YMCA" Performed by Village People
"My Way" (Anka/Revaux/Francois/Thibault) Performed by Sex Pistols
"No Fun" (Alexander/Asheton/Asheton/Pop) Performed by Sex Pistols
---
God Save The Sex Pistols ©2006Phil Singleton / www.sex-pistols.net 2000 - 2007. All rights reserved.