CLASSIC GIGS 77-78HY
LUCRE 20th anniversary tour
NEVER MIND THE BANS Memories of Wolverhampton by Malcolm Jeffrey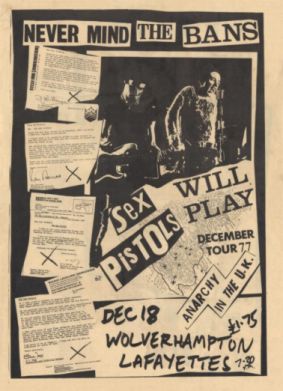 Story one. I'm 41 now but in 1977 I was 17, living in Stourbridge, and the Sex Pistols were the most important band ever. And they rarely toured, if they did they'd go out under assumed names (Tax Exiles, Acne Ramble etc), and the local councils would decimate their dates, so it was fucking impossible to see them. On Thursdays, the NME and Sounds came out and I'd read them at the back of my maths class in the morning: that week, the inside page of Sounds said that the Pistols were going On Tour Secretly and, although they weren't publishing the dates for fear of cancellations, fans in Coventry, Birkenhead, Cromer, Huddersfield, etc etc,. and Wolverhampton. should check their local press. Now Wolverhampton is a bus ride away - I HAVE to go to the gig. So I bought a local paper in the dinner hour and scoured through the small ads looking for "SPOTS" but there, bold as brass was a tiny half-inch ad saying "Sex Pistols Wolverhampton Lafayettes 18th December". So I hit the library to find out where the Laf was, got the number and rang the Club to find out the prices. The gig was next Sunday, you needed to be a member of their over-18's Sunday Club (I've still got the membership card) and the tickets were £1.75.
5 mates are interested, but I'm 17 and broke, so two of us pool resources and barely scrape a fiver between us, £4 short of the required cash. However, it IS coming up to Christmas and, being a teenage punk fan, none of my relatives knew what to get me anymore, so I had maybe £10 in Boots Gift Tokens which had already arrived through the post - and I have a trick up my sleeve. We skive off games on the Thursday afternoon and get the bus to Wolverhampton: the guy with the tickets is on his dinner break so we have an hour to kill.
Now, in those far-off days, you could buy something with your Boots gift tokens and if it costed less than the tokens' value they'd give you the change up to the next 50p and the rest in more tokens. So we went to Boots and I bought a Mars Bar - maybe 12p or something. "Don't you want anything else?" says the shop lady. "No" I fib, and collect 38p in change and £4.50 in new gift tokens. Then it's upstairs to the record department to buy a 10p plastic single sleeve. Another 40p and more tokens. Downstairs again to buy a torch battery - 15p. 35p change and more tokens. There were two Boots' in Wolverhampton and we spent the hour commuting between them when the security guards got suspicious, but I ended up with a huge sheaf of used gift token cards - and £4 in change. Hurray! Back to the Laf, lied about our ages and addresses, joined the Sunday Club and got the tickets - vivid pink in colour. You can have no idea how important I felt, getting back to Stourbridge, seeing all my schoolmates milling about in the town after the end of classes, with four tickets to the Sex Pistols in my pocket !!
Story two. My mum frowned on my interest in punk and new wave, but she was pretty understanding and I'd already been to see the Stranglers, the Jam, and 999 by then in the early days of my gigging career. The Pistols were right out, however - filthy, decadent and disgusting - and so I had to pull a small deception. "Who are you going to see on Sunday ?" she asked. "A punk band called The Spots", I truthfully reply. Off I go on Sunday evening and get to the Laf and the bouncers are turning everyone back: Johnny Rotten has a sore throat and the gig is postponed to the 21st so we plod off home again. When I arrive at home, my mum says "What's happened ?" and I tell her that the lead singer has a poorly throat and the gig is postponed till Wednesday.
Monday morning and I'm off to school. On my purple Raleigh Chopper. I open the front door and the Daily Mirror is on the mat, so I take it in to my mum. And what's on the front page ? A picture of Johnny in a hat, looking very pissed off, with a small article to the effect that "Johnny Rotten cancels opening gig of secret Sex Pistols tour in Wolverhampton because of sore throat." I had given my mum just enough information to hang myself: fitted up good and proper! Daily Mirror - you utter, utter, utter, utter bastards, I thought (or the 1977 equivalent). The irony of the situation was not lost on me though and I had to smile. Mind you, I did have to undergo the "You were going to the Sex Pistols last night !!" argument when I got back. Tee hee !
---
THAMES RIVER BOAT PARTY 7th June'77
My memories of the 1977 boat party... by Ray Morrissey
As everyone knows, trying to find out where and when the Pistols were playing in 1977 was a nightmare if you were not mates of someone in the music press, as they were banned from every decent sized venue.

The boat trip was on June 7th but on the two nights before on June 5th and 6th I was at The Roundhouse to see a great triple bill of Ramones, Talking Heads, and The Saints. As luck would have it, Sid Vicious was at one of the shows. I had a quick chat with him and casually asked if the band had plans for any live shows. When he told me they were to play on a boat on the Thames that weekend I could not believe my ears. He said it was invite only, but to come along and try to get on.

What I remember was that it was a Sunday, so we turned up about 6pm expecting the boat to leave at around 8pm, but as we got there the last of the guests were going on and the boat left shortly after 6pm. (In the Dennis Morris book 'Destroy', I am one of those pictured in the queue for the boat, with other people like myself who did not get on. The look on our faces clearly shows, "The fucking boat is leaving without us.") It pulled away and the rest is history.
All was not lost as we had a back up plan. We left the area at 7pm for Earls Court Arena to see Queen live in concert. We bunked in the side doors and got down the front and had a great night.
---
BRUNEL UNIVERSITY, UXBRIDGE 16th December '77
LET ME TELL YOU A STORY by Leigh Heggarty
I was 16 at the time (you work it out!) and still at school. I remember one of the lads saying that his brother (or somebody like that) had told him there was a "mystery group" playing Brunel the following Friday. I also remember hearing an advert on Capital Radio. Anyway, one of the lads at school had a moped (!) so we all chipped in £1.75 each and he went over in the lunch break and bought a batch of tickets. I have a vague memory of him buying a few extras and touting them in the playground!
Anyway, come the day of the show I had a heavy cold and nearly didn't go (!!) but much to my Mum and Dads horror I heroically made it down there (it's only about three miles away). There was a big crowd waiting outside the venue which grew more and more restless as time went on, particularly as you could hear the band sound-checking inside ('No Feelings' if I remember correctly). I've since read that they had lost the front door key - whatever, we were outside for what seemed ages. When they did eventually get the doors open somebody (presumably on the door) shouted something like, "Will everyone with tickets hold them up in the air". This of course, produced chaos with people trying to steal tickets out of each others hands! We just cowered at the back trying not to wave our tickets around until finally we were able to make our way in... Yes, you've guessed it, another long wait with the only amusement provided by the Boomtown Rats, who were throwing badges into the crowd from the balcony. We'd also heard that members of The Ramones and local heroes The Lurkers were in the crowd, although we couldn't spot any of them. At last the band appeared to considerable mayhem, with Rotten saying words to the effect of "Welcome to the most disorganised gig I've ever seen". Anyway, we were away! Although I wasn't too well I remember thinking the band sounded bad (although they looked great) and being very disappointed by it all... sad really. I thought it may just have been me, but I've since heard a tape (terrible quality) and I've spoken to a few people who were there who also saw earlier Matlock gigs, and they thought it was terrible too. I don't remember ever hearing John, Paul or Steve saying anything good about it. Just my luck I guess!

Anyway, my luck improved a few years later when the band I was in at the time, 'The Price', supported Glen Matlock's 'Mavericks' (as they were still known then) a few times and I got to know them all quite well. They were a great band, even better than their 'Hard Work' CD suggests. The first gig we played with them was in Dunstable and I was amazed at the number of people who turned up with Pistols memorabilia for Glen to sign. I was standing with him when someone he'd just autographed 'NMTB' for challenged him indignantly on what he'd written. Maybe they'd seen "Ex-Sex Pistol" on the poster and was amazed how much Rotten had changed! Maybe they'd expected him to sign "Sid", who knows... whatever, Glen took it all well. I was hoping to see Glen at his recent London gig but unfortunately I'd already made other plans (this may have been a mistake!). Still, I hope I'll catch up with him again one day. I did see him in 1996 with the Pistols both at Finsbury Park and Shepherds Bush Empire, the latter being about the best rock gig I've ever seen and probably EVER will see. The bootleg CD and video can't do justice to that night - marvellous!! Anyway that's about it (so far). I did say my story wasn't that exciting but it means a lot to me. I've still got my Brunel ticket somewhere - I guess it's worth a bit more than £1.75 these days, but sorry it's not for sale!
---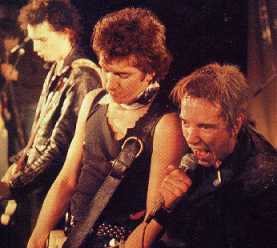 IVANHOES, HUDDERSFIELD 25th December '77
BILL WRIGHT MEETS THE SEX PISTOLS
This article originally appeared in the 1984 'ROUSKA' fanzine and was written by Bill Wright. Thanks to Bill and Richard Rouskateer, whereever you may be...
In the late seventies, 'Bankhouse Entertainments' ran weekly promotions. At 'Pickwicks' (Dewsbury) on Mondays and at 'Ivnanhoes' (Huddersfield) on Tuesday nights. Over a three month period I booked a whole host of punk bands and other interesting stuff like the Record Mirror Road Show, Chris Spedding etc... A lot of it great music, fresh in! However after a short time we found ourselves to be losing money. I was getting really worried. I thought, "Crikey! I'm going to lose my agency and everything else". But I needn't have worried as lady luck was just around the corner...
One night, whilst seeing some of my bands audition for gigs abroad at Wakefields 'Tiffanys', I got a call from the Sex Pistols agent. "How d'ya like a date on the Sex Pistols?" I said,"Yeeeaah, great!" I thought he was joking to start with. Like, everybody wanted them, but you couldn't for love or money. If you'd offered them ten grand it would have made no difference. All they wanted was the right situation and the right club. Then he said, "They fancy doing Xmas Day, how about it?" I couldn't believe it, but that was the PISTOLS. That's the way they went about things. So I said, "Yeah, lets do it." It was decided that 'Ivanhoes' should be the venue and that the cost a mere £600. Which was a pittance for them in those days. However there was just one reservation and that was that we were quiet about the whole thing. So we passed the good news by word of mouth. Only problem was that things got out of hand and it wasn't long before the press got wind of what was going down. Now Virgin, the Pistols record company at the time, wanted to make it a really special occasion. So between us we decided that it would be a good idea to do an afternoon show for the underprivileged kids of the area and then a show for the regular fans on the night.

Can you imagine it though, the Pistols playing to five, four, even three year olds... Unbelievable but it happened! Virgin said, "We want to do the job right, lets getinto this place and dress it up to make it look like a castle." This they did. A gigantic cake was laid on too. A splodgy one full of cream. And a few other goodies, like a sweet mountain. It all cost a small fortune, which Virgin thankfully paid for most of! So it comes to Xmas Day morning and there I was, shrugging my shoulders, sublimely accepting no one would turn up. But I was wrong! They did, all 500 of them. So too did Malcolm Mclaren, though I'm not too sure he was all that welcome, he seemed very remote from the band. It was as if there were some kind of antagonism going on between them. Anyway, the kids got stuck into the sweet mountain, skateboards and other goodies. Their faces a delight to see. Fantastic! Then, just before the Pistols were due to go on, Johnny came out and went up to the giant Xmas cake. A large number of the kids followed him. They struck up a rapport with him immediately. From the word go! They liked him. He then got this huge knife and cut an enormous chunk out of the cake. I can see it now. He passed this piece to this little girl who tried but failed to take a bite out of it. So he took one instead, then some more, and more... then they all joined in. He finished up by jumping into the cake and they all splodged him.

Then there was another incident. I don't know if it's really worth recording.. Where I for one reason or another went backstage. (This was also before the Pistols were due on). There, in the dressing room I found Sid. He was leaning upagainst this wall and like everything was hanging out! Nancy, was knelt down in front of him doing what comes... what it is they do, and I had happened to intrude! But there was no rush, or panic or instant thing. Sid just turned his head towards me very slowly (he was spaced out) and came out with the longest, most drawn out "Fuck off" I'd ever heard. I then left, thrilled that I'd actually had a conversation with Sid Vicious and that was that. Time to go on stage, and I was stood near Sid. All the very young ones were at the front when Sid started his usual thing of f..in and bl..indin. But Johnny turned to him and said something like, "Sid, there's all these young kids, lets just for once cut that shall we!" And for the next 20/30 minutes, (they only did a short set for the kids) that's exactly what he did. Now that showed Johnny for what he was, still is in my opinion. A nice bloke!
Afterwards in conversation with him he was just like me or you. You know how you're in awe of these people and think they're very whatever.But he was a really nice bloke who... the business was tearing them all apart...and it did... his brain was being pulled all different ways... they got big far too quickly... and on such a funny level, with the aggro thing that followed them around. But they did that performance and the kids absolutely loved it, even the really young ones. On the night... We'd sold all our tickets and we felt that we were limited to about 500 in that venue. So the performance comes around and a massive queue forms outside. After we let in all the people who had tickets there were still many more left outside. So were what seemed like every copper in the British Isles. And then this big inspector chap comes over, badges a plenty, to have a word with me. I was on the door and I was panicking. "God have we let too many in... jeez they're really going to do us now." But to my surprise this is what he had to say, "Look there's all these people out here still and you're trying to close your doors now. I know you've got fire regulations to observe but it's Xmas Day and the last thing that we want is for all these people, from all over Britain, going around town kicking windows in. We would rather have the risk of them going in there."

So that's what happened and believe you me those people were shoving anything in your hands. Whether it was £10, £20... anything to get past those doors. The horrible thing was that I was taking it all and stuffing it where I could. In no time at all I was like a walking money box. So on this gig, all my pockets were full... everyone got in and the band turned in an incredible performance. Anybody that tells you the band weren't as good as their image portrayed or whatever, in a live situation they were amazing, excellent. In tune spot on. However things might not have turned out so well. There were so many in that place that underneath the floor, where the dressing room was, you could see the roof sagging in the middle! Pieces of plaster were dropping all the time. For about half an hour I had a real genuine fear that this was going to end up a 'News of the World' feature. But it all added to the general excitement of the event. At the end of the night a bloke representing the Pistols came up for the £600 cheque. He asked me what I thought of the days proceedings. "Absolutely fantastic!" I told him. "I was just about to go bankrupt, in fact I've never enjoyed writing out such a large cheque before in all my life." I wrote it out, signed it and from that day to this, they've never cashed the cheque, just never did. I don't know whether they lit a cigar with it or threw it out of the plane. But what they did immediately from there was to fly over to America. And we all know what happened there. So it ended. The gig of the century had made good all the losses I'd made in the previous three months promoting up n'coming punk bands, those were the days!
---
IVANHOES, HUDDERSFIELD 25th December '77
This review was posted to the God Save The Sex Pistols Message Board on 6th January 2001 following a discussion. It is written by Russ who has very kindly given us permission to publish it here. What follows is an interview Russ held with his brother-in-law Kevin who was present at the gig.
Q - When did you first hear about the Xmas day gig?
A - A couple of months before, probably beginning of November. We didn't know a date or a venue, there was just this rumour going about. First of all it was word of mouth at some of the Punk clubs around Leeds that the Sex Pistols were gonna be doing a secret gig in the north of England. There were no dates or venues at this point. But there was this really long-winded process you had to go through to get tickets. It was like a voucher system. First thing you had to do was get these vouchers. I went to a club in Dewsbury to see a band called The Lurkers and a few other bands, hardly anyone was there, but throughout Yorkshire you went to these gigs and got these vouchers. I don't think anyone really believed it but we got them anyway. When you'd got the vouchers then you could buy a ticket (the address was on the back). Nobody knew it was Christmas day in Huddersfield until a few days before when the tickets arrived in the post.
Q - Did you know there were two gigs that day?
A - Yes, when we got there we found out there'd been one in the afternoon. Gingerbread, the one parent families organisation had something to do with the daytime gig, apparently they'd organised a party for underprivileged kids and kids of single parent families.
Q - Were there demonstrators or protesters outside?
A - No, cos it was such a secret gig, nobody knew it was there till a few days before. Huddersfield City center was really quiet with it being Christmas day.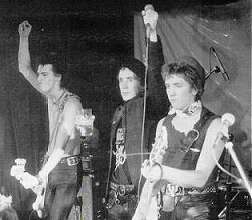 Q - So what do you remember about the gig?
A - We got there early, we were like the first people in. I remember it was really hot in there cos it was a very small club and it got totally packed out. When we got in Rotten was stood in the middle of the dance floor wearing a pith helmet (as worn by African explorers etc) and a mohair jumper skanking away (dancing) to reggae music. I didn't speak to him but one of my mates I think asked him when the gig was starting. Don't know if he got an answer, he certainly didn't stop to chat to anyone. As the club started to fill up a sort of circle surrounded him but nobody seemed to speak to him. Rotten never came across as being the most approachable person, so people just left him to it. The rest of the band was in the crowd just chatting with people. Sid walked right past us but he was in a world of his own, totally off his face. Remember that heroin wasn't a widely used drug then so we just thought he just looked really pissed, like he'd been boozing all day. He looked ill. Nancy was there keeping an eye on him, following him everywhere. They didn't seem to mix with the rest of the band. Eventually the band disappeared and it was quite a while before they came on. There weren't any support bands or anything. I also remember that Rotten seemed really isolated from the rest of the band, but then again he was like that when I saw them on the Anarchy tour in Leeds. The bar was open so by the time they eventually came on everybody was tanked up and well into it.
Q - How long did they play for / can you remember any of the songs?
A - I think they played for about 45 minutes to an hour. It was 23 years ago so I don't remember what songs they played, although I do remember them doing Belsen Was A Gas because it was the first time I'd ever heard it.
Q - You said there was a camera there. Did you notice if they filmed the whole gig?
A - It was hard to see because the club was so small. The stage area was really compact and was full of stacks. It was an intimate gig to say the least, just heaving with people and really hot. There were tables against the wall either side of the dance floor that they'd used for the party during the day, so we stood at the ones at the right hand side near the front. We could hardly see Steve Jones but got a great view of Rotten and Sid. Sid had his jacket off for most of the gig. It was really loud so you couldn't tell if Sid was playing or not, but it looked like he was, there was no goading with the crowd or anything, he was well out of it, but he seemed to be playing along.
There was quite a lot of banter with the audience. I remember there was this one bloke there, can't remember his name but he was this tall blond bloke who was lead singer of The Jerks who was quite well known around the Leeds punk circuit. He was a real poser and I think Rotten had his eye on him. He was right at the front and Rotten kept making these snide remarks at him. I thought he was going to smack him at one point.
One thing I really remember (laughing) was a few songs in, Steve Jones walked up to the mic in between two songs and shouts "Right then, who wants to suck me' cock!". All these blokes started shouting like "Yeah, me, me!" Jones was just like stepping back waving his arms going "No, no blokes, just women!". We were pissing ourselves laughing!
I really wish I'd kept some of the paraphernalia because there were these huge posters all over the place that people were ripping off the walls before and after the gig. I kept my ticket too for years but that got lost somewhere.
Q - Anything else?
A - To be honest it was the 2nd time I'd seen the Pistols and I remember the Anarchy gig a lot more. It was a totally different atmosphere. It was December 6th, just a few days after the Grundy thing. They achieved tremendous notoriety very quickly, really hyped up, it was all so new. It put an awful lot of people off going but it also attracted people like me, I was 18 then. The atmosphere at that gig was amazing. If I had to say which was the better of the two gigs I'd have to say the Leeds gig.
---
"ROLLING STONE" MAGAZINE, MARCH 9, 1978
PERFORMANCE "God Save The Sex Pistols"
WINTERLAND, SAN FRANSISCO January 14th, 1978
By Greil Marcus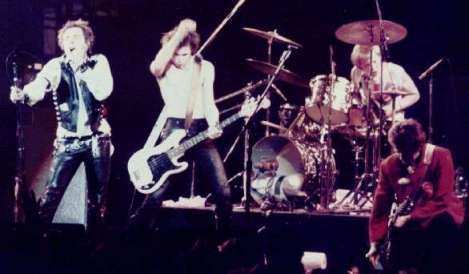 On the last stop of the Sex Pistols' first American tour, they took on almost as many people - over 5000 - as they faced in Atlanta, Memphis, Baton Rouge, Dallas, San Antonio and Tulsa put together. They held the stage for an hour: four days later, they blew apart. It may be that the Pistols' only alternative to the future the rock & roll world had imagined for them - a future devoid if imagination, a future made up of the rock & roll rewards and penalties they had set out to deny - was to quit the scene; that or a plane crash.

The Sex Pistols left behind more history than music, but on their final night the music lived up to the history. * The first thing that struck me, not a minute into their show, was how much stronger the Pistols sounded onstage than on their records. The music was all bite: you could reach out and touch every jagged note. It was Steve Jones - somehow revitalizing every stance in the English book while sounding as if he were playing a guitar factory instead of a mere guitar - and drummer Paul Cook who made the noise, and together they were likely the only great two-man band in the history of rock & roll. Sid Vicious used his bass as a prop; spraying the crowd with spit, beer and mucus, he looked like an English Charlie Starkweather. With one arm taped from wrist to bicep (Vicious was to OD twice that week), he was there to bait the crowd.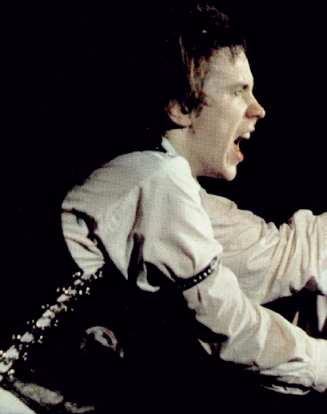 What was most surprising about Johnny Rotten was his intelligence: intelligence you could read most clearly in his eyes - he might have been a kid out of Village of the Damned seventeen years later - but also in the way he used his body. He slumped like Quasimodo; he cut through the curtain of objects hitting the stage and the band (ice, cups, shoes, coins, pins and probably rocks) with a twist of his neck. He hung onto the mike as if he were in a wind tunnel, about to be blown off the stage.

"There's not enough presents", Rotten yelled after a belt flew over his shoulder. "You'll have to throw up better things than that." A perfectly rolled British umbrella landed at his feet. "That'll do", he said. The crowd wasn't young - most were older than anyone in the band - and they were nasty, either by pose, choice, or necessity. A man in a football helmet butted his way through the crush until he smashed a cripple out of his wheelchair; the band went it's own way. "Bodies" broke the show open with the same intensity with which "No Fun" - the single encore - finished it off: Rotten and Jones bore down as if they had nothing left to lose. There was the unrecorded "Belsen Was A Gas" ("Belsen is a gas, I heard the other day / Saw the open graves where the Jews all lay"), the careening momentum of "Liar", the dead-end kid splutter of "Problems", and finest of all, the fury and glee Rotten put into the chorus of "Pretty Vacant": "AND WE DON'T CARE!" Finest of all, because the force of his negation brought such pleasure: a thin edge of affirmation.

Just before the band left the stage - carefully gathering up everything of value from the floor (there were four umbrellas by the end) - Rotten rang a change on his music. It was that famous line from "Anarchy". "Don't know what I want / But I know how to get it." This night the negative was gone. He knew what he wanted, Rotten shouted, and he meant it. But whatever it was, those of us who were there couldn't give it to him - and he knew that too. So, minutes later, he left, and we will see nothing like him again.
* Not that the band wasn't ready to make more. They had planned to hit Brazil immediately after the U.S.A.: their opening act would have been one Ronald Biggs, reading poetry. Ronald Biggs was a member of the gang that pulled off the Great Train Robbery.
---
©Phil Singleton / www.sex-pistols.net 2000/2001/2002/2003/2004/2005/2006/2017
All rights reserved. Not to be reproduced without permission.