REVIEWS Boston '03
God Save The Sex Pistols exclusive reviews!
Boston - Fleetboston Pavilion: 20th August 2003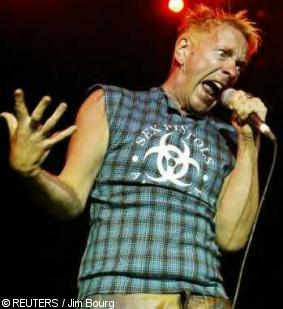 Review No. 1
Sex Pistols Kick Off Their US Tour In Boston
By John Reed
The feeling of disappointment that the Sex Pistols limited their live performances to two shows in 2002 - with a UK show and a sole US appearance at KROQ's California blowout - was erased last night as the band made many an East Coast punk ecstatic by opening their 13 date summer US tour in Boston.After intense supporting sets from Reverend Horton Heat and local heroes Dropkick Murphys, the Pistols took the stage and made their first New England appearance since playing Great Woods (now the Tweeter Center) in August of '96.
Still looking fit and younger than they are (that "fat, 40 and back" chant that Johnny Rotten used to spew on the Filthy Lucre Tour is still not really relevant), the band took the stage at 10:10 and Rotten announced that they had "not rehearsed." This was evident when the Pistols tore into what has become their fairly standard set opener Bodies.
And then stopped after the first line. After a minute of re-grouping, they launched into a proper version of the song about an unstable and treehouse-living former groupie (or stalker).Decked out in a bluish plaid shirt, Rotten was in great (for him anyways) spirit and is sounding better than he has since PIL's glory days. He was actually smiling more than usual and was content on being the clown jester, as opposed to the looming bulging-eyed-mock-psycho he portrayed when the group was under the wings of McLaren.
Tearing though the entire classic Never Mind The Bollocks, the band sounded extraordinarily fresh, yet a bit shaky at times.
Much as in '96, the live show gives the chance to focus more on the Pistols as instrumentalists. While Steve Jones' guitar style has been revered and praised (and copied!) by thousands, the lower key Paul Cook really shined on Holidays In The Sun and his steady/powerful beats do get overlooked, as does the still youthful original bassist Glen Matlock, who unfairly gets lost in the legacy/shadow of Sid. Fortunately, the rhythm section shined in Boston as Cook and Matlock proved they do more than round out the Pistols - they give the songs their balls.

Killer takes of No Feelings and Pretty Vacant brought Jones' sweltering power chords into focus and voided the thought of any mid-concert lag. The only odd thing was that Jones spent an unusually good deal of the time with his back to the audience, playing solos while facing Cook's drum kit(?!).
A mid-set God Save The Queen saw Rotten flub the lyrics, but the ending No Future chant made up for the minor miss-steps. It was also great to hear No Fun and Belsen Was A Gas live, as they omitted them from their set the last time they came through Massachusetts.
After the set ending EMI, the band inevitably returned and once again stopped Anarchy In The UK after the first notes. Jones had a guitar problem and while he waited for the guitar tech to assist the problem, Rotten led the crowd in an Anarchy sing along (which was a really rare and surreal experience at a Pistols show). Then with the problem rectified, Anarchy was performed and followed with a powerful show closing Problems. Which was a perfect irony-free end to the night, which Rotten put with "We'll see you again soon…In Baghdad!"
While the show was only a little over an hour and kinda clunky, it was still as energy filled as any other live Pistols show in recent memory. And for us there, it will be one of the most unforgettable hours of our lives.
Boston Set List: Bodies / Seventeen / New York / No Feelings / Did You No Wrong / Belsen Was A Gas / God Save The Queen / Liar / No Fun / Submission / Holidays In The Sun / Pretty Vacant / EMI / Encore: Anarchy In The UK / Problems
---

Review No. 2
By wcjins
"Of course I suck!" (J.R. 2003)
After waiting twenty odd years to see the Pistols play live, they definitely lived up to their reputation. Although they seemed very unrehearsed it didn't really matter, punk was never about perfection. If I wanted perfection I would've gone to see Yanni. They played the entire album (anyone old enough here to remember LP's?) plus a couple of others like Belsen and they absolutely ripped the place apart. I don't think the sometimes staid Pavilion has ever seen anything like it. As soon as the Pistols came out, so did the first few rows of seats (I know because I was in row 6 handing back seats for twenty minutes) to follow John's directions "Now Dance!" "Did you get what you wanted?" - absolutely. "Was it a life changing experience?" - of course not, that happened twenty five years ago. "Great fun?" - hell yeah!
Despite a few (dozen) extra pounds and seeming lost at times - "Welcome to our first rehearsal" - everything sounded as fresh and unsympathetic as it did 25 years ago. Ten thousand people singing Anarchy In The UK has to say something about a legacy that has brought us to the sad times of Avril Lavigne being "punk". The spoiled little s**ts have no idea what it means to buck the system for being part of the oppressed and not the oppressor. It was great fun to poke fun at the little wannabees with their new mohawks driving mummy's suv, wearing seventy dollar sneakers and whining about their trust funds and not understanding the meaning behind Bodies.
Get tickets, go, listen and learn from the real disenfranchised.
Ta from Boston
P.S. How much snot CAN one person blow out of their nostrils?! Don't they have Claritin in Los Angeles? You'd think a fat, middle-aged, rich, angry, intercontinental bastard could afford some sort of nasal spray!
---
Images © Wire Images / Reuters
©2004 Phil Singleton / www.sex-pistols.net
All rights reserved. Not to be reproduced without permission.