The Capri-collared Shirt
By Paul Gorman
Paul is one of the few who can truthfully claim to have been there at the very start. He was present in The Roebuck the night John Lydon auditioned for the Sex Pistols. Paul recalls his introduction to the fascinating world of fashion, McLaren, and the Sex Pistols. Along the way the capri-collared shirt would become entwined in Paul's life, an unique item from McLaren & Westwood's collection that you won't find in any book or gallery, but here it is on God Save The Sex Pistols.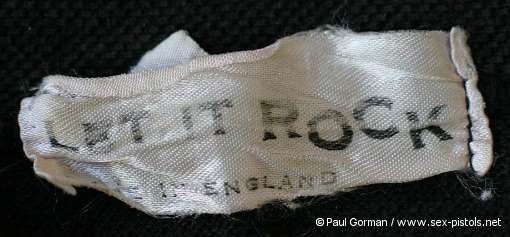 In 1973 my older brother Timothy was hired as a shop assistant at Domidium in the Kings Road, ahead of the curve of World's End, where the Bluebird Café is now situated and, if Heat magazine is to be believed, Kylie Minogue sometimes breakfasts. Domidium sold ethnic, post-hippy: Indian mirrored cushions and Moroccan rugs, that stuff. The first time I visited Tim there, having jumped off the 31 at its last stop in Langton Street, I walked past the glam emporium Granny Takes A Trip, where I knew Ronnie Wood and Keith Richard bought their gear. Just where the road still bends inward I encountered the slogan Too Fast To Live Too Young To Die emblazoned above the small shop front at number 430. On one side, across a window on the back of a leather jacket was studded the name of the outlet's previous incarnation, Let It Rock.
My hero Alice Cooper had talked in NME about James Dean's line: "Live fast, die young and have a good-looking corpse", so I understood the ethos, but however intrigued, I was too afraid to enter, especially alone. It seemed to my untutored eye, to be a Teddy Boy joint, although the establishment was by that time moving away from neo-Edwardianism, pushing leather jackets, jeans and t-shirts in homage to the Ace Café's Ton-Up Boys.
Whatever, I steered clear.
Coming from north-west London I had good reason to fear Teds. They were worse than the hardcore hoolies of Finsbury Park who terrorised outside the gigs I and other great-coated teenage heads attended at The Rainbow. I once watched aghast as these bequiffed and brocade-waistcoated men, some of them already well into middle age, ripped up the stage and trashed seats in fury after a woefully short set by Chuck Berry. Then, in the pub around the corner, they snarled and spilt jugs of beer if any of us so much as glanced at their glitter socks and Showaddywaddy drapes. Teds came from Harrow and Colindale, had jobs, Ford Consuls and women with haystack beehives, forcefully applied make-up, skinny legs, short fur swing coats and old-fashioned spike heels. I knew this because Nigel Owen, who lived next door to my family in Hendon, was the bassist in Flying Saucers Rock N Roll, and when he wasn't trying out Charlie Feathers licks in his bedroom, brought home a series of these dolly birds in the early hours, much to the consternation of his poor old mother.
My brother's appearance changed over the months of his employment at Domidium. From feather-cut he went to a hennaed rocker quiff, Italianate, by Pascal & Jack, whose shop squatted above the stalls of Berwick Street market. Soon, Tim had a single gold earring, straight 501 button-fly Levi's and tooled pointy-toed cowboy boots from Terry de Havilland. With those he wore American slogan t-shirts and a black-and-yellow corduroy elasticated-waist bomber jacket with "Rockets" emblazoned on the back from The Emperor Of Wyoming.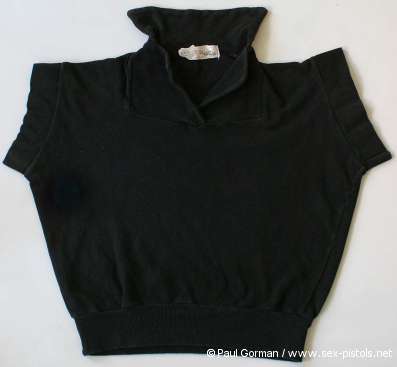 Sometimes Tim wore a most unusual shirt: black with a cutaway Capri collar which stood up around the neck, cap sleeves and a thick waistband high on the midriff. He told me he had bought this and his straight Levi's at 430 Kings Road, which by this time had changed image and name again, to SEX, picked out above the shop in pink rubber letters and spray-painted with slogans in gold. Here he also picked up a pair of custom-made jeans with plastic pockets and a pink t-shirt with zips over the nipples and pornographic text stolen from an underground book by Alexander Trocchi scrawled upon it.
He once lent the t-shirt to Veronica, a posh cookery writer of his acquaintance. She wore it to a party and he never saw it again. Tim also coveted, but never bought, the white quilt-topped brothel creepers sold by the couple who ran 430, Malcolm and Vivienne. He came to know them while queuing to cash money in Barclays, or drinking in the local pub The Roebuck and the wine bar The Last Resort.
Chelsea was a hotch-potch of extraordinary characters in those days. I recall one middle-aged man, balding with a comb-over, who dyed his very long and curly beard a vivid hue of green and strolled up and down the thoroughfare with a parrot on his shoulder for no more reason, apparently, than to liven things up. An ancient Lesbian regularly paraded in immaculately cut tweed suits, with a silver-tipped cane, men's shoes and a trilby sat atop her Brilliantine-ed hair. One obnoxious young man, name of Philip, was nicknamed "Bette Davis" due to his ludicrous jet-black curly coiffure. He combined that with a collar-less shiny Beatle suit from Acme Attractions and an unending stream of catty asides.
It was not uncommon to note the presence in local cafes and shops of exquisites such as Derek Jarman, Duggie Fields and Andrew Logan. Janet Street-Porter would be here, Edna O'Brien there, drug deals occurred at Jean Junction, I was told, though was never party to them. Lunchtime drinking marathons were held in shabby places like The Man In The Moon and The Markham. On more than one occasion Marianne Faithfull could be observed in The World's End pub throwing back glass after glass after glass of red wine as though she were dying of thirst. The Trafalgar, a very seedy hole, featured blowsy strip-shows on weekdays. Tim slipped in there for a pint one day and a kerfuffle broke out: one of the strippers became indignant when she noticed a punter furtively release his cock from the confines of his trousers and vigorously manipulate it as she shimmied and sashayed. "Well what d'you expect me to do?" the bloke reasoned as he was ejected into the noonday sunlight.
Gene Krell, exotic frontman of Granny Takes A Trip, told me the height of aberrant behaviour was scaled when one clothing outlet, Aristocats, bought a lion-cub from the pet shop at Harrods and kept it on a chain in the shop during opening hours until the local authorities were alerted by frightened customers. Trevor Myles had decked his shop Paradise Garage out as an homage to Americana, complete with bamboo lettering, an original 50s gas pump, birds of paradise and a tiger-striped, flock-covered Mustang permanently parked outside. One of Trevor's associates, the tortured John Lloyd, adorned his emporium Alkasura with religious artefacts and stalked World's End garbed in a monk's habit, complete with cowl. Lloyd, ever unstable, was to commit suicide via self-immolation within a couple of years.
Over the August Bank Holiday of 1975, Tim commandeered me to assist him in the decoration of the nearby flat of one of his customers, a Batik artist and opera singer called Thetis. If rumour were to be believed, she had once arrived home to find her brother, a priest, furiously masturbating beneath one of her artworks: a life-size print of Christ on the cross Thetis didn't really mind speculation about that. What she didn't want leaking out was the fact that her real name was Susan.
The job took us a week and Thetis wasn't at all pleased with the end result. By painting the sun-lit place in eggshell finish gloss, all the surfaces gleamed insistently, creating a blinding effect for the occupant during the hours of daylight. Every night after work we repaired to The Roebuck, the hub for the shopkeepers and restaurant workers in the immediate area. The staff at the pub didn't pay much heed to the fact that I was an all-too-obvious underage drinker, allowing me to sit back and learn how to swallow Guinness and smoke Senior Service, all the while observing the antics of its denizens.
One evening we were joined by the ginger geezer Malcolm, who wore a black rubber t-shirt and assiduously relieved my brother of every spare Senior Service he had. We talked about straight Levi's (I had just acquired my first pair) and when I caught him sneaking the last cigarette from my brother's packet I couldn't control my giggles. He looked at me fiercely. Then he nonchalantly lit it.
Behind him were a collection of young men about four or five years older than me. I took them to be French; they had the look of the Continental students who were our "paying guests" at home in the mid-60s; skinny t-shirts, mohair jumpers, elephant cords or blue jeans, baseball boots and unkempt grown-out crops. I don't remember any green hair but I can see the profile of one in particular now if I close my eyes: disdainful, with an unwavering gaze of deliberate disorientation. They left - I gathered much later to audition the surly quiet one in front of the SEX shop jukebox - and the evening swirled around me.
At one point an aggressive black man pleaded with Timothy to give him Francis Bacon's telephone number. Timothy had never met Bacon, although he was once invited to attend the great man's famously filthy South Ken studio by the drunken painter, Sir Francis Rose. Very taken with Timothy's appearance at The Devonshire Arms, Stratford Road, Rose had made a date to escort my brother to Bacon, who, he insisted, would want to paint his portrait on the spot. Timothy stood him up.
Later that night in The Roebuck an untypically observant barman attempted to have me removed but relented under pressure from my new friends. Somebody I took for Freddie Mercury in my derangement - but who I now believe to be John Cale - held court imperiously at another table. Upon closing time my brother was copiously sick over his blue boiler suit in the back of a black cab outside a flat in Maida Vale. The cabby ordered him to clean it up. I drifted indoors and put on The Wailers' Natty Dread. Timothy entered, turned green at the insistent bass-heavy throb and was sick again.
In time he gave me the black shirt, which had become too small for him. I wore it with my Big Smith jeans in the late summer of 1976. Dressed in that outfit one night I told Tim I was going to see The Damned. "You'll love it," he pronounced. "Visconti's a genius. You should see The Leopard too." He looked crestfallen when I informed him that I was off to see a new group, not the film. I also urged the shirt on my first girlfriend. She wasn't impressed because it didn't go with her dungarees but did take my short-sleeved Acme summer shirt. One time she borrowed it to wear to a party and I never saw it again.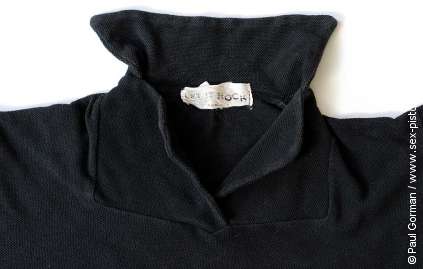 I myself last wore the Capri-collared shirt in 1978, to a terrible show by third-rate new wavers (The Tourists? The Members?) at the Music Machine near Mornington Crescent. Uniformed Sid-a-likes sneered that it made me look "a poof". Like I cared, but still…Everyone I knew, and/or admired, moved on from punk as soon as it was given a name. There was no room for the green-bearded man, the suited Lesbian or the Francis Bacon obsessive. The richness of that scene had been traduced to the saleable gob'n'pogo archetype: spiky hair, permanent sneer, brothel creepers, Lewis Leathers. McLaren and Westwood's commentary about the commodification of culture had itself become commodified. Maybe they intended it that way. But I kept the shirt.
In time I came to know Glen Matlock and interviewed him for my book The Look. Unfairly maligned in the received history of punk, Glen is, after all, the Sex Pistol whose innate design instincts enabled him to recognise the extraordinary achievements of McLaren and Westwood years ahead of the pack, from future band-mates and style magazine writers to Vogue to the V&A. Talking about the items he sold as an assistant at 430 Kings Road between 1973-5, Glen mentioned unprompted the Capri-collared shirt, pointing out it had been half-inched from a design in a catalogue for outrageous 50s Soho menswear outlet Vince Man's Shop.
I've never seen another, not worn by any of the Pistols or the scenesters, nor in the footage or photographs I have scanned exhaustively. If I didn't still possess it, a little washed out and crumpled, I would doubt its existence myself. It hangs encased on my wall now. There isn't one among Nellee Hooper's 160-or-so strong collection of McLaren/Westwood items, and neither was it featured in the V&A's spotty Westwood retrospective.
But to me this small piece of cloth with its intriguing design speaks volumes, about a world forever lost, filled with deliciously deranged creatures indulging in the exciting and the forbidden, forever.
Text © Paul Gorman
Paul is the author of the acclaimed book:
The Look: Adventures in Rock & Pop Fashion

"The Look is the definitive account of the combustion which occurs when fantastic style meets great music, from Elvis Presley to Pete Doherty.

Includes limited edition 11-track CD with songs by David Bowie, Elvis Presley, Miles Davis and Boy George.

With a foreword by Malcolm McLaren, The Look celebrates the style of such iconic artists as Elvis, The Beatles, the Velvet Underground, the Rolling Stones, The Who, Bowie and Jimi Hendrix, as well as the Sex Pistols, The Clash, Madonna, Oasis, Andre 3000 and Gwen Stefani. The Look is a must for readers and fans of pop culture, music, celebrity, style, design and fashion."
---
©Phil Singleton / www.sex-pistols.net 2006

All rights reserved. Not to be reproduced without permission.