Phil: Eighteen months on from its release, you must be delighted with the response to What In The World? I've not heard a bad word about it, other than "I want more".



Paul: The response to it has been great. As you know, it takes a while to promote a new album. It's still taken over a year for people to realise it's around and to go out and buy it, as we found out on the Ruts tour. People were coming up and saying "I like The Professionals" and they bought it. They were possibly Ruts fans which is why they hadn't bought it before. We also sold lots of merchandise on the tour. Some hadn't checked us out 'cos they were thinking "they're not the old Professionals". Hopefully, we can grab some of them along the way.

But, as you say, the response has been great, we couldn't have asked for more really. It's just a shame we couldn't get it out to a wider rock world, we're stuck in this little bubble of a particular genre and age group. That's where we are at the moment but we've got to try and break out of that and get to a wider audience, that's the main thing.



You've hit it off with Tom Spencer as a songwriting partnership and it feels like a whole new phase for The Professionals now. That alone must make re-launching the band seem worthwhile?



It does actually. I didn't want to do The Professionals as a retro band and only play the old songs. That was fine at first, but I thought if we're going to be playing shows we need some new material. Me and Tom started writing and we just clicked straight away. It was weird really, we knocked out an album's worth of songs, recorded them - we just work well together - we bounce ideas off each other. It's just chemistry, I guess. Long may it continue.



How are things progressing writing new material?



We'd been busy promoting the last album but we've started writing some new songs just recently. We're trying to get together whenever we can at the moment, but it can be difficult due to Tom's work commitments. We've got the basics of a few ideas together - we just need to get together and finish it off. We've got some backing tracks down. We're in the process of keeping on working with them. It's what we did for What In The World - keep chipping away, seeing what we come up with and hopefully making them better each time we get together, and work from there.



Is it more relaxed these days writing songs without the pressures that must have existed back in the old days?



We're quite relaxed. The trouble, or rather the beauty of it, is we made such a great album with What In The World, we've got to keep the standard up. Everything we do now, we're thinking "is it as good as, is it up to scratch?" and so on. It's a little bit of a worry but it keeps you on your toes.



Any working song titles?



Kind of, but I wouldn't like to say - they change all the time as you're writing them. There's nothing concrete or finished as it were.

However, we are having a rethink about the album. We wouldn't be able to get a new album out until the end of this year, or early next year being realistic, with people's commitments and the recording. It seems a long time to me, so we are thinking of releasing songs as we go along, putting them out every few months once we start, perhaps individual songs on the internet or maybe put tracks out on 7", or an EP. I don't wanna wait all that time to the end of the year to get some new material out. I'd just like to get it done and get it out.

It's not set in stone but it might be another option. It'd be nice to keep things more immediate and keep up the momentum - keep things ticking over, it's important to keep moving forward.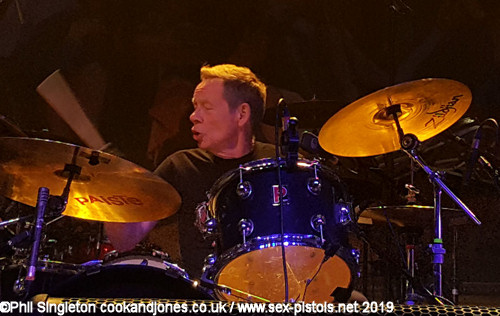 What In The World was quite personal - dealing with age, responsibilities and so on. Will you be tackling similar themes this time?

Yeah, I guess so. We feel we've got to write about things that are happening in our lives and be true to ourselves. The way you are looking at things now you're getting older and the way the world is changing around you. You've got to write what's true to your heart and not go off at a tangent. It makes it more real. It is personal, but that makes it good without being too direct and obvious about things. I think that's what you've got to do at this stage of the game, see where you are in life and put it down on paper.



What I liked about the album was that it wasn't corny, it didn't imply you were still young and outrageous rock 'n' rollers, which some long time bands still insist on doing.



Exactly, writing about wanting to rock out or whatever! It is hard writing songs without, as you say, sounding corny or too sincere. Getting the balance right is quite tricky, which is why we keep going back and re-writing stuff. I was pleased with how the album came out - I think the song writing is far superior to I Didn't See It Coming.

People were very surprised about it. It does take a long time for people to get around to giving it a listen. It took a long time for people to like I Didn't See It Coming - it wasn't till years later people came back to it and said it's actually quite a good album.



The production of What In The World was spot on, will you working with Dave Draper again?



Possibly. Last time we recorded all the backing tracks at Zak Starkey's studio and we've done a few again this time, so maybe we'll work in the same way. We captured a real feeling when we were putting the basic rhythm tracks down for What In The World, it was quite instant, we didn't have to work on the songs too long. There was only a couple that needed re-working. Hopefully, we'll get that vibe again on the new songs. We'll see as we go along. It'd be good to catch up with Dave again.

We were all involved in the production, Tom and myself as well as Dave. It's probably a good option, why change a winning formula as they say. "We'll see" is the answer I guess.



Paul Myers has stepped aside - there's been a few rumours as to why he's left - that there'd been a falling out, and perhaps he'd fallen off the wagon. Can we set the record straight, as it were?



None of that is true at all. It was all very amicable, no one fell out with anyone. As you know, he's got a full time job and he couldn't actually fulfil our commitments as we were going along. He's clean and sober so he does find it difficult going out touring when everyone's drinking.

He was getting a bit stressed out with it all - he won't mind me saying this. He thought it best if he stepped back for a while and take it easy. He's had some health issues as well, which didn't help. It was different before when we were doing one-offs or a few gigs here and there, but now we are putting more and more tours together.

People always think there's something going on. He needs to work and earn money! We're still good friends obviously and everyone is fine with it.



Toshi has added a new energy - the line-up keeps getting younger!



Yeah, that's a good sign, right?! When we got back together people were saying Jonesy's not in it, blah blah blah, it's not the same, but Tom's stepped into his shoes and he's been great and people know that now. It didn't work out with Ray (McVeigh) so we got Chris McCormack in and that moved it on again and that was great. Now Paul (Myers) isn't there, as you say it makes the band look a bit younger actually than it would have been with the original line-up!



You need to be careful you don't decide to drop out yourself to make it even younger!



I'm the last man standing! (laughing) You can't keep a good man down! It's all good - there's a great energy with the band now, it's a great line-up. It's a new Professionals totally. With the new album it's a new band, a new entity, which is OK in my book. Everyone gets on, there's no bad vibes, we have fun, a laugh and make some great music. That's what it's about at this stage of the game.



Each member has his own style, Toshi struts around, Chris has his cool thing going on, Tom's there as the front man and he's very confident doing that...



And there's me at the back! Making sure they are all playing in tune!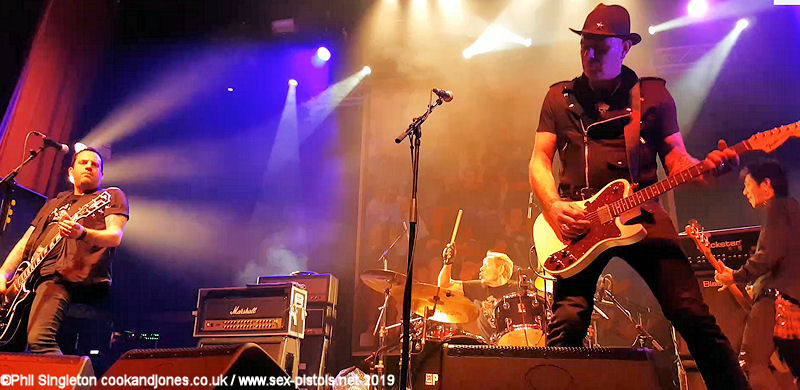 Live, you've been mixing up the new and the old stuff, it's pretty much 50/50. Do you find the new material is getting as good a response as the old stuff?



Yes, I think it is really as people are becoming more aware. It takes a long time for people to get used to the new material, but people are enjoying it now they are familiar with it. I'm enjoying playing it more 'cos I get a bit bored playing the old stuff, I must admit. We'll probably end up playing more new material than old when we get some more new songs. There's still great old songs to play as well - it's a great mixture, we've a good balance between the two at the moment. The new songs are just as strong, if not stronger.



As well as the Profs, you've been involved in some side projects worthy of a mention. What did you think about The Tallywags World Cup song from last summer?



That was mainly Tom's thing. It was a valiant effort at a World Cup song! I don't think people are interested in football songs any more, they just want to hear Three Lions all the time. It was a good song with a good sentiment and it was quite funny. Tom wanted to do it and he just got on with it.



You collaborated with Jonny Weathers on his Sonic Assault EP?



That's a guy who lives local to me called Gareth Proctor. He's a guitarist and guitar teacher and we just connected. I listened to some of his stuff - he's very talented and has a lot of songs. He's released stuff before. On a whim I said let's go in and record and see what happens. It was all off the cuff and it turned out alright. It didn't cost a lot of money and he's doing OK with it. We might do some more together. I've been writing some new songs with him actually.

That's how that came about, he's a good guy and I'm just helping him out really.



The tracks have a very modern edgy sound and your drumming forms a central part of this.



They're very grungy sounding - he writes a lot of different styles of songs - he's pretty "out there". They're different to what I'm used to playing, but that's good. It's worth a listen.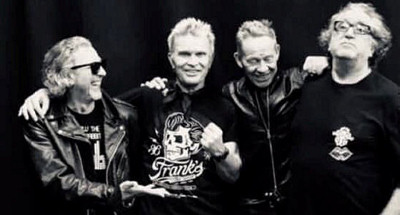 Generation Sex seemed a fun thing to do, playing both Generation X and your songs from the Swindle film. Not songs you would generally expect to perform.

Tony James was pushing this really. He's obviously close with Billy (Idol) and Steve (Jones), and he muted the idea ages ago and we all happened to be going to LA at the same time last year. He said, c'mon while we're over there, let's try and get this together.

Playing the not-so-well-known Pistols songs was great, rather than God Save The Queen and Anarchy. It was good fun playing those Gen X songs as well, but they were a lot bloody faster than I thought! They're hard work, I can tell ya.

We did a couple of gigs (LA & New York). Will we do any more in the future? I don't know, maybe. You never know. I enjoyed it, it was great playing with Billy as well, he's such a pro. Whether there's an audience, the time, space and money to do it again, we'll see.



Do you think the songs from the Swindle have had a bad press? Were they better perhaps than people gave credit for?



Maybe, they're not classics. Whether we'd do them again if we were going to take it forward I don't know. It was good playing them, giving them an airing rather than the usual Pretty Vacant. They were better than I thought.

We do play Lonely Boy with The Professionals, we sling that in which is good 'cos it's kind of different, it's good fun playing it and it goes down quite well actually, people quite like it. It's a different type of number.



How do you keep in peak fitness?



It's bloody hard work up there these days Phil, I must admit. The songs are pretty relentless and I do have to keep in shape. The drumming keeps me in shape anyway but I've always kept pretty fit over the years - I have to really if I want keep up the drums at this pace. I've just been for a run today, funnily enough. That's what I like about being in the band as well, it does keep you in shape. You have to look after yourself if you want to do it at this stage of the game.



Back to The Professionals, it's four years since the band reconvened - that's quite some time.



Oh blimey, already eh? Where's that gone? You sure?! It just shows you how long it takes to get stuff together. We weren't sure where it was going to go but it's worked out. As we've touched on earlier, the band's evolved again since then, which ain't a bad thing.



You've a new logo as well, which is quite important as it helps redefine the band as something more modern and contemporary.



Yeah, I hope people appreciate that. I think they are getting used to the idea of it being a different band.



So, will The Professionals be going on for a while yet?



I hope so. On the last album, because we didn't have Ray, I scouted around for guitarists and got a lot of guests in. This time it'll just be the four of us, maybe a couple of guests here and there, so it'll be interesting to see how it works out. Tom and Chris are well capable of strutting their stuff.

The secret is being enthused about new material. Keep it fresh and keep it moving forward.