Sex Pistols
The Original Recordings
UMC. CD, Vinyl x 3, Cassette x 5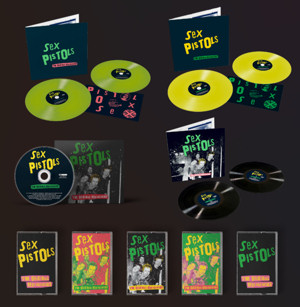 A new Pistols compilation for a new generation. It's long overdue and it makes sense. With a Jubilee to commemorate and the biopic Pistol hitting our TV screens, it's an opportunity too good to miss. Likewise, the re-issuing of God Save The Queen is always welcome, and has gained much traction in the media, all of it celebratory. Even staunch royalists have embraced it, telling us it's a very British thing to do. How times change!
Visitors to this website will know all the tracks and will own them many times over so can judge the content for themselves. This doesn't mean this 20 track, double vinyl extravaganza shouldn't be examined a little deeper. First off, I get why 20 track compilations are a thing, it's a neat number, but it would have been a nice touch to have 6 songs per side of vinyl, just like the old days. No matter, sides one and two are a brilliant listen, although annoyingly No Fun fades out as it reaches its climax. A Pistols song should never fade out! It's always refreshing to experience the band's music in an order you are unfamiliar with, and Holidays In The Sun is an exhilerating way to round off a side of vinyl.
Overall the collection draws nine songs from NMTB, although I'm a little puzzled as to the omission of EMI. It's a vital track, and surely Substitute on side 4 could have made way? The b-sides of the band's first 4 singles are included as are 5 Lydon-less songs from the Swindle soundtrack, spread over sides 3 and 4. Steve's Lonely Boy is here, as a tie-in to the TV series based on Steve's autobiography of the same name. So is Silly Thing. This is a cracking song in its own right, although the compilers have gone for the Paul Cook vocal from the Swindle LP, not the re-recorded single. It's another head scratcher; the single has an extra spring in its step as well as a strong vocal by Steve Jones. I guess they have their reasons.
The three Sid Vicious singles were big sellers back in the day keeping the name Sex Pistols riding high in the charts long after the group's demise. Side four kicks off with Sid's C'Mon Everybody. The compilers have selected the track from the 2012 CD re-release of Swindle, on which the start of the song was overlapped with the end of No-One Is Innocent. Why this was done for the earlier remastering is unknown, but it should not have been used here, it loses its clean start. The fact that it kicks off a side makes it more noticeable. This should have been spotted prior to release. Sid's rendition of My Way rounds off the collection as a whole, a song that's gone down in Sex Pistols, and music, history as a personification of the man himself.
Overall, The Original Recordings is a much needed and timely release. It's the first such compilation in two decades, aimed primarily at those discovering the Sex Pistols music for the first time. It could well be the last such physical release. It just could have been better with a little bit of extra diligence. The errors are puzzling. I guess new fans won't know any difference so what does it matter? Who cares what an old train spotting dinosaur like me thinks? Not UMC obviously!
Review by Phil Singleton (June 2022)
---
©Phil Singleton / www.sex-pistols.net 2022
All rights reserved. Not to be reproduced without permission