NEVER MIND THE BOLLOCKS HERE'S THE SEX PISTOLS
JAPAN
nippon columbia
variation 4
- sleeve / obi.
Never Mind The Bollocks, Here's The Sex Pistols (Nippon Columbia YX-7199-AX)
Released 1977
Notes. 11 track pressing.

Obi Variation 4
a) Blue splash over black on Anarchy flag.
b) Without"100 Years Of Recorded Sound 1877-1977" logo.
c) Text ("Comes with present: Enquete postcard included") no longer included (see Variation 1).
d) Japanese text replaced by 540,504. The sentence at bottom of the Obi strip is different.
Usually it is a notation/text (Translates as "Rock"). However, this copy has a number instead (540,504). Perhaps a trial pressing.
Labels and insert are identical to previous version.
Side A. Holidays In The Sun / Liar / No Feelings / God Save The Queen / Problems
Side B. Seventeen / Anarchy In The U.K. / Bodies / Pretty Vacant / New York / E.M.I.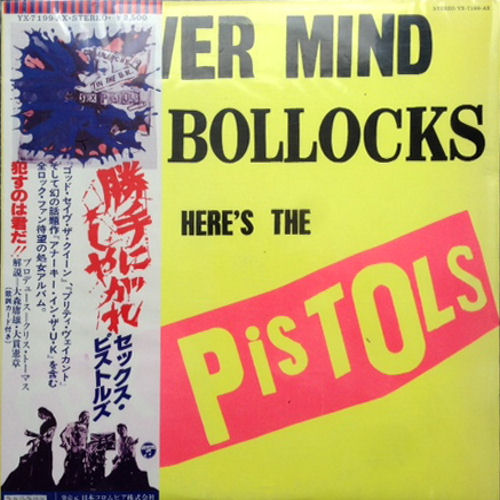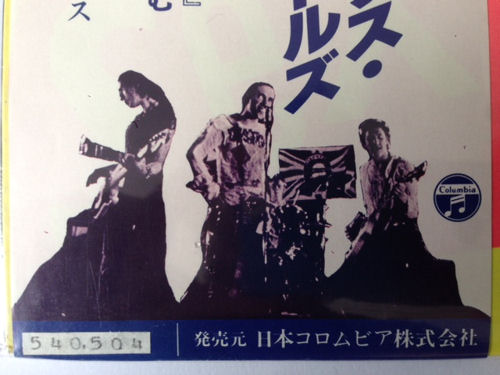 540, 504 number in place of text plus no "100 years..." logo.

Special thanks to Yoshiki Saito for scanning his collection for use in this feature.
©Phil Singleton / www.sex-pistols.net 2014
All rights reserved. Not to be reproduced without permission.
God Save The Sex Pistols ©Phil Singleton / www.sex-pistols.net 2014
---
Although every attempt has been made to ensure the following listings are as accurate as possible, errors may have occurred. Please e-mail any additions and/or corrections.
Errors that may have occurred will make it obvious if an attempt is made to copy the above piece of work. Do not publish elsewhere and claim authorship. You have been warned.