Julien Temple
in conversation with Phil Singleton
14th February 2008
Later this year sees the release of the much anticipated DVD of the Sex Pistols' Brixton shows.
In this exclusive interview, director Julien Temple not only reveals the title - There'll Always be an England - but also discusses the DVD extras, why the Sex Pistols are so special, and his intention for the DVD to be the best record of a live gig there has ever been. So what exactly is The Knowledge? Read on.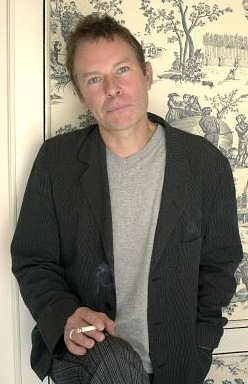 Phil: I'd like to talk about the new Sex Pistols DVD you've got planned. The Sex Pistols and Julien Temple seem to go hand in hand as far as film making is concerned. How does it feel to be working with the band again?
Julien: Well, good really. We go way back and have an understanding about what would work. It's good to have that sense of shorthand, and also an awareness of how special this band is. It's not your ordinary, run of the mill rock and roll band; they're a lot more than that. So everything that's done, certainly from my point of view, has to be very special.
Do you still get the same feeling when you're working with the band, and when you were filming them at Brixton, as you did when you watched them in the 70s?
Yeah, I do. I didn't get it the last time around so much. I was on my way to see them in '96 and turned back. I couldn't face it, destroying the thing I had with them from the late 70s... the purity of what they were back then. I didn't think I could handle seeing what it had become, because comebacks were not really a punk idea. This time I got beyond that I think. They did something really interesting with those shows (at Brixton) where they transcended the idea of being like Sting and sucking your cheeks in and prancing around the stage pretending you're still some sort of sexy rock god, and they exploded that whole thing by creating this music hall piss take on one level but still deadly serious on another level. I think there's a real honesty to that. That's always been a real trademark of theirs.
How did the Brixton DVD project come about? How did it evolve?
They called me up to see whether I'd be up for doing it. I certainly was. So I wanted to make sure that we captured it in the way that made it about the crowd; about the communication between John and the crowd, which is unique really.
One evening you were filming mainly the crowd, weren't you?
Yeah, I was very keen that the crowd would be a real player in it because they always have been for me. Sex Pistols shows are always theatre really, more than rock and roll, it's about part of the unpredictability of it and the interaction between the band and the crowd was always very direct.
The shows evolved very quickly. By the time of the second show "I do like to be beside the seaside" had been adopted as part of the set, and I felt that was very music hall.
Yeah. John is instinctively a very music hall character. I don't know whether that comes from watching people like Norman Wisdom or Ken Dodd as a kid. It's certainly something he's extremely good at, that interplay between the audience and the Sex Pistols; there's no reverence towards him. He breaks down that Pistols star thing very easily. That's what makes it fun to film. It's a more interesting event than a more normal predictable rock and roll stadium show, which is something I wouldn't bother getting out of bed to do.
John made a very good comment on the first night when he said something along the lines of, "This is my stage, I'll do what I want up here, and out there, in the crowd is your stage and you do your thing out there, and I won't come out there." I thought it was a very good way of handling and keeping order, in a very John way, by maintaining that we're all - band and crowd - effectively one and the same.
I think that's true. I think also the fact that the crowd can barrack him and take the piss out of him and he can do the same back to them, there's a real playfulness in that, but it's also stressing that you are really on the same level as each other, which is an essential Pistols and punk thing; that the audience is a very important thing to you, that you're not any better than the audience.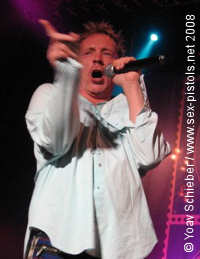 Are you going to be including a full set on the DVD? You were there on different nights, but is it your intention to have all the songs included?
Yes, they'll all be there. We'll be using the Saturday night (10th November) as an entire concert, taking the audio from that. Obviously we may take some crowd from other nights, but Saturday night is the basis of the film.
Is Chris Thomas doing the sound?
Yes, he is. The mix is pretty good.
I also hear you've been doing some filming with the band individually around London. Can you tell us a little bit about that?
Yeah. It's called The Knowledge, and it's the Sex Pistols' London, an understanding of where they came from, what streets they came from, what they got up to in different places in London, whether it's Shepherds Bush with Steve and Paul, or Finsbury Park with John, or Soho as a band; the story of them coming together. It's the different places that make up the psycho-geography of the Sex Pistols' London.
Was it difficult to decide on the locations, or were some fairly obvious?
Some of them were. We tried to do as many as we could. I don't know whether they'll all make it to the DVD actually, because there's a lot of them. But, yeah, I think there are places that did suggest themselves in terms of the history of the band but hopefully there's some funny things people don't know, and certain takes on things that will be fresh and new for even die-hard fans.
Will the DVD be presented as a concert and a separate guide to London, rather than put together as a movie?
Yeah, it's not a movie, it's a DVD with an interactive map of the Sex Pistols' London that you can enter and choose which places you want to go to. It's been broken up; Glen's school, the pub where he had his last drink with Sid. Or whether it's the Emirates Stadium, or whatever it is that's important to the band. There's a 45 minute tour of London with John, shot on the top of a tourist red double-decker bus, and he gives his take on London now. It's very interesting actually.
Is there an approximate running time for the DVD?
I'm not sure yet, we're still editing it. We can only get as much as we can on DVD. It'll be a high definition DVD as well, if you've a high def player.
Will the concert appear on TV at some point?
The show might. The other great thing about those shows was the range of people in the audience. The hard core original punks who are now middle-aged, bald and fat, but are still really going for it in the pit, and then you've got their grandchildren in the audience. You've got people from all different cultures, different races in there. An amazing mix of people really, made up that show. Hopefully the crowd will be a big element of it. The Pistols songs mean more, it's not just like a sing-a-long when the band play those songs; they're kind of like incantations in huge amounts.
People seem to live the songs almost.
Yeah, those songs are things they've lived through. They are a bit like a smell; they're very powerful songs, each of them. There's a sense of people really inhabiting the songs not just mouthing the words when they sing it.
People have also lived that album so many times; it's part of the DNA.
Yeah, right. Well you get that from the crowd, I think. The magic of the song is as much in the crowd as it is in the band.
Fans assume there's a lot of unreleased footage in the vault. Is there any news on anything seeing the light of day? The Jubilee boat trip or...?
I'm not sure; it's down to the band really. I've got the long version of the boat trip and I've got the whole two shows at Huddersfield (Christmas Day 77). Maybe one day we will put them out on DVD, yeah.
There's a market for it, amongst the fans certainly. The question will always crop up until one day it sees the light of day. Until then the fans will always be asking.
Yeah, (pause) yeah, I think probably in the end it will come out.
With the Swindle and The Filth And The Fury being very different films in terms of feel - one a little tongue-in-cheek, the other more truthful and emotive - do you compare the new DVD to either of those, or do you see it as a separate chapter?
I think it is (separate) really. I'm hoping we've made the best live.... I find most filmed gigs very, very boring.... so I'm hoping to make the best one there's ever been, with the best band to do it with. It's not a movie in the way those two were, it's a record of this show, but I want it to be the best record of a live gig there has been. The band deserve that.
You've said the Sex Pistols are very special and you wouldn't do this for any other band. Can you sum up why they are so special and more than just a rock and roll band?
I think there is an honesty to them that shines through even in the way, as middle-aged guys, they come on the stage. It's not like pretending to be the sexiest thing alive. They don't make that mistake, they've a much more direct and honest relationship with the audience. I think with the band as well, who were playing really well, they've still got this edge to their music, and the rawness is always a fantastic thing - that it's not always meant to be perfect. When John loses the words, it's a great buzz in how he gets them back and how the crowd help him. It's kind of more like a jazz thing, the way they play, where they don't totally reproduce exactly the way the song was on record. I think John treats every night as a different thing; he doesn't want to do it exactly the same. I think that the unpredictability of a Pistols show makes them great.
When I went along, I didn't compare one night to the other, I just enjoyed the occasion. Every night at Brixton was an event.
It's theatre, or music hall theatre, or surreal music hall theatre, rather than a rock and roll gig, and it always has been. It's far more enjoyable. And educational. You can learn from them.
That's interesting. In what way would you say they were educational?
This time it was with the crowd. Punk really did kick off a more multi-cultural London. There you had a crowd that were the fruit of that; incredibly mixed on every level. Not just age wise, but culture wise and background wise. It's great, because when you look at the guys on stage, you know in a way the Pistols are responsible for - or partly responsible anyway - for making that change in London.
Do you have a title for the DVD yet?
It'll be called There'll Always Be An England.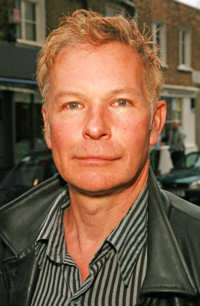 When that song started it took everybody by surprise, but everyone seemed to totally get it straight away. Likewise, White Cliffs Of Dover was a great way to close the show.
Yeah, I think it worked well. There's obviously irony there, but also a kind of truth there as well because the Pistols are a very English thing - they are a kind of national treasure in a way. So I hope the title does make sense. I don't know when the DVD is coming out, it'll be later in the year.
In time for the summer, or maybe the Autumn?
From our point of view it could certainly come out in the summer, but I don't know when they'll release it.
You've been involved in three major Pistols projects film wise including this one. You won't know what the future holds, but is there room for another angle on the Sex Pistols from yourself in the future?
I think there probably is. I think it has to be something unexpected and maybe on first sight preposterous that might eventually make sense.
OK Julien, thanks very much.
---
Text ©Phil Singleton 2008 / www.sex-pistols.net
Julien photograph (top) by Jeff Vespa/WireImage - ©WireImage.com
John photograph 10th November 2007 ©Yoav Schieber / www.sex-pistols.net 2008

This feature is copyright to God Save The Sex Pistols and the author and may not be reproduced without written permission. All rights reserved.

God Save The Sex Pistols ©2008 Phil Singleton / www.sex-pistols.net.