John Lydon - Stories Of Johnny. A Compendium Of Thoughts On The Icon Of an Era NEW
Edited by Rob Johnston (foreward by Alan McGee)
Chrome Dreams £12.99
This Is Not A Biography, to paraphrase a PiL moment. This is exactly what it says it is: a collection of pieces written by a number of top journalists, examining various aspects of John's career and persona, albeit in a haphazard fashion, from his origins in the Pistols right through to the Hall Of Fame controversy and the AngloMania event in 2006. The authors have a clear admiration and understanding of John, so the many recollections and considerations are relayed in a positive fashion. There is no John bashing on show here.
Well known musicologist and author Greil Marcus weighs in with a brand new essay tying together more recent Lydon moments such as "the Pistols in Baghdad" and the aforementioned AngloMania held in New York. Although I've always believed Greil's books say more about the author than his subjects, it's a fresh thought-provoking start to the proceedings. Likewise, vocalist Barb Jungr examines John's vocal style and delivery and what it represents. Perhaps Barb looks a little too deeply, however, her interview with Tona De Brett more than justifies its inclusion.
Next up is a superb chapter based on six encounters over the years between Kris Needs and John, from 1977 through to 2002. It acts like a 7Up review, as it skips through time. One minute John is sitting with Keith Levene and Jeanette Lee discussing the ground breaking Flowers Of Romance, next it's 5 years further on in time, Levene is history and John is enthusing over World Destruction and Rise. It's an insightful and enlightening random crash course through the evolution of John. Highly recommended as a starting point for those wanting to get a flavour of Lydon.
Alan Clayson's look at how the Pistols sit in amongst their rock and pop predecessors and contemporaries is intriguing, raising a number of interesting hypotheses, although I don't agree with all of the connections made - surely some things just happen? Even so, it got me thinking. It is packed full of nuggets of oft overlooked Pistols related information, and comes complete with a stark conclusion.
Judy Nylon's piece is very much a tale of her time in and around punk and the Pistols. It's a warm and personal view, and, as an American, she steps back and gives a view from outside the UK. Notably, she views early PiL as John's finest hour.
John's famous appearance on Tommy Vance's show on Capital Radio in July 1977 follows. In addition to a transcription of the show and a list of the songs chosen by John, the broadcast is put in its historical context with supplementary notes explaining why it was considered so controversial.
Legs McNeil gives us another American perspective. As editor of New York based Punk magazine, the magazine's 1976 interview with John gets an airing. The most compelling part of Legs' essay is his reflection on the Pistols US tour in 1978.
Pat Gilbert brings the proceedings right up to date. He cites Lydon's renaissance with the UK media and public beginning with the Q Awards in 2001 and cementing itself with I'm A Celebrity in 2004. Pat's interview with John in December 2005 is included covering all the recent bases.
Next is a highlight that justifies the price of the book on its own; The Wrecking Ball written by Clinton Heylin. There was an intensity surrounding PiL that lent an almost mythical menace to the band that no one could seemingly get a handle on. When products like Metal Box and Flowers Of Romance emerged out of this haze, they only reinforced this elusiveness. The Wrecking Ball covers this period, 1978 - 1983, and does so superbly. The origins of PiL are revisited using contemporary interviews to supplement the text, followed by First Issue, Metal Box, TV appearances (Check it Out, TOTP, The Old Grey Whistle Test), Flowers Of Romance, the Ritz riot, right up to the split with Levene. PiL were a major force during this period, yet bizarrely, they are now largely overlooked. This study replays the period vividly and serves as a detailed précis of PiL at their most innovative and creative.
Nigel Williamson brings the Compendium Of Thoughts to a controversial conclusion with a colourful piece inspired by a feature he'd written for the Guardian in 2002 titled, Face It: Punk Was Rubbish. It transpires he witnessed one of the first Pistols gigs in December 1975. He wasn't impressed. Like the subject matter of the book itself, he sticks to his guns.
50 Quotes by John Lydon is a neat way to draw the book to a close, save for the Afterward by Rob Johnstone in which he concludes, "John Lydon is impossible to categorise, but that seems to be the way he likes it: he's the ultimate punk only because there's no other word fit to describe him."
Stories of Johnny is, by its very nature, a bit hit and miss. Different essays will appeal to different people, depending upon individual tastes and interests; a bit like PiL. And, like PiL, there is a slew of tremendous material on offer, no matter where your interest in John may lie. And, importantly, it will appeal to both old aficionados and new converts. The Best Of British? A sterling effort.
Review by Phil Singleton (October 2006)
---
John Lydon - The Sex Pistols, PiL, & Anti-Celebrity
Ben Myers
Independent Music Press £12.99
Following on from John's profile-lifting jaunt on I'm a Celebrity, it comes as no surprise to find this latest book in the stores. Ignore the 'Sex Pistols' reference in the title, it focuses on John's post-Pistols (reformations apart) career, covering in detail his varied fortunes in PiL and his solo output and collaborations. It's a competent account, without offering any new insight into John's character.
The author has underpinned his account using quotations from press cuttings and TV appearances. This approach offers a trip down memory lane for those who recall much of the information presented, and allows for an informative if straightforward tale, without much of the baggage that comes hand-in-hand with a "benefit of hindsight" account.
The odd strange inaccuracy does however occur, such as passing off Belsen as a song "written by (just) Steve Jones and Paul Cook…", that John allegedly included in PiL's early shows to give fans "a bad rendition of one of their (Pistols) worst songs". The latter point may be open to debate, the first is simply incorrect.
New 'Celebrity' fans of John will find the book a useful companion to CDs they may have bought, and it will help them put the music into an historical (and career) context. Young fans will learn much, older ones less so, although there is interesting interview material with Keith Levene who is in reflective mode.
The coverage of the mid-80s period was particularly interesting as John found himself without a 'group' for the first time, the end result being the brilliant LP, Album. The brief reminiscences by Steve Vai of the recording of Album are an excellent inclusion. Reading the book reminded me of the many great innovative records John has produced, and the enjoyment of hearing them for the first time; Public Image, Metal Box (surely JR's best ever work), Flowers Of Romance, Love Song, World Destruction, Rise, Open Up, all of which sound fresh today.
The author's own opinions follow pretty much the established view of John's highs and lows, with no radical deviations. The 250 pages seem, if anything, not enough as there really is so much to cover. The narrative therefore moves quickly, and gives fairly equal amounts of coverage to the different points in PiL's history.
Although not grounding breaking, John Lydon - The Sex Pistols, PiL, & Anti-Celebrity, is a thorough, entertaining precis of John's career post-1977.

Review by Phil Singleton (January 2005)
---
Newspaper archive....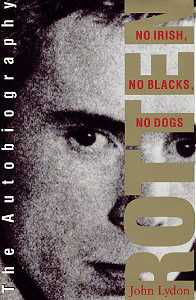 'Johnny Be Bad'

ROTTEN: No Irish, No Blacks, No Dogs
The Authorised autobiography by John Lydon with Keith and Kent Zimmerman
Hodder £14.99 pp342
Even now, a decade and a half after everything felt apart, the story of the Sex Pistols is well worth telling as a corrective to anyone who fancies the pop animal to be a docile and malleable beast. The outlines are these. Two working class delinquents (Steve Jones and Paul Cook) and an art student Glen Matlock) hook up with a maniacal north London teenager named John Lydon, soon rechrist­ened "Rotten". Under the tutelage of a canny entrepreneur (Malcolm McLaren), who has read the biographies of famous pop impresarios form Larry Parnes down, they form a band.
Success - add notoriety - come in a matter of months, fuelled by yellow-press hysteria, televised profanity and the stirrings of a noisome youth movement, but it is an odd kind of success. Propelled by McLaren's unflinching aptitude for annoying people, the Pistols acquire their reputation by failing to do most of the things that conventional pop groups do, ie, by not touring (by any 1977 scarcely a municipality in England would let them through the town gates), and by being paid huge sums of money not to make records. Those that do creep out are at­tended by maximum controversy and maximum sales. Almost immediately, though, the Pistols blow it. They make the fatal mistake of firing the one person who knows anything much about music (Matlock) and replace him with someone who merely looks the part (Lydon's chum, Sid Vicious). McLaren, by this time is more interested in film-making (what will eventually crawl out of the can as The Great Rock 'N' Roll Swindle), is storing up trouble by diverting most of the band's advances into celluloid. Finally, after a catastrophic US tour early in 1978, everything falls apart. Sid, having apparently murdered his American girlfriend Nancy Spungen, kills himself. Jones and Cook go off to be ex-rock stars. Lydon returns, eight years later, to take McLaren to the high court and the cleaners: McLaren set­tled out of court for nigh-on £1m in back royalties.
By this late stage in the proceedings, nearly everyone involved in this breathless two-year flurry of noise, death and outrage has had his or her say. Hangers-on and managerial accomplices have written up the tour atrocities in their usual affectless way. Matlock, with the aid of a nimble ghostwriter, has produced his own account of injured innocence, I Was A Teenage Sex Pistol, and there have been a number of attempts, notably Jon Savage's somewhat overwrought England's Dreaming, to weld the Pistols' brief career into an apocalyptic social and political context. The least that can be said of Lydon's version - and it would be stretching things to call this collection of transcribed tapes, affidavits and sidekicks' testimonies a book - is that it is no more self-serving than anyone else's.
And no less. The themes of Rotten have a convenient unity: it was me; I did it; they were my ideas; Malcolm and Vivienne (Westwood) ripped me off; never trust a hippy (Richard Branson), and so on. Now in his mid-thirties, the old boy hasn't mellowed an inch. For the second time in 17 years. Matlock is told that he can drop dead, the mention of McLaren's name inspires an almost audible grinding of teeth, and the finished product shows every sign of having stalled for months on the desk of Hodder's legal adviser.
There is another agenda here, though, aside from self-justification and denigration. "We were teenagers making teenage music,'' Lydon suggests at one point, which is a welcome response to the egg­head theorising about situationism. At the same time, much of the controversy surrounding the Sex Pistols grew out of Lydon's confrontational lyrics. The social and even personal hatred that seemed to stare out of their live shows was unprecedented - and Rotten's first TV appearance - unblinking, detached face caught up in a rictus of loathing - quite horrifying. There is a lot more of this in this book - musings about Her Majesty and public schoolboys - and the effect is just awful, like listening to Lennon on God, or Morrissey on practically anything.
Oddly, or perhaps not so oddly, the best part of this "authorised autobiography" (was there ever an unauthorised autobiography?) has nothing to do with the Sex Pistols or even with Lydon's strictures on the Establishment. If Lydon has any­thing to say about anything, it is about a priest-haunted Catholic childhood ground out in the tenements of North London. Lydon's early life in a brooding, cantankerous Irish family in Finsbury Park was clearly a Gehenna of deprivation, if leavened by human warmth: friends attest to the squalor of the Lydon domicile, but also to the genuine affection of the Lydon parents. When Eileen Lydon lay dying, her son sat at her bedside for 10 weeks. School, education, the entire mainstream world in fact, was no more than a kind of hopeless chimera. The message, consequently, is the familiar message about channels of working-class advancement, and the failure of the state educational system to stir any kind of response in most of the people under its care. The parallels with a performer of a slightly later vintage, such as Morrissey, whose early career was sedulously exposed in Johnny Rogan's 'Morrissey And Marr: A Severed Alliance', are striking: the Irishness, the strange, fractured intelligence, the same interest in writers such as Oscar Wilde, the same absorption in the iconography of the state. Both men are fascinated by the royal family, and the connec­tion between Lydon's sneering God Save The Queen and The Smiths' The Queen Is Dead scarcely needs to be stressed. Lydon is allowed to call Her Majesty a "f—ing hard bitch", by the by, which is ironic in a book that discourses so knowledgeably on English repressiveness and the denial of free speech.
The rest, inevitably, is score-settling of a peculiarly rapt and obsessive kind: he digs at Matlock (for wanting to write pop songs and for fearing that his mother would be upset by Lydon's lyrics); Alex Cox (for the Sid And Nancy biopic); Sid (for being thick and impressionable); McLaren (for everything). Ominously, the worst of this contempt is reserved for Nancy Spungen, Sid's inamorata, and a horribly reliable scapegoat for What Went Wrong. There cannot be many more evil destinies than to wind up dead at the age of 20 under the sink of a seedy New York hotel room and then, 15 years later, find yourself memorialised as "vile, worn and shagged out'', ''a beast'', or (this from Chrissie Hynde of The Pretenders), "It wouldn't have surprised me if Sid or anyone had killed her, she was that obnoxious." (Lydon, it transpires, had already tried to pre-empt Sid by rubbing dirt on the end of Nancy's needles.)
As may perhaps have become apparent by now, this is a vain, idle and only obliquely revealing book, full of wonderful printing errors, contradicting itself from page to page, and apparently aimed at the type of mid-Atlantic purchaser who needs to be told that Heathrow Airport is in London, and that you travel into Oxford Street on the subway. Lydon makes huge claims for his music (and his father is brought in to assert that "my Johnny changed the world") without submitting them to any kind of sustained scrutiny. The Sex Pistols' legacy, apart from about seven classic songs - their recorded output is pitifully sparse - was to create the market conditions in which a new breed of pop performers, few of whom had much to do with punk, could succeed. However, as Lydon seems to loathe virtually all living musicians, this is not a point he is ever likely to concede. In the end, the unanswered questions are not musical or cultural (the distinctions between various late 1970s youth groupings are painstakingly set out), but personal. What does Lydon really think of Sid Vicious, whom he formed in his own image and then abandoned to Malcolm, Nancy and heroin? What was his real relationship with McLaren, who has plausibly suggested that Lydon's fury proceeded out of pique at being paid insufficient attention. As Lydon himself put it in one of his best songs, ''There's no point in asking: you'll get no reply."
Review, D J Taylor – The Sunday Times. 10th April 1994
---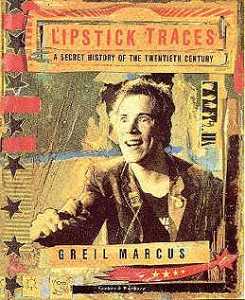 'The man who said Christ was a sausage'
LIPSTICK TRACES A Secret History of theTwentieth Century by Greil Marcus
Secker £14.95 pp496
There has never been a pop musical phenomenon more interesting to the sociologists and cultural theorists than punk rock. The Sex Pistols' first single, Anarchy In The UK, had scarcely been out a month in November 1976 before that erratic guide to rock and roll, New Society magazine, was running excited arti­cles on the emergence of a new work­ing-class protest dole-queue rock.
The punk attitude - the sneering, the swearing on TV, the strident je m' en foutisme - soon got hyped to the point where it was widely and quite wrongly accepted that punk bands in general and the Sex Pistols in particular didn't really play music at all but just made a frantic, loud and anarchically coded racket.
They were a plot, a symbol; they were anything that needed a pundit to explain them rather than a set of un­prejudiced ears to hear the artful, aggressive and articulate three-minute songs they played. By the time the Sex Pistols recruited an un­deniably incompetent bass player, Sid Vicious, in February 1977, their chances of being judged on their enormous musical achievement —they virtually re-invented the pop single — all but vanished. Over in Berkeley, California, a writer who had not witnessed the London punk boo-ha at first hand, the learned American rock sociologist Greil Mar­cus, began sharpening his quill.
The rest is his history of anarchist art movements in the 20th century. "Punk was not a musical genre." Marcus reveals 12 years later. He traces the Sex Pistols' cultural pedi­gree back through the French situationists and léttrists, and through American serial killers to the Dada movement. He also embarks on a supplementary historical trawl which nets French revolutionaries, English millenarian Protestant sects, medieval heretics and the early Christian gnostic cult.
Marcus has talked these characters up into an all-star, pan-global an­archist tendency with the aid of a fire­proof argument premised on the ingenious assertion that his is "a his­tory that remains secret to those who make it, especially to those who make it". He buttresses this presumption with an occultist disdain for "tradition as arthmetic", by which he means — and dismisses — the more verifiable sort of carry-overs histori­ans usually address.
Arithmetical points, such as the Sex Pistols' manager and designer Malcolm McLaren's interest in the socially disruptive ploys associated with the French situationists, are duly played down. Mind-bogglingly fanciful connections are offered up in their place. Johnny Rotten's real name, John Lydon, links him (by "serendipity", Marcus suggests) to John of Leyden, a crazed Dutch Anabaptist who briefly ruled Mun­ster in 1534 and turned it into an anarchist bun-fight: abolishing pri­vate property and marriage, staging black masses in the cathedral and running naked through the streets.
Marcus makes much of the blasphemous opening line of Anarchy In The UK — "I am an Antichrist" —. finding in it not only echoes of the thoughts of situationist. Guy Debord but also memories of the mad Ger­man Dadaist Johannes Baader who in 1918 announced from the altar of Berlin Cathedral that Christ was, among other things, a sausage. The arithmetical fact that the Sex Pistols' lyrics never referred so directly to religion again does not discourage Marcus. In them he discerns the latest glimmerings of "notions that have gone underground into a cultural un­conscious" because "unfulfilled de­sires transmit themselves across the years in unfathomable ways".
Perhaps they do. But the suspicion grows as this secret history unwinds in its jumpy, ahistorical fashion that Marcus rather enjoys the unfathom­able nature of his subject for its own sake. His academic desire to elucidate and cross-reference is all but can­celled out by his enthusiasm for sounding as teasingly cryptic as an anarchist slogan.
"If all of this seems like a lot for a pop song to contain," Marcus con­cludes, "that is why this is a story, if it is." Throughout, he flaunts his love for arcane French intellectualese, alluding whenever he can to the "derive" and "détournement" - rare subversive species of ironic quota­tion which he seems keen should not be more widely understood.
But most revealing of the author's esoteric motivations are the Acknowledgements at the end of the book. "A few people did not simply help, give advice, read drafts, or come up with documents, though they did all of that; in the words of one of them, they were co-conspirators, They can't be thanked, only rec­ognised." They are, in short, a secret society; a mystical cabal of armchair revolutionists. Lipstick Traces does not ultimately seek to explain a tra­dition so much as it hankers romanti­cally to be a part of one.
Review, Robert Sandall – The Sunday Times. 25th June 1989