The Rabbit Song Fan Reviews / The DVD / The Album
Rabbit song! I think it's great. To me it's a cross between a heavier "Audio Bully's" rant and John's Psychopath album. I love techno and electronica, so anything like Mike Skinner (The Streets), Prodigy, and Audio Bullys is fine by me. [Shonie]
Absolutely fantastic, the best vocals I've heard from JL since Go Back from the Flowers of Romance, in fact the whole song has that dark Flowers of Romance vibe without copying it, it's kind of like an updated Flowers... [Tim Bucknall]
This is a great song from John. Good, fast, technoish, mostly singing, no solos or anything, just straight foward. A very good song, I will be listening to it for ages. [Rory Fallow]
If this doesn't come out as a single, then it's a crime against musical knowledge. The only thing wrong here is that the track is too short; it's crying out for an extended mix. It's right on the button with Lydon's lyrical charm and urban sound of today; brings the cutting edge forward, while waiting for the crowd to catch up. Hope the future album is as forward thinking, everybody else will feel cheated if they haven't listened to this. [Gus]
Vocal is upfront and high in the mix, and in your face! JL's voice is his main instrument anyway. Very good stuff, straight to the point. Not sure about an album's worth though, because I'm not a big electronic music fan. [Bob Driver]
This is far better than I'd dared hope for. Falls somewhere in the Metal Box / Flowers experimental period. Love it. [Colin Winter]
This song is brilliant!!!!! If this is the stuff that John Lydon is working on, we're in for an incredible 2006! [Eliot Wien]

---
The DVD...

LYDONVD1

Anarchy In The UK (1976) Sex Pistols
God Save The Queen (1977) Sex Pistols
Public Image (1978) PiL
Death Disco (1979) PiL
This Is Not A Love Song (1983) PiL
Bad Life (1984) PiL
World Destruction (1985) Time Zone
Rise (1986 PiL
Home (1986) PiL
Seattle (1987) PiL
The Body (Uncensored) (1987) PiL
Warrior (1989) PiL
Disappointed (1989) PiL
Don't Ask Me (1990) PiL
Cruel (1992) PiL
Covered (1992) PiL
Open Up (1993) Leftfield Lydon
Sun (1997) John Lydon

Extras
Pretty Vacant Finsbury Park 1996
Bodies Phoenix Festival 1996
Silver Machine Crystal Palace 2002

Audio extras
Rare Monitor Mixes:
Albatross (alternative take 1) PiL
Death Disco (alternative take) PiL
Albatross (alternative take 2) PiL
This collection is simply stunning.
It kicks off with Anarchy In The UK, but not just any old Anarchy video, it's the almost mythical Mike Mansfield filmed EMI promo video from 1976, uncut! In incredible quality! See the Pistols mime to the single in this classic piece of rock history. What a start! The God Save The Queen promo follows, and it's restored to its true glory, no murky print as seen on the Live At The Longhorn DVD. The oft aired Pretty Vacant video is omitted from the collection, so we leap to 1978 to embark on the fascinating and complex journey that is Public Image Limited.
Public Image is still an atmospheric piece of film, as a silhouetted and intense John shakes off his past. Death Disco continues this direction taking it in a creepy and frightening direction mirrored by the accompanying video. These two videos allow Levene and Wobble to display menace all of their own. It's a shame Wobble left the fold the following year. There is no Memories or Flowers Of Romance videos as none were made, so it's on to 1983 to see John performing This Is Not A Love Song by himself, Levene having left prior to the song's release. The backdrop of skyscrapers along with the limo reflect the capitalist irony of the song. The video has a strangely 'clean' feel to it in contrast to the grit of the preceding videos. Bad Life is often overlooked as a song, but acts as a bridge between the cacophony of the earlier Flowers of Romance era and the forthcoming Album period. The video features John and Martin Atkins, who were PiL during this point in their history, in a low budget but energetic affair. Fire extinguishers and a great shirt worn by John are the overriding images.
World Destruction. What can anyone say about this incredible song and the equally incredible video to match. The musical collaberation of the mid-80s. No doubt about that. Reagan and Thatcher may have been the political double act to help bring about World Destruction, but Lydon and Bambaataa were here to warn you! PiL had already allowed John to operate outside any one particular musical style, so this mix of Hip-Hop and John' s unmistakable delivery seemed at the time both radical and natural. The video is stunning, stark and frightening. Yet, such was its importance, both Channel 4's The Tube and BBC's Whistle Test aired it. If you need one reason to buy the DVD, this is it.
Rise is another Lydon peak. I was never sure quite why John found himself amongst washing lines, but it works. Slightly surreal, but a brilliant piece of film. Home, is another great song, but without the video to do it justice. A minimal set, plus a few toys, doesn't convey the power of the music. John throws himself into it despite the shortcomings, and anyway, it's good to have Album represented by a second video.
Having put a new PiL together, Seattle was the first chance to hear the group, and clearly effort was put into the accompanying video. Snappy editing, and a mix of imagery, ranging from industrial plants to exploding melons, gives the video a totally different feel to any previous promo film. To emphasise that PiL was a group again, the band are featured throughout. ITV's Chart Show aired this with the comment "we think you look great, John". Few would argue. The Body video (uncensored) is a piece of entertainment in itself. Macarbe, bizarre, and somewhat sinister, parts will bring a tear to your eye! Ouch! This was never going to get much exposure back in 1987, but it has stood the test of time well. A great piece of theatre, in more ways than one!
PiL's ninth album, 9, spawned two videos. Warrior is one of the lesser known videos, which is a shame. John, dressed in his own Warrior-esque clobber, gives a sprightly rooftop performance enhanced by some psychedelic paintbox film work. Disappointed is one of my favourite PiL tracks. A fairly standard 'late 80s' group video, with some nice effects designed to reflect the feel of the album cover, it does the job intended. Yes, there are better PiL promos, but the song is so good, it's more than adequate.
Don't Ask Me. This is the rare title version, which means that it comes complete with on screen captions which tell a story. These were usually omitted, quite simply because ITV etc. never showed videos complete from start to finish, and the story would have been lost. John's eco-song, a Radio One Record of the Week, was a barbed attack embellished with a catchy chorus that should have made it a huge hit. Still, it didn't perform badly, and the video boasts John acting in some excellent, cramped sets, cut together with some neat exterior shots of John and the band.
The Cruel video is distinctly quirky; John and his teddy! The gothic imagery provides the setting for the last great PiL video, with Covered a more standard 'live in concert' setting, which seems very un-PiL.
Open Up is a Lydon-diamond. The black and white promo, with an apt industrial feel, is the perfect contrast to the lyrics, "Burn Hollywood Burn". Fantastic. The video for Sun, John's solo single from 1997, is quite literally postcard humour. Colourful and brash! Just like the song itself.
DVD Extras:
Pretty Vacant live at Finsbury Park 1996 is essential viewing for any Lydon or Pistols fan. Brilliantly edited and dynamic.
Bodies from the Phoenix Festival is another exciting Pistols performance from 1996, not seen since the 'MTV - Live & Direct Uncut' edit from the same year.
Silver Machine, from Crystal Palace 2002, is filmed using a single handheld camera at the side of the stage. Very DIY, very Pistols, and gloriously shambolic. You get a couple of minutes build-up prior to the band coming on stage: shots of the Pistols waiting on the stairs, plus close-ups of the highly charged crowd with the anticipation mounting...and on they come! Cue the bubble machine! A fine way to bring the DVD collection to a close.
Audio Extras:
Albatross take 1 is similar to the Metal Box version, although it has a harsher feel which makes it more intense. Whereas the original crept into your consciousness, this take grabs you by the throat. It's certainly on a par with the more familiar take, and may even have the edge. (10.20 mins).
Death Disco clocks in at 9 and a half minutes, "That's long enough for anyone, innit?" asks John at the song's conclusion. Not a million miles away from the previously released version, it's a strong take. Death Disco was PiL's first ever 12" single, which was always well suited to the space allowed by the format.
Albatross take 2 is radically different to Metal Box, with a variety of sounds, vocal and musical, drifting in and out of the mix. (10.30 mins)
As I stated at the start, this collection is simply stunning.
Review by Phil Singleton (September 2005)
---
John Lydon - Best of British £1 Notes (Virgin).
The CD is available in 2 formats:
1 disc version (20 tracks - Cat no. LYDON1)
Limited edition 2 disc format (additional 12 tracks - Cat no: LYDOND1)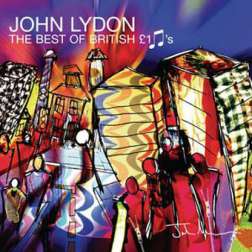 Track Listings
Disc: 1
1. Anarchy In The UK - Sex Pistols
2. Public Image - PIL
3. This Is Not A Love Song - PIL
4. Open Up - Leftfield/Lydon
5. Rise - PIL
6. Don't Ask Me - PIL
7. Seattle - PIL
8. Holidays In The Sun - Sex Pistols
9. Death Disco - PIL
10. Flowers Of Romance - PIL
11. World Destruction - Time Zone
12. Warrior - PIL
13. Disappointed - PIL
14. Sun - John Lydon
15. Bad Life - PIL
16. Home - PIL
17. The Body - PIL
18. Cruel - PIL
19. God Save the Queen - Sex Pistols
20. The Rabbit Song - John Lydon

Disc: 2
1. Death Disco - PIL (12" Mix)
2. Poptones - PIL
3. Careering - PIL
4. Religion - PIL
5. Banging The Door - PIL
6. The Pardon - PIL
7. Rise - PIL (12" Mix)
8. Disappointed - PIL (12" Mix)
9. Warrior - PIL (12" Mix)
10. Acid Drops - PIL
11. Open Up - Leftfield/Lydon (Full Vocal Mix)
12. God Save The Queen - Sex Pistols (Dance Mix)
God Save The Sex Pistols ©2005 Phil Singleton / www.sex-pistols.net
All rights reserved. Not to be reproduced without permission.