JAMIE REID: XXXXX CATALOGUE 1968-2018
BOOK REVIEW
Publisher: L-13 Light Industrial Workshop
Published: November 2018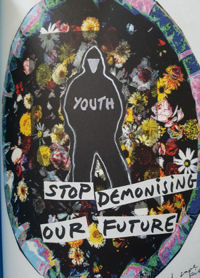 This book is unique - that much is obvious before you even open it. Bound in a metallic cover, it's heavy, 2kg to be precise. All the title labels - front, back & spine - are fixed to the plastic shrink wrap. By the time you've gained entry to the book, all evidence of its contents are gone! Subversion at its finest. Once inside, if you're hoping for a list of contents or neat labelling of the work included, there is none. You are on your own. Zero text. It's pure art.

Jamie has 50 years of radical challenging art behind him and this contains his finest, from pre-Sex Pistols situationist and dadaist through to the druidic which inhabits his more recent pieces. His early works which would later inform his iconic Sex Pistols graphics such as Suburban Press covers and 'keep warm this winter - make trouble' motifs are well represented, although much of his Pistols work is not presented in the way you might expect. Rather than the familiar posters, sleeves and so on, here we have original sketches in pencil & felt tip, cut and pasted flyers, collages, and all manner of works in progress. Taken directly from Jamie's own files, many are beautifully aged by discoloured sticky tape, occasional missing letters, creases and tears. This raw unprocessed look under the lid is the real deal, totally authentic and unique, allowing material to be viewed in a hither-to unseen light.
At the centre of the book lies a spectacular double fold out collage of some of Jamie's greatest Sex Pistols work. However, it's not just the Pistols that makes this book so important. Although significant, the Pistols were a pit stop on a much longer path of rebellion and anti-establishment rhetoric. Some of the colourful kaleidoscope hippie and spectacular druidic expressions may seem a long way from Jamie's punk leanings, but in reality, they are not so far apart and often collide. A number of colourful God Save The Queen images result, including the striking 'Damn them all' painting. Psychedelia, blackmail lettering, anti-war and 'peace is tough' messages become intertwined along the way. 'Stop demonising our future' is one of many such crossover triumphs, and is proof, as if it's needed, that beauty can be found in the most stark of surroundings.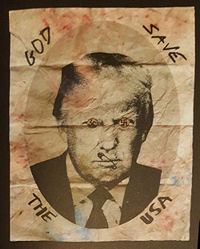 The truth is, Jamie's punk heritage is never too far from his thoughts. 'God Save' and 'Fuck Forever' recur in various guises throughout the years from deforestation to bedspreads, and it seems appropriate that the final two pieces in the book revisit slogans and imagery of yesteryear with both Putin (with help from Pussy Riot) and Trump the targets.

Some of the art is baffling, some thought provoking, but never dull. The love of wigwams may fall into the former category, conversely 'Deep in Vague - media sickness', and 'Beauty is a birthright - reclaim your heritage' most definitely get you thinking. Either way, XXXXX will challenge.

Perhaps the XXXXX experience can be best summed up by an early 70's piece in which a young couple, relaxing in their modern suburban home, contemplate a giant skull which lies on the living room floor. "Darling what does it mean? Something we've done?" "Oh don't worry Cecilia… I'm just pretending it's not there… funny, I almost like having it around." Equal part wonderful and puzzling, it's an early scene setter for much that's to follow.

50 years of Jamie Reid. It does seem incredible. This is the ultimate book of his work. A story of revolution, art, and style; a story so visual it can be told across 304 pages without a single written word. A story without a conclusion. There's still a lot of resistance to be had, and Jamie remains at the artistic forefront.

Time for magic? XXXXX is spellbinding.
Review by Phil Singleton (December 2018)
Full Details & Ordering Information >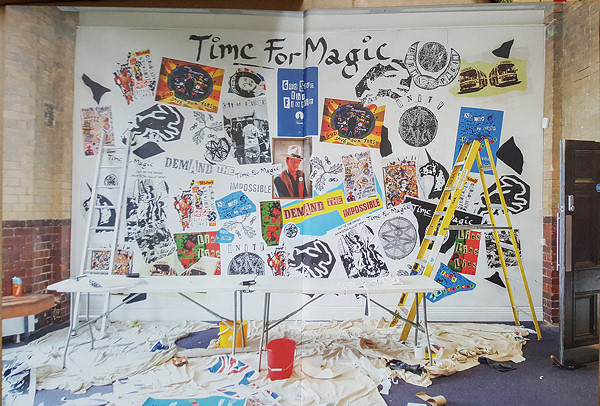 ---