BAND INTERVIEWS: VINYL RECORDS
- if you have more information on these, please get in touch
Sex Pistols Interview (Receiver Records RRLP 101)
Sex Pistols Limited Edition Interview Picture Disc: Tell Tales (Music & Media Promotions Ltd)
Sid Vicious Limited Edition Interview Picture Disc (Music & Media Promotions Ltd)
Pig Dog Interview 1977 (PD1a) / (PD1b)
Sex Pistols Talk (SEX 10)
Sex Pistols 100 Club Press Conference (Sex LP1)
The Interview 1977 (SP 1 A) / (SP 1 B)
Sex Pistols Interview (Receiver Records RRLP 101)
Released 1985
Notes: 12". Included with a ltd edition of the "Original Pistols Live" LP. The matrix numbers are SP + A and SP + B.
Side 1: John and Sid talk about NMTB and it´s singles. Taken from BBC Rock On interview.
Side 2: Band interviewed on the SPOTS tour.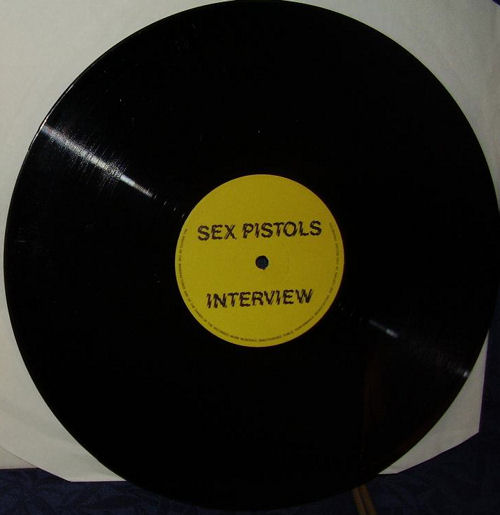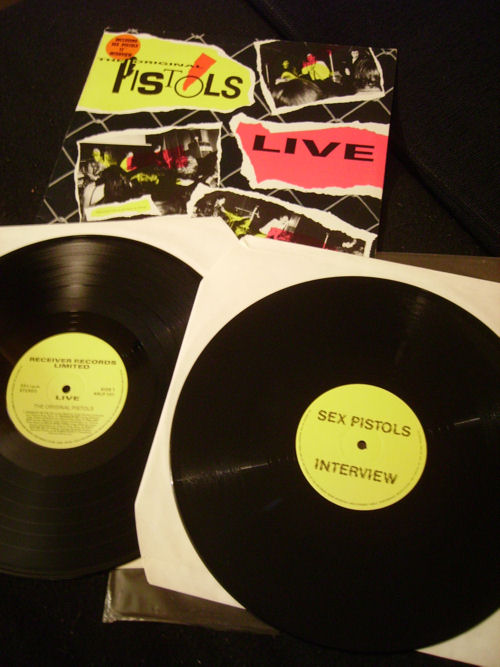 Sex Pistols Limited Edition Interview Picture Disc : Tell Tales (Music & Media Promotions Ltd)
Released 1988
Notes: 12" Picture Disc.
No catalogue number.
Side 1: Radio 1 (Rock On ) interview.
Side 2: Radio Middlesborough. SPOTS Tour - mention doing a gig as Acne Rabble.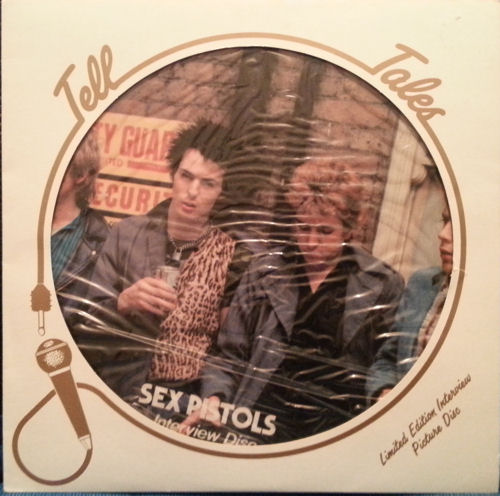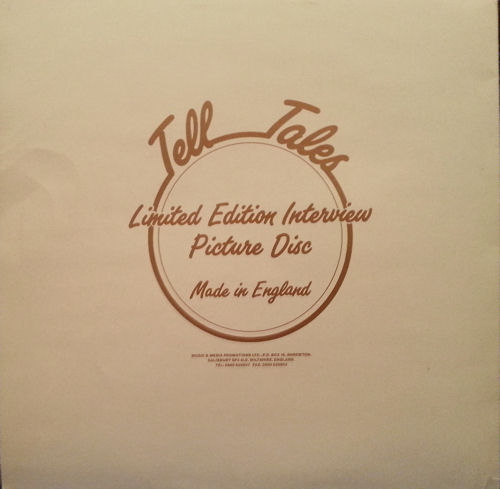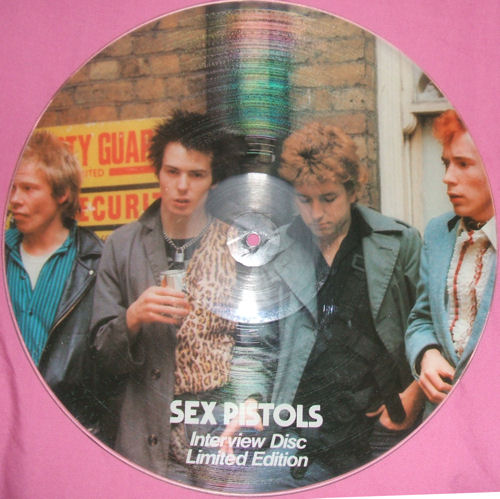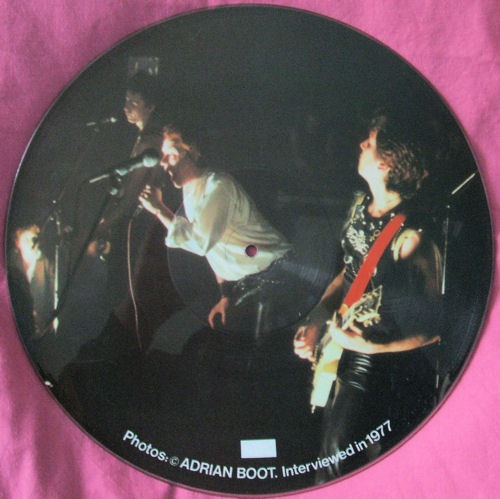 Sid Vicious Limited Edition Interview Picture Disc (Music & Media Promotions Ltd)
Released 1988
Notes: 12" Picture Disc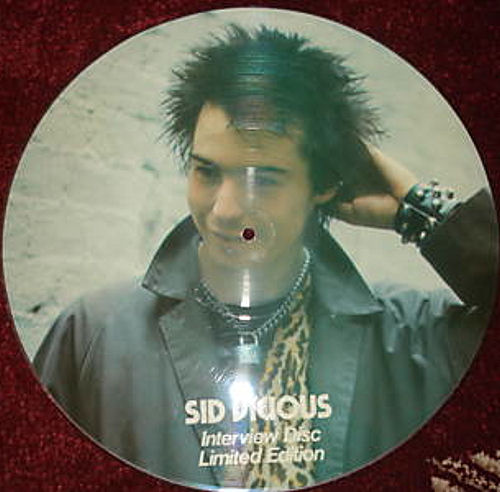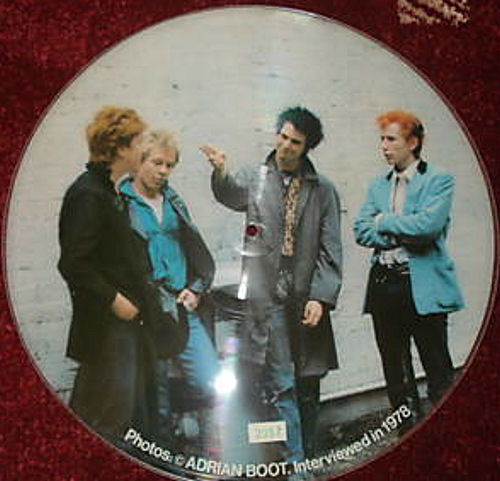 Pig Dog Interview 1977 (PD1a) / (PD1b)
Released 1988
Notes: 12" Picture Disc. Same picture both sides.
Side PD1a: Interview with John, Sid and Steve. The interview took place on July 5 1977 when the band were recording the video for Pretty Vacant. They talk about a Virgin press photo shoot and the forthcoming gigs in Sweden.
Side PD1b: Quality is not too good - band messing about and winding people up.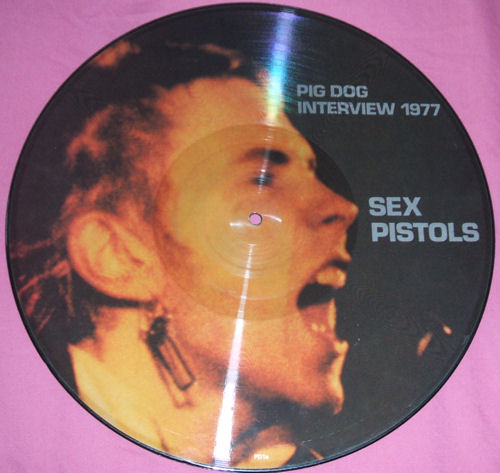 Sex Pistols Talk (SEX 10)
Released 1996
Notes: UK release.10" marble blue vinyl. Released in a clear plastic cover.
Pressed in 1996 to cash in on the re-union. 50 copies only.
Audio taken from a VHS of "Sex Pistols Number One" film, here sourced from the rare "Bollocks To Everyone" VHS tape. (including Janet Street Porter,' the protesters outside the Caerphilly gig on the 'Anarchy ' tour, also the guy representing Leeds Polytechnic talking about the Pistols playing that night).
Same interviews both sides.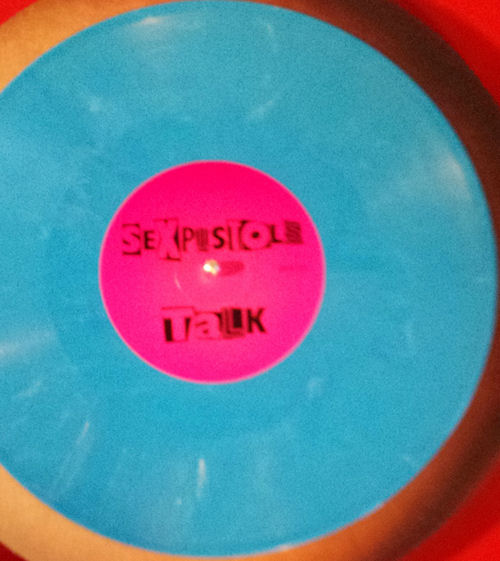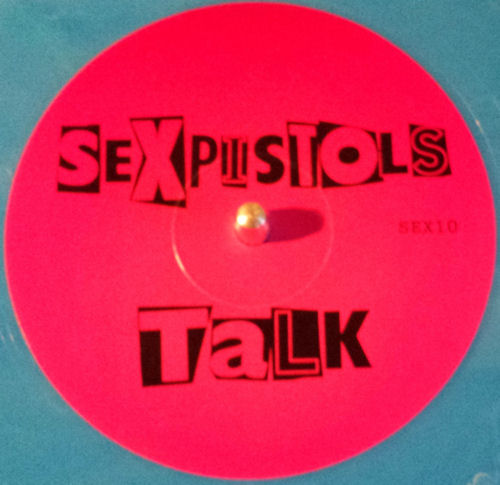 Sex Pistols 100 Club Press Conference (Sex 1 LP)
Released 1996
Notes: 12" pic disc. 33 1/3 RPM. Sex 1 LP on run out grooves.
100 Club Press Conference 1996. Same interview both sides.
Side 1: 1996 group shot
Side 2: John from PiL 1987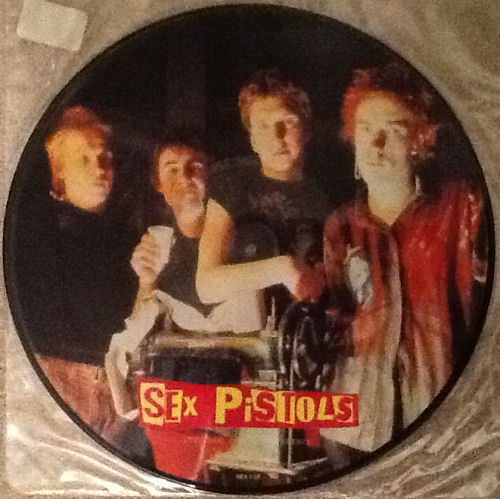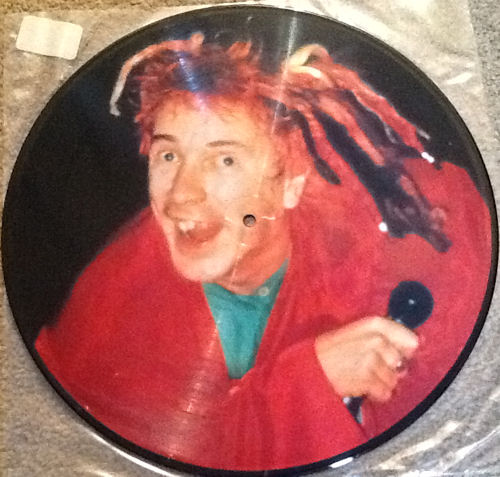 The Interview 1977 (no label stated)
Released August 2010
Notes. Bootleg 7". Plain white sleeve. SP 1 A & SP 1 B etched in run out grooves. Same label both sides.
Band interview conducted with the group after their Middlesborough Rock Garden gig on 26th August 77. Total interview running time 15 minutes.
Side One. Part One
Side Two. Part Two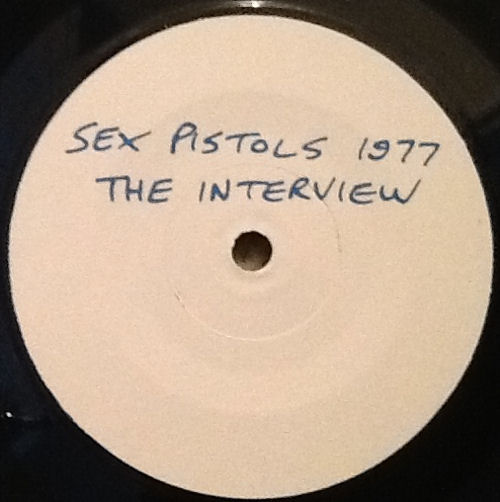 Special thanks to Harry Nordskog, Gus Nicholson, Michael Ballstav, Hervé Labyre, and Tim Thwaites, for scanning their collections for use in this feature.
Plus Smartie and Jon Edwards for additional information.
©Phil Singleton / www.sex-pistols.net 2014
All rights reserved. Not to be reproduced without permission.
God Save The Sex Pistols ©Phil Singleton / www.sex-pistols.net 2014
---
Although every attempt has been made to ensure the following listings are as accurate as possible, errors may have occurred. Please e-mail any additions and/or corrections.
Errors that may have occurred will make it obvious if an attempt is made to copy the above piece of work. Do not publish elsewhere and claim authorship. You have been warned.