ROCK & ROLL HALL OF FAME 2006
Sex Pistols refuse Hall Of Fame accolade
John Lydon's letter 24th February 2006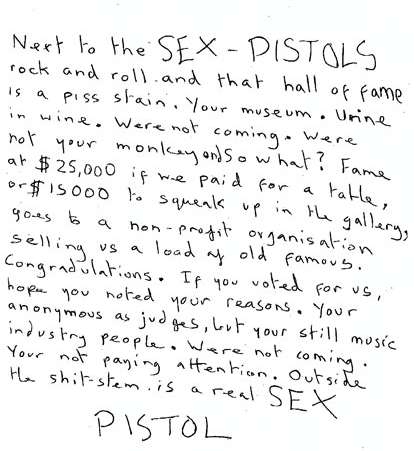 24th February 2006
Steve Jones: on Indie 103.1 Opened his Jonesy's Jukebox radio show by singing: "We're not going/To the museum/You can shove it/You can have it."
26th February 2006
Glen Matlock talking to The Independent on Sunday. "It's nothing to do with the bands - it's all to do with business. When I first heard about it I was quite excited... but then I found I was going to have to pay thousands of pounds to take my kids. It's just a big corporate event, a bunch of Herberts in suits... just a money-making opportunity for multi-million shysters."
10th March 2006
John Lydon appeared as a guest on Jonesy's Jukebox. Discussing the Rock & Roll Hall of Fame, John told Steve: "Self-appointed sods...I don't mind getting something for nothing but I ain't gonna pay for the privilege ...I don't mind being paid to be told I'm famous but I ain't paying them...I've had a problem with the Hall of Fame for a long time. Years ago when I was running Rotten TV for VH-1 we were gonna shoot an episode there at the museum and they wouldn't give me permission to film, in particular the so-called alleged Sex Pistols exhibit they had ...in it was a set of lyrics they claimed was the original things...(they were) phony... & I told them so ...but they told me that their sources were irrefutable ...in other words my word isn't good enough but my words are,... that's wrong ...a museum that's based on selling you a lot of old cack, you can't be supporting ...why are we gonna hand ourselves on a platter to them now ...they were never interested in the truth in the first place."
---
God Save The Sex Pistols ©2000 - 2007 Phil Singleton / www.sex-pistols.net. All rights reserved.