Chaos! Ex Pistols Secret History
- the Dave Goodman Story Part One (Universal DVD)
Exclusive interview and review
Producer Phil Strongman talks about Chaos!...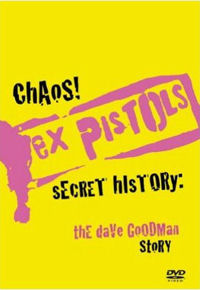 Questions by Phil Singleton
Q. You must think there is room for another slant on the story. Why in particular focus on Goodman, McLaren, and Ray Stevenson?
A. Because, at least in terms of impact, the Pistols were and are - and now probably always will be - the most important band since The Beatles. And many Fab Four documentaries have looked at George Martin, Brian Epstein etc... Dave Goodman, Malcolm McLaren and Ray Stevenson are of equal importance - probably the best management / production / photography trio in rock'n'roll history.
Q. How advanced was the project when Dave passed away?
A. It had barely begun - in fact, had stalled a little after Dave had moved to Malta. But his death - or, at least, his physical death - was a strong spur to move things on. Once I'd gotten over the shock, of course - I'd met Dave back in the day and been a good friend since 1979 so his passing away was more than a project hiccup but a major blow to me (and to hundreds of others). The reason I'd started the docu was, partly, because the record labels had started to take Dave's production credits off the CDs - as with the The Filth & Fury film, he was starting to be written out of history, which I felt was wrong. If punk was about anything, it was about raw honesty and to try and remove Dave - or Mal or Ray - from the picture is a lie.
Q. What was you own personal involvement with the Sex Pistols?
A. I saw them at the 100 Club in May '76 and, in some ways, it changed my life. I later became a friend of Glen Matlock and Sophie Richmond and, eventually, Malcolm. Sophie would ring me and my brother Jay before gigs so we'd spread the word and, occasionally, posters. Right up until the Punk Special (Festival) there were often only sixty or seventy people at gigs.
Q. What can a Pistols fan hope to learn from the film?
A. The inside story of the Sex Pistols and this huge impact they and the Punk scene had on the UK - and just how much the 'back-room boys' contributed. There's also plenty of stuff about Anarchy, Grundy, Lydon etc... as well as words from Glen, Tony Wilson, Ray Winstone etc.. The Swindle's almost 30 years old and The Filth & The Fury cut out Malcolm, Dave and Ray - CHAOS! EX PISTOLS' SECRET HISTORY: DAVE GOODMAN STORY Part One is the other real half of the story. It's taken a long time to come out but I think most fans will think it's been worth the wait... See it, judge for yourselves...
---
Chaos! Ex Pistols' Secret History - the Dave Goodman Story Part One (Universal DVD. Region 0 Worldwide)
Released March 2007
You've got the Swindle; you've got The Filth And The Fury. Do you need another Sex Pistols film? Chaos! shows that if you have the passion for your subject, there are many aspects of the band still to be examined. In this instance, Dave Goodman, Malcolm McLaren and Ray Stevenson. Producer Phil Strongman firmly believes in the contribution made by all three and sets out to make sure the viewer is aware why.
Let's get some of the baggage out of the way. Firstly, this is an independently produced film. Secondly, it does not have the budget of the aforementioned Pistols films. Thirdly, due to copyright reasons it does not contain footage of the Pistols in action or a soundtrack of their music. Presumably this is also why the "S" is dropped from "Sex" in the title.
So what does it offer? Passion, freshness, and a host of faces who were central to the plot.
McLaren emerges as the undoubted star of the film, if only for his infectious delivery. Vilified in many quarters, especially since The Filth And The Fury, it's refreshing to hear him back to his best. Here he talks at length in his customary flamboyant style about Goodman (who confused McLaren when he said the Pistols were good), Vivienne Westwood (a chaos causer in her own right), and the Pistols themselves. It's a real treasure trove of anecdotes; some you'll know, many you won't; some you'll take with a pinch of salt, others which will raise an eyebrow.
We even get to follow him on a walk around Paris as he recounts the Pistols gig at the Chalet Du Lac. Rarely have I seen him so relaxed; there's no trace of bitterness either, even when he concludes that despite the passing of years, the Pistols rarely have a kind word for one another. McLaren extends his good will to the release of the Spunk bootleg (forever linked with Goodman himself) which he considered "very funny" and anti-corporate. However, the overwhelming impression of Malcolm you come away with, is his fixation with another famous EMI artist, Cliff Richard.
Dave Goodman himself features extensively on interview footage captured prior to his death. Dave's story evolves alongside that of the Sex Pistols, before converging at the famous Nashville show in April '76. Although the focus on Dave Goodman is the central theme, the film deviates when there is something new worth telling, often sparked off by recollections of Goodman's contributions. The saga of the recording of Anarchy In The UK, and subsequent dumping of Goodman in favour of Chris Thomas, is a fine illustration of this approach.
And there are plenty of genuine contributors who were there in the Pistols formative years. Ray Stevenson himself, Bob Gruen, Paul Gorman, Terry Chimes (who sheds light on the birth of The Clash), Andy Blade and Dee Generate (who recall their night at John Rotten's house), PIL drummer Jim Walker ("I've seen hell"), broadcaster Tony "So It Goes" Wilson, Don Letts, Roadent, Marco Pirroni, and others. Plus fresh insight on Goodman's input from Glen Matlock, who doesn't dodge the Goodman/bootleg issue.
In fact, fresh insight is the key to the film's success. What you are watching is NEW. It's tightly edited, neatly presented, fast moving, entertaining, and above all informative. Whether learning from Dave himself why he put sound effects on his Pistols demos, or listening to Ray Stevenson discuss both his own and his late brother, Nils', involvement, it all adds up to an engaging and enthralling 100 minutes.
DVD extras include additional interview material, plus audio of many of those infamous Goodman produced "Ex Pistols" songs. Well, if you are going to put them somewhere, it may as well be here.
A valiant, heartfelt film that deserves a place on any Sex Pistols fan's shelf.
Review by Phil Singleton (February 2007)
Click to buy: Chaos! - Ex Pistols' Secret History - The Dave Goodman Story
---
God Save The Sex Pistols ©2000 - 2007 Phil Singleton / www.sex-pistols.net. All rights reserved.