ZEEBRUGGE, BELGIUM 20th JULY 1996
Review by Shane Baldwin

One month into the Flithy Lucre Tour, the Pistols played the Axion Beach Festival. It was no ordinary gig.....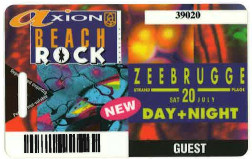 I said to my mate Dave Bateman: "Did you hear the Sex Pistols are reforming?"
Dave: "Oh god, that'll be terrible."
Me: "Yep." Long pause.
Dave: "We're going aren't we."
Me: "Oh yes."

The Pistols were the only major punk band that we didn't get to see back in the day, so we had to do it, but Dave reasoned that, as it was bound to be terrible, why not go to one of the dates elsewhere in Europe? Then, even though the Pistols would be terrible, at least we'd have a fun weekend away. Good plan. We plumped for Zeebrugge, as Dave had recently had a good time there watching motocross. As so often happened with my lifelong friend, when it came to the actual event, he couldn't make it, so I went with my younger brother Clay and brother in law Graham.

We travelled by a convoluted route. A bus from Kingswood to central Bristol, a coach from Bristol to London Victoria, another coach from Victoria to Ramsgate, then hovercraft to Ostend. We were booked on a ferry, but it broke down so we were upgraded for nothing. A shame really, as we were in no hurry and looking forward to a long drink in the ferry bar. We were staying in Ostend as the Pistols were playing the Axion Beach Rock Festival in Zeebrugge, an all day festival on the beach with the likes of Manic Street Preachers, Lou Reed, The Levellers and Lush, followed by a late night dance event headlined by The Orb, so there was no accommodation to be had in Zeebrugge itself. We found our hotel, took in a few bars, and stayed out far too long considering we had to be up early next morning to get the train round the coast to Zeebrugge.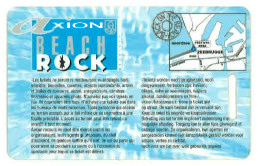 All the bars seemed to have tickets for the festival on sale, packaged with a CD single of God Save The Queen for the equivalent of £25, which wasn't bad, but we decided to see what deals were on offer in Zeebrugge. Practically on arrival a tout offered us guest passes for £18 each, which we went for. I wanted one of those CDs, but figured the packages would be worthless next day, so I should be able to do some sort of deal on one. As it turned out, I was wrong. The tickets were placed in the bars by the promoter on a sale or return basis, and if the packages were opened they were liable for the full £25. One of the bar owners let me take one of the posters though, which was nice of her.

The festival site was just beautiful, right, as I've said, on the beach, with a well manned bar, spotless toilets and delicious food. And the weather was perfect. In fact, when we entered the site we were offered, free of charge, French Foreign Legion-style hats, in luminous rainbow colours, to keep the sun off, but being British, we of course refused. Might be okay for Johnny Foreigner, but we Brits are made of sterner stuff. 20 minutes later, our necks already red raw with the sun, we shamefacedly went back and asked if we could have one each after all.


We had a great day watching the other bands, especially Manic Street Preachers who had only recently released Everything Must Go. They were on quite early, about 4.00, but the whole crowd sang along to Design For Life. We felt a bit sorry for Neneh Cherry, who played in a tent to me, Clay, Graham, and a local punk band who we had a chat to. Neneh was big in the UK, but she plainly meant little to the denizens of Belgium. As the event was on a beach, in the sun, as you can imagine the atmosphere was relaxed and tranquil.


As Lou Reed played an interesting, but curmudgeonly set, the sun began to go down, and a curious thing happened. As the darkness deepened and the time for the Pistols' appearance approached, the atmosphere changed completely. People began to look edgy and nervous. Amazingly, 20 years on, the Pistols still exuded a sense of threat and menace.


On they came, and I must admit to getting a bit of a lump in the old throat. I'd waited a long time for this. And amazingly, contrary to all our expectations, they were bloody brilliant. Cook and Matlock were rock solid, and Steve Jones was just stunning, somehow creating a wall of sound guitar onslaught all on his own. It sounded like three or four guitarists blasting out at the same time. Lydon insisted on singing with that voice he adopted for PiL, but he always was a contrary bugger. And in fact he made the event rather notorious.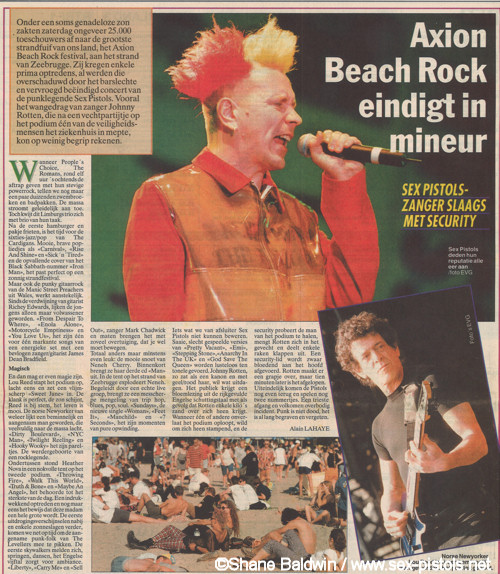 From his opening words of "We're fat, forty and back," he appeared to have imbibed a few, and for reasons not apparent to us, blew a fuse at one point and got into a ruck with one of the security people. We didn't see how it started, but we saw him ranting at this bloke, then it looked like he hit him with the microphone. The bloke was carried off, and in a rather strained atmosphere, they finished the set. The incident aside, the Pistols were a triumph and I was thrilled to have seen them at last.



(More light was shed on the incident by a press report a couple of days later: "It was improvised rock theater of the highest order..
A fan who stormed the stage, was pushed back into the crowd by Rotten. The security officers pounced on a roadie for the Sex Pistols by mistake
. The furious singer intervened and slapped one of them with his wireless microphone against the head. The security man was removed by stretcher. Rotten apologized for the delay with a dig at the overzealous Belgian staff.... The return of the Sex Pistols was everything and more of what could be expected.")



After the Pistols, the dance acts and DJs took over, the atmosphere lightened, and though it wasn't really our thing, we stuck around for a couple of hours, had a few drinks, and had a good time.

We then went to get the train back to Ostend, and then it all went wrong. We found the train station packed with people, spilling out into the street. It turned out that there was a fault with the line and the trains had stopped running. More and more people arrived, and as the crowd began to get rowdy, the police turned up wearing worryingly army-type uniforms and carrying guns. For some reason, we began to find the situation hysterically funny, and at one point Clay and me went into the whole Monty Python Holy Grail "Your mudder was a hamster and your fadder smelt of elderberries!" routine, shrieking it right in the face of one of these gun-toting rozzers. Mad. Eventually, they sent out a fleet of police 'meat wagons', and used those to transport us back to Ostend, and we finally got back to the hotel at about nine in the morning.

We weren't due to get the ferry home until Monday morning, so we spent the day exploring Ostend and touring the bars. We actually met a real life Basil Fawlty. We went into a bar, and ordered three beers from the barman, who was obviously English. After we placed our order, we waited for him to pour our drinks, but he snapped, loudly, "Well go and sit down then! I'll bring them over! You're not in England now you know!" Brilliant, what a nutter. Next morning we went down to check out of the hotel, to find the lady on the desk reading the local paper and tutting loudly. She was reading the account of the Lydon/security guard incident and shook her head at us. We then paid our bill and went straight out and bought a copy of the paper as a souvenir. On the ferry, I bought a round of drinks for me, Clay and Graham, and proposed a toast: "Gentlemen, mission accomplished!"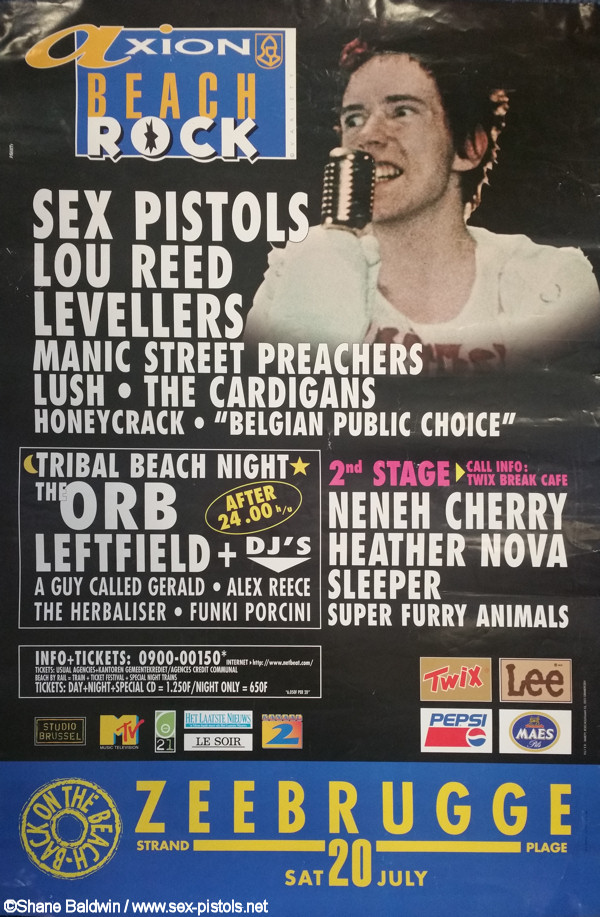 God Save The Queen Belgium 1996 Exclusive CD
Special thanks to Shane Baldwin for his review & for scanning his memorabilia.
---
God Save The Sex Pistols ©2016 Phil Singleton / www.sex-pistols.net. All rights reserved.
This feature is copyright to God Save The Sex Pistols and the author and may not be reproduced without written permission.