Phil: How's today been, Toshi?



Toshi: I was working at the O2 Arena this morning, rigging the stage for UB40. It's my other job, I'm more of a back line technician for other bands. If I'm not busy or active in a band, I have to earn something! Sometimes I'm tour managing the bands. It's really handy when I'm on the road, if anything goes wrong I can just fix it on the spot.

How did you get into rock 'n' roll music out in Japan?

It's the same as you guys really, when you're a kid at school. I would discover British music or American music, or just rock 'n' roll in general. A friend introduced me to bands, 'have you heard of this?' and so on, and that's how I got into it, I was about 12. The first band I got into was Deep Purple, although I didn't really get it at first. Then later on it was Hanoi Rocks, then Guns N' Roses who were a big thing for me. From then it was kind of going backwards, and I discovered punk rock music; Ramones, Pistols, Clash, and all that stuff. I read interviews with bands in music magazines and they would say who they were influenced by.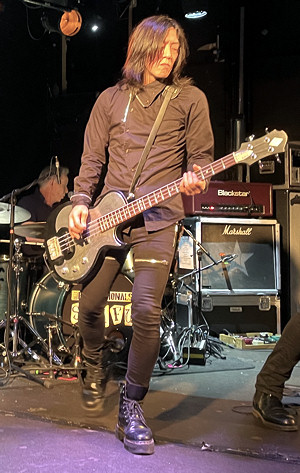 Did you form a band when you were in Japan?

Yeah, I was in a band, but it wasn't really a punk band. It was more a pure rock 'n' roll type band but it always had melody and harmonies which I always loved. I really loved pop music because of the nice melodies and you could sing along to it. I was playing in the band but not really touring. Unfortunately, in Japan all the rock 'n' roll music is played within the Japanese format, you have to fit into the radio market, which wasn't really a rock 'n' roll sound to my ears. That's when I started thinking 'what if I could go to England to do the real thing?'



That's quite a big move to make?!



Yes, people said 'are you sure?' Especially my parents, they said 'what are you talking about?!' But the years went by and the passion was getting more and more and more. I thought I should at least try it, even if I fail and have to return to Japan.



So what age were you when you decided to make the trip?



I was 26. I wish I could've been over here much earlier, but again, it could have been the right time because by then I'd been in a band in Japan, and I knew how to deal with people. Although I'm glad I did it at that age, I sometimes still think, what if I'd done it when I was a bit younger, and been a bit more reckless.



It worked out for you though.



Yes, it did work out nicely for some reason. I guess I met the right people at the right time.



Did you head straight for London?



Pretty much. I didn't do any research on how to live in London, I didn't know about the visa. I was a Japanese citizen coming to the UK on a holiday. I was allowed to be here for six months, so I thought I've got six months and I can be in a band and do stuff, I'll think about the rest later. That was the attitude I had. Obviously it didn't work out like that at all. I didn't speak English, in fact I'm still struggling with speaking English, so therefore I needed to do something. Back in the day there was the NME, Sounds and Loot. I'd be looking at the adverts, 'bass player wanted', I'd call them up and somehow managed to meet up, I don't know how. I'd go round to somebody's house or studio and I just couldn't talk and understand what they were actually trying to say. That's when I decided to go to English school over here. And here's another thing, some friends said if you go to school you get a student visa and you can work, and then you can stay more than six months. I thought 'really? OK, in that case it's a win-win situation for me', so that's what I did.

My first band over here was with my English teacher. It was heavily influenced by Duran Duran, with all the backing tracks going on, not really my kind of thing. But it was a first step into the live scene over here and through that I met some rock 'n' roll people and joined another band and the rest of it kind of happened just through meeting people.



In the early 2000s you were in a band called Antiproduct.



That was my first proper touring band over here. It was a pop, punk, rock band. The singer was a chap called Alex Kane, he had a project with Ginger Wildheart, Clam Abuse. We supported The Wildhearts and through Ginger I met a young guy call Tommy Gleeson and formed a band called The Ga Ga's and later Slaves To Gravity. Ga Ga's and Slaves To Gravity were both nominated at the Kerrang! awards and Slaves To Gravity actually won. Ginger has been a big part of my music life. The weird thing is, one of the biggest reasons I moved over here was Ginger's band, The Wildhearts. I always wanted to play in a band like that and a few years later I was actually in The Wildhearts for a little bit. It was their big reunion tour and the bass player got kicked out half way through the tour because of his addiction problems. I just stepped in and finished the tour.



Weren't you in another band with Ginger Wildheart?



Ah, the Ginger side project. It was called Hey! Hello! (2013). It was a really nice pop rock project. I played bass on the album and did the gigging circuit.



How did you get to know Paul Cook?



I was working in a guitar shop, and a guy called Stephen Parsons walked in with Chris Spedding, they had a band called King Mob at that point. The bass player was Glen Matlock who was leaving the band, so they needed a bass player. I went to the audition with Stephen and I got the gig (January 2012). Unfortunately, King Mob didn't last long, Stephen and Chris Spedding decided to reform a band called The Sharks and I got a phone call to ask if I was interested. Of course I am! I went to the studio, and there was Paul Cook! I thought 'wow'! That was where I met Paul. I didn't know who the drummer was when I joined The Sharks. We did the album together (Killers of the Deep) and a bit of touring. Towards the end of the tour Paul decided to do The Professionals again.

As you know, they did some gigs with the originals, McVeigh and Myers. When they decided to do the comeback album What in the World, I got a phone call from Paul to ask if I could help them out. Myers was playing bass but not learning the songs quickly enough to demo them, that's why Paul called me to ask if I could play some bass for them on their demos. We played some songs together, then all of a sudden went into the recording studio; one weekend, three songs done, another weekend another three down, then all of a sudden a whole album worth of songs are done with me playing bass. Myers did do bass on some songs. He was still in the band so they wanted to have his mark on the album, so I don't really know which songs they used my bass on, but definitely some of my songs are there. I guess Paul enjoyed playing with me as a rhythm section; I'm easy-going and I do the homework and remember how the songs go, sometimes I can give Paul the cue!

When the album was done, they wanted to go on tour and they didn't have a regular tech so I got a phone call again to ask if I would do tech and driving. That's how I got into the gigging side of The Professionals. After a few tours, Paul Myers' health problems became more serious and he couldn't really go out on the road. I got asked if I was interested in doing the gigging and touring with them. Obviously I said yes!



Has it always been the bass that you've played?



I only do the four strings. I started off with guitar but the six strings are a bit too much for me! C chord, that's fine; D chord, that's fine; E, that's ok; F, nah fuck that! When I used to watch MTV, I don't know why, but I was always drawn towards the bass player. To my eyes, the bass player is much cooler than the guitar player. Or the bass wearer is much cooler! The look on stage is as important. Some people don't give a fuck about how they look on stage or what to wear, but my biggest influence is Dee Dee Ramone; a long strap, bass down to the knees, jumping around. That's the bass player's image, to me anyway.



You certainly bring a lot of on-stage energy and style to The Professionals.


Well, Tom is the singer so he can't really move around because he's stuck with the mic, and when I joined, Chris McCormack was the guitar player and he doesn't really do much on stage. Therefore, I have to do something! Also, I can't be just standing there not doing anything, I just try and use the space and enjoy myself. When you go and see a gig and the band is static, it's a bit boring. I don't want to think that The Professionals, or any band that I am in, is boring to watch.



Do you think you'll do some song-writing with the band, or is that all really down to Tom and Paul?



Every time I get some ideas I record it and send it to Tom and Cookie but they've already got enough songs. For the future record I may have some ideas there. In The Professionals version 2 they are the main songwriters and they obviously know how The Professional songs should sound, but let's see.



Are you involved in any other bands at the moment?



No, just The Professionals. If any other opportunities come along I might say yes to it.

Before Covid, my regular work was as a back line technician at Matt Snowball, a London based gear and van hiring company. Lots of people from America or Europe who come into the UK to do a gig, hire their gear from that place. They obviously need someone to look after the gear, and that was my regular job.



Did that involve lots of travelling with the bands?



Yeah. Or just a random venue in London for a one-off gig, stuff like that. For the past five or six years I've been teching for American band Ugly Kid Joe. That became my regular teching band.



I'm guessing you've done quite a lot of driving then, and you have to stay sober!



Tell me about it! Teching and driving. Even with my own bands back in the day. The Ga Ga's and Slaves to Gravity couldn't afford a tech or a driver so everyone had to take it in turns. I don't drink, I wish I could though! Unfortunately, I'm allergic to alcohol, so I can't. That's good for everybody else but me!



How long have you now lived in the UK and do you miss Japan?



I moved over here in 1999. After spending 10 years in this country I got a residence permit. So I'm over here just working, gigging, and touring, and all that. It took a long time but it was worth it.

After 23 years in this country I am still struggling with the language. The whole grammar is completely different, the pronunciations and some sounds that you guys have, we don't have in Japan. Sometimes I need to know how to spell the word to pronounce it properly.

My hometown is in the main island, a place called Chiba, about half an hour on the train from Tokyo. My family is still there but I have spent half of my life over here so I'm half Japanese and half British! Someone said I can't live in Japan anymore because I speak too British! So are my mannerisms. I don't really see me being in Japan at the moment. Work wise, music wise, it's all based in this country and I can't leave them behind. I guess I enjoy being here.



And we are delighted to have you in the UK, Toshi. Many thanks for the chat.




---