GERMAN TV APPEARANCE SEPTEMBER 1977
Cancellation

Sex Pistols were booked to play German TV teen music show, 'Disco" in September 1977.
Recording was scheduled for 13/14th September in Munich, with transmission on Saturday 17th September.
Unfortunately the Sex Pistols did not take part & were replaced by Eddie & The Hot Rods.
Below is a memo from Ariola/Virgin Munich relating to the planned TV recording.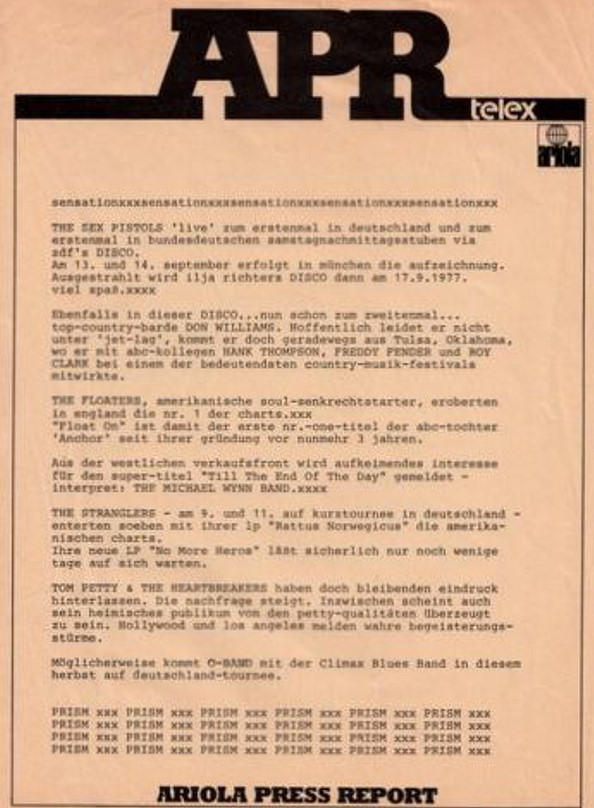 Special thanks to MoMa for above image & information.
---
Please e-mail any additions and/or corrections. God Save The Sex Pistols does not trade in bootlegs or anything else for that matter.
Please note: It is illegal to manufacture, distribute or sell bootleg or counterfeit recordings.
Bootleg vinyl pictured here is hereby merely documented. In no way are/were the administration team of this website involved in the manufacture, distribution or sale of these recordings. Bootlegs are illegal. Pressing and selling them is illegal.

God Save The Sex Pistols ©2016 Phil Singleton / www.sex-pistols.net. All rights reserved.
This feature is copyright to God Save The Sex Pistols and the author and may not be reproduced without written permission.