THE GREAT ROCK 'N' ROLL SWINDLE DOUBLE LP
NETHERLANDS
- By Phil Singleton and Patrick (Paul) Lilienthal

The Great Rock 'N' Roll Swindle (Virgin 300 277 / 278 / 279-406)
Released February 1979

Side One. The God Save The Queen Symphony / Johnny B. Goode / Road Runner / Black Arabs Medley / Anarchy In The U.K.
Side Two. Substitute / Don't Give Me No Lip Child / (I'm Not Your) Stepping Stone / L'Anarchie Pour Le U.K. / Belsen Was A Gas / Belsen Vos A Gasser
Side Three. Silly Thing / My Way / I Wanna Be Me / Something Else / Rock Around The Clock / Lonely Boy / No One Is Innocent
Side Four. C'mon Everybody / E.M.I. (Orch.) / The Great Rock 'N' Roll Swindle / Friggin' In The Riggin' / You Need Hands / Who Killed Bambi
Notes. Track listing is the same as UK Version 2.
The Netherlands pressing is closely aligned to the first West German pressing of the album.
The sleeve is identical to the West German pressing and the record also includes the different version of No One Is Innocent which increases speed in increments throughout the track.
Both discs have different catalogue numbers, as does the sleeve. The lettering on the spine is in white.
No track list insert was included.

The difference to the West German releases is the label printing.
The Dutch release has the following unique combination:
The 'Stemra' stamp is without either the additional 'LC 3098' text or 'GEMA' text which appear on the West German pressings in various combinations.
The copyright warnings around the label edges are in both English and German.
The small Virgin symbol is printed on each side near the bottom of the label.
Although the duel copyright warnings and Virgin logo can be found on German pressings, it's the combination above that distinguishes the Netherlands release.

Front and rear of gatefold sleeve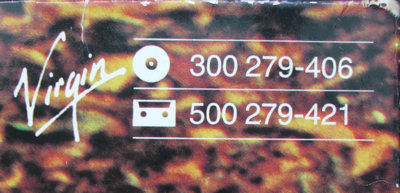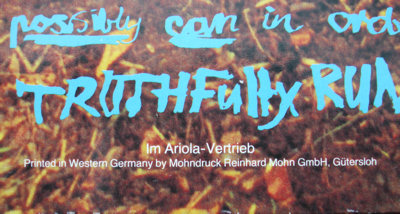 Close-ups of rear Netherland sleeve - identical to 1st West German pressing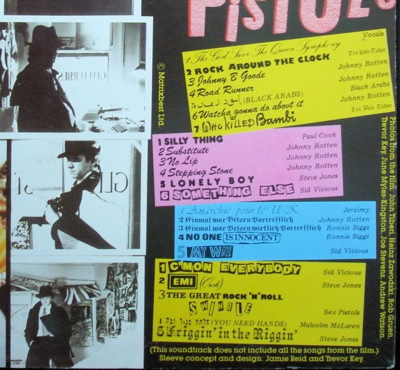 Close-up of inside of gatefold sleeve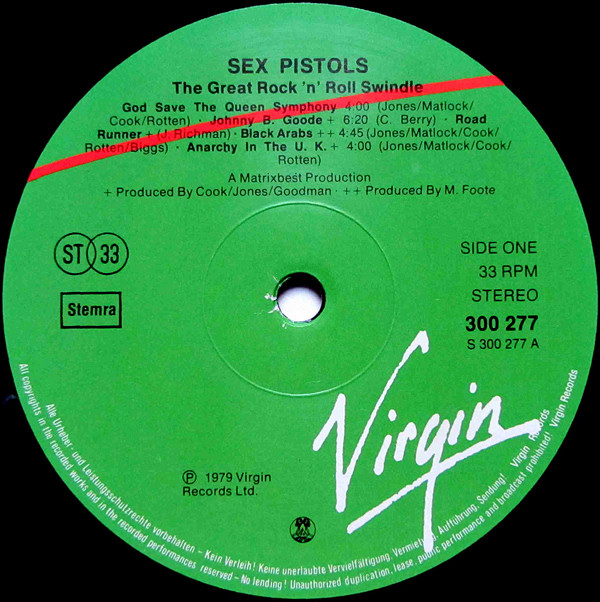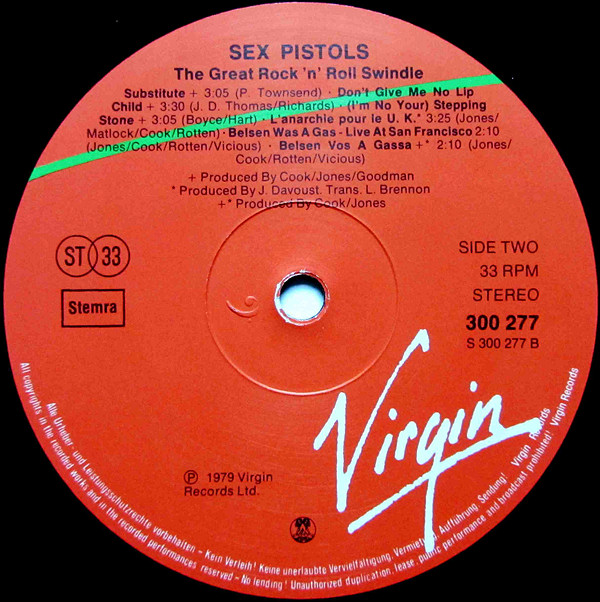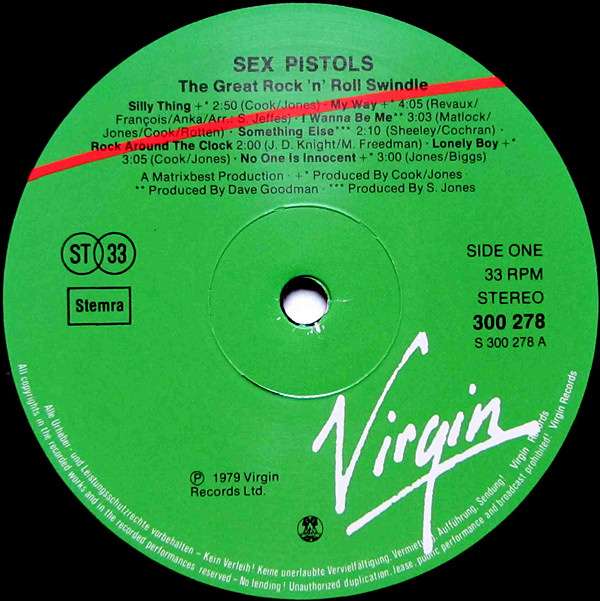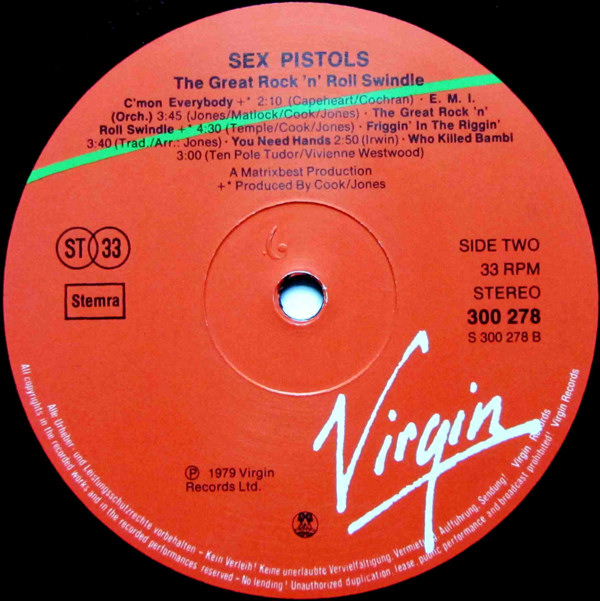 The sides are not named 1 - 4. Instead, both discs have their own catalogue number (Virgin 300 277 / Virgin 300 278) and the labels on both LPs state Side 1 and Side 2.
Special thanks to Patrick (Paul) Lilienthal for scanning his collection for use in this feature.
©Phil Singleton / www.sex-pistols.net 2018
All rights reserved. Not to be reproduced without permission.
God Save The Sex Pistols ©Phil Singleton / www.sex-pistols.net 2018
---
Although every attempt has been made to ensure the following listings are as accurate as possible, errors may have occurred. Please e-mail any additions and/or corrections.
Errors that may have occurred will make it obvious if an attempt is made to copy the above piece of work. Do not publish elsewhere and claim authorship. You have been warned.