SID: THE FINAL CURTAIN /
NIGHTCLUBBING: THE BIRTH OF PUNK ROCK
IN NYC (Chip Baker Films)
LEEDS & TORONTO CINEMA SHOWINGS
City Varieties Music Hall, Leeds, UK, 12th August 2022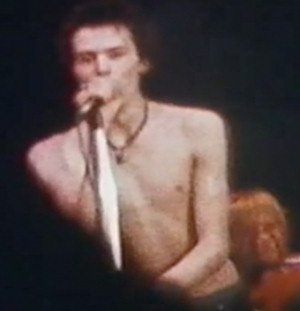 Rich Lawson reports: I have seen this pairing in the last few weeks in England and would like to submit an alternative review. I went to see these films at a picture night at City Varieties Music Hall, yes ,the one that used to host 'The Good Old Days' which is quite ironic in itself. Lovely venue with beautiful original fittings in places and thankfully, a bar. Sparse audience, about 80-100 at most.

Proceedings start with a variety of trailers for various remotely connected music shorts by the same producers. One is going on longer and seems to have mostly old Sid/Nancy footage we have seen many times before. When they show some New York gig footage I'm thinking this is going to duplicate 'The Final Curtain'. It dawns on me that they have slipped the ''film'' in without any proper titles!

I was concerned that this film would only last 20 minutes but thought we might get a full number or some unseen footage. It's a cut and paste job, most of the people involved are dead (''These are people who died''). Why did they not try to get an interview with Mick Jones from The Clash who knew Sid well and played one of these shows?

Nightclubbing is mostly about Max's Kansas City. There's not enough band footage and too many people of no real concern giving their opinions. It just goes back and forth with no real chronology. I don't know when his interview was shot but Alice Cooper looks great for his age and is both amusing and insightful. Billy Idol puts in a few appearances and is also funny (mostly because he looks and sounds like his own 'Spitting Image' puppet). Some good footage of Wayne County I had not seen before is counter pointed by a bloated Jayne County in a ludicrous orange wig, apparently bed ridden and rambling on about Warhol.

Overall a disappointing night. I'm not sure there is a cinema audience for him any more, but if someone was to make a proper documentary about all aspects of the Sid story I think it would have to be Julien Temple who knew him, is a professional director and perhaps is sitting on a great deal of unseen footage from the era.
Paradise Theatre, Toronto, ON, Canada, 15th August 2022

Andrew McIvor reports: This was in a nice Art Deco renovated cinema of about 200 seats; the sound quality was excellent. I thought the Sid documentary would be 20 minutes of Sid Vicious at Max's but it's very limited footage of Sid, slowed down and not always matching the sound. Very little has not appeared or been seen before.
The Max's Kansas City documentary had lots of cameos. Jayne County steals the show, and Billy Idol is quite good.
Overall worth seeing.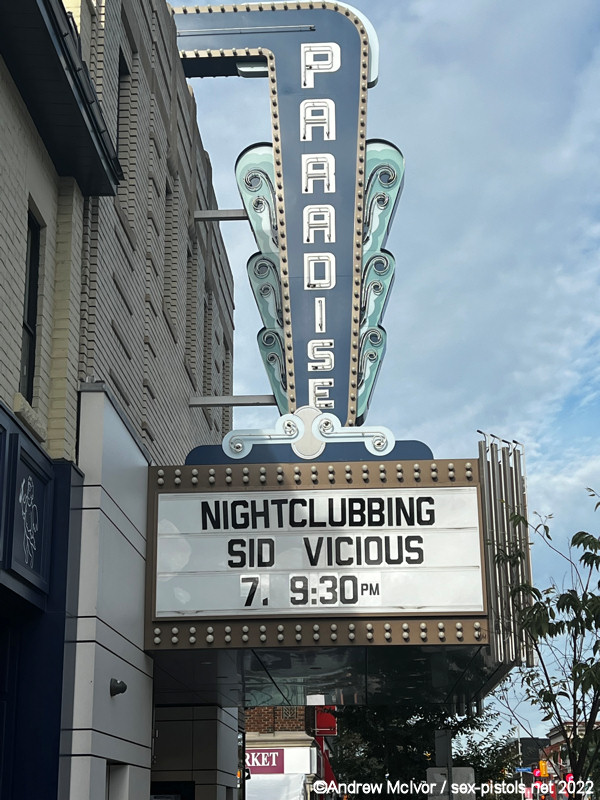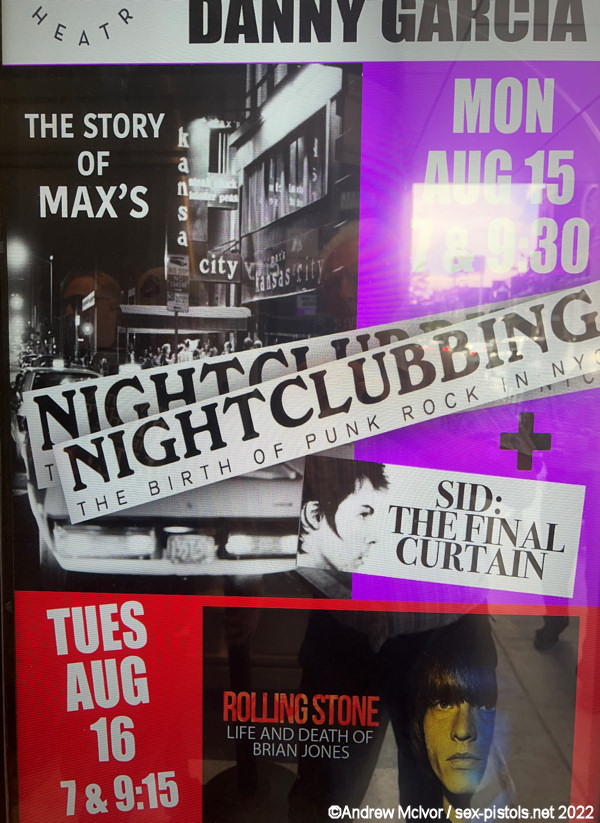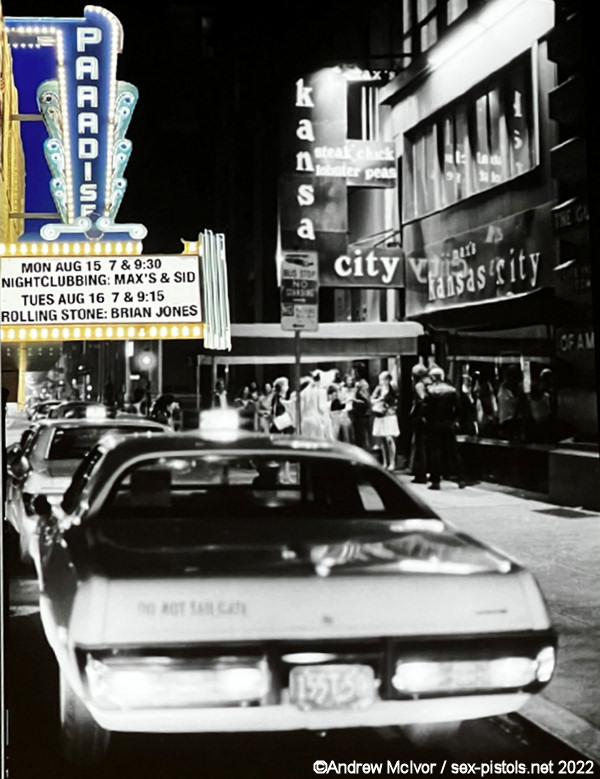 Special thanks to Andrew McIvor for the pictures used in this feature.
©Phil Singleton / www.sex-pistols.net 2022
All rights reserved. Not to be reproduced without permission.
God Save The Sex Pistols ©Phil Singleton / www.sex-pistols.net 2022
---
Although every attempt has been made to ensure the following listings are as accurate as possible, errors may have occurred. Please e-mail any additions and/or corrections.
Errors that may have occurred will make it obvious if an attempt is made to copy the above piece of work. Do not publish elsewhere and claim authorship. You have been warned.