The Professionals - Liverpool
EBGBs 22nd October 2021

| | |
| --- | --- |
| Cookie | Toshi |
Who remembers rock 'n' roll?

The vaulted brick aesthetic of EBGBs evoked a Cavern vibe, and was perfectly suited to The Professionals brand of earthy rock. Axis Paul, Tom and Toshi are joined on the SNAFU tour by Canadian Rich Jones, yep, we have Cook 'n' Jones in the band. Crikey, he's good. He knows how to nail the sound; he's also having fun. They're a positive band and Rich fits the bill. Hope he stays a while longer as the search for a new permanent guitarist goes on.

Of all the opening songs used by the band since the regrouping, Payola remains my favourite. The sound just slides in, Paul's drums and dual guitars crashing together; then the band are away. Going Going Gone is next up followed by newby Easily Lead as the set draws material from across the years. The number of punters singing along is noticeable, including to the new songs from SNAFU - let's be honest, Spike Me Baby and M'Ashes have irresistible choruses. Old faves; Just Another Dream, The Magnificent, 1-2-3, Crescendo and Kick Down The Doors get the cobwebs blown clean off them, with Rewind, Hats Off, and Monkeys ensuring the cream of comeback LP What in the World is present and kicking hard.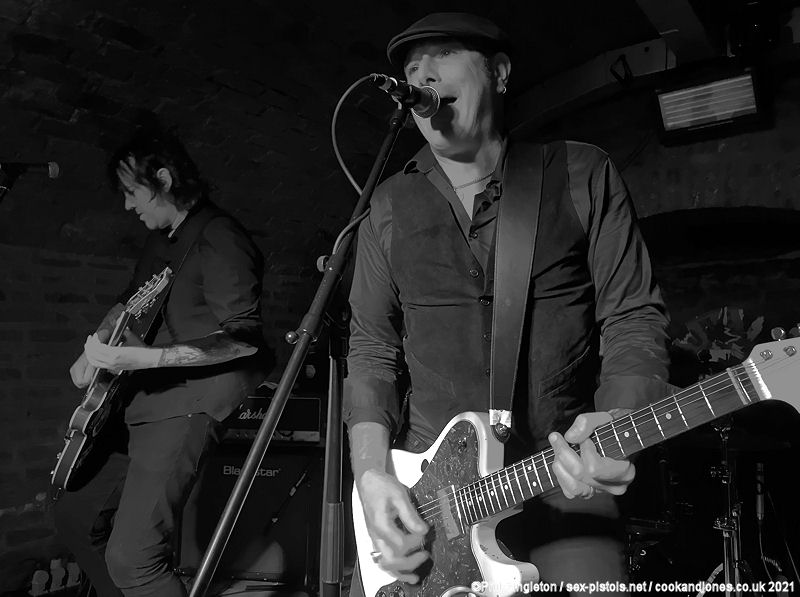 Rich & Tom



A young element present in the crowd burst forth during Silly Thing - which is cutely performed mid-set - and remained lively until the end. It's a while since I've seen girls throwing beer around. "Suddenly the audience went from 60 to 14 in about a second!" quipped Tom. "We're 19!" came the reply!

The rapport and energy flowing back and forth between band and crowd didn't let up until Stepping Stone had closed the triumphant evening. A fabulous set of songs, a finely tuned outfit, and a boisterous crowd packed into a basement venue. Perfect.

The Professionals are back, and so are the good times.



Phil Singleton




---
©Phil Singleton / cookandjones.co.uk / www.sex-pistols.net 2021
All rights reserved. Not to be reproduced without permission.
God Save The Sex Pistols / Kick Down The Doors ©Phil Singleton / cookandjones.co.uk / www.sex-pistols.net 2021