How do you write a headline for last night's show? PiL in triumphant UK return? Let's start with that.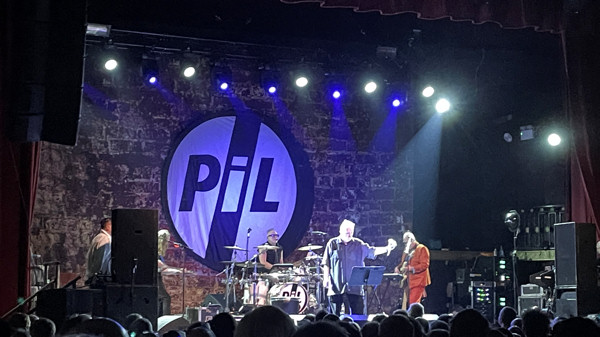 With all the controversy of the Pistol TV series and the release of the poorly compiled Pistols retrospective (with a ropey cover to boot), it came as a much needed release from that circus to get back to the music and witness a glorious Rotten show. Live is what it's really all about, and after a Covid break, it was reassuring to know that neither PiL nor the audience had gone anywhere. If anything, the enforced break has brought both sides closer, if it's taught us anything, it's to appreciate the good things in life. PiL are one of those good things.

The Ritz was heaving which was all the more impressive being a Monday night. Brix Smith had delivered a classy and appreciated set, then came the main event. Kicking off with a pounding Annalisa which segued seamlessly into Memories, it was the start of a 90 minute career-spanning celebratory set. The reconnection with the fans was instantaneous, not just via the music but in the rapport. "Four years off and it's fucking showing. I mean on you - I'm alright!" John quipped. The cheers and laughter that followed told us it was going to be a special night. "Peace my men and women, my boys and girls" he continued sincerely. What better therefore, than to follow with Disappointed and its refrain, "isn't that what friends are for?". The late 80s provided many top PiL moments, and Warrior is another such song which pulsated with its rhythm. Likewise, jumping forward to the 2010s, Corporate still cuts like a knife, it's especially disconcerting and haunting, as is The Room I Am In, with John's delivery ensuring there's nowhere to hide. The One, from the most recent LP, then switched the ambiance into an upbeat mode with glam rock inflections and a bouncy dynamic - it's one of my personal favourites. Next we travelled way back for the unmistakeable Death Disco. It's always been hard to put a finger on why this song works, but it just does, and the skills of Lu, Scott and Bruce ensure it's once again on point. It shattered expectations and assumptions on release, creating a new range of possibilities post Sex Pistols. Where would we be without it?

Another epic of recent times, the danceable and hypnotic Out Of The Woods meandered through a musical landscape encompassing motifs dating back 150 years. Always a delight live. "Is it true that Danny Boyle-on-the-bum comes from Manchester?" (sorry!) enquired John, dedicating Bags to him."What a fucking class traitor that cunt is". The relentless energy flowed into Chant, pausing only for John to fill his handkerchief, before another PiL cornerstone, The Body, tore through the Ritz. Now it was time for This Is Not A Love Song. It sounded clean and uncluttered, yet full. How do they do that? There's plenty of movement in, and love from, the crowd during this one. Let's face it, it is infectious. So is Public Image which drains the energy from those present lucky enough to still have some left.

Time for a quick recharge before the encore. PiL returned to the stage with Shoom, but not before John dedicated it to the trouble he's been having with the Sex Pistols. It's clear the hurt runs deep and bridges have been well and truly burned. Open Up, another slice of ground breaking Lydon music underwent a deep, textured freshening up. Rise drew the evening to a close. Anger was an energy here tonight, but so was the love on and off stage.

How privileged were we to be present at the first gig of the tour and to hear these amazing songs? In some ways, it felt like they'd never been away - it was kind of business as usual, or in PiL's case, business unusual. As for writing a headline for the show, I'll stick with the one at the top of the piece, PiL in triumphant UK return. Sums it up perfectly.

Review by Phil Singleton

God Save The Sex Pistols ©2022 Phil Singleton / www.sex-pistols.net
All rights reserved. Not to be reproduced without permission.