Neurotic Outsiders
Expanded Edition
Supermegabot SMBMC 50001
Over a quarter of a century has passed since the release of the one and only Neurotic Outsiders album. What a group they were; emerging in 1995 from the Viper Room in LA, this superstar jamming band caused plenty of excitement with their live shows where punk classics rubbed shoulders with cuts from their own back catalogues plus some originals.
An album seemed inevitable, and it came on Madonna's Maverick label no less. Steve Jones, Duff McKagan and Matt Sorum, both Guns N' Roses, and Duran Duran's John Taylor. They didn't disappoint. If it's guitar sleaze power you need in your life, this is for you. The bulk of song writing - and consequently lead vocals - was courtesy of Steve. In many ways it feels like a Jonesy solo album, there's tales about hookers and so on, but mostly due to the incredible guitar. Jerry Harrison (Talking Heads) handled the production and did a fantastic job in capturing Steve's trademark sound; it never sounded better. Nasty Ho, Good News, and Jerk simply soar. There's also time for a spot of reflection with Story Of My Life and Steve's ode to the Pistols, Union, which builds into an aural monster.
Getting the band heard on the radio was restricted by swearing and sexual content. Jerk was selected as a single, albeit as a cleaned up version, but still wasn't going to find much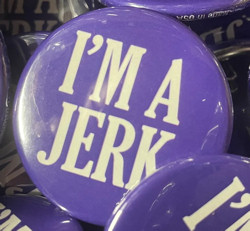 air play. The Japanese made the right call, selecting Steve's Angelina and releasing it as a CD EP, alongside non-album cuts Seattle Head, Spanish Ballroom, Planet Earth, and the cleaned up Jerk, all added to this new expanded release.
The press gave the LP a predictably negative spin, finding some lyrics immature and puerile. I guess there was an element of truth in this, but you can't accuse Jonesy of being anything less than honest in airing his desires, irrespective of age. In some ways it wouldn't be Steve if he didn't. More importantly, only Jonesy could produce such an electrifying sound. Sadly, this would be his last full group project of any kind, and as such should be embraced and enjoyed.
The album was released as the Sex Pistols reformed for the Filthy Lucre world tour in 1996 and despite a batch of Outsiders gigs in September - slotted between the Pistols' North American and Australasian legs - momentum was lost. There would be no more studio output, but at least we have this to remember them by. The Neurotic Outsiders gave us a ferocious beast to wrestle with, and its adrenalin is still kicking today. The years have not diminished its thrill.
A re-issue is long, long, overdue, and now we have a 16 track one. Supermegabot have faithfully reproduced the original booklet which is a nice touch, and if you buy it direct from the company you get a I'm A Jerk badge. If you are new to Steve's work, or love a bit of 90s Guns N' Roses, treat yourselves.
Review by Phil Singleton (July 2022)
---
©Phil Singleton / www.sex-pistols.net 2022
All rights reserved. Not to be reproduced without permission