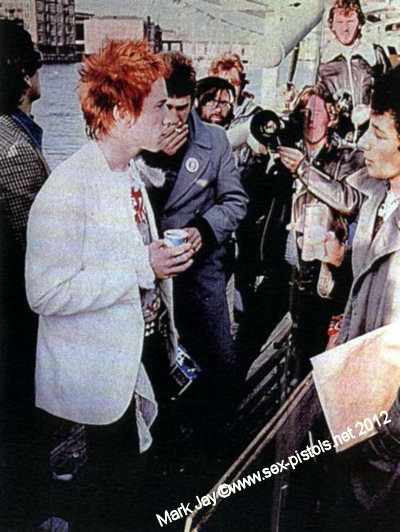 June 7th 1977. Thames River Boat Party.
Mark Jay (far right) talks to Johnny Rotten while the cameras roll.
Confessions of a teenage Skumbag - © Mark Jay - editor of SKUM fanzine 1976/7 and designer / cartoonist of the 'Sex Pistols story so far' poster.
By way of mitigation I would just like to say that I was only fourteen at the time, and had been hopelessly in love with Rock n' Roll for at least four years prior to the offence…
In 1976 I attended a large Jewish state school in Camden Town. It was a hateful place of forced servitude designed to funnel you into an existence of line-toeing, keeping shtum and barely carrying on. The location saved me, for, two doors along from the mouth of Camden tube was Rock On - an oasis of vinyl treasures in a desert of gloomy Irish pubs and sooty railway arches. My journey to and from school each day was punctuated by blasts of primal Rock n' Roll, Soul, and Bluebeat. My mentor and musical guide was an Irish Rockabilly named Stan who thanklessly span platters all day to passing punters and sometimes made you tapes if you showed an interest.
It was Stan's tapes which included Nuggets tracks, MC5, the Stooges and the Dolls, together with Pirate Radio and Peel, devoured furtively at night by earphone that attuned me to the rumblings of teenage unease and supplied my ammunition.
And it was at Rock On that I saw the first photocopied signposts of a rock 'n' roll revolution that was about to sweep me up and change the course of history. It was probably the word 'Sex' in the ransom-style cut up flyers for the 100 Club gigs that first caught my attention; after all I had just hit fourteen! The music press' universal dismissal of the Pistols as a musically inept pack of sub-Mods only fuelled my fascination.
I bought my first copy of Sniffin' Glue from Rock On, and that same afternoon decided, with my school mate Paul, a similarly misfit rock 'n' roll hooligan, one year ahead of me, to start a Punk fanzine. The fact that neither of us had ever set foot in a Punk gig and both had hair down to our shoulders was not an obvious deterrent. Armed with a copy of the Ramones first LP and clutch of Pub Rock 45's on the Chiswick label (which operated out of Rock On), we hit the typewriter. On our increasingly frequent strolls round Camden Town which now took in extended school lunchtimes (otherwise known as bunking off) we couldn't help noticing small knots of similarly shifty kids skulking around the vinyl bins and second hand clothing stalls, who stood out in sharp relief against the triangular-shaped hippies in flowing locks and floor-sweeping flares. These surly misfits sported drainpipes, leathers, and - short spiky hair! In one bold visual swipe they had upended the triangle. This took guts, we decided. Whatever was going on, we wanted in.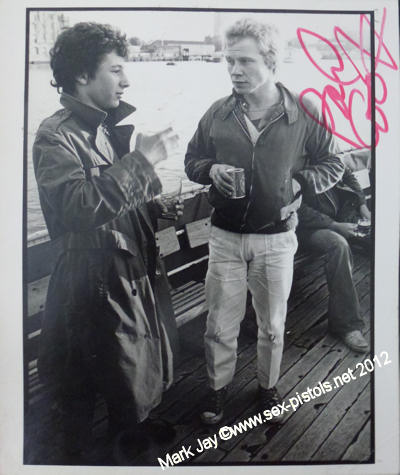 June 7th 1977. Thames River Boat Party.
Mark talks to Paul Cook.
And a few months later we would encounter these kids again, now in sweaty London clubs playing noisy, gloriously half-formed garage rock 'n' roll in bands called The Damned, The Clash and the Sex Pistols. I befriended one regular Rock On 'face' – a scrawny nineteen year-old from Coventry with a penchant for self-mutilation, claiming to be a borstal escapee, who casually informed me roadied for The Clash. This was it! The feature that would launch the first issue of the fanzine! Roadent - as he was fondly known, generously invited us to their rehearsal (rehearsal) studio, where he was crashing - a looming Victorian railway warehouse halfway up Chalk Farm Road.
The Clash never showed up that day. But Sid Vicious did, conning us that his disparate group of mates he had in tow, 'The Flowers of Romance' were a real band - who on that day numbered a pre-Slits Viv Albertine, a guy called Steve English (who claimed to be a Sex Pistols Minder) and another Steve – Walsh who went on to write for Zigzag and form Manchester band Manicured Noise. 'Skum' fanzine was born, christened by Roadent himself - and the rest, as they say, is history.
Sid sat on a broken swivel chair, played the Ramones 'Havana Affair' very badly on Strummer's unplugged 'Noise' telecaster and gobbed repeatedly on a two bar electric fire because he liked the sizzling noise it made. As the resulting interview will testify he had to be restrained a number of times from pissing on it as well.
The interview yielded a number of classic Sid-isms 'I'm more of a robot than a person', 'If I feel like killing a hippy I will' (staring at our very long haired photographer) and soppy stuff about cats. Many years later Alex Cox "borrowed" the C60 tape from me after a drunken night in the Man in the Moon and lot of our interview ended up as dialogue for 'Sid & Nancy' (we were never credited).
Anyway, I also liked to scribble cartoon strips, being a long-time fan of both R Crumb and the Beano, and sometime around the end of May '77 my one-page take on the Grundy fiasco got noticed by Malcolm McLaren who summoned me to Dryden chambers to float a deal; would I do a full colour poster of the Sex Pistols 'story so far'? My payment; a GSTQ T- shirt, a test pressing of the A&M single, as many Pistols flyers as I could carry and a ticket to see the group on Jubilee day that I had to keep well shtum about. I held out for an interview with Rotten for Skum 3 and he caved.
It was the fourth time I'd seen the Pistols and the best by far. In fact it was the best gig I had and have ever seen by anyone, ever. (Did I say 'ever' enough?) I don't think anything will ever top it. I stood inches away from Rotten, speeding insanely as they powered through four incendiary numbers as the searchlights approached and the sirens wailed. And that night I found myself thrown into Chelsea nick with a clutch of their entourage and assorted journos and liggers. I could never thank Malcolm enough. The fact that Vivienne also used the cartoons on her 'Expose' T Shirt and I got an armful of Let it Rock gear as payment that time, was the icing on the cake. Hats off to the good old Anarchic system of barter!
And now - my original artwork which I traded with Malcolm is being bounced around international auction houses for, at the last count, £40,000 making rich stockbrokers even richer, and frankly I couldn't give a toss. I've written a film script about the whole shenanigan in '77 – and we're going to shoot it as soon as we can get the modest budget together. So - if there's any willing investors out there – don't hesitate to buy into a slice of Punk rock history. You can even have a cameo in the movie!
And so - I rest my case. I plead guilty to being a teenage Skumbag in 1976/77. Guilty - and very, very glad. info@fullonfilmproductions.com