MARK JAY editor of SKUM FANZINE
Bonhams Auction 20th October 2022
- Exclusive Preview
POP X Culture sale at Bonhams on 20th October 2022




Mark Jay

: I will be offering for sale some more pieces from my collection including the following items shown below. A super-rare and recently re-discovered (in the loft) original drawing of Johnny Rotten I was commissioned to do by Malcolm when he was in development on The Great Rock 'N' Roll Swindle movie. An archival proof copy of the Story So Far poster that I have signed on the reverse. Sid's own 'Two Cowboys' signed on the back by Johnny in 1976. Other lots include the NMTB full Ariola Press kit, a Mick Rock safety pin Johnny Rotten 1976 print and an original Roxy Flyer (not Pistols).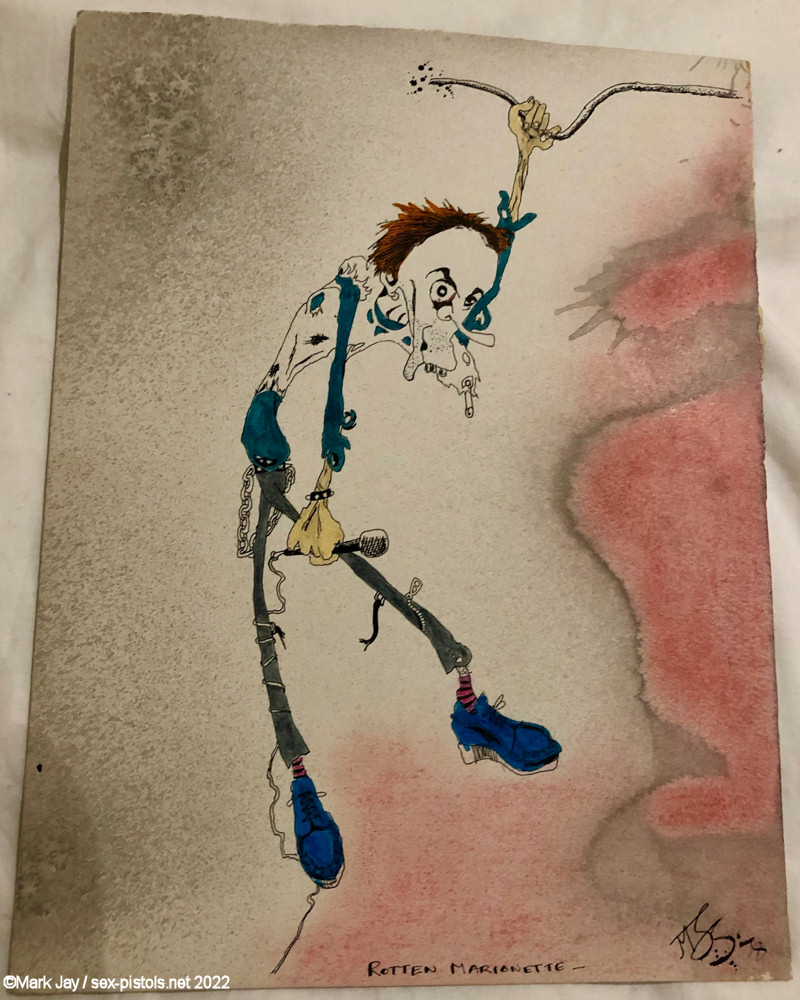 An original drawing of Johnny Rotten that Malcolm McLaren commissioned in early 1978 when he was putting together The Great Rock 'n' Roll Swindle film idea.
A proof copy given to Mark by Malcolm McLaren for approval during final marketing discussions prior to the release of the Never Mind The Bollocks Here's The Sex Pistols album. The poster was commissioned for the US release of the album and used for store displays, press packs and promo copies of the album.
A Sid Vicious owned Westwood/McLaren 'Two Cowboys' T-shirt worn and customised by Sid Vicious and autographed by Johnny Rotten. Sleeveless white jersey with exterior seaming, three rips to front and 'SKUM' faintly inscribed twice, the back signed and inscribed by Johnny Rotten in blue felt 'A True Star', unlabelled.
Mark Jay - SKUM / Thames Boat Trip Index
By Mark Jay - exclusive feature.
All images ©Mark Jay - DO NOT COPY.
©Phil Singleton / www.sex-pistols.net 2022
All rights reserved. Not to be reproduced without permission.
God Save The Sex Pistols ©Phil Singleton / www.sex-pistols.net 2022
---
Errors that may have occurred will make it obvious if an attempt is made to copy the above piece of work. Do not publish elsewhere and claim authorship. You have been warned.