This was the 27th show of John's trip around the UK to promote his book 'I Could Be Wrong I Could Be Right', with many more still to follow. Those fortunate to have seen more than one will confirm that 'unscripted' means exactly that. No two shows are the same. The evening consists of two parts; John talks randomly about his life during the first and answers questions submitted by the audience during the second.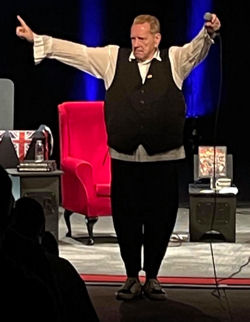 With the media furore surrounding the recent Pistols court case you may have anticipated the mood of these shows to be impacted. Not a bit of it. For a start, John is quick to point out that the covid delay to the tour has allowed him time to prepare for the return of PiL next year. This was met with raucous applause.

John views the book as another piece of the jigsaw puzzle, revealing more of "how, who, where and why I am". The stories and events are still relevant to his current situation in life. It quickly becomes clear that his formative days living on Benwell Road, Highbury are still central to how he views the world today. Putting aside rusted bed springs, piss pots, paraffin oil heaters, and dentures left in glasses, it was contracting spinal meningitis from "rats running rampant" which defined his childhood, no more so than his belief that the 4 years recovering was time well spent despite the torturous pain, and additional suffering at the hands of nuns. It's left John viewing all religions as institutions of cruelty. John, as always, finds a positive; Catholic torture led "to that fabulous singing voice of Johnny Rotten".

The determination to learn from adversity is perhaps the overriding message to take from the show. His thirst for knowledge is paramount; growing up with regard for his elders, wanting them to share their wisdom to make him a better person. It was their war time stories that instilled in him from an early age "just how much I loved my Britain". Take note anyone who attempts to tear down a Winston Churchill statue. The respect for his parents is also heartfelt. His mum taught him to love language and literature, so years later when he joined the Sex Pistols and was expected to write songs instantly, he was already "fully loaded".

Without wishing to give too much away for those yet to attend, John expresses his thoughts on foul language, the value of community, politicians, the importance of British comedy, Arsenal, Ant and Dec, Country Life, to touch on just a few. Furthermore, his devotion to his wife Nora is never far away.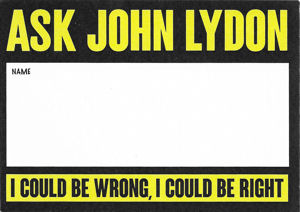 The second part of the show is dictated by you, the audience. The obvious topics invariably recur, such as Sid Vicious. "My mate, didn't take life too seriously… but the heroin took over." He revealed his hatred of Sid's mother but also recalled with much laughter how the Pistols had always been accused of not being able to play, so getting Sid in the band was a way of throwing the accusation right back; "here's a bloke who really can't play anything! So in many ways Sid's a gift!" A tribute to Sid follows at the end of show.

Of course, the recent Sex Pistols court battle was raised with John angry how "Disney money" has divided the band. Any negative emotions from this episode were brushed aside with hilarious tales of his TV exploits, focusing primarily on nature. We're talking I'm a Celebrity, mosquitoes, sharks, differences between gorillas and chimps, and er… squirrels, "If there is a god, it's a squirrel."

Perhaps the funniest moment was John's response to "are you a vegan?" "No! Two sets of teeth, the front for cutting and biting meat, the back for grinding, like sheep do with hay. If you don't use both sets you're being an arsehole to yourself!" I best not go into details about two days spent in a bath of porridge oats!

The shows are perhaps the best way to fully understand the man behind the public image. There is a clear character trait that defines John, his underlying humanity. Personally, I do rather envy that slow heart beat of his.

Whether intentional or not, John summed up his own belief system perfectly. "We're all just about the same, we don't like liars, we don't like fakes, we do like a sense of community, and we do feel that we all belong to each other. Intrinsically that's what all human beings feel. It's politicians and religions that set each other up against each other. So as me daddy would say 'focking cunts'." Amen to that.



Review by Phil Singleton
God Save The Sex Pistols ©2021 Phil Singleton / www.sex-pistols.net
All rights reserved. Not to be reproduced without permission.