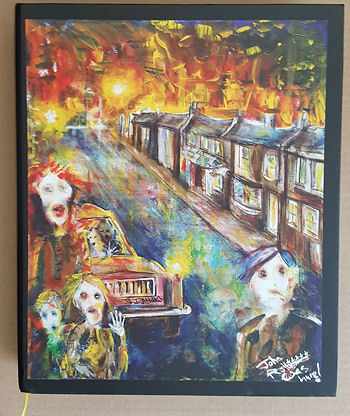 Read the title.

Just another John book? Nope, it's completely different to any of his previous written works.

The heavy weight book is encased in a sturdy presentation box adorned with John's striking - and scary - artwork. His art on the inside base paints an altogether more sedate picture - that is until you discover a little more about the critter in question. Printed on quality glossy paper and designed in a lavish fashion that reflects the random nature of John's thoughts on life, the book itself certainly looks the part. The contents are presented in digestible chunks of varying lengths, making it reader friendly. Whether you prefer to read from front to back or just dip in, there's no right or wrong. Which is very much the essence of the book itself.

So what's it all about? Open and it explodes like a grenade. Packed full of John's thoughts and musings on a seemingly infinite range of issues, it gives a deep insight into John's thinking, embracing both his world view and life's minutiae. Builders. Technophobes. Kitchens. Patience. Bandmates. Pizza. Serial Killers. Early Gigs. Smackheads. Record Companies. Sat Nav. Dad. Japanese Toilets. Agincourt. Home Carer. Ham Sandwich. Decision Making. These subjects are but a flavour. And yes, the Sex Pistols and PiL are included.

John is complex and his thoughts can be far from 'safe' at times, but never are they cruel. He also talks a lot of sense, such as questioning why so many blindly follow one political party regardless of their policies.

John doesn't expect you to agree with everything, you can't, you are not John. We are all different and that is a key point to take from this. It will challenge you, make you think about your own position on so many, many things, from the aforementioned politics, to well, the boozer. Thankfully it's a book far removed from doom and gloom; there's humour and squirrels a-plenty throughout.

Take this random pick, from John's thoughts on Moaning: "Hopefully people will see the hilarity in me, that I've tried to enjoy my life as best I can and do the best with what I've been given and I don't sit around moaning about any of it, really."

You may want to take cover from John's scattergun but you'll still get hit. Some of the wounds will leave an indelible mark on you. Are you brave enough? You may be wrong, you may be right. Like John, but different. Like life.

Read the title.



Review by Phil Singleton
Published 15 October 2020. Limited signed print run of 10,000. Order here.

God Save The Sex Pistols ©2020 Phil Singleton / www.sex-pistols.net
All rights reserved. Not to be reproduced without permission.